Trump's U.S.-led airstrike on Syria won't stop Assad's chemical capabilities, experts say
The airstrikes, which targeted three facilities involved in research or storage of chemical weapons in western Syria, won't disable him from taking further action — whether chemical or conventional, Lute said.
"I think he's feeling reasonably good right now," Lute said of Assad. "Some of his facilities were struck, but it doesn't really challenge his hold on the country."
President Donald Trump on Friday ordered the military to strike targets in Syria in conjunction with France and the United Kingdom after a suspected chemical weapons attack reportedly killed dozens of Syrians. According to the Pentagon, those targets included a scientific research center in the capital of Damascus, a chemical weapons storage facility near the city of Homs, and a chemical weapons equipment and military outpost also near Homs.
But experts said it's unclear how long of an impact the strike would have on Assad's weapon capabilities and whether it would dissuade him, as intended, from using chemical weapons in the future. Syria has repeatedly denied using chemical weapons against its people.
They also said the so-called red line that the Trump administration is drawing, meant as a marker for reprisals, could be problematic.
"People will see [the reasoning for the strike] and say, 'Does that mean that Bashar al-Assad has the green light to use conventional munitions against defenseless civilians?'" said former Ambassador Lincoln Bloomfield, who served in the past three Republican administrations, most recently as the assistant secretary of state for political-military affairs under President George W. Bush.
Assad, meanwhile, appeared unruffled Saturday as he strolled into the presidential palace in Damascus, briefcase in hand and mere miles from where some of the missiles struck chemical weapons depots hours earlier, according to a video released on Twitter by the Syrian regime.
While the attack may have destroyed the facilities where Syria combines its chemical agents, the strike likely will only cripple the country's ability to deploy certain agents, such as sarin gas, experts told NBC News.
Sarin was not the only agent used in the alleged chemical attack last week on the rebel stronghold of Douma, east of Damascus, senior Trump administration officials said Saturday.
State pension rise to be higher than expected – Rishi Sunak facing new headache
STATE PENSION payouts are set to be higher than planned by ministers after the Bank of England increased its inflation forecast.

Source link
Submarine feud showcases European anger as U.S. shifts focus to Asia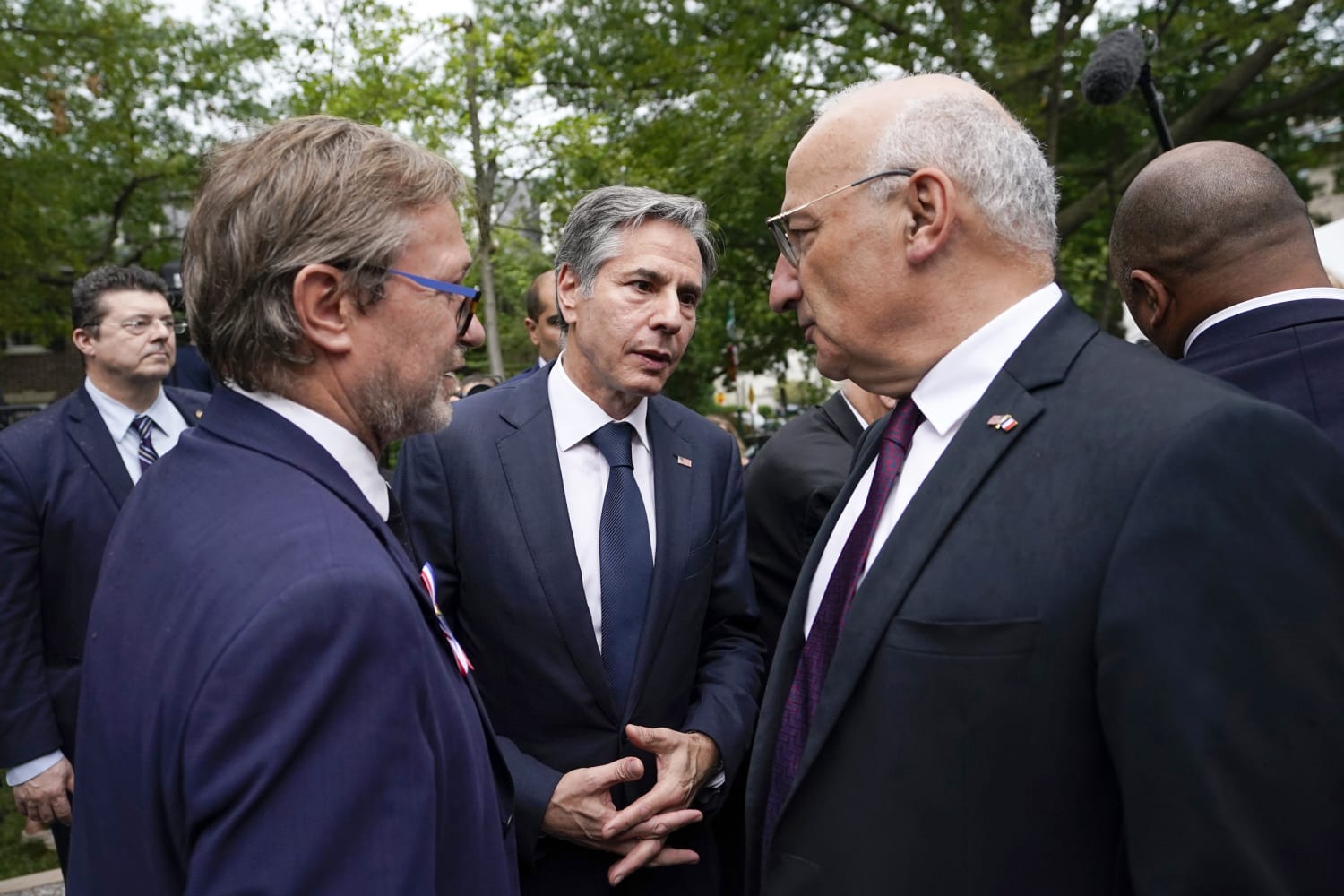 Thousands of miles away from the French fury, the recalled ambassadors and canceled galas, the United States' nuclear-powered submarine deal with Australia has received a far warmer welcome in parts of Asia.
The dispute between Paris and Washington is about much more than the multibillion-dollar security pact announced by the U.S., Australia and the United Kingdom last week — it speaks to the tectonic shifts of geopolitics that look set to define the coming decades.
For many experts, it is perhaps the starkest example yet of how Washington's focus has shifted away from its old European allies and irrevocably onto China. President Joe Biden has spoken passionately about restoring ties with America's postwar allies across the Atlantic; but many see his priority as expanding the pivot to Asia begun by his predecessors.
"Joe Biden's heart, knowing the man a little bit, is clearly with the Atlantic family and the Western family, there's no doubt about that," said Fabrice Pothier, a French analyst and NATO's former head of policy planning.
"However, his head is firmly on making sure the U.S. is as strong as possible in what is the fiercest ever competition between two big powers: the U.S. and China," he said.
The immediate reverberations will continue Friday, when Biden meets leaders of the "Quad" — an informal alliance comprising the U.S., Australia, India and Japan.
The group was revived by former President Donald Trump and later Biden as a tool, among other things, to address their shared concerns about Beijing.
Biden and his French counterpart, Emmanuel Macron, held what the White House called a "friendly" call Wednesday that appeared to calm some of the short-term anger. They have agreed to meet in Europe next month.
France erupted in fury last week, saying it was blindsided by the pact, which meant that its own $66 billion contract to build diesel-electric submarines for Australia would be junked.
"It is more than the contract and much more than money — it's also about allies," Philippe Etienne, France's ambassador to the U.S., who was recalled by Paris as part of its angry response, said on MSNBC's "Morning Joe" on Tuesday. "What does it mean to be allies if you hide such things from one another?"
Michael Roth, German minister of state for Europe, said the deal was "a wake-up call" And European Council President Charles Michel strongly criticized the Biden administration for leaving Europe "out of the game in the Indo-Pacific region."
That contrasts with parts of Asia, where the news has been welcomed by those who want to see China's regional dominance curbed.
India and Japan, both regional rivals of China with which they have territorial disputes, have already welcomed the agreement, dubbed AUKUS.
Elsewhere Singapore Prime Minister Lee Hsien Loong said he hoped it would "contribute constructively to the peace and stability of the region."
In the Philippines, President Rodrigo Duterte has emphasized his friendliness with China despite having their own territorial disputes. But even he appeared to welcome the deal, saying that Australia's enhanced ability to project power should "restore and keep" the regional security balance rather than destabilize it.
Not everyone is convinced, however.
The Indonesian Foreign Ministry said last week that it was "deeply concerned over the continuing arms race and power projection in the region."
Malaysia has voiced similar concerns, too, and says it is seeking China's view.
Download the NBC News app for breaking news and politics
Chinese Foreign Ministry spokesman Zhao Lijian already said last week that the announcement was "severely damaging regional peace and stability, intensifying an arms race, and damaging international nuclear nonproliferation efforts."
Australia's acquisition of nuclear-powered submarines is certainly no outlier.
Taiwan, South Korea and Japan are all upgrading their weapons systems, often including long-range missiles costing billions of dollars, some of which are supplied by the U.S.
There are fears China — already boasting the world's largest navy and making sweeping territorial claims across the region — could accelerate its own military modernization.
Confrontation and cooperation
The submarine crisis may have caught many by surprise, but some see it as merely the surfacing of a trend that has been lurking beneath the Biden administration's diplomacy.
In many Europeans' eyes, Biden talked a good game when elected about restoring the tattered transatlantic relationship that was willfully degraded by Trump. But, in reality, there has been ample friction between Washington and Europe, particularly over China.
Biden has repeatedly said that he believes the West and China are engaged in a clash of civilizations — democracy vs. authoritarianism — that will define the 21st century. He has attempted to rally democratic allies together to fight this cause.
However, European countries that have become heavily dependent on Chinese trade aren't so sure. As Macron put it earlier this year, he believes it would be "counterproductive" to gang up on Beijing.
According to a poll released this week by the European Council on Foreign Relations, almost two-thirds of European Union citizens believe there is a new cold war brewing between China and the U.S. But only 15 percent believe their own countries are in a cold war with China.
Though officials haven't said it directly, many analysts believe that Australia opting to buddy up with Washington rather than Paris in building its submarines was another sign that it has embraced Biden's approach.
In the long run, the fallout over the AUKUS deal is seen by observers as the latest and perhaps starkest example of a familiar question: how to balance confrontation and cooperation when dealing with Beijing.
"If you are France," said Pothier, who is now a consulting senior fellow at the International Institute for Strategic Studies, a London think tank, "it hurts to be reminded that you are no longer the center of attention."
"The question, then, to France and the Europeans is: After you get past the anger, what are you going to do about China? Are you going to try to plug into what the U.S. and Australia are trying to do? Or are you going to bypass that and try something else?"
Biden will be hoping the answer is the former.
'Rip up the cheque!' Fury at France after record Channel crossings despite £51m from UK
RECORD numbers of migrants have attempted to cross the English Channel this month, with France failing to take action to stop the perilous journeys.

Source link