Young migrants trapped in Greece find that life in West isn't what they hoped for
Huda, 38, said her son has stopped going to school and she is concerned about the people he is spending his time with.
"I'm watching my boy be destroyed and I can't do anything," she said. "They're not good people in Omonia Square. He says, 'Please save me, I want to go to another country,' but how can I?"
'An extremely difficult situation'
Smetopoulos said survival sex involving asylum-seekers became evident on Athens' streets around the beginning of 2016. The countries north of Greece had started closing their borders, transforming what was once a transit country into a host nation.
The country is currently home to around 3,000 unaccompanied minors, the official term for underage asylum-seekers who travel on their own. Over 95 percent of them are boys, according to official data.
Greece only has space for around 1,000 unaccompanied children in shelters, while the other 2,000 are on the waiting list. Many of those not in shelters live on the street, or if they're lucky they live in camps or hotels provided by the U.N.
Those over 18 are not eligible for places in the shelters and for the most part are left to fend for themselves.
In the shelters, minors have access to lawyers, psychologists, social workers and teachers. Many shelters said they also warn youngsters about the dangers of certain areas of Athens and the importance of using contraception during sex. But even here they are not necessarily safe. According to social workers, some minors living in shelters and camps are also believed to engage in survival sex.
The Ministry of Civil Protection, which is in charge of the Greek police, said officers had investigated allegations of sexual exploitation of underage asylum-seekers and migrants in central Athens, but had found no evidence of criminal groups exploiting children for prostitution.
Resources are also an issue. In August, the Greek government took over the management and financing of the reception and integration of refugees. Since then shelters and humanitarian organizations have complained of delays in funding.
At the same time many international organizations and charities began downsizing or withdrawing their operations in the country.
Dimitra Arvanitaki, the director of a shelter near Omonia Square, said her charity had been unable to pay staff this year because of a lack of government funds and could not rely on the generosity of local businesses much longer. "It's an extremely difficult situation," she said.
Several organizations also pointed out that the Greek population's willingness and ability to donate to refugees has begun to wane.
"Donations for refugee crisis are running short," said Zoe Kokalou, a spokeswoman for the Greek charity Arsis (Association for the Social Support of Youth), which supports vulnerable young people and runs the shelter near Omonia Square. "People are fed up with three years of extreme crisis on the part of refugees and more than six years of economic crisis."
Greece has been relying on funds from three international bailouts since 2010. In return for the money, the country has had to impose strict austerity measures, including spending and hiring cuts across most sectors.
Days after NBC News left Athens, Khasim says he was arrested at an airport trying to leave the country on a fake passport. It was his fifth attempt to leave Greece.
"I have very bad luck," he wrote via Facebook Messenger.
Two days later, he got in touch again. "I'm tired of my life, I wish I could get out of this misfortune," he said.
This time the message came with a picture. It showed the northwest corner of Omonia Square and in the background were the yellow phone booths.
World Anti-Doping Agency to review cannabis ban after top US athlete forced to miss Tokyo Olympics | UK News
The World Anti-Doping Agency (WADA) will review whether cannabis should remain a banned substance for athletes.
The move follows American sprinter Sha'Carri Richardson missing the Tokyo Olympics after testing positive for the substance in June.
Cannabis is currently prohibited in competition and the ban will remain in place in 2022, WADA said.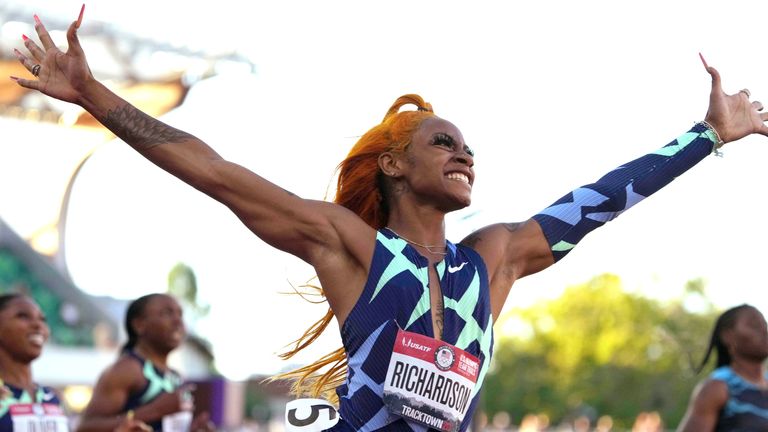 An advisory group to WADA will begin the scientific review next year.
While cannabis is not thought to be performance-enhancing, it is classified as a "substance of abuse", the United States Anti-Doping Agency (USADA) has said, referring to a worldwide code.
Richardson said she used the drug after hearing from a reporter that her biological mother had died – a week before she began Olympic trials in Oregon, where cannabis is legal.
The 21-year-old's trial results were disqualified after she tested positive for THC, the banned chemical found in cannabis.
She had been seen as a top contender, winning her 100m test race with a time of 10.86 seconds on 19 June.
The suspension was widely criticised and sparked calls for a review of anti-doping rules, including by USADA.
What could have been a three-month sanction was reduced to one because Richardson agreed to participate in a counselling programme.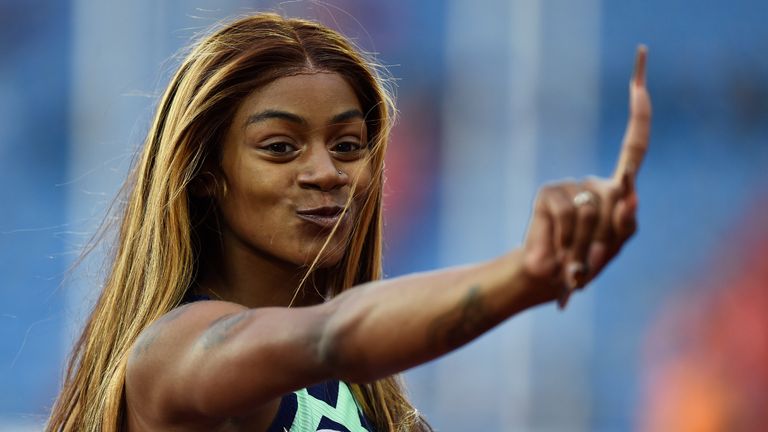 "The rules are clear, but this is heart-breaking on many levels," USADA CEO Travis Tygart had said.
USA Track and Field had described the situation as "incredibly unfortunate and devastating for everyone involved".
Richardson had apologised to fans and said the death sent her into a "state of emotional panic", adding: "Don't judge me, because I am human."
New York City crime boss among arrests over alleged construction union plot | US News

Ten members of a New York City crime family have been charged in connection with an alleged plot to seize control of a construction union in a scheme which prosecutors said had all the major trappings of TV shows like The Sopranos.
Prosecutors said members of the Colombo crime family pressured the union to steer health plan business to their associates as part of a two-decade plot.
The arrests over the racketeering and extortion allegations included Andrew "Mush" Russo, the 87-year-old boss of the Colombo crime family, which is the youngest of the so-called Five Families criminal group in New York City.
Prosecutors alleged that crime family members sought at least $10,000 per month in kickbacks and threatened to kill a union official if he failed to comply, telling an associate on a recorded telephone call in June: "I'll put him in the ground right in front of his wife and kids."
Acting US Attorney Jacquelyn Kasulis said the charges "describe a long-standing, ruthless pattern" by Colombo crime family leaders and underlings to exert control over the union, which has not been identified in the indictment or by prosecutors.
Four other people were also charged, including a Bonanno crime family soldier accused of falsifying government workplace safety certifications for hundreds of construction workers.
Several defendants were accused of other crimes, including loan sharking and conspiring to distribute large amounts of cannabis.
Most of the defendants were arrested on Tuesday in New York and New Jersey and arraigned by video conference before US Magistrate Judge Taryn Merkl in Brooklyn federal court.
One defendant was arrested in North Carolina and was scheduled to be arraigned there. Another remained at large, prosecutors said.
Russo appeared at his video arraignment from a hospital bed, with an FBI agent by his side. He pleaded not guilty as medical equipment beeped periodically.
The Colombo boss was taken to the hospital after his arrest for a medical evaluation amid concerns about his age and over injuries he suffered in a car crash about three weeks ago.
Cristiano Ronaldo knocks out steward with wayward shot before Manchester United's Champions League defeat to Young Boys | World News
Cristiano Ronaldo knocked out a steward with a wayward practice shot before Manchester United's Champions League defeat to Swiss side Young Boys on Tuesday evening.
The stray strike from the 36-year-old Portuguese star came as United players warmed up ahead of their opening group stage match in Bern.
The ball hit a steward on the sidelines and the impact caused her to fall to the ground, with Ronaldo among those to check up on her to make sure she was alright.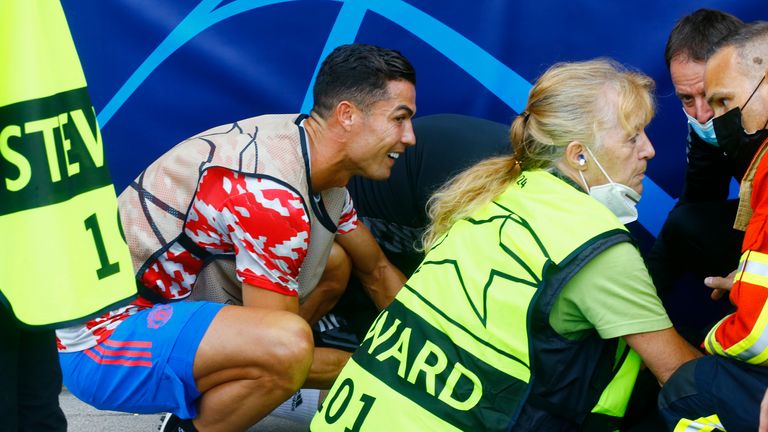 It ended up being a happier ending to the night for the steward than Ronaldo – she was gifted the footballer's famous number seven shirt, while United went down to a shock 2-1 loss.
United were beaten despite Ronaldo scoring the opening goal after just 13 minutes.
England right-back Aaron Wan-Bissaka was sent off in the first half, and Young Boys scored a late winner to take the three points.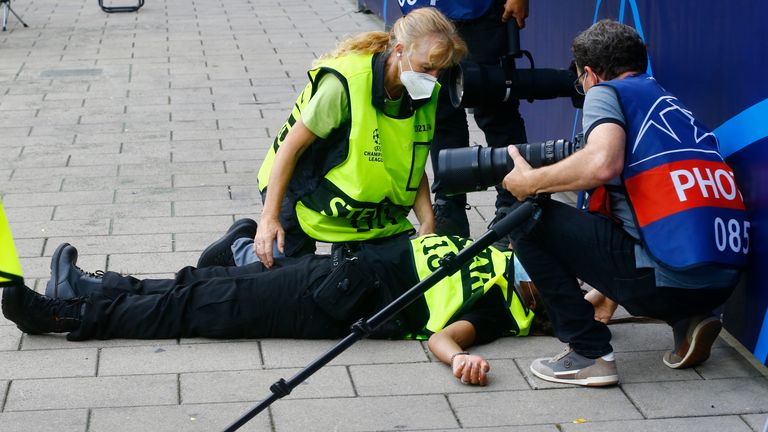 The game saw Ronaldo move level with former Real Madrid teammate Iker Casillas for the most Champions League appearances in history, with 177 games in the top European competition, almost two weeks after became the highest scoring men's international.
Ronaldo returned to Manchester United from Juventus in August and scored two goals on his second debut against Newcastle on Saturday.