Jobs in cybersecurity are exploding. Why aren't women in the picture?
In an effort to reach more girls for the Girls Go game at Red Bank, for example, Galante recruited girls from nontech classes, including a dozen from a creative writing class. "We want to get the girls who never even thought of doing this," she said.
For women, barriers to entry into cybersecurity, and the tech field in general, begin long before high school, said Nicole Smith, a research professor and chief economist at the Georgetown University Center on Education and the Workforce. "Our parents make decisions early on about what boys and girls should be doing," she said. "The social conditioning starts really early."
Especially once girls reach middle and high school.
"The elephant in the room is that girls 'can't do math good,'" Smith said. "But when you look at standardized tests and SAT scores, girls are scoring just as well as boys in math and science. In some cases, they are actually doing better. The question isn't about competence — it's an issue of decision-making about what to pursue. When a preponderance of women are making decisions that will affect their lifelong earnings potential, we need to ask why, and what is it about our culture that is telling women: 'This is where you belong'?"
If we block entry for women, we're blocking 50 to 70 percent of the talent. … When I walk into a high school Cisco Networking class, I'll see 30 boys and one girl. Girls are being told loudly: 'You are not invited.'
If we block entry for women, we're blocking 50 to 70 percent of the talent. … When I walk into a high school Cisco Networking class, I'll see 30 boys and one girl. Girls are being told loudly: 'You are not invited.'
In a report she recently co-wrote on the gender wage gap, Smith found that although women are now graduating from college in greater numbers than men, and are pursuing STEM degrees more than ever before, they still earn 81 cents for every dollar earned by men when wages are averaged across job sectors. She also found that when women choose majors in well-paying sectors, they tend to then select the least lucrative submajors. For example, 54 percent of women majoring in STEM fields concentrate in biological and life sciences, which are among the majors with the lowest-paying career prospects, but only 17 percent select majors in the more lucrative field of engineering.
The Girls Go challenge is an effort to equalize the cybersecurity playing field, or at least to plant a seed of interest in cybersecurity at the high school level. This past winter, in its first year, 6,654 girls across 16 states and the territory of American Samoa participated. In order for schools to access the game, the SANS Institute asked governors' offices nationwide to partner in its promotion. Winners each receive a $100 gift certificate and an all-expense-paid trip to a conference in Chicago for women in cybersecurity. The winning team's host school receives a $1,000 award.
Melissa Vuong, 15, is a sophomore at Red Bank and a member of team Throckmorton. With zero coding experience, she was primarily drawn to the opportunity to collaborate with her team. "It's super fun working together," she said. "And it's my first time playing a game like this, so it's a challenge, but I like it."
Girls Go is not the first online challenge designed to attract young people to cybersecurity, though it is the only game specifically for girls. The Air Force Association's CyberPatriot online competition and GenCyber camp, funded by the National Security Agency and the National Science Foundation, are aimed at attracting high schoolers to the cybersecurity field, though they do tend to appeal primarily to boys. While some girls do participate, Galante noted that they rarely make it to the leaderboards and thus fail to garner attention and awards, which among competitors creates a deeper interest and connection to the field.
"We've learned over the years that winning shiny stuff, and having people make a big deal out of you, helps young people believe in themselves and be attracted to something," Galante said. "But even though girls were participating — in small numbers — in challenges like CyberPatriot, this recognition wasn't happening for them. The boys, who have so much more experience in gaming, were the ones being recognized."
In spite of increasing numbers of women pursuing STEM degrees, only 26 percent of computing jobs in the U.S. are filled by women. Like cybersecurity, the broader field of jobs related to computing faces a labor shortage with 1.1 million job openings projected by 2024.
When women do opt to major in STEM fields such as cybersecurity, they frequently leave the field after a brief tenure, according to a 2011 report by the Georgetown University Center on Education and the Workforce. "Even when women do well and excel in college in technology, they divert into teaching math or science, or into fields like biology or pharmaceuticals — fields that are predominantly female and pay lower wages," said Smith, the Georgetown economist. This may be due in part to priorities. When considering a new job, men value salary above other factors, the Georgetown report found. Women, on the other hand, prioritize proximity to home; the working environment and workplace communication; and prospects for upward mobility.
Workplace environment is clearly a factor, especially in cybersecurity where teams tend to be small and therefore perhaps more intense. Marian Merritt, the industry engagement lead for the National Initiative for Cybersecurity Education, points to the hyper-competitive, noncollaborative, war-terminology-oriented nature of cybersecurity as a major concern for women. The initiative, a unit within the U.S. Department of Commerce, aims to alleviate the cybersecurity workforce shortage.
Currently, there are 285,681 unfilled jobs available in cybersecurity. Research indicates there will be a global shortage of 1.8 million cybersecurity professionals by 2022.
"Anecdotally, we know that there's an emphasis in cybersecurity on being self-taught, self-driven and adversarial," Merritt said. "I think it's time to figure out if this is just growing pains within a relatively new field — cybersecurity is maybe 10 years old as a subspecialty — because there are a lot of things happening in cybersecurity that are of big concern."
When the Girl Scouts Research Institute, a unit connected to the Girls Scouts, surveyed its membership for its own STEM study, it found that 74 percent of the girls expressed interest in science, technology, engineering and math — yet only 13 percent said those fields would be their first choice for a career. Fifty-seven percent said that if they did enter a STEM field, they would have to work harder than a man just to be taken seriously.
At Red Bank Regional, after the weeklong Girls Go challenge, neither Team Throckmorton nor The Team That Must Not Be Named scored sufficient points to win at the national or state level. On the final scoreboard for New Jersey, Team Throckmorton placed 73rd out of 168 teams in the state, while The Team That Must Not Be Named placed 97th. Still, after playing Girls Go this winter, 70 percent of the players nationwide said they were now interested in a cybersecurity career, compared with 36 percent prior to playing the game, according to a survey by the SANS Institute.
One of those newly cyber-enthused students was Brigid Clanton-Calnan, a junior at Red Bank. "Right now, I'd say I've gone from pretty much zero interest in cybersecurity to really being pulled in that direction," she said. "And I'd love to play the game again, if it happens again next year."
Putin critic Alexei Navalny pictured walking down stairs as he recovers from novichok poisoning | World News
Putin critic Alexei Navalny has been pictured walking down stairs in hospital as he continues to recover after being poisoned with novichok.
He said in a post on Instagram that he still has difficulties climbing stairs because his legs tremble but his path to recovery is now "clear, although long".
Mr Navalny is being treated in a German hospital after he was taken ill during a domestic flight in Russia on 20 August.
On Thursday, a member of his entourage claimed he was poisoned via a water bottle in his Siberian hotel room.
Two independent laboratories in France and Sweden confirmed an earlier German finding that the Russian was poisoned with novichok, which was used in the Salisbury attack on ex-Russian spy Sergei Skripal.
Mr Navalny, the leading opponent of Russian President Vladimir Putin, fell ill in Siberia last month and was airlifted to Berlin where he has been treated in the Charite University Hospital.
German chancellor Angela Merkel said the use of the chemical weapon showed the "dangerous" attack on Mr Navalny was attempted murder and the aim was to silence him.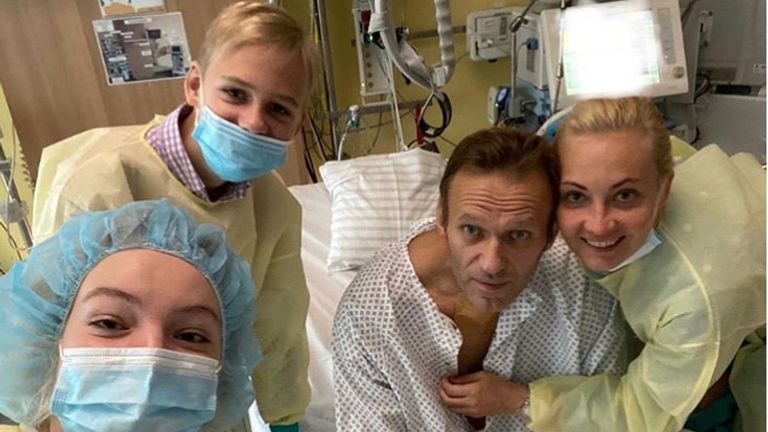 She said there were "very serious questions that only the Russian government can answer and must answer".
Mr Navalny said in the Instagram post he still could not use his phone and had difficulties trying to pour water into his
glass.
"There are many problems yet to be solved but amazing doctors from the Charite hospital have solved the main one," the post said.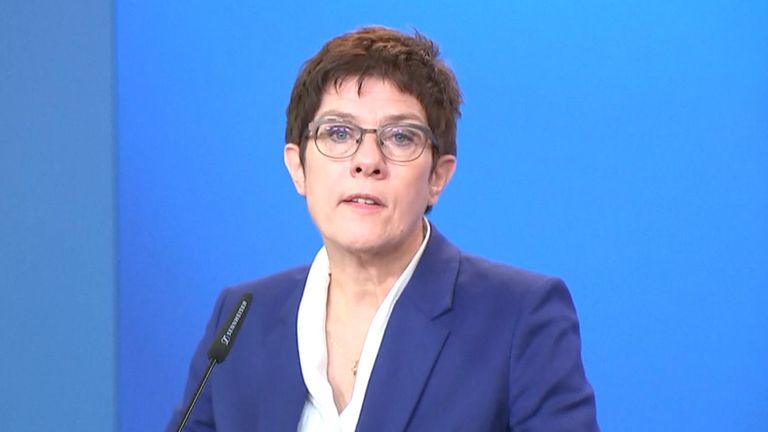 "They turned me from a 'technically alive human being' into someone who has high chances to become… a man who can quickly scroll Instagram and understands without thinking where to put his likes."
He added that at first he had had difficulties recognising people and finding the words to express himself, saying he suffered "despair" because he couldn't "find the words".
US Supreme Court judge and women's rights champion Ruth Bader Ginsburg dies | US News
US Supreme Court judge Ruth Bader Ginsburg has died at 87 due to complications from pancreatic cancer.
Justice Ginsburg died at her home in Washington DC surrounded by her family.
She was appointed to the Supreme Court by President Bill Clinton in 1993 and was a champion of women's rights who became an icon for American liberals.
Young women particularly seemed to embrace the judge, affectionately referring to her as the Notorious RBG.
Hailing from a working-class family in Brooklyn, Justice Ginsburg won major gender discrimination cases before she was appointed to the Supreme Court.
She was only the second woman in history to sit on the highest court in the country, providing key votes in landmark rulings securing equal rights for women, expanding gay rights and safeguarding abortion rights.
Justice Ginsburg once said that despite graduating at the top of her Columbia University law school class, she struggled to find a law firm willing to hire her because she had "three strikes against her" – for being Jewish, female and a mother.
The 87-year-old announced in July that she was undergoing chemotherapy for lesions on her liver, after suffering five bouts of cancer beginning in 1999.
Responding to her death, US President Donald Trump said she was an "amazing woman" and he was sad to hear she had died.
Former US president George Bush described her as a "smart and humourous trailblazer", saying he was "fortunate" to have known her.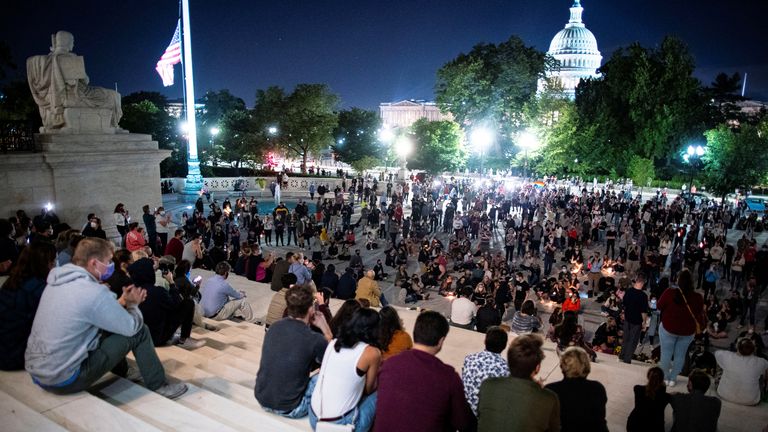 Hillary Clinton said she had "paved the way for so many women, including me".
"There will never be another like her," she added.
Chief Justice John G Roberts Jr was also among the first to pay tribute, saying: "Our nation has lost a jurist of historic stature.
"We at the Supreme Court have lost a cherished colleague.
"Today we mourn, but with confidence that future generations will remember Ruth Bader Ginsburg as we knew her – a tireless and resolute champion of justice."
Nodding to her popularity across political lines, Donald Trump's son Eric wrote on Twitter: "Justice Ginsburg was a remarkable woman with an astonishing work ethic. She was a warrior with true conviction and she has my absolute respect! #RIP."
She was a household name in the US and numerous celebrities have paid tribute, including Hollywood actress Brie Larson, who said: "Thank you, Justice Ruth Bader Ginsburg. We'll keep pushing our way into all the places we've yet to be invited."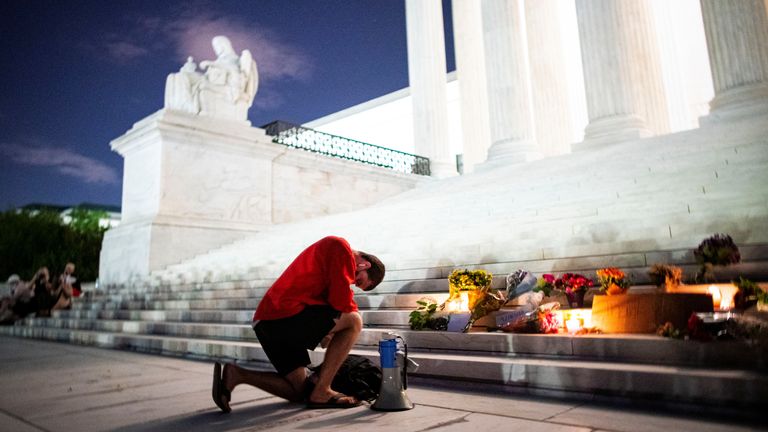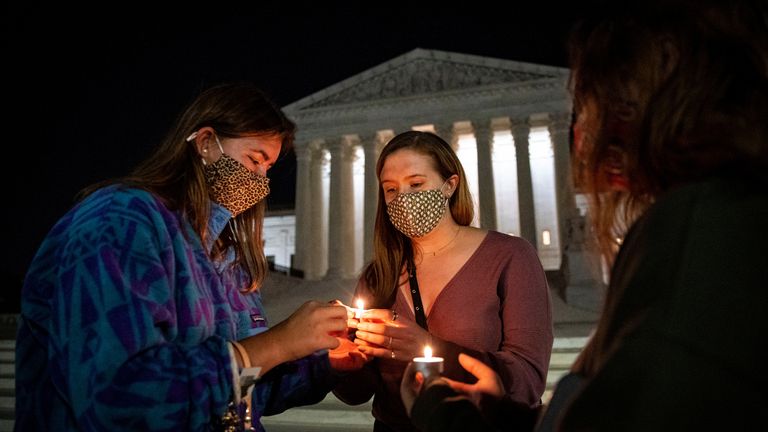 Writer and actress Mindy Kaling wrote: "Ruth Bader Ginsburg was the kind of scholar and patriot you get excited about explaining to your kids.
"The kind of person who you say 'who knows, one day you could be HER'. I hope you rest well, RBG, you must have been tired from changing the world."
Justice Ginsburg's death just over six weeks before the US election will have profound consequences and is likely to set off a heated battle over who should choose her replacement in the conservative-majority court.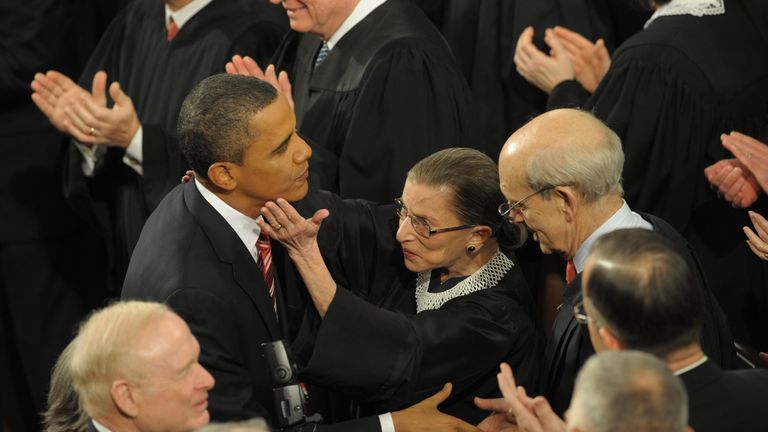 President Donald Trump will likely try to push a successor through the Republican-controlled Senate, moving the court even more to the right.
Mr Trump is likely to put forth a nominee in the coming days, according to ABC News, and Senate majority leader Mitch McConnell has said the Senate will vote on the president's pick.
But Democrats argue the seat should remain vacant until the outcome of the election is known.
Presidential hopeful Joe Biden, who described Justice Ginsburg as an "American hero", pointed to the Republican Senate's decision in 2016 not to appoint a successor to Justice Antonin Scalia until that year's election.
"Just so there is no doubt, let me be clear: the voters should pick a president, and that president should select a successor to Justice Ginsburg," he said.
:: Subscribe to Divided States on Apple podcasts, Google Podcasts, Spotify, and Spreaker
In a statement dictated to her daughter days before her death, Justice Ginsburg said her "most fervent wish" was not to be replaced until a new president is installed, according to non-profit media organisation NPR.
She was married to prominent tax lawyer Martin Ginsburg, who died in 2010, and is survived by two children, Jane and James.
A private funeral ceremony will be held at Arlington National Cemetery in Virginia.
120,000-year-old human footprints found in Saudi Arabia | World News
Sets of 120,000-year-old footprints belonging to humans have been discovered in Saudi Arabia.
The set of seven human footprints, found around an ancient dry lake in the northern region of Tabuk, are the earliest evidence of humans in the Arabian peninsula.
Experts believe they are the footprints of at least two people, and say they could help understand the routes taken by humans out of Africa.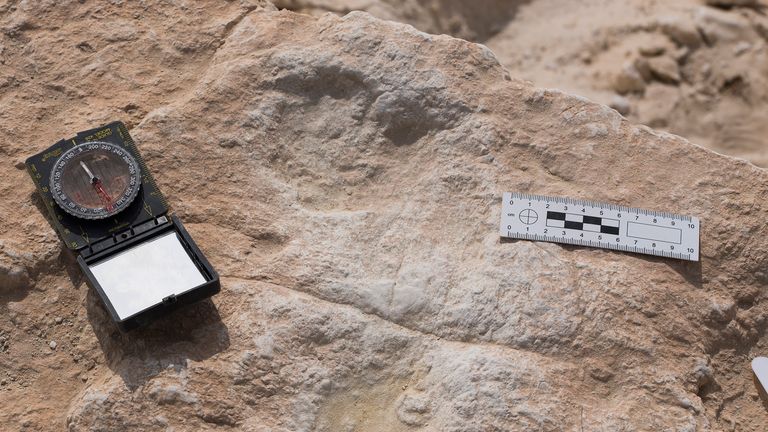 The new research suggests "inland routes, following lakes and rivers, may have been particularly important to humans" leaving the continent, according to Mathew Stewart from the Max Planck Institute for Chemical Ecology
He added: "Footprints are a unique form of fossil evidence in that they provide snapshots in time, typically representing a few hours or days, a resolution we tend not to get from other records."
The researchers think the footprints belong to modern humans, on the basis of stature and mass inferred from them, rather than Neanderthals, who aren't known to have been in the region at the time.
Mr Stewart said: "We know that humans were visiting this lake at the same time these animals were, and, unusually for the area, there's no stone tools.
"It appears that these people were visiting the lake for water resources and just to forage at the same time as the animals."
Footprints of elephants and other animals were also identified alongside 233 fossils.
Today, the Arabian peninsula consists of vast deserts which would have been uninhabitable for early humans and the animals that they hunted.
However, over the last decade, researchers have found that the area experienced much greener and humid conditions due to natural variation in the climate.
Richard Clark-Wilson, from Royal Holloway, University of London, said: "At certain times in the past, the deserts that dominate the interior of the peninsula transformed into expansive grasslands with permanent freshwater lakes and rivers."
"The presence of large animals such as elephants and hippos, together with open grasslands and large water resources, may have made northern Arabia a particularly attractive place to humans moving between Africa and Eurasia," added Michael Petraglia, from the Max Planck Institute for the Science of Human History.