Homes threatened as bushfire burns near southwest Sydney
More than 500 firefighters have been working in "very high temperatures" to tackle a wildfire which has threatened homes on the southwestern outskirts of Sydney.
As Australian prime minister Malcolm Turnbull said the situation was "worsening", emergency warnings were placed in a number of suburbs along the Georges River.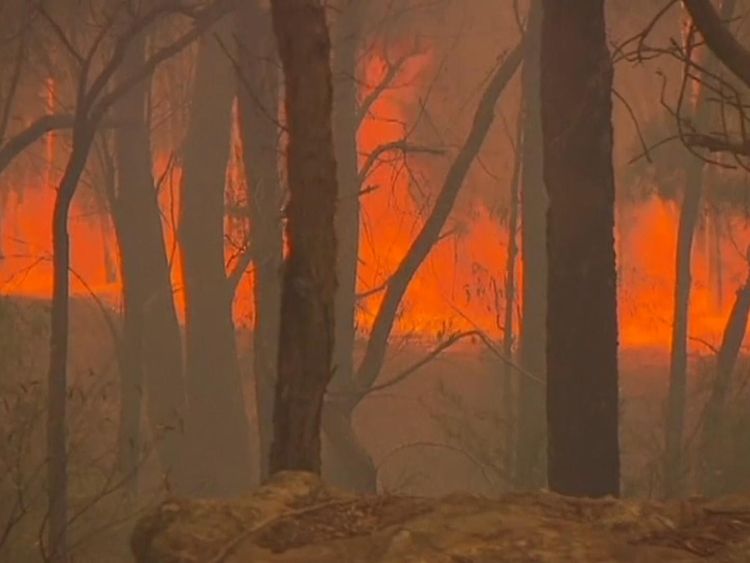 Fire crews fought through the night as the flames burned about 1,000 hectares of bushland.
"This huge blaze has been fought in very high temperatures, very high winds, unseasonal conditions, and has been done so in a way which has seen, to date, no injuries and no serious damage to property," Mr Turnbull said.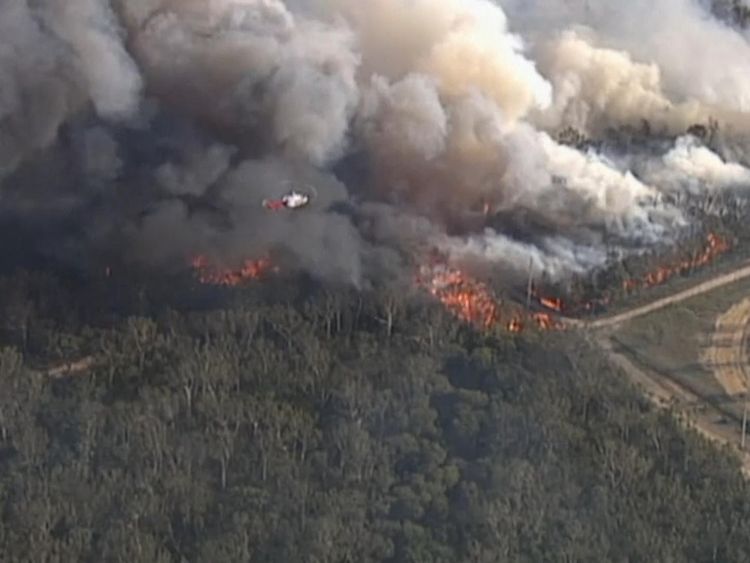 New South Wales police are investigating the cause of the fire.
Inspector Mitch Newtown told the AAP on Saturday night that "we believe it may have been a deliberately lit fire".
"The situation is worsening," Mr Turnbull added, "but there is outstanding efforts to control this fire being made."
There has been some amazing work done by firefighter from all agencies. Despite the horrific conditions, there have been no reports of homes being lost. A lot of very hard work still to be done today. @FRNSW #NSWRFS pic.twitter.com/pg0iOMIp8M

— NSW RFS (@NSWRFS) April 14, 2018
The blaze also burned through an the Holsworthy Army Barracks, ABC reported. The Department of Defence confirmed no buildings at the site were damaged and all non-essential personnel were evacuated.
Hundreds of people were evacuated from their homes on Saturday night, with the flames burning within metres of properties in Holsworthy and Wattle Grove.
Sydney is expected to see temperatures of up to 25C, but the New South Wales Rural Fire Service has downgraded the bushfire threat to an "watch and act" alert after winds eased.
Lewis Hamilton hails 'magical moment' as he wins 100th Formula One race | UK News

Lewis Hamilton has spoken of the "magical moment" of winning his 100th Formula One race at Sunday's Russian Grand Prix.
Hamilton, 36, used his driving and overtaking skills, and his strategic thinking in the rain, to fight back from seventh place on the first lap to a landmark victory.
He is the first driver to reach 100 victories.
It was his fifth win of the season and his first since the British Grand Prix in July.
"It's taken a long time to get to 100 and at times, I wasn't sure it would come," the British driver said.
"It is a magical moment. I could only have dreamed of still being here, to have this opportunity to win these races, and to drive with such phenomenal talents this late on in my career."
"I am so proud of everything we have done with Mercedes, on and off the track, and this is a special moment for everyone that has been part of it.
"My dad called me last night and he has always been that one to reassure me and to continue to support me. I feel incredibly grateful for the amazing support that I have had."
The victory takes Hamilton two points clear of Max Verstappen in the title race with seven rounds to go.
It also denied Lando Norris of his first victory following a thrilling finale.
Norris, 21, appeared on course to keep Hamilton at bay, and become the youngest British Formula One winner.
Vladimir Putin pictured fishing and hiking on Siberian forest holiday | World News
The Kremlin has released pictures showing Russian President Vladimir Putin on a fishing and hiking holiday in Siberia.
Mr Putin, 68, was joined by defence minister Sergei Shoigu, his regular holiday companion, for the short break earlier this month.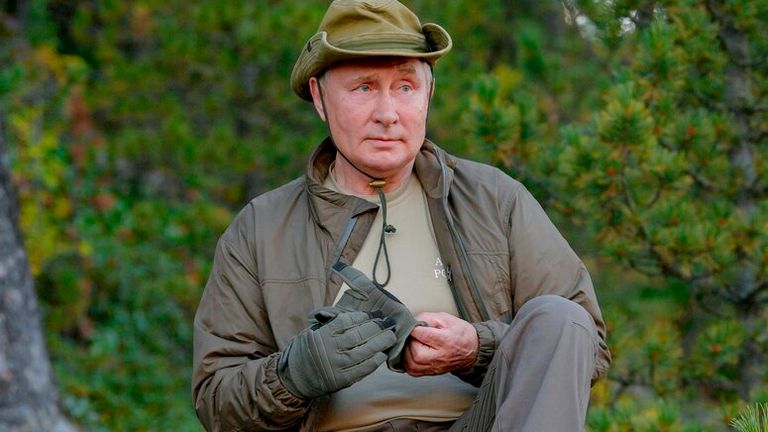 The Russian premier stopped off for a few days after a working trip to the Primorye and the Amur Region of Russia's Far East.
He appeared relaxed while walking through meadows against a dramatic mountain backdrop, casually dressed in a khaki-coloured hat and jacket.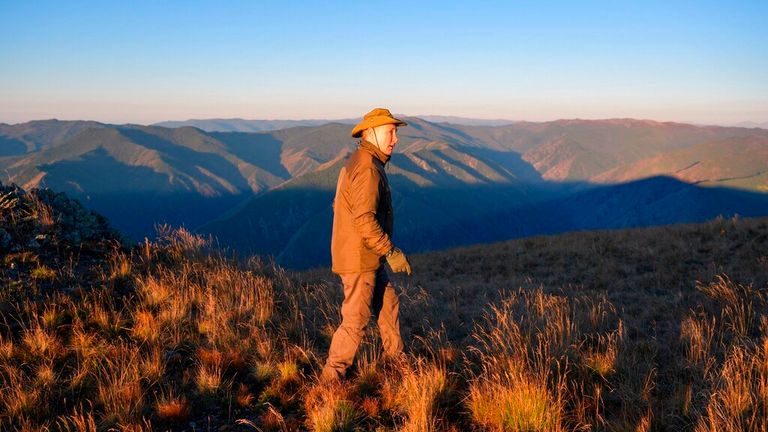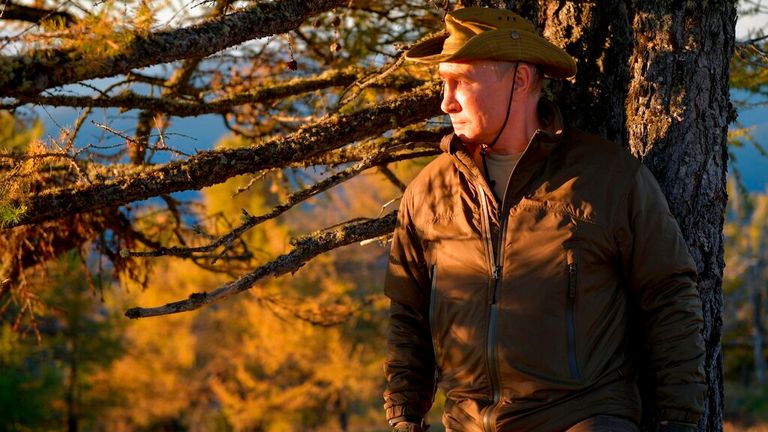 He took a moment to lean against a tree while staring into the distance in another shot.
And he couldn't disguise his delight as he smiled proudly while holding aloft a fish he caught in a nearby lake.
Video footage, released alongside the pictures by the Kremlin on Sunday, also showed Mr Putin driving an amphibious vehicle through a river in the region.
Days after the break, the Russian leader was forced to spend a "few days" in isolation after dozens of people in his inner circle caught COVID-19.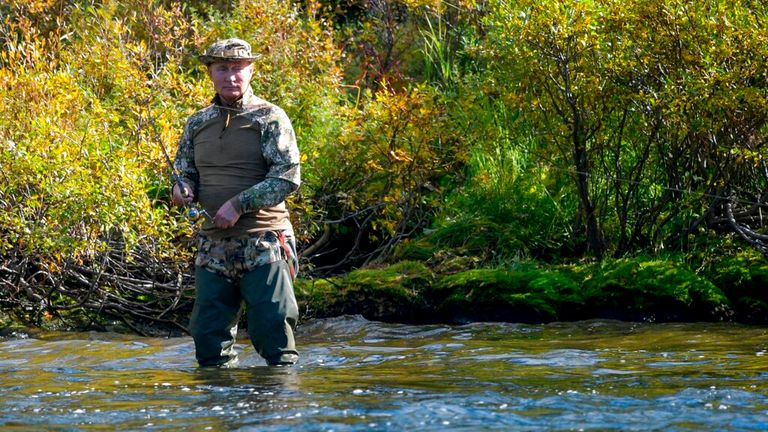 The outbreak prompted Mr Putin to cancel his trip to Tajikistan for a security summit.
He has had two shots of Russia's Sputnik V vaccine and is feeling healthy, the Kremlin said.
The Russian leader is known for his love of the great outdoors and has often been pictured bare-chested in an apparent bid to cultivate his macho image.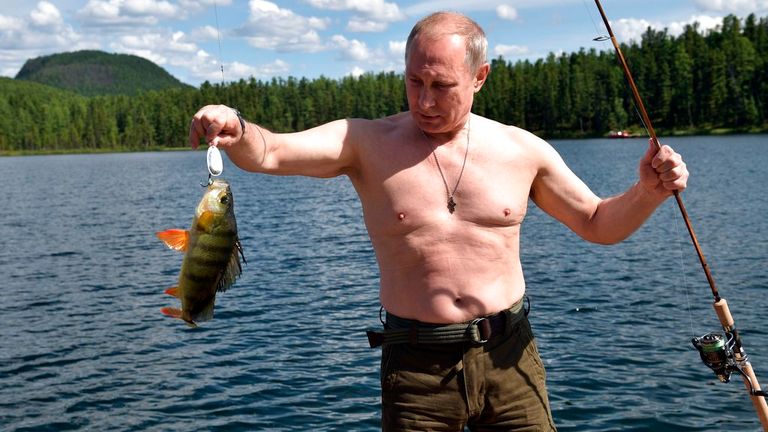 He was most famously pictured shirtless atop a horse on a mountain holiday in southern Siberia's Tuva region in 2009 where he paraded his bare chest and his fishing prowess.
Mr Putin later stripped down to the waist before plunging into an icy lake as part of evens to mark Orthodox Epiphany in January 2018.
UK troops face questioning over woman's 2012 murder in Kenya | World News
Nine British soldiers face being questioned over the murder of a Kenyan woman whose body was found in a septic tank of a hotel close to a UK army camp more than nine years ago.
The body of 21-year-old Agnes Wanjiru was discovered at the Lions Court Inn in Nanyuki two months after she disappeared in March 2012.
The town, which lies some 122 miles (196km) north of the Kenyan capital Nairobi, is close to the British Training Unit Kenya, which is commonly known as BATUK.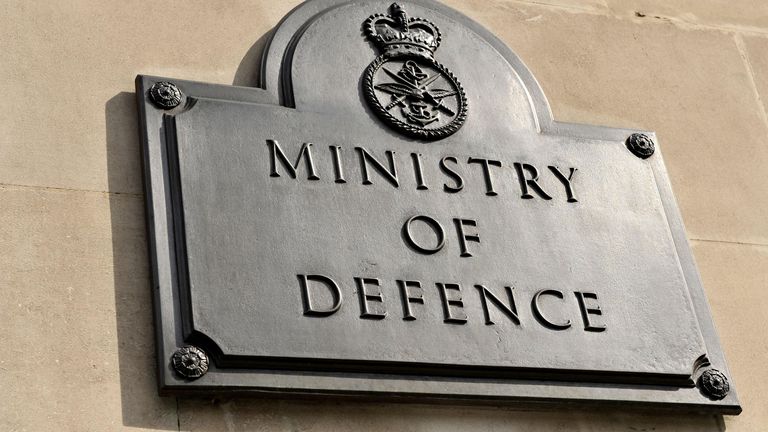 An initial inquiry stalled, but a fresh investigation was launched after an inquest delayed until 2019 found Ms Wanjiru was unlawfully killed, according to The Sunday Times.
A post-mortem examination found she died as a result of stab wounds to her chest and abdomen.
There was also evidence she had been beaten, although due to the condition of her body it was unclear whether she had been sexually assaulted.
Witnesses told The Sunday Times that Ms Wanjiru, a sex worker, was last seen leaving the hotel's bar with a British soldier.
A previous investigation into her death foundered when a request by Kenyan police in June 2012 to the British Royal Military Police (RMP) that nine soldiers be questioned apparently went missing.
Detectives are said to have asked the RMP to put 13 questions to the soldiers, including whether any of them had sex with Ms Wanjiru on the night she disappeared.
A photo of the victim was included in the request, as well as a request for DNA samples to be taken from the nine men.
The Ministry of Defence (MoD) has said it received no such request for assistance in summer 2012, but is now "in discussion with the Kenyan authorities to determine what support is needed".
It said RMP Special Investigation Branch (SIB) officers had been in Kenya for unrelated reasons around the time of Ms Wanjiru's murder, and had assisted in compiling the list of the nine soldiers.
The victim's sister, Rose Wanyua Wanjiku, now 48, told The Sunday Times: "She was in the company of some British soldiers. I believe they were responsible.
"The Kenyan police should have forced the British Army to produce the culprits to face the law."
An MoD spokesman said: "In 2012, Special Investigation Branch carried out initial inquiries in Kenya, including providing information about British personnel to the Kenyan police.
"No further requests for assistance were received.
"Following the conclusion of a Kenyan inquest in 2019, we are aware that the Kenyan authorities are looking into this incident.
"The jurisdiction for this investigation rests with the Kenyan police, and we are currently in discussions with the Kenyan authorities to determine what support is needed.
"Due to this being subject to an ongoing investigation it would be inappropriate to comment further."