Britain eyes former colonies to plug post-Brexit trade gap
Get breaking news alerts and special reports. The news and stories that matter, delivered weekday mornings.
LONDON — With Britain less than a year away from leaving the European Union, but yet to secure any new trade deals, London is eyeing former colonies for help fill its post-Brexit trading hole.
Leaders of the 53 Commonwealth countries gather in London this week for their biennial summit, feted by royals including Queen Elizabeth II and princes William and Harry. It is the first Commonwealth Heads of Government Meeting since Britain voted in a June 2016 referendum to leave the European Union.
British minister Tariq Ahmad told a committee of lawmakers last week that the summit provided a "huge opportunity" to advance deals while divorce negotiations with the E.U. drag on toward the exit deadline of March 2019.
"Britain is going to desperately need export opportunities," said Professor Alan Winters, director of the U.K. Trade Policy Observatory. "If they're not exporting to Mexico or Korea or anywhere else, then it could be to a Commonwealth country."
But there is no sign that Britain's former colonies are rushing to rekindle old trade ties.
Indeed, there is skepticism that Britain will have much choice other than to keep trading with E.U. countries, but on less favorable terms, when it leaves the 28-member bloc. Even government officials have reportedly dismissed the idea of a renewed Commonwealth relationship, describing it as "Empire 2.0."
One third of the world
As the British Empire began to crumble toward the end of the 19th century, a new constitutional relationship was needed as its colonies began to seek independence. A new principle of association, on equal terms with the motherland, was agreed to in 1926 and has been modified over the years to include ethical criteria such as human rights and democratic governance.
Although the queen is the nominal head of the Commonwealth, she is the reigning head of state in only about a dozen nations — including Canada, Australia, Jamaica and the Bahamas — and membership no longer requires total allegiance to the British monarchy.
The Commonwealth is vast — accounting for almost a third of the world's population, 2.4 billion — and includes countries ranging in size from India (1.26 billion people) to Tuvalu (100,000). It is also expanding; Gambia rejoined in February after the removal of its longtime authoritarian leader, Yahya Jammeh.
And while Britannia no longer rules the waves, Commonwealth nations hold rights to 78 percent of the world's seas.
However, it is not an official trading bloc or a customs union. Nor does it have any guaranteed commonalities such as visa-free travel, although Commonwealth citizens living in Britain can vote in elections there.
What does exist is a loose, disparate association of nations with shared values and legal or political systems modeled on the British Parliament and courts.
Its London-based administration, the Commonwealth Secretariat, says trade between members is typically 19 percent cheaper than global trade because of soft efficiencies such as shared language, laws and standardized consumer products.
'The empire is dead'
The immense, glittering state ballroom at Buckingham Palace will be packed with world leaders on Thursday as the queen hosts a dinner to open the Commonwealth summit.
The royals will be busy during the weeklong conference; Prince Harry, who is to marry the American actress Meghan Markle on May 19, will open a youth event while Prince William, whose wife, Kate, is pregnant with their third child, will attend a session of the Commonwealth Business Forum.
"We're not trying to recreate 'Downton Abbey' in India," said Richard Burge, chief executive of the Commonwealth Enterprise and Investment Council, which is holding the business forum. "The empire is dead. It was dead long before I was born. It's just a fact of history. But another fact is that there are a lot of trade opportunities for Britain in the Commonwealth."
In particular, he explained, the Commonwealth has high economic growth rates thanks to its younger age profile in comparison to the global average, while its working population is projected to increase along with an expanding middle class. This is in contrast to the E.U., whose working population is predicted to fall.
"Will there be new trade deals at CHOGM because of Brexit? I don't know, but it is a useful reminder that there is an exciting world beyond Europe," Burge said, using the acronym for the Commonwealth Heads of Government Meeting.
Commonwealth officials — who have spent decades trying to bury its image as a British colonial club — are keen to avoid becoming embroiled in Brexit, and the topic is not on the formal agenda.
Another knotty issue is that many Commonwealth countries, particularly India and Pakistan, have specially negotiated access to the E.U. market through Britain's membership; maintaining that access after Britain's departure from the E.U. is likely to be a Commonwealth priority before reaching any new trade deals, the secretariat's trade adviser, Teddy Soobramanien, said.
An early indication of this reluctant mood came last year, when British Prime Minister Theresa May returned from a trip to India without any prospect of a post-Brexit deal because London was unwilling to ease visa rules for Indian citizens visiting Britain.
And while Australia has expressed interest in a deal, its foreign minister, Julie Bishop, made clear during a visit to London in March that Britain would have to forget about remaining in a European customs union — something that many British businesses say is essential.
Perhaps the biggest hurdle, though, is that the Commonwealth accounts for a relatively small part of British trade, affording to official figures. Around 9 percent of total U.K. exports went to the Commonwealth in 2015, against 44 percent to the E.U. and 10.8 percent to the United States. Similarly, Britain sourced only 8 percent of its imports from the Commonwealth against 53 percent from E.U. members and against 18.6 percent from the U.S.
Nor is it clear that the Trump administration will be eager to forge a deal; Washington claims a modest trade surplus with Britain.
"The reality is that dealing with the E.U., in the first instance by rolling over some of the existing trade agreements, and then by securing new terms, is going to be the priority for British business," said Anastassia Beliakova, head of trade policy for British Chambers of Commerce.
Others, however, are feeling less relaxed.
"Brexit is about to get real," said Chris Southworth, secretary-general of the International Chamber of Commerce U.K. "When exporters start having to fill out customs forms, it is going to feel very real."
La Palma: Residents in limbo as pressure in the Cumbre Vieja volcano drops – but eruption threat remains | World News
Thousands of people have been forced to leave their homes to escape rivers of lava cascading from La Palma's erupting volcano.
But 160 of them will now be allowed to return, after local authorities said their houses were no longer in the path of the molten streams moving down the side of the Cumbre Vieja volcano range.
The rest of the evacuees will have to wait, including Eliza Gonzales.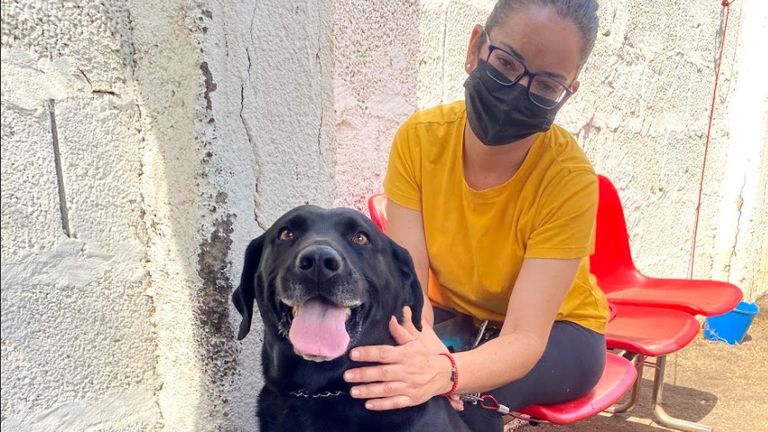 I met her at an improvised animal sanctuary on the island. She had come to see her dog Luna. They've been separated for days.
Ms Gonzales was told she had to leave Luna behind when she fled her home.
Thankfully the rescue centre called to tell her they had saved Luna. But the reunion is bittersweet. Ms Gonzales is staying in temporary accommodation and no dogs are allowed.
What's next for La Palma?

"It's very bad," she says.
Luna will be fostered while Ms Gonzales waits to go back home.
"I'm happy there are good people that offered their houses for the dogs to stay in and be calm."
There are several dogs at the sanctuary, waiting for their owners to come for them. They all bark whenever someone new arrives.
But the centre can only care for abandoned animals. Those who were badly injured during the eruption have to be taken for specialist care.
Volcano eruptions 'could last for months'

They rescued a goat whose udders were severely burnt and took it to the vet, hoping it can recover from its wounds.
Scientists say the pressure inside the volcano has decreased, but that doesn't mean the eruptions are about to stop.
The experts can't predict when the explosions of lava will end, they think it could last till December.
With each day that passes, people are becoming more desperate.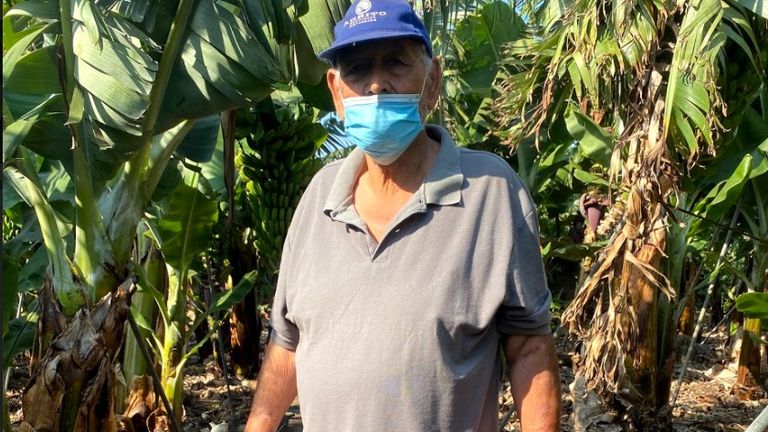 Ernesto de Paz Perez is a banana farmer. The plant is known as "plátano" here, they are slightly smaller than bananas from Latin America.
Mr de Paz Perez, 75, started working on a plátano farm when he was 14.
La Palma depends on the fruit for around half of its economic output.
But the volcanic dust is damaging the fruit's skin and farmers fear they won't be able to sell their produce to supermarkets.
The eruption has also cut off the water supply to Mr de Paz Perez's plants.
"If it [the eruption] keeps going for a long time it will cause a lot of damage. If the plátano fields are not watered we will lose them. There will be many losses," he said.
Elsewhere on the island they're trying to get back to normal. The airport is open after closing because of an ash cloud, but flights haven't immediately resumed.
The whole of La Palma just wants to repair and return to how their lives were before the volcano erupted, but when that will be, no one knows.
Lewis Hamilton hails 'magical moment' as he wins 100th Formula One race | UK News

Lewis Hamilton has spoken of the "magical moment" of winning his 100th Formula One race at Sunday's Russian Grand Prix.
Hamilton, 36, used his driving and overtaking skills, and his strategic thinking in the rain, to fight back from seventh place on the first lap to a landmark victory.
He is the first driver to reach 100 victories.
It was his fifth win of the season and his first since the British Grand Prix in July.
"It's taken a long time to get to 100 and at times, I wasn't sure it would come," the British driver said.
"It is a magical moment. I could only have dreamed of still being here, to have this opportunity to win these races, and to drive with such phenomenal talents this late on in my career."
"I am so proud of everything we have done with Mercedes, on and off the track, and this is a special moment for everyone that has been part of it.
"My dad called me last night and he has always been that one to reassure me and to continue to support me. I feel incredibly grateful for the amazing support that I have had."
The victory takes Hamilton two points clear of Max Verstappen in the title race with seven rounds to go.
It also denied Lando Norris of his first victory following a thrilling finale.
Norris, 21, appeared on course to keep Hamilton at bay, and become the youngest British Formula One winner.
Vladimir Putin pictured fishing and hiking on Siberian forest holiday | World News
The Kremlin has released pictures showing Russian President Vladimir Putin on a fishing and hiking holiday in Siberia.
Mr Putin, 68, was joined by defence minister Sergei Shoigu, his regular holiday companion, for the short break earlier this month.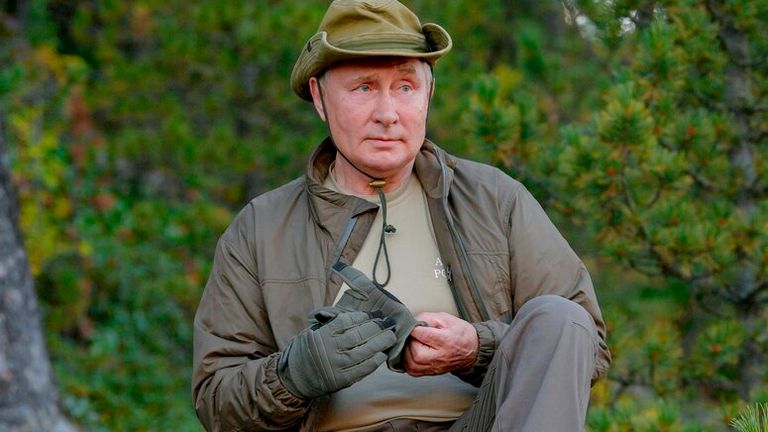 The Russian premier stopped off for a few days after a working trip to the Primorye and the Amur Region of Russia's Far East.
He appeared relaxed while walking through meadows against a dramatic mountain backdrop, casually dressed in a khaki-coloured hat and jacket.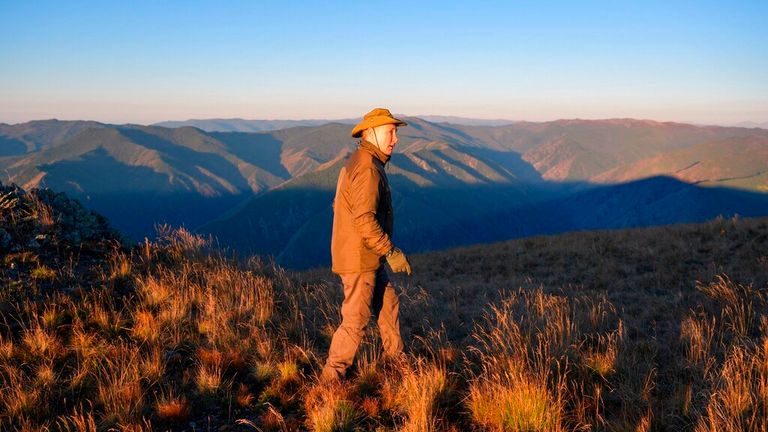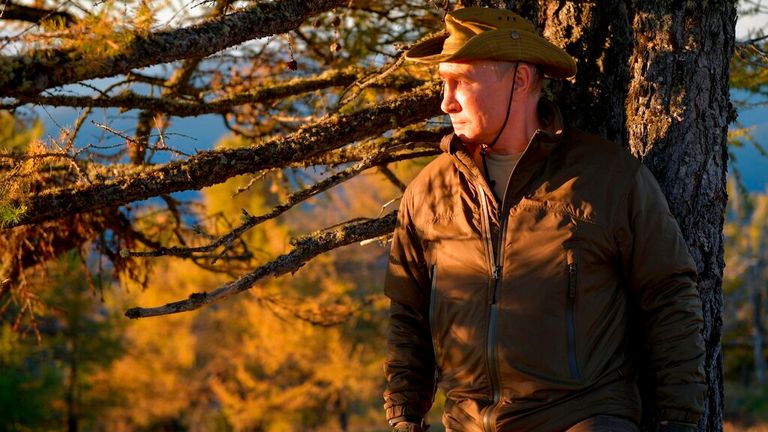 He took a moment to lean against a tree while staring into the distance in another shot.
And he couldn't disguise his delight as he smiled proudly while holding aloft a fish he caught in a nearby lake.
Video footage, released alongside the pictures by the Kremlin on Sunday, also showed Mr Putin driving an amphibious vehicle through a river in the region.
Days after the break, the Russian leader was forced to spend a "few days" in isolation after dozens of people in his inner circle caught COVID-19.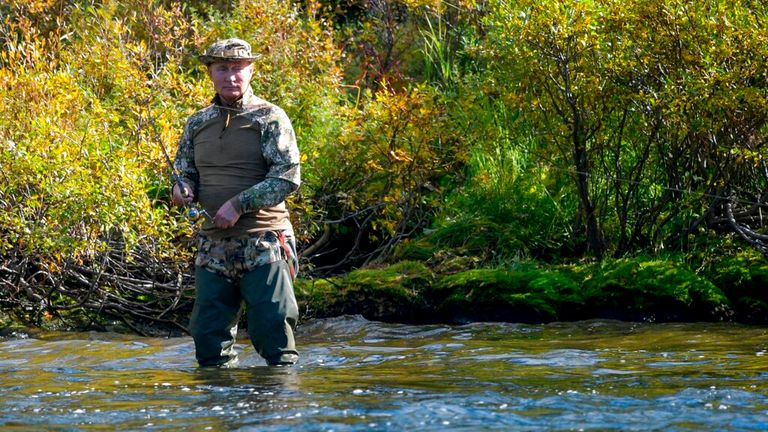 The outbreak prompted Mr Putin to cancel his trip to Tajikistan for a security summit.
He has had two shots of Russia's Sputnik V vaccine and is feeling healthy, the Kremlin said.
The Russian leader is known for his love of the great outdoors and has often been pictured bare-chested in an apparent bid to cultivate his macho image.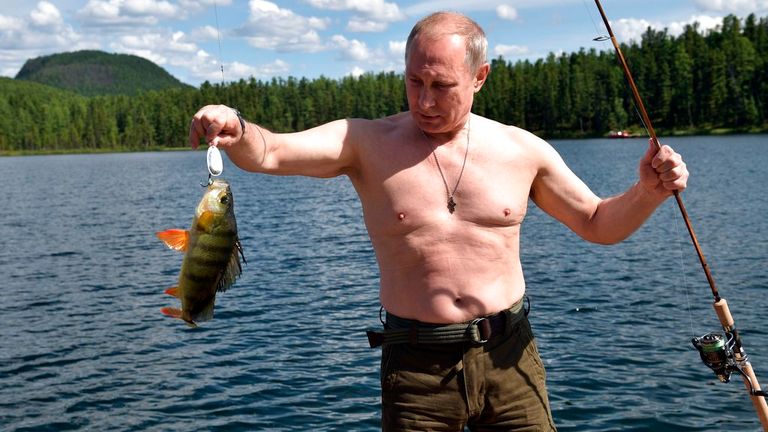 He was most famously pictured shirtless atop a horse on a mountain holiday in southern Siberia's Tuva region in 2009 where he paraded his bare chest and his fishing prowess.
Mr Putin later stripped down to the waist before plunging into an icy lake as part of evens to mark Orthodox Epiphany in January 2018.