Trump's gamble of the highest stakes

In to the hornet's nest, Trump wades, as he puts it marshalling America's "righteous power" against barbarism and brutality.
He will know, because his advisers will have told him, that bringing his nation's military might to bear in Syria is a gamble of the highest stakes.
And despite all the confusing, taunting tweets from the commander in chief over the past few days, Defence Secretary James Mattis and others will have finely balanced the risks and rewards.
It is true that strikes will ensure the use of chemical weapons is met with severe consequences, although whether that will prove a sufficient deterrent is another matter.
America also gets to project a position of strength during tumultuous times, something Trump has often said is important.
Add in to that the benefit of bonds forged with those nations that assist.
For all his bluster, the president likes to be liked and valued. He enjoys privileged relationships, and above all, loyalty from friends.
Arguably there's potential political gain here too.
The Russia probe, the James Comey book, and the FBI raid of his personal lawyer's officer have infuriated Trump.
Striking Syria has the useful side effect of distracting the voting public from these things, as well as providing a solid example of the president standing up to his Russian counterpart.
But there is much more, potentially, to be lost.
If America and its allies go too far, or a mistake or miscalculation is made, Russia and America, two great world powers, could end up in direct military conflict with one another.
Others may be drawn in to the quagmire-like Israel, and its mortal enemy Iran.
The prospect of this is plainly terrifying.
But there's real political risk too.
In 2016 Trump won over the war-weary heartland by raging against the poor decisions that sent middle America's sons and daughters into harms way.
Every time he intervenes like this, he exposes himself to pressure by appearing to turn away from what was essentially a promise of isolationism.
There is no suggestion of boots on the ground in Syria of course, but no one can guarantee that will remain the case.
And there have already been cries from Democrats that striking Syria, without approval from Congress, is illegal.
A number of foreign policy experts have written over the past year that the drums of war have been beating for some time.
With these strikes, they grow louder.
This is the biggest test of Trump's presidency.
Coronavirus: Dogs deployed at Helsinki Airport to sniff out virus | World News
An airport in Finland is using sniffer dogs to detect passengers infected with coronavirus.
Helsinki Airport is trialling the scheme which will see 10 dogs trained in total by Wise Nose, a smell detection agency, with four deployed to work per shift.
It follows a study by the University of Helsinki's Veterinary Faculty, which suggested trained dogs can detect COVID-19 with close to 100% certainty.
Live updates on coronavirus from UK and around the world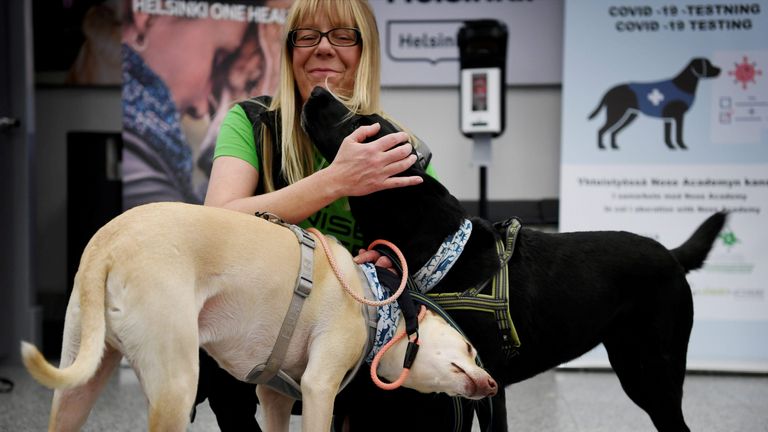 Finnish airport operator Finavia said: "We are among the pioneers. As far as we know no other airport has attempted to use canine scent detection on such a large scale against COVID-19.
"This might be an additional step forward on the way to beating COVID-19."
But for those hoping for a quick play with a puppy there's bad news – there's no direct interaction between passengers and the pooches.
Those who are tested will also receive a conventional check to make sure the animals are accurate.
:: Subscribe to the Daily podcast on Apple Podcasts, Google Podcasts, Spotify, Spreaker
One of the dogs – an eight-year-old greyhound mix called Kossi, learned to identify the scent in just seven minutes.
The scheme will see passengers swab their skin with a wipe, which they will then drop into a cup to be given to one of the dogs to check in a separate booth.
The operation is being run in this way to protect passengers' anonymity and also protect dog handlers.
Anyone who tests positive will be sent to an information point at the airport.
Finland has reported 9,195 cases of COVID-19 and 341 deaths, according to Johns Hopkins University which has been tracking the outbreak.
In the UK, the charity Medical Detection Dogs is running a programme to see if it can train hounds to be able to sniff out the coronavirus.
The scheme is being run with the London School of Hygiene and Tropical Medicine and Durham University, with funding from both the government and the public.
ISS forced to move to avoid collision with space junk | Science & Tech News
Astronauts aboard the International Space Station had to carry out an "avoidance manoeuvre" to prevent it from being hit by space junk, NASA has said.
Its trajectory was changed to move it further away from the "unknown piece of space debris", the US space agency wrote in a blog post on Tuesday.
The three crew members – two Russians and an American – relocated to their Soyuz spacecraft attached to the ISS during the operation, so they could evacuate if necessary.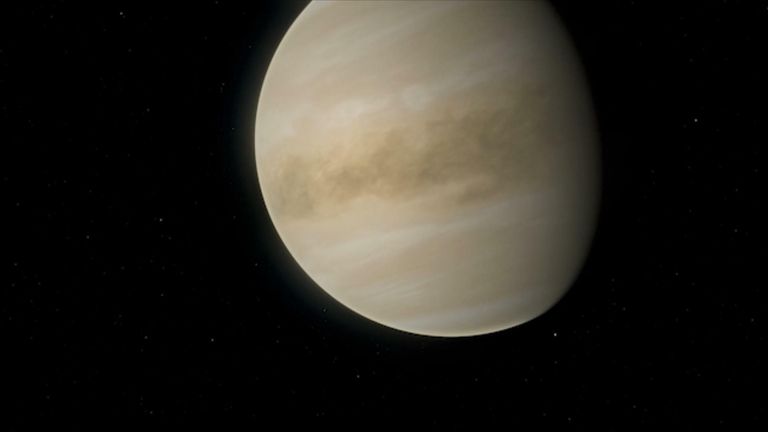 Experts expected the space junk to pass within "several kilometres" of the ISS, but decided to move it "out of an abundance of caution".
Russian and US flight controllers worked together to adjust the station's orbit in an operation which took minutes.
The crew were able to continue with their regular activities after the manoeuvre was complete.
NASA said the crew were not in danger at any time.
"Maneuver Burn complete. The astronauts are coming out of safe haven," NASA administrator Jim Bridenstine said on Twitter.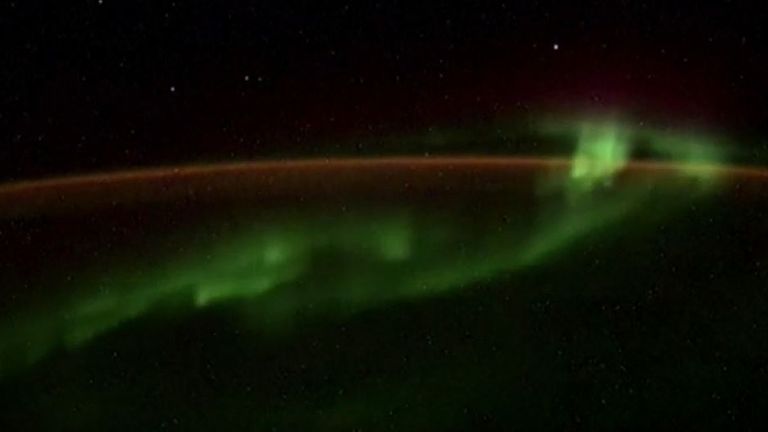 It is the third time this year the International Space Station (ISS) has had to manoeuvre to avoid space debris, he said.
He tweeted: "In the last 2 weeks, there have been 3 high concern potential conjunctions. Debris is getting worse!"
Astronomer Jonathon McDowell, at the Harvard-Smithsonian Center for Astrophysics, tweeted the unknown object was a part of a 2018 Japanese rocket which broke into 77 pieces last year.
The ISS is orbiting around 260 miles (420km) above the Earth, travelling at a speed of about 17,130mph (27,568km/h).
At this velocity, even a small object has the ability to cause serious damage to the space station.
NASA has said these kinds of manoeuvres occur on a regular basis, with 25 having occurred between 1999 and 2018.
China emissions pledge could help the world avoid climate catastrophe, says top diplomat | UK News
Catastrophic climate change could be avoided because of China's promise to be carbon neutral by 2060, the UK's climate diplomat has told Sky News.
John Murton – who is the UK's envoy for climate summit COP26 – says although the details need to be examined, he hopes other countries will now follow China's lead to reduce their emissions.
"It's a really important thing that China has made this commitment as there's no way that the world would be able to meet Paris goals of keeping temperature rise to no more than 2C – and as close to 1.5C – if China hadn't made this sort of commitment," he said.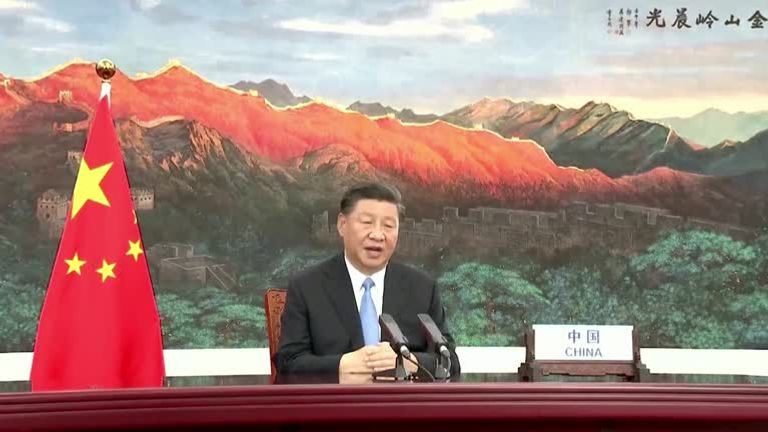 "So in that sense, it's good news. We need to learn the details but what it does is tell other big emitters that these sorts of reductions are possible."
Mr Murton said China's pledge is a "positive thing" for the COP26 conference, which is due to be held in Glasgow next November, as it could persuade other nations to make similar targets.
China is the world's worst polluter, but in a virtual speech at the United Nations General Assembly, President Xi Jinping said his country would be carbon neutral by 2060 and achieve a peak in carbon dioxide emissions before 2030.
It is the first time China has said it will end its net contribution to climate change.
But it is not just its domestic reliance on fossil fuels that environmentalists say needs to be cleaned up.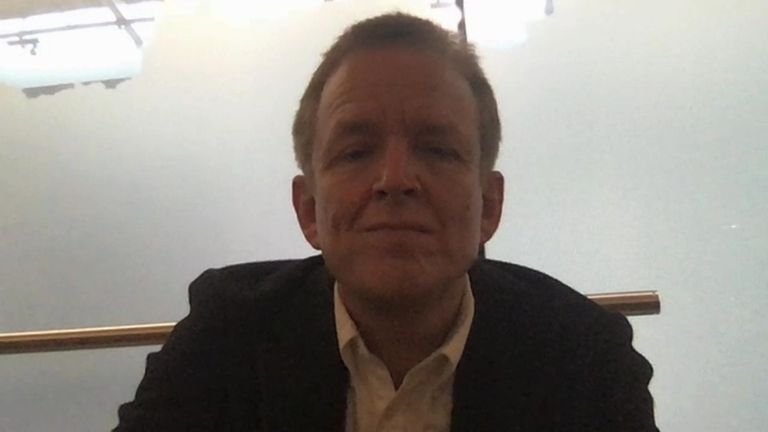 The Organisation for Economic Co-operation and Development says China spent more than $1tn (£786bn) on foreign infrastructure. Over the last few years, the majority of that is thought to involve fossil fuels.
And it has coal projects in at least 28 countries totalling over $50bn (£39bn), according to global coal finance tracker EndCoal.org.
Professor Lord Nicholas Stern of the London School of Economics said: "A big majority of their investments in energy infrastructure would be in fossil fuels, coal and oil and gas, but what we must hope now is that given that China has changed its ambitions, upped its ambitions for emissions within China, that it will apply the same logic outside.
"China's investments internationally should follow the same principles of China's investments inside China and China has made statements to the effect that they will be – that China's investments outside China will be sustainable but that is something that will now be tested."