Trump pardons 'Scooter' Libby, former Cheney aide
Get breaking news alerts and special reports. The news and stories that matter, delivered weekday mornings.
President Donald Trump on Friday pardoned I. Lewis "Scooter" Libby, a former chief of staff to Vice President Dick Cheney who was convicted in 2007 of lying to the FBI and obstructing justice, the White House announced.
"I don't know Mr. Libby," Trump said in a statement, "but for years I have heard that he has been treated unfairly. Hopefully, this full pardon will help rectify a very sad portion of his life."
Libby said in a statement: "My family and I are immensely grateful to President Trump for his gracious decision to grant a pardon. For over a dozen years we have suffered under the weight of a terrible injustice. To his great credit, President Trump recognized this wrong and would not let it persist."
Libby was sentenced to 30 months in prison but had his sentence commuted by President George W. Bush. The conviction remained on his record.
"President Bush is pleased for Scooter and his family," Bush's office said in a statement. Cheney issued a statement praising Trump.
"We commend President Trump for addressing a gross injustice and granting the pardon," said a statement from the law firm of diGenova & Toensing, which represented Libby in the pardon matter. Trump had weighed adding Joe diGenova and Victoria Toensing to his legal team but decided not to due to unspecified conflicts.
The lawyers' statement cited what it said was "the injustice inflicted on him and his family by Special Counsel Patrick Fitzgerald and then-Deputy Attorney General James Comey."
Libby's conviction came after a nearly four-year investigation by Fitzgerald into how the name of a CIA official, Valerie Plame, was leaked to reporters in 2003. Fitzgerald was appointed by Comey, then-deputy attorney general who Trump fired as FBI director last year.
Plame excoriated Trump's decision to pardon Libby in an interview Friday on MSNBC's "Morning Joe," saying the president "decided to go where George W. Bush did not."
"My personal sense is that I didn't think my contempt for Donald Trump could go lower, but he surprises me each and every day," she said.
Plame said that in choosing to pardon Libby, Trump may be sending a message to those who are thinking about cooperating with special counsel Robert Mueller's probe into Russia's 2016 election meddling and possible collusion with the Trump campaign.
"It's very clear that this is a message he is sending, that you can commit crimes against national security and you will be pardoned," she said.
House Minority Leader Nancy Pelosi, D-Calif., had a similar message.
"This pardon sends a troubling signal to the president's allies that obstructing justice will be rewarded," Pelosi said. "The suggestion that those who lie under oath may be rewarded with pardons poses a threat to the integrity of the special counsel investigation, and to our democracy."
Libby was convicted of one count of obstruction, two counts of perjury and one count of lying to the FBI about how he learned Plame's identity and whom he told. Prosecutors said he learned about Plame from Cheney and others, discussed her name with reporters and, fearing prosecution, made up a story to make those discussions seem innocuous.
His trial revealed that top members of the Bush administration were eager to discredit Plame's husband, former Ambassador Joseph Wilson, who had accused the administration of doctoring prewar intelligence on Iraq.
Libby said at the time that he had told investigators his honest recollections and blamed any misstatements on a faulty memory. He was acquitted of one count of lying to the FBI about his conversation with Time magazine reporter Matthew Cooper.
"The results are actually sad," Fitzgerald said on the courthouse steps after the verdict. "It's sad that we had a situation where a high-level official person who worked in the office of the vice president obstructed justice and lied under oath. We wish that it had not happened, but it did."
When Bush commuted Libby's 2 ½-year prison sentence, he noted in a statement that "neither Mr. Libby nor anyone else has been charged with violating the Intelligence Identities Protection Act or the Espionage Act, which were the original subjects of the investigation."
Bush said at the time that the district court rejected advice from the probation office which recommended a lighter sentence, and said in a statement: "I respect the jury's verdict. But I have concluded that the prison sentence given to Mr. Libby is excessive."
Bush said then that the commutation "leaves in place a harsh punishment for Mr. Libby," that "the reputation he gained through his years of public service and professional work in the legal community is forever damaged," and that "the consequences of his felony conviction on his former life as a lawyer, public servant and private citizen will be long-lasting."
Trump in August pardoned former Arizona sheriff Joe Arpaio, who was convicted of criminal contempt for ignoring a judge's order not to detain suspected undocumented immigrants.
In March, Trump pardoned Kristian Saucier, a Navy submariner sentenced in August 2016 to 12 months in prison after taking photos inside the engine room on the USS Alexandria, a nuclear attack submarine. The pictures taken of the vessel's propulsion system were classified "confidential," the lowest level of classification.
La Palma: Residents in limbo as pressure in the Cumbre Vieja volcano drops – but eruption threat remains | World News
Thousands of people have been forced to leave their homes to escape rivers of lava cascading from La Palma's erupting volcano.
But 160 of them will now be allowed to return, after local authorities said their houses were no longer in the path of the molten streams moving down the side of the Cumbre Vieja volcano range.
The rest of the evacuees will have to wait, including Eliza Gonzales.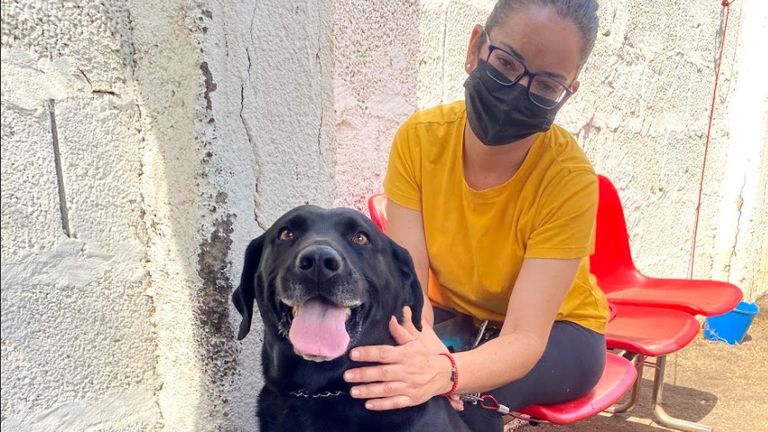 I met her at an improvised animal sanctuary on the island. She had come to see her dog Luna. They've been separated for days.
Ms Gonzales was told she had to leave Luna behind when she fled her home.
Thankfully the rescue centre called to tell her they had saved Luna. But the reunion is bittersweet. Ms Gonzales is staying in temporary accommodation and no dogs are allowed.
What's next for La Palma?

"It's very bad," she says.
Luna will be fostered while Ms Gonzales waits to go back home.
"I'm happy there are good people that offered their houses for the dogs to stay in and be calm."
There are several dogs at the sanctuary, waiting for their owners to come for them. They all bark whenever someone new arrives.
But the centre can only care for abandoned animals. Those who were badly injured during the eruption have to be taken for specialist care.
Volcano eruptions 'could last for months'

They rescued a goat whose udders were severely burnt and took it to the vet, hoping it can recover from its wounds.
Scientists say the pressure inside the volcano has decreased, but that doesn't mean the eruptions are about to stop.
The experts can't predict when the explosions of lava will end, they think it could last till December.
With each day that passes, people are becoming more desperate.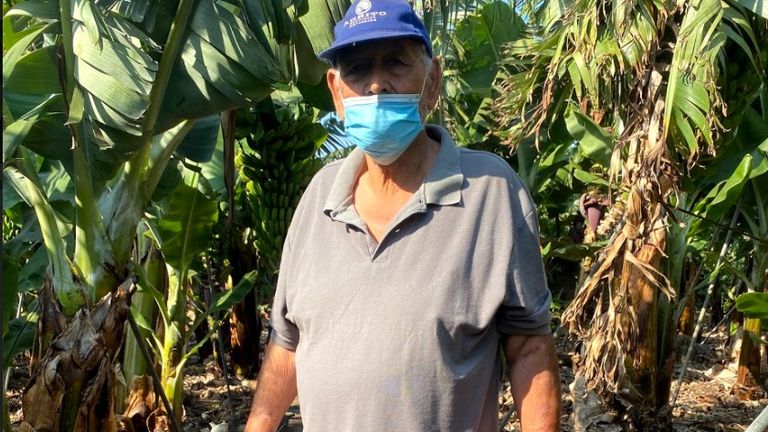 Ernesto de Paz Perez is a banana farmer. The plant is known as "plátano" here, they are slightly smaller than bananas from Latin America.
Mr de Paz Perez, 75, started working on a plátano farm when he was 14.
La Palma depends on the fruit for around half of its economic output.
But the volcanic dust is damaging the fruit's skin and farmers fear they won't be able to sell their produce to supermarkets.
The eruption has also cut off the water supply to Mr de Paz Perez's plants.
"If it [the eruption] keeps going for a long time it will cause a lot of damage. If the plátano fields are not watered we will lose them. There will be many losses," he said.
Elsewhere on the island they're trying to get back to normal. The airport is open after closing because of an ash cloud, but flights haven't immediately resumed.
The whole of La Palma just wants to repair and return to how their lives were before the volcano erupted, but when that will be, no one knows.
Lewis Hamilton hails 'magical moment' as he wins 100th Formula One race | UK News

Lewis Hamilton has spoken of the "magical moment" of winning his 100th Formula One race at Sunday's Russian Grand Prix.
Hamilton, 36, used his driving and overtaking skills, and his strategic thinking in the rain, to fight back from seventh place on the first lap to a landmark victory.
He is the first driver to reach 100 victories.
It was his fifth win of the season and his first since the British Grand Prix in July.
"It's taken a long time to get to 100 and at times, I wasn't sure it would come," the British driver said.
"It is a magical moment. I could only have dreamed of still being here, to have this opportunity to win these races, and to drive with such phenomenal talents this late on in my career."
"I am so proud of everything we have done with Mercedes, on and off the track, and this is a special moment for everyone that has been part of it.
"My dad called me last night and he has always been that one to reassure me and to continue to support me. I feel incredibly grateful for the amazing support that I have had."
The victory takes Hamilton two points clear of Max Verstappen in the title race with seven rounds to go.
It also denied Lando Norris of his first victory following a thrilling finale.
Norris, 21, appeared on course to keep Hamilton at bay, and become the youngest British Formula One winner.
Vladimir Putin pictured fishing and hiking on Siberian forest holiday | World News
The Kremlin has released pictures showing Russian President Vladimir Putin on a fishing and hiking holiday in Siberia.
Mr Putin, 68, was joined by defence minister Sergei Shoigu, his regular holiday companion, for the short break earlier this month.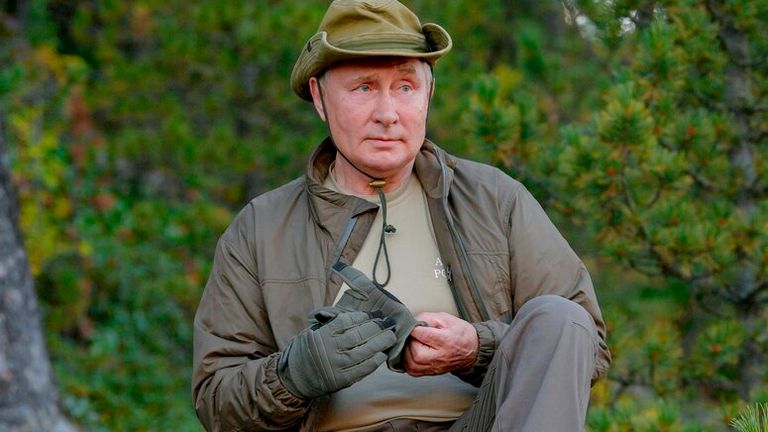 The Russian premier stopped off for a few days after a working trip to the Primorye and the Amur Region of Russia's Far East.
He appeared relaxed while walking through meadows against a dramatic mountain backdrop, casually dressed in a khaki-coloured hat and jacket.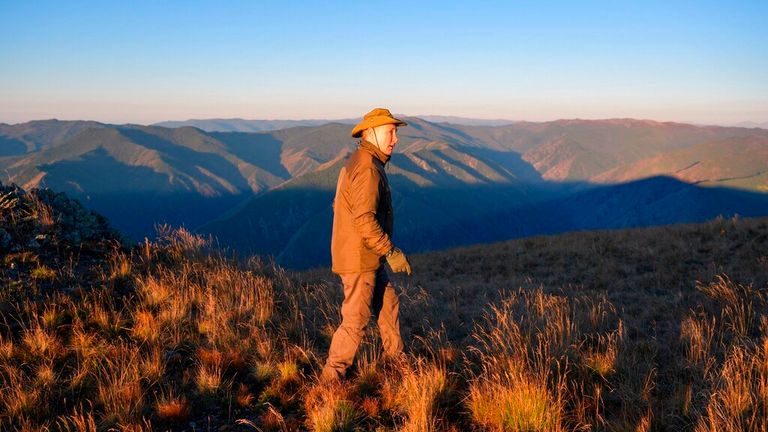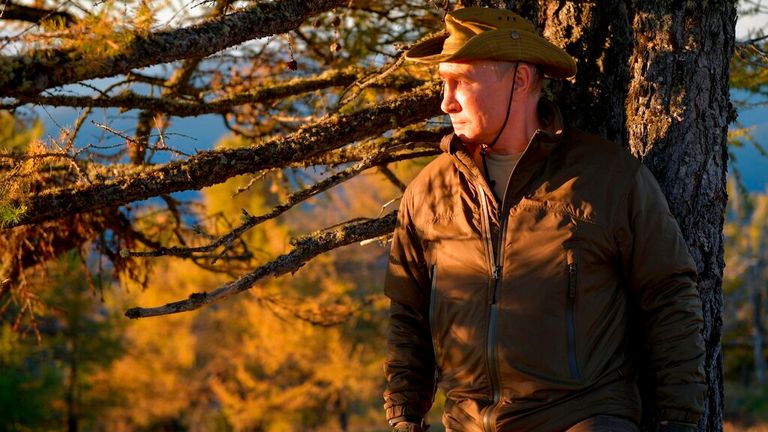 He took a moment to lean against a tree while staring into the distance in another shot.
And he couldn't disguise his delight as he smiled proudly while holding aloft a fish he caught in a nearby lake.
Video footage, released alongside the pictures by the Kremlin on Sunday, also showed Mr Putin driving an amphibious vehicle through a river in the region.
Days after the break, the Russian leader was forced to spend a "few days" in isolation after dozens of people in his inner circle caught COVID-19.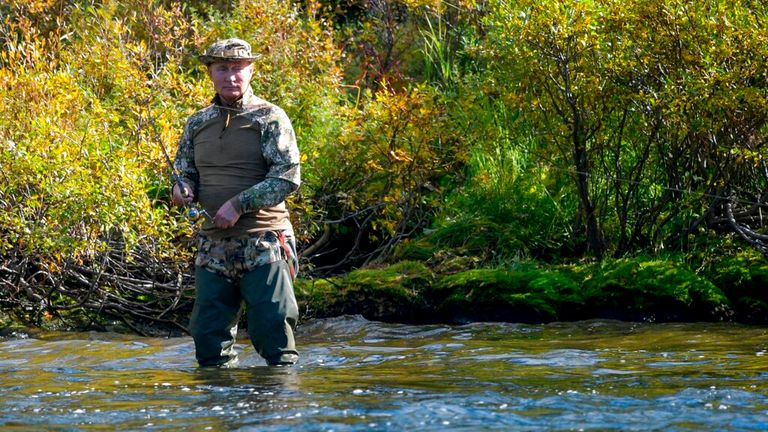 The outbreak prompted Mr Putin to cancel his trip to Tajikistan for a security summit.
He has had two shots of Russia's Sputnik V vaccine and is feeling healthy, the Kremlin said.
The Russian leader is known for his love of the great outdoors and has often been pictured bare-chested in an apparent bid to cultivate his macho image.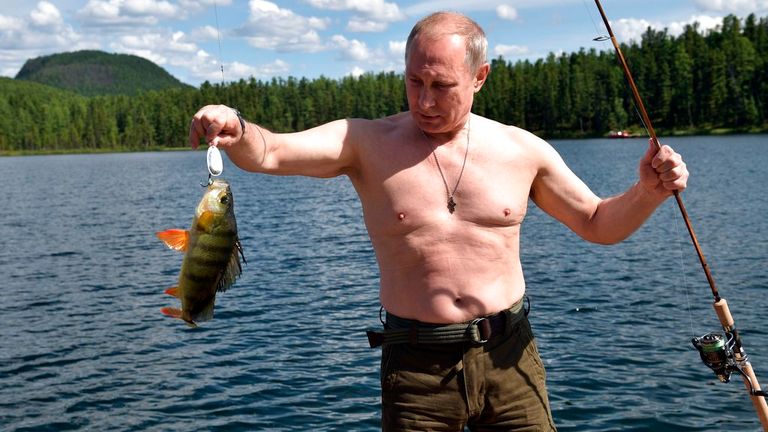 He was most famously pictured shirtless atop a horse on a mountain holiday in southern Siberia's Tuva region in 2009 where he paraded his bare chest and his fishing prowess.
Mr Putin later stripped down to the waist before plunging into an icy lake as part of evens to mark Orthodox Epiphany in January 2018.