Trump overstates what he's 'accomplished.' Again.
The narrow achievement of executing a single military operation demonstrates just how much Trump needs every victory he can declare at a time when the FBI just raided the offices of his personal lawyer, he's still fending off special counsel Robert Mueller's investigation of his campaign and possible obstruction of justice, his agenda is stalled in Congress, his major legislative triumphs promise to greatly exacerbate the debt he vowed to eliminate and his approval ratings remain underwater.
On the international stage, he's recently ignited a trade conflict that threatens to hurt both the manufacturers and farmers he said he'd help on the campaign trail, as well as the Republican candidates who hope to represent them in the House and Senate next year. They might get tired of Trump's version of "winning" the trade fight sooner rather than later.
And Syria's civil war is still a human tragedy that has baffled successive U.S. presidents.
Trump's Saturday morning declaration was widely seen as both premature and myopic, a literal echo of George W. Bush landing on an aircraft carrier and announcing the U.S. mission in Iraq was accomplished 15 years ago (there were still more than 5,000 U.S. troops in Iraq as of December). Those criticisms of Trump were articulated even by many national security experts who agreed with the decision to use force to punish Assad for using chemical weapons against his own people.
David Mortlock, who worked on Syria sanctions policy at the National Security Council and the State Department during the Obama administration, said it's right to "exert costs" on Assad but only if it's part of a broader strategy by the U.S. and its allies to bring closure in Syria.
"For the missile strikes to actually achieve the mission, there's got to be an intense diplomatic effort to achieve the outcome we want, which is the end of the civil war," said Mortlock, a partner at Willkie Farr & Gallagher. "If the mission is peace for Syrians, it is definitely not accomplished."
Kenneth Roth, the executive director of Human Rights Watch, also noted that last year's attack on Syrian assets by Trump didn't dissuade Assad from using chemical weapons and that the Syrian leader is no closer to facing a war-crimes tribunal.
"What mission accomplished?" Roth wrote on Twitter. "Are Putin-Assad suddenly going to stop targeting civilians (main cause of civilian death)? Is Assad any more likely to stop using chemical weapons than he was after the U.S. retaliatory attack a year ago (when he kept using them)? Is Assad in The Hague?"
Trump's mission was accomplished in the narrow military definition of the term — the buildings the U.S. wanted to destroy were destroyed, with no apparent civilian casualties or damage to Russian troops. The strike may have "degraded" the Syrian chemical apparatus, as the Pentagon put it, but it is not clear by how much, and or how long it will take Assad to rebuild.
Pentagon spokeswoman Dana White acknowledged Saturday that the strikes were focused on a single goal and do not "represent a change in U.S. policy or an attempt to depose the Syrian regime."
But for Trump and his Cabinet, the military strike offers enough to represent a demonstration of the president's break with an Obama administration that failed to convince Congress to authorize military force in Syria and chose not to use the power of the Oval Office to execute attacks without that explicit permission.
"I spoke to the president this morning and he said if the Syrian regime uses this poison gas again, the United States is locked and loaded," U.S. Ambassador to the United Nations Nikki Haley said Saturday before throwing shade at Obama for not retaliating when Assad crossed his famous "red line" on chemical weapons use.
"When our president draws a red line," Haley said, "our president enforces the red line."
But that's a very thin red line in an otherwise dark picture for the Trump presidency right now.
Jacob Blake: Children of man shot by police scream whenever they see a patrol car | US News
The family of Jacob Blake, the man shot seven times by US officers in front of his children, has told Sky News how the traumatised youngsters scream in fear at the sight of a police car.
Jacob Blake Snr said: "It's burning their little minds. One of them, who's eight – his question constantly is: 'Papa, why did they shoot my dad so many times?'
"And I say: 'Son, they shouldn't have shot your daddy at all'."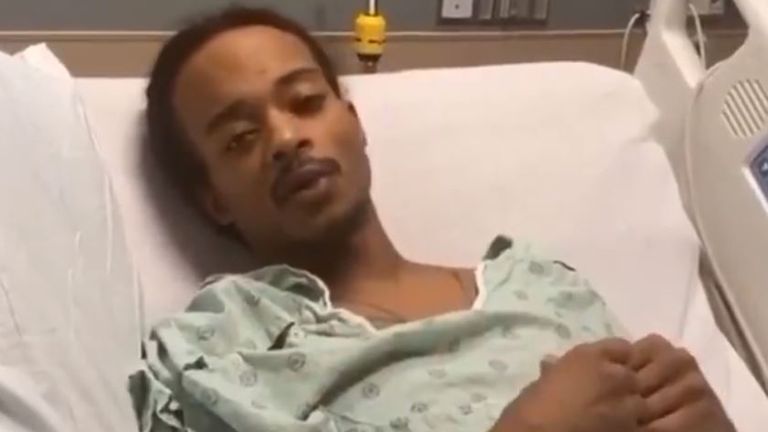 "We were on the highway going to my daughter's house and he saw a police car and he just started screaming," he added.
"I said: 'What is going on in the backseat?' And his older brother said he saw a police car."
Jacob Blake Jnr remains in hospital, paralysed from the waist down.
He was shot by officer Rusten Sheskey after police were called to an address in Kenosha, Wisconsin.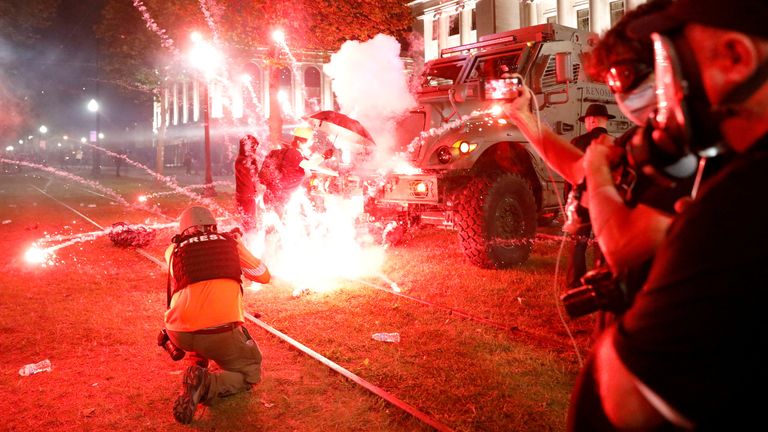 His father said he learned his son had been shot after receiving a phone call and, shortly afterwards, he watched video of the shooting which had been posted on the internet.
He said: "Seeing the man pull my son, his shirt.
"Continuing to fire when he had his shirt in his hand. When he began to shoot, he kept shooting.
"Because one shot, you're like 'okay well he was overzealous. Two shots, you start wondering. By the third shot you know he's trying to kill him."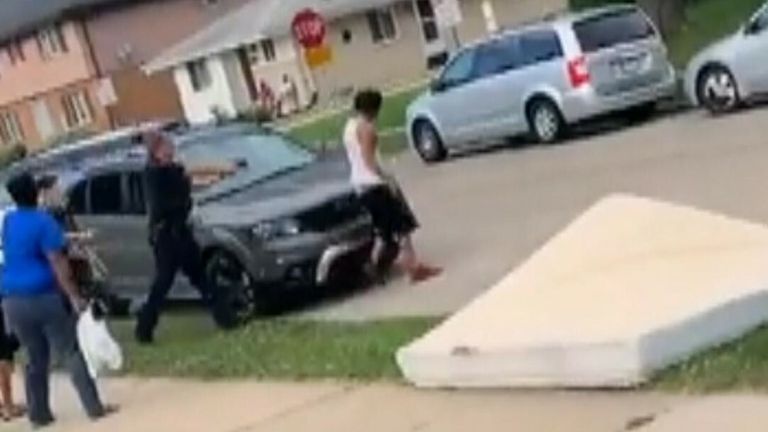 Jacob's sister Letetra Widman added: "I just couldn't believe what I was watching on the video because I've seen it so many times but it was my blood brother that it happened to.
"I am angry and disgusted and anybody who isn't angry, to some degree, or disgusted by the actions that they gave in that video – you need to examine yourself, examine your heart."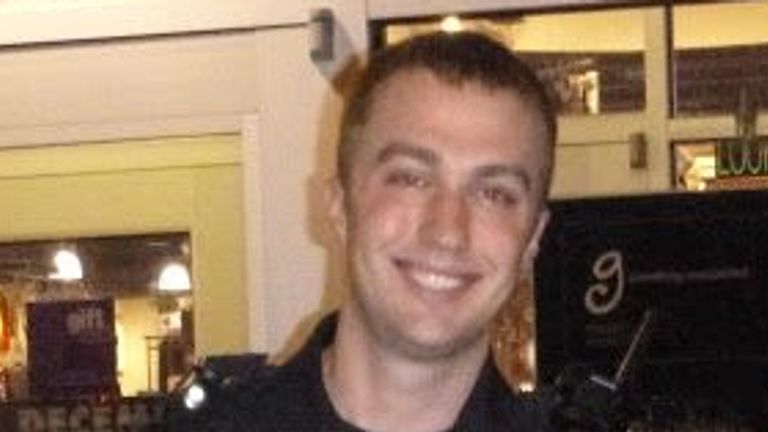 "I almost feel guilty that Jacob is getting so much attention," she added.
"I've learned so many names of so many other people that has this has happened to, and they didn't get so much attention. So it's a bittersweet feeling because I'm glad that there's an opportunity to speak out about it."
The family also revealed that the incident on 23 August is not the only time Jacob Blake survived a multiple shooting.
In July 2016, he was shot three times as the victim of an attempted robbery.
Coronavirus: 'Fragile generation' being hit as Marseille doctors deal with 'alarming' second wave | World News
Go to any hospital in the southern French city of Marseille and you will see the impact a second wave of COVID-19 is having.
Intensive care units are either full or about to reach saturation. More bed capacity is desperately needed but staffing is an issue.
Hospitals here have issued an urgent appeal for doctors, nurses and laboratory technicians from across France to come to Marseille to help.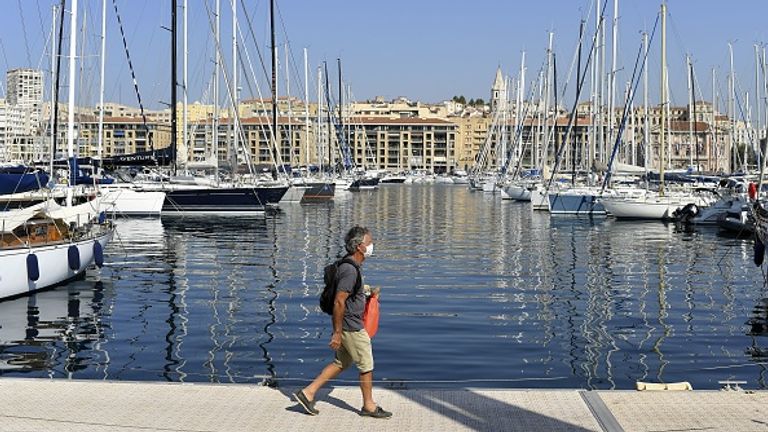 This is the scenario the UK is desperate to avoid.
At the Laveran Military Hospital, doctors fear a return to the situation earlier this year when the health service was overwhelmed by the numbers.
The hospital takes in civilian patients and most ICU beds are now occupied by people with COVID-19. The hospital has turned over an entire ward to less seriously ill COVID patients.
Doctor Pierre-Yves walks along the line of doors to ICU bedrooms, pointing and saying: "That one, that one, that one."
These are the rooms where patients with the virus are kept isolated from others.
Protective garments are required before we can enter one, and inside Dr Pierre-Yves tells me this is a seriously ill 79-year-old woman.
She is a diabetic who contracted COVID over the summer – it is thought at a family party.
She has been placed on her stomach to help her breathing.
ICU care is both professionally and logistically challenging, and Dr Pierre-Yves tells me if those who flout social distancing rules in the city could come to the hospital and see what was happening it would open their eyes.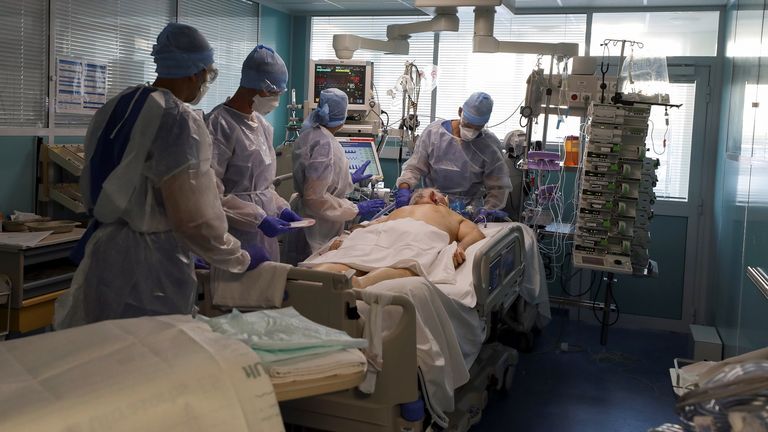 This is a potentially deadly illness, he says, and it is time everyone finally starts to take it seriously.
The number of coronavirus cases has been rising day on day for the last month here in Marseille, leading to tougher restrictions for its citizens.
Private meetings are limited to 10 people, bars and restaurants must close just after midnight and face masks are now a requirement in public spaces.
And yet watch people passing along the port side and you will see many who have decided to forego face masks. Many are young – the age group being blamed here for sowing the seeds of what is the rapid spread of COVID.
:: Subscribe to the Daily podcast on Apple Podcasts, Google Podcasts, Spotify, Spreaker
Sebastien Debeaumont, deputy director of the Regional Health Services, tells me the current situation is "difficult, alarming and serious".
Like officials in other European cities, he points the finger at young people socialising in recent months for the virus now heading in the wrong direction.
He says over that period it was mostly people between the ages of 20 and 40 who were affected, with few symptoms and few consequences, but they have mingled with older family members.
He added: "Now, that age group is less affected than earlier in the summer and now it's the older, more fragile generation that is being hit.
"And it's these people we are seeing in the ICU and in hospital. The challenge is to make the younger generation understand that they have a responsibility to themselves and above all to others."
Those who repeatedly flout the rules on face coverings and social gatherings in Marseille could now face fines of thousands of euros and several months in prison.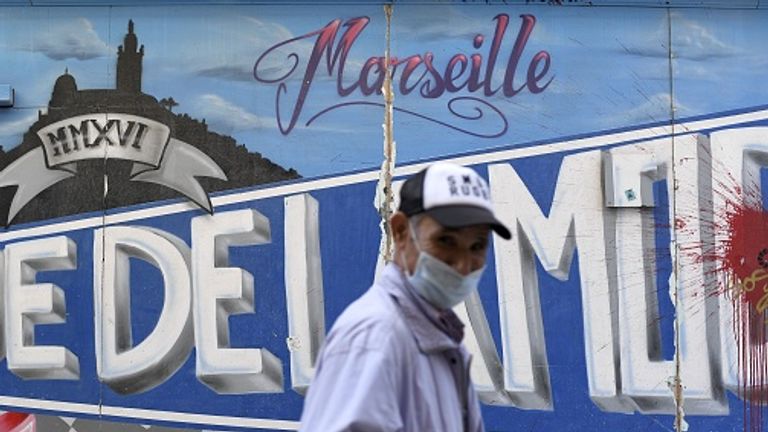 But Mr Debeaumont is simply hoping people take their personal role in fighting COVID seriously and he has a message for the UK government and citizens if a second major wave is to be avoided.
"The lesson to be learnt from the first wave here is that, above all not to wait, and to take measures and find a balance between acceptable measures for all that are efficient," he said.
"Wear a mask, wash hands and allow distance. It's not something our culture is used to, but it needs to be factored into our lives whilst this virus is active."
Botswana: Deaths of more than 300 elephants caused by bacteria in water | World News
Bacteria found in water is believed to have caused the deaths of more than 300 elephants in Botswana.
Scientists fear toxins being produced by tiny organisms in water and soil could be occurring more frequently due to climate change driving up temperatures.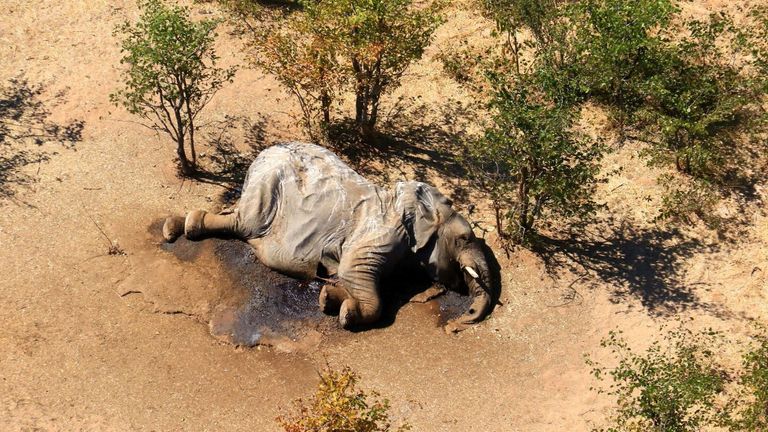 However, they admit there are still "many questions" which need answering because other animals in the same areas as the elephants appear to have been unharmed.
In July, it was revealed 281 elephants had mysteriously died in Okavango Delta, Botswana – but that figure has now risen to 330.
It comes as investigations continue into the deaths of 25 elephants in Zimbabwe who are also thought to have died from bacterial infections.
Veterinary officer Mmadi Reuben, of Botswana's Department of Wildlife and National Parks, said: "Our latest tests have detected cyanobacterial neurotoxins to be the cause of deaths. These are bacteria found in water.
"However, we have many questions still to be answered such as why the elephants only and why that area only? We have a number of hypotheses we are investigating."
Some cyanobacterial blooms are the most powerful natural poisons known, posing serious health risks for people and animals.
Scientists are increasingly concerned about their potential impact as climate change leads to warmer water temperatures, which allows most cyanobacteria to form.
Patricia Glibert, a professor at the University of Maryland Center for Environmental Science, has studied cyanobacteria and said: "It amounts to having the right conditions, in the right time, in the right place and these species will proliferate.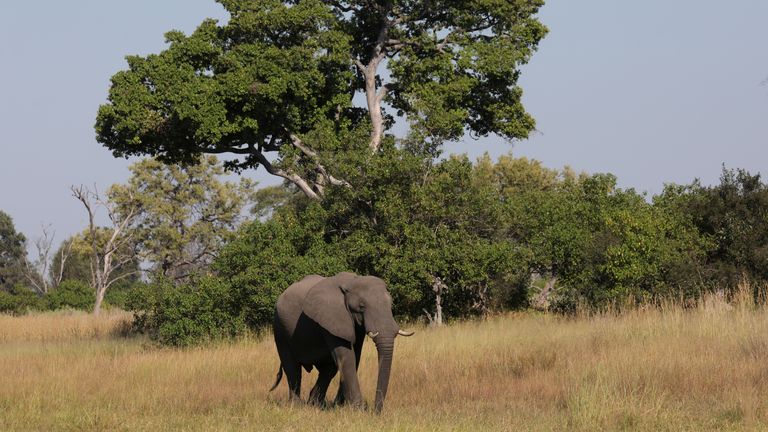 "These conditions are coming together more often, in more places, so we are seeing more of these toxic blooms around the world."
In neighbouring Zimbabwe, the carcasses of about 25 elephants were found near water sources.
The animals still had their tusks, ruling out poaching and deliberate poisoning. It is believed the elephants could have ingested the bacteria while searching for food.
Africa's elephant population is declining due to poaching, but Botswana has seen its numbers grow to around 130,000.