The world reacts to airstrikes on Syria
And French President Emmanuel Macron said the chemical attack that killed dozens of civilians was in "total violation of international law."
"The red line declared by France in May 2017 has been crossed," he said in a statement. "I have therefore ordered the French armed forces to intervene, as part of an international operation conducted in coalition with the United States of America and the United Kingdom against the clandestine chemical weapons arsenal of the Syrian regime."
But Syrian state media called the airstrikes a "flagrant violation of international law."
Russia, which Trump assigned with much of the blame for not stopping the gas attack, vowed that "such actions will not be left without consequences," according to a tweet by Russian Ambassador Anatoly Antonov.
He added that "all responsibility for them rests with Washington, London, and Paris."
Still, much of the world — or at least, America's other allies — offered measured support for the action.
"Canada supports the decision by the United States, the United Kingdom, and France to take action to degrade the Assad regime's ability to launch chemical weapons attacks against its own people," said Canadian President Justin Trudeau in a statement. "We will continue to work with our international partners to further investigate the use of chemical weapons in Syria. Those responsible must be brought to justice," he said.
Israel, a close U.S ally that has also engaged in its own brushes with Syria, commended the swift response.
"Last year, President Trump made clear that the use of chemical weapons crosses a red line. Tonight, under American leadership, the United States, France and the United Kingdom enforced that line.
Syria continues to engage in and provide a base for murderous actions, including those of Iran, that put its territory, its forces and its leadership at risk," said an Israeli official to NBC News.
NATO's Secretary General, Jens Stoltenberg, said the attack was appropriate and would " reduce the regime's ability to further attack the people of Syria with chemical weapons."
"The use of chemical weapons is unacceptable, and those responsible must be held accountable," he said.
Putin critic Alexei Navalny pictured walking down stairs as he recovers from novichok poisoning | World News
Putin critic Alexei Navalny has been pictured walking down stairs in hospital as he continues to recover after being poisoned with novichok.
He said in a post on Instagram that he still has difficulties climbing stairs because his legs tremble but his path to recovery is now "clear, although long".
Mr Navalny is being treated in a German hospital after he was taken ill during a domestic flight in Russia on 20 August.
On Thursday, a member of his entourage claimed he was poisoned via a water bottle in his Siberian hotel room.
Two independent laboratories in France and Sweden confirmed an earlier German finding that the Russian was poisoned with novichok, which was used in the Salisbury attack on ex-Russian spy Sergei Skripal.
Mr Navalny, the leading opponent of Russian President Vladimir Putin, fell ill in Siberia last month and was airlifted to Berlin where he has been treated in the Charite University Hospital.
German chancellor Angela Merkel said the use of the chemical weapon showed the "dangerous" attack on Mr Navalny was attempted murder and the aim was to silence him.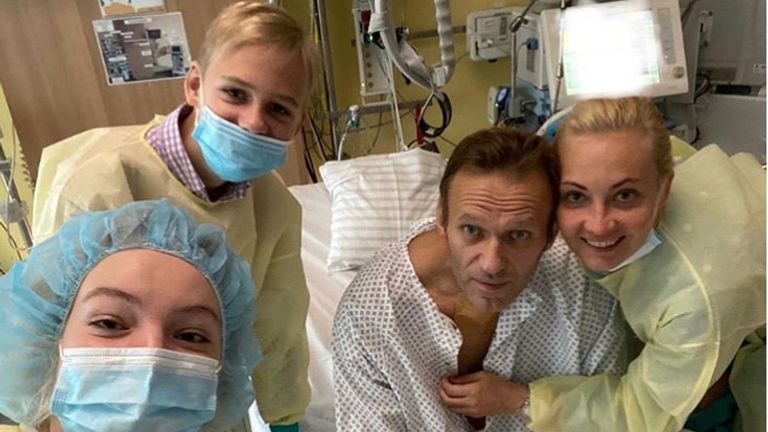 She said there were "very serious questions that only the Russian government can answer and must answer".
Mr Navalny said in the Instagram post he still could not use his phone and had difficulties trying to pour water into his
glass.
"There are many problems yet to be solved but amazing doctors from the Charite hospital have solved the main one," the post said.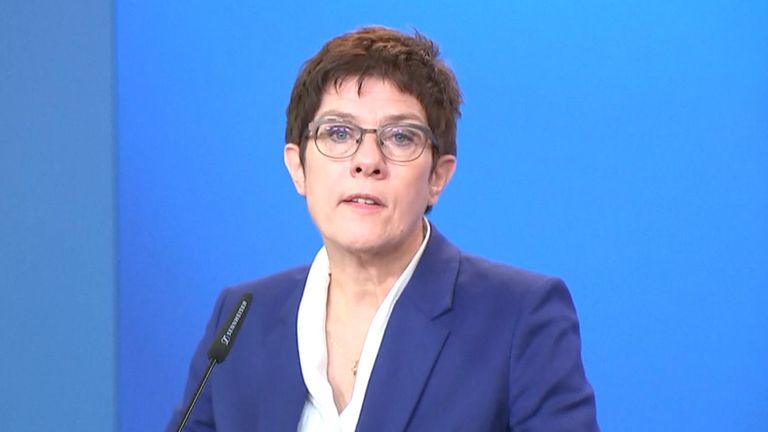 "They turned me from a 'technically alive human being' into someone who has high chances to become… a man who can quickly scroll Instagram and understands without thinking where to put his likes."
He added that at first he had had difficulties recognising people and finding the words to express himself, saying he suffered "despair" because he couldn't "find the words".
US Supreme Court judge and women's rights champion Ruth Bader Ginsburg dies | US News
US Supreme Court judge Ruth Bader Ginsburg has died at 87 due to complications from pancreatic cancer.
Justice Ginsburg died at her home in Washington DC surrounded by her family.
She was appointed to the Supreme Court by President Bill Clinton in 1993 and was a champion of women's rights who became an icon for American liberals.
Young women particularly seemed to embrace the judge, affectionately referring to her as the Notorious RBG.
Hailing from a working-class family in Brooklyn, Justice Ginsburg won major gender discrimination cases before she was appointed to the Supreme Court.
She was only the second woman in history to sit on the highest court in the country, providing key votes in landmark rulings securing equal rights for women, expanding gay rights and safeguarding abortion rights.
Justice Ginsburg once said that despite graduating at the top of her Columbia University law school class, she struggled to find a law firm willing to hire her because she had "three strikes against her" – for being Jewish, female and a mother.
The 87-year-old announced in July that she was undergoing chemotherapy for lesions on her liver, after suffering five bouts of cancer beginning in 1999.
Responding to her death, US President Donald Trump said she was an "amazing woman" and he was sad to hear she had died.
Former US president George Bush described her as a "smart and humourous trailblazer", saying he was "fortunate" to have known her.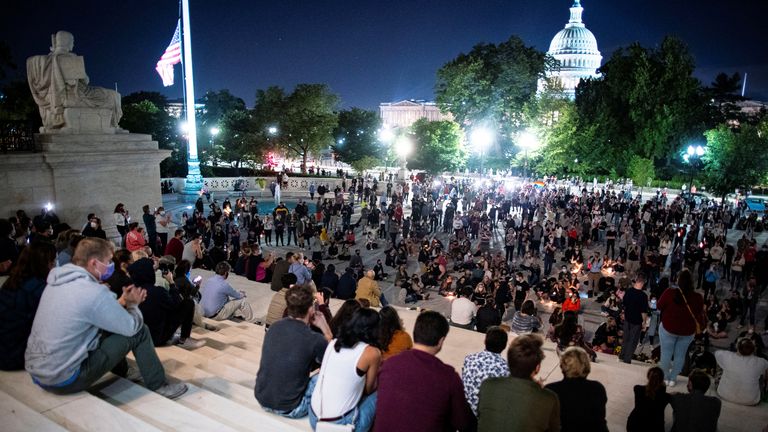 Hillary Clinton said she had "paved the way for so many women, including me".
"There will never be another like her," she added.
Chief Justice John G Roberts Jr was also among the first to pay tribute, saying: "Our nation has lost a jurist of historic stature.
"We at the Supreme Court have lost a cherished colleague.
"Today we mourn, but with confidence that future generations will remember Ruth Bader Ginsburg as we knew her – a tireless and resolute champion of justice."
Nodding to her popularity across political lines, Donald Trump's son Eric wrote on Twitter: "Justice Ginsburg was a remarkable woman with an astonishing work ethic. She was a warrior with true conviction and she has my absolute respect! #RIP."
She was a household name in the US and numerous celebrities have paid tribute, including Hollywood actress Brie Larson, who said: "Thank you, Justice Ruth Bader Ginsburg. We'll keep pushing our way into all the places we've yet to be invited."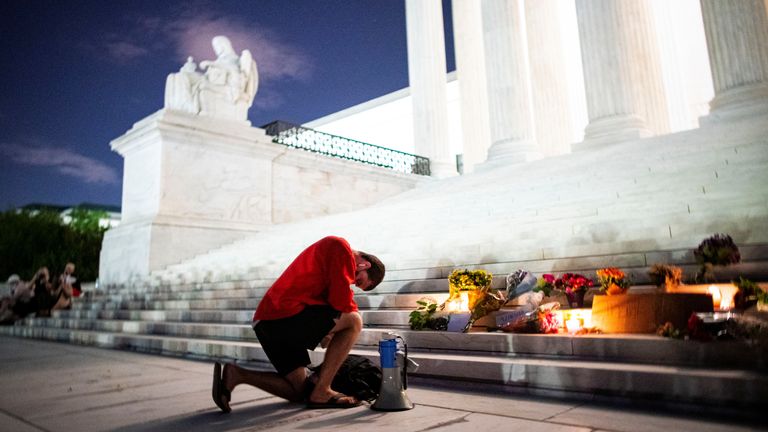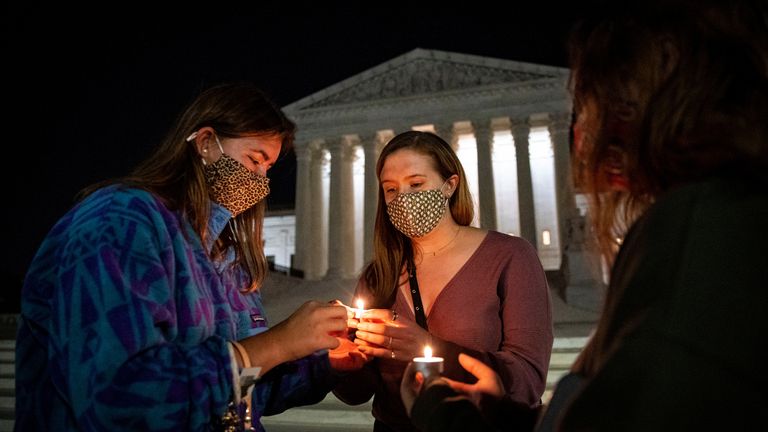 Writer and actress Mindy Kaling wrote: "Ruth Bader Ginsburg was the kind of scholar and patriot you get excited about explaining to your kids.
"The kind of person who you say 'who knows, one day you could be HER'. I hope you rest well, RBG, you must have been tired from changing the world."
Justice Ginsburg's death just over six weeks before the US election will have profound consequences and is likely to set off a heated battle over who should choose her replacement in the conservative-majority court.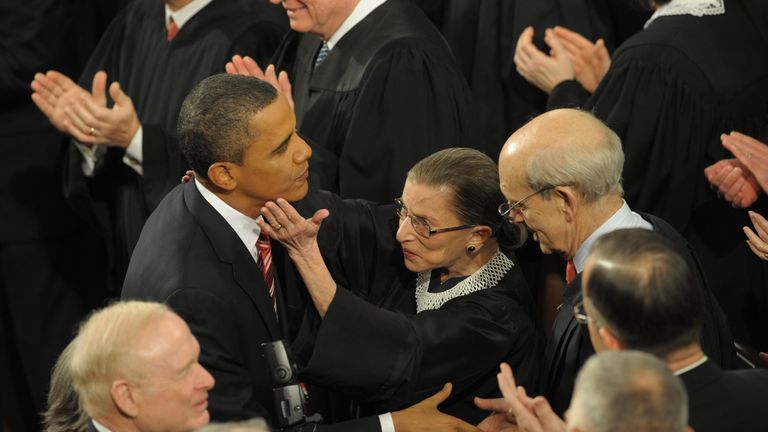 President Donald Trump will likely try to push a successor through the Republican-controlled Senate, moving the court even more to the right.
Mr Trump is likely to put forth a nominee in the coming days, according to ABC News, and Senate majority leader Mitch McConnell has said the Senate will vote on the president's pick.
But Democrats argue the seat should remain vacant until the outcome of the election is known.
Presidential hopeful Joe Biden, who described Justice Ginsburg as an "American hero", pointed to the Republican Senate's decision in 2016 not to appoint a successor to Justice Antonin Scalia until that year's election.
"Just so there is no doubt, let me be clear: the voters should pick a president, and that president should select a successor to Justice Ginsburg," he said.
:: Subscribe to Divided States on Apple podcasts, Google Podcasts, Spotify, and Spreaker
In a statement dictated to her daughter days before her death, Justice Ginsburg said her "most fervent wish" was not to be replaced until a new president is installed, according to non-profit media organisation NPR.
She was married to prominent tax lawyer Martin Ginsburg, who died in 2010, and is survived by two children, Jane and James.
A private funeral ceremony will be held at Arlington National Cemetery in Virginia.
120,000-year-old human footprints found in Saudi Arabia | World News
Sets of 120,000-year-old footprints belonging to humans have been discovered in Saudi Arabia.
The set of seven human footprints, found around an ancient dry lake in the northern region of Tabuk, are the earliest evidence of humans in the Arabian peninsula.
Experts believe they are the footprints of at least two people, and say they could help understand the routes taken by humans out of Africa.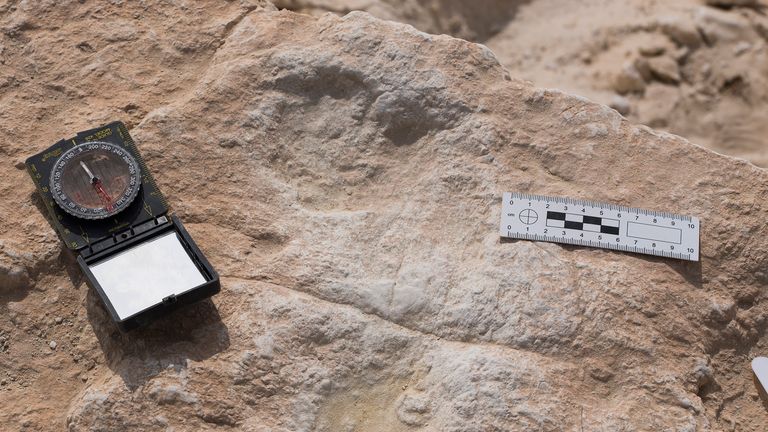 The new research suggests "inland routes, following lakes and rivers, may have been particularly important to humans" leaving the continent, according to Mathew Stewart from the Max Planck Institute for Chemical Ecology
He added: "Footprints are a unique form of fossil evidence in that they provide snapshots in time, typically representing a few hours or days, a resolution we tend not to get from other records."
The researchers think the footprints belong to modern humans, on the basis of stature and mass inferred from them, rather than Neanderthals, who aren't known to have been in the region at the time.
Mr Stewart said: "We know that humans were visiting this lake at the same time these animals were, and, unusually for the area, there's no stone tools.
"It appears that these people were visiting the lake for water resources and just to forage at the same time as the animals."
Footprints of elephants and other animals were also identified alongside 233 fossils.
Today, the Arabian peninsula consists of vast deserts which would have been uninhabitable for early humans and the animals that they hunted.
However, over the last decade, researchers have found that the area experienced much greener and humid conditions due to natural variation in the climate.
Richard Clark-Wilson, from Royal Holloway, University of London, said: "At certain times in the past, the deserts that dominate the interior of the peninsula transformed into expansive grasslands with permanent freshwater lakes and rivers."
"The presence of large animals such as elephants and hippos, together with open grasslands and large water resources, may have made northern Arabia a particularly attractive place to humans moving between Africa and Eurasia," added Michael Petraglia, from the Max Planck Institute for the Science of Human History.