Donald Trump confirms 'precision strikes' on Syria
Syria has said overnight military strikes by the US, UK and France following a suspected chemical attack will "inflame tensions in the world".
The Syrian government, which denies the chemical attack, said the strikes were "brutal, barbaric aggression" by western powers and vowed to continue to "restore security and stability in all corners of the country".
Syria's foreign ministry said: "The barbaric aggression will not affect in any way the determination and insistence of the Syrian people and their heroic armed forces," state news agency SANA reported, quoting an official source in the ministry.
"This aggression will only lead to inflaming tensions in the world" and threatens international security.
President Donald Trump confirmed "precision strikes" had been ordered on targets associated with the Syrian government's chemical weapons programme.
In a televised address from the White House, Mr Trump said: "A short time ago, I ordered the United States Armed Forces to launch precision strikes on targets associated with the chemical weapons capabilities of Syrian dictator Bashar al Assad."
:: LIVE – for live updates on the strikes on Syria
Mr Trump said the military action was a "combined operation" with the armed forces of the UK and France.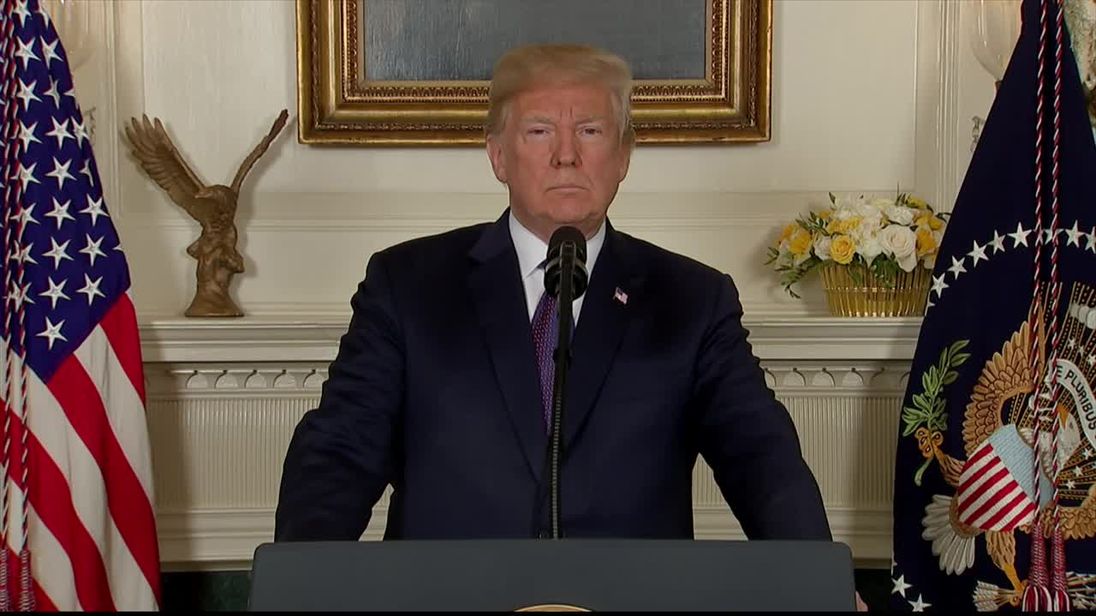 Prime Minister Theresa May confirmed she had ordered British armed forces to conduct "co-ordinated and targeted strikes to degrade the Syrian regime's chemical weapons capability and deter their use".
She said: "This is the first time as Prime Minister that I have had to take the decision to commit our armed forces in combat – and it is not a decision I have taken lightly.
"I have done so because I judge this action to be in Britain's national interest.
"We cannot allow the use of chemical weapons to become normalised – within Syria, on the streets of the UK, or anywhere else in our world."
Speaking this morning in Downing Street, Mrs May said it was clear the Syrian regime was responsible for last weekend's alleged chemical attack in Douma.
She said there had been "horrific suffering" in Syria and said the Syrian regime was responsible.
The prime minister said that a "specific and limited set of targets" had been hit and the action had been "right and legal".
President Emmanuel Macron said France had joined the US and Britain to target "the capacities of the Syrian regime to produce and use chemical weapons".
"We cannot tolerate the normalisation of the use of chemical weapons," he said in a statement.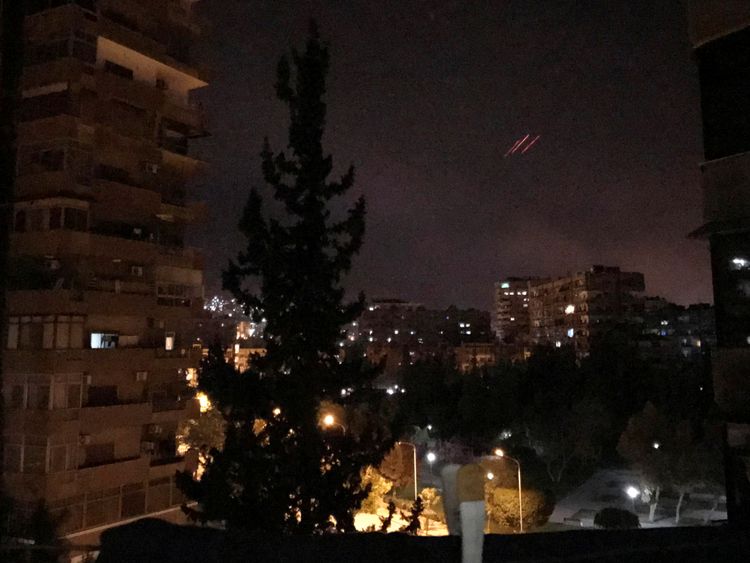 Moments after the US, UK and France announced they were striking Syria at around 2am UK time, several consecutive large explosions were reported around Damascus.
Smoke could be seen emerging from the northern and eastern edges of the capital, state media pictures showed.
It said three civilians were wounded in the Homs attacks.
Syrian television said the attacks targeted a scientific research centre in Barzeh, near Damascus, and an army depot near Homs while it was reported air defences had hit 13 incoming rockets south of Damascus.
The US military said the allied strikes destroyed three main chemical weapons facilities.
They included a scientific research facility in the Damascus area, a chemical weapons storage facility west of the city of Homs and a third location that contained both a command post and a chemical weapons equipment storage facility in the same area, the US military added.
The Ministry of Defence said four RAF Tornado GR4s launched Storm Shadow missiles at one of the targets near Homs.
It said the military action was "proportionate" and "specifically aimed at degrading the Assad regime's ability to use chemical weapons and deterring further such appalling acts".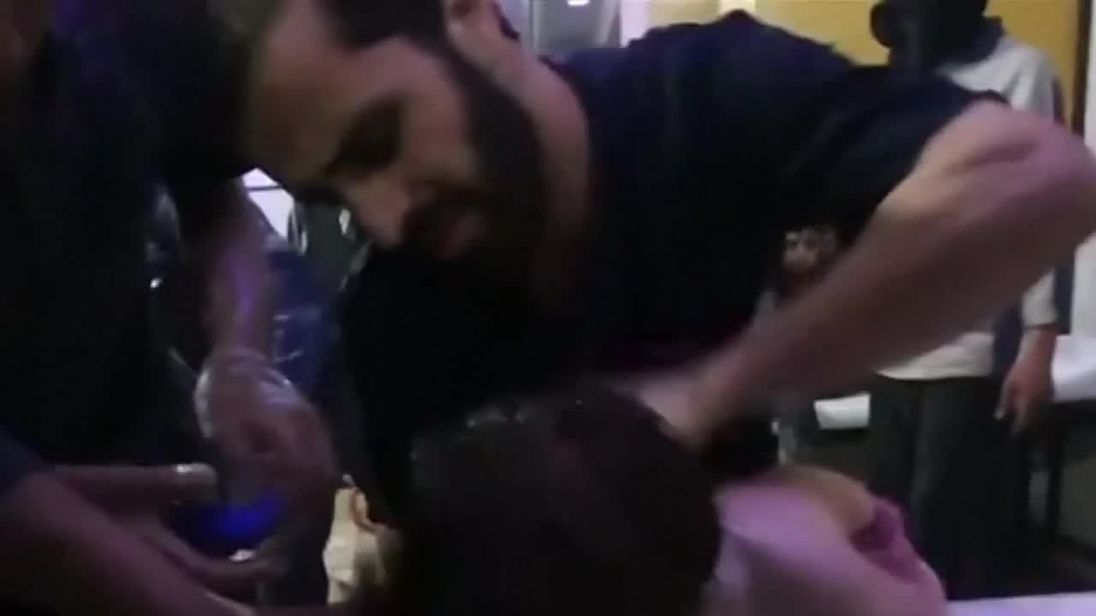 More than 100 missiles were fired by the US and its allies at Syria in a "one-time shot", the Pentagon said
There were no reports of any allied losses and only limited resistance in the form of some Syrian surface-to-air missile activity.
But SANA said the strikes had caused only material damage at the scientific research centre in the Barzeh district of Damascus.
"The missiles that targeted a military position in Homs were thwarted and diverted from their path, and injured three civilians," it added.
Russia's defence ministry said none of the strikes had hit areas near to Russia's air and naval bases.
Russia's foreign ministry said the strikes came as Syria had "a chance of a peaceful future" and were an "outrageous violation" of international law.
Moscow's ambassador to Washington Anatoly Antonov warned that "such actions will not be left without consequences" and "all responsibility for them rests with Washington, London and Paris."
Welcome the news of UK military strikes against major chemical weapons facilities in Syria alongside our US and French allies. The world is united in its disgust for any use of chemical weapons, but especially against civilians

— Boris Johnson (@BorisJohnson) April 14, 2018
He added that "insulting the President of Russia is unacceptable and inadmissible".
Russia said has called for a meeting of the United Nations Security Council to discuss the strikes and in a statement from the Kremlin said it "severely condemns" the attack on Syria.
The deputy head of Russia's foreign affairs committee said Vladimir Dzhabarov said: "The situation is being analysed right now.
"Russia will demand a meeting of the UN Security Council, I think, for sure."
Amnesty International warned that the strikes should "minimise harm to civilians" and urged President Trump to take in Syrian refugees.
Britain's Foreign Secretary Boris Johnson said he welcomed the overnight strikes.
Mr Johnson tweeted: "Welcome the news of UK military strikes against major chemical weapons facilities in Syria alongside our US and French allies.
"The world is united in its disgust for any use of chemical weapons, but especially against civilians."
Defence Secretary Gavin Williamson said he believed the airstrikes have had a significant impact on what the country can do in future, describing them as "highly successful".
He said it is fair to say that relations with Russia are at a low point and urged Russia to use its influence to bring an end to the conflict in Syria.
Mr Williamson said all RAF Tornado jets had returned safely. Asked if there would be further military action against Syria, he said he thought the strikes so far have had sufficient effect.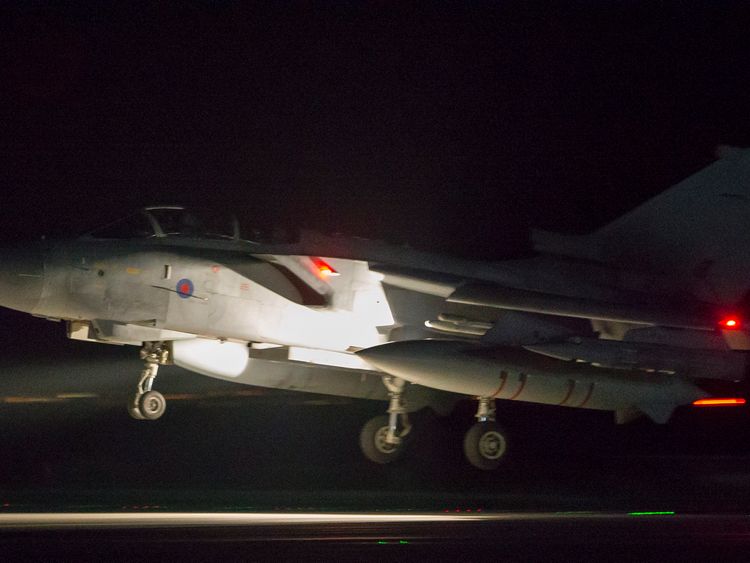 France's defence minister said its joint military operation with the US and Britain against Syria targeted three sites and that Russia was informed before the strikes.
Florence Parly said the French military sent fighter jets from multiple bases in France and used missile-equipped frigates in the Mediterranean in the operation.
Rafale fighter jets could be seen on a video posted overnight by the French presidential palace on Twitter
She said strikes targeted the "main research centre" for the Syrian chemical weapons programme and "two important production sites."
She added that "with our allies, we ensured that the Russians were warned ahead of time."
Labour leader Jeremy Corbyn said the strikes were "legally questionable".
He said "Bombs won't save lives or bring about peace. This legally questionable action risks escalating further, as US defence secretary James Mattis has admitted, an already devastating conflict and therefore makes real accountability for war crimes and use of chemical weapons less, not more likely.
"Britain should be playing a leadership role to bring about a ceasefire in the conflict, not taking instructions from Washington and putting British military personnel in harm's way.
"Theresa May should have sought parliamentary approval, not trailed after Donald Trump.
"The Government should do whatever possible to push Russia and the United States to agree to an independent UN-led investigation of last weekend's horrific chemical weapons attack so that those responsible can be held to account."
Liberal Democrats leader Vince Cable said Mrs May should have sought Parliamentary approval for action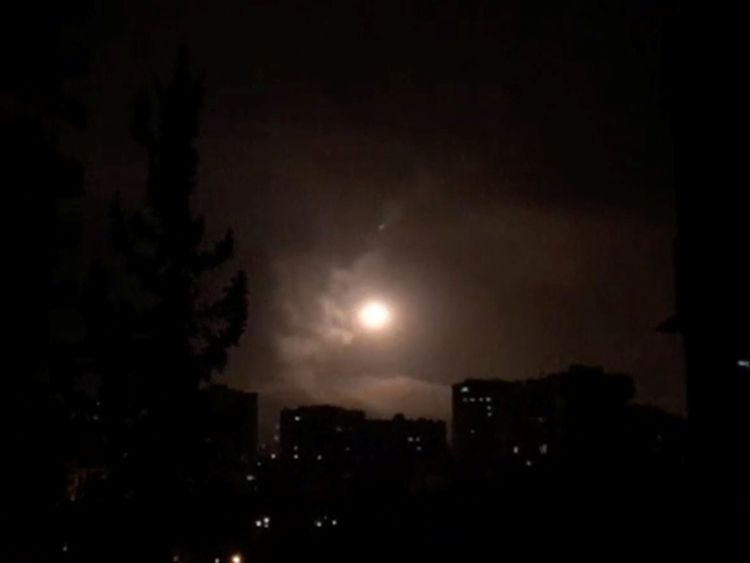 He said: "Riding the coattails of an erratic US President is no substitute for a mandate from the House of Commons.
"The Prime Minister could and should have recalled Parliament this week and sought the approval of MPs before proceeding.
"Liberal Democrats stood ready to assess the evidence and objectives for any action and, if it were properly planned and justified, to support a military response.
"At this moment our thoughts are with British and allied troops. But the Government's decision fatally undermines the integrity of this mission. It shows a weak Government putting short term political expediency before democracy and in so doing further diminishing the standing of Britain in the world."
More follows…
Piers Morgan joining new channel talkTV where he will present 'global show' | Ents & Arts News
Piers Morgan has revealed his next presenting job will be for new television channel talkTV – which is being set up by Rupert Murdoch's News Corp.
The company, which will launch its new service next year, said Morgan's nightly show will be broadcast in the UK, the US and Australia.
He left Good Morning Britain earlier in the year, after criticising Harry and Meghan's comments in an interview they gave with Oprah Winfrey, saying he did not believe some of the things they said, particularly around mental health.
BREAKING: I've gone home. Great to be rejoining Rupert Murdoch's News Corporation after 28 years. The place I started my media career, with the boss who gave me my first big break. We're going to have a lot of fun…. pic.twitter.com/g6xBWvgXzd

— Piers Morgan (@piersmorgan) September 16, 2021
The show was recently cleared by Ofcom, after tens of thousands of complaints were made about it.
Talking about his new role, Morgan said: "I'm thrilled to be returning to News Corp, which is where I began my media career more than 30 years ago.
"Rupert Murdoch has been a constant and fearless champion of free speech and we are going to be building something new and very exciting together.
"I want my global show to be a fearless forum for lively debate and agenda-setting interviews, and a place that celebrates the right of everyone to have an opinion, and for those opinions to be vigorously examined and challenged.
"I'm also delighted to become a columnist for The Sun and the New York Post, two brilliantly successful and popular newspaper brands.
"I'm going home and we're going to have some fun."
'A good day for free speech' – Piers Morgan

Executive chairman of News Corp, Rupert Murdoch, added: "Piers is the broadcaster every channel wants but is too afraid to hire. Piers is a brilliant presenter, a talented journalist and says what people are thinking and feeling."
In the past, Morgan has been hired by ITV, CNN and NBC in various presenting roles.
News Corp said its new channel will "offer a mix of programming from our stable of household brands, proper hourly news bulletins, documentaries, entertainment and more".
The company already owns established news brands such as The Times and The Sun newspapers, as well as a number of radio stations such as Virgin and talkSport.
News Corp had previously scrapped plans for a linear news channel, and instead decided to focus on streaming its radio brands online, while rival GB News pushed ahead with its launch.
Responding to News Corp's announcement, GB News tweeted: "Congratulations to Piers Morgan.
"We love competition. Bring it on!"
In the US, Morgan's show will be carried on Fox Nation, while Sky News Australia will broadcast it down under.
China says AUKUS submarine deal 'highly irresponsible' and 'intensifies the arms race' | World News
A new security deal between the United States, Britain, and Australia in the Indo-Pacific "severely damages regional peace" and "intensifies the arms race", China has said.
On Wednesday, the three western powers announced they will establish a security partnership that will help Australia acquire US nuclear-powered submarines.
In Beijing, Chinese Foreign Ministry spokesman Zhao Lijian condemned the move and said: "The US, the UK and Australia's cooperation in nuclear submarines severely damages regional peace and stability, intensifies the arms race, and jeopardises the international efforts in promoting the non-proliferation of nuclear weapons.
'AUKUS alliance will bring us closer than ever'

"The US and UK's action of exporting highly sensitive nuclear submarine technology once again proves that they are using nuclear exports as a tool for geopolitical games and adapts double standards.
"This is a highly irresponsible act."
It comes as France accused US President Joe Biden of stabbing it in the back and acting like predecessor Donald Trump after Paris was snubbed from a $40bn (£29bn) defence deal it had signed with Australia.
The deal, dubbed AUKUS, will see Australia scrap its 2016 agreement with French shipbuilder Naval Group to build a new fleet to replace its ageing Collins submarines.
"This brutal, unilateral and unpredictable decision reminds me a lot of what Mr Trump used to do," foreign minister Jean-Yves Le Drian said on franceinfo radio.
"I am angry and bitter. This isn't done between allies."
"It's a stab in the back. We created a relationship of trust with Australia and that trust has been broken," he added.
He had previously said in a statement the "choice to exclude a European ally and partner such as France" was something the country "can only note and regret".
London, Canberra and Washington have said they will seek to collaborate in cyber, quantum technologies and artificial intelligence, as well as other underwater capabilities.
Defence Secretary Ben Wallace told Sky News on Thursday: "We have no intention of doing anything to antagonise the French – the French are some of our closest military allies in Europe, we are sizable and comparable forces and we do things together."
He added: "The French were contracted to deliver diesel submarines and the Australians took a decision they wanted to switch out of that and into nuclear.
"Each country has to make those choices in their own national security interests."
Did Biden forget Australian PM's name?

Nuclear-powered submarines are superior to their diesel counterparts as they can operate more quietly and stay underwater for longer.
How the collaboration will work, what it will cost, how many boats will be built, where and which companies will be involved has not yet been revealed.
However, just two weeks ago the Australian defence and foreign ministers had reconfirmed the deal to their French counterparts.
But the agreement had been beset with issues and delays, due to Canberra's requirement the majority of manufacturing and components be sourced locally.
Mr Biden said France remained a "key partner in the Indo-Pacific zone", while Australian Prime Minister Scott Morrison said his country looked forward to continuing to work "closely and positively" with the French, adding: "France is a key friend and partner to Australia and the Indo-Pacific."
In a joint statement, the pair along with Britain's Prime Minister Boris Johnson said: "The endeavour we launch today will help sustain peace and stability in the Indo-Pacific region.
"For more than 70 years, Australia, the United Kingdom, and the US have worked together, along with other important allies and partners, to protect our shared values and promote security and prosperity. Today, with the formation of AUKUS, we recommit ourselves to this vision."
Although the word "China" was not mentioned specifically, the predominant security and defence challenge in the region is the rise of an increasingly assertive, authoritarian Beijing.
Cyprus: British woman convicted of lying about gang rape claim is 'happy' after lodging Supreme Court appeal | World News
A British woman, who was convicted of lying about being gang-raped in Cyprus, is "happy" after lodging an appeal in the Cypriot Supreme Court.
The then 19-year-old, from Derby, was given a suspended four-month jail term in 2020 after a judge found her guilty of public mischief following a trial.
The woman, who cannot be named for legal reasons, told police she was attacked by up to 12 Israeli tourists in a hotel room, during a party in Ayia Napa on 17 July 2019, but was charged after signing a retraction statement 10 days later.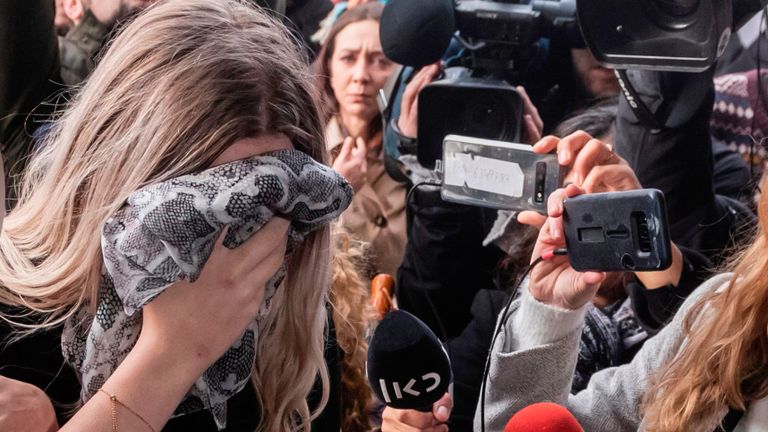 The now 21-year-old university student has maintained she was pressured by officers to withdraw the allegation and has vowed to clear her name having flown back to the UK after being sentenced.
Her team of English and Cypriot lawyers have took the case to the Supreme Court, which is in Cyprus's capital, Nicosia, on Thursday.
They argued the conviction is unsafe and are seeking to set it aside.
The woman is not attending the hearing, which is in front of a three-panel judge, including English-born president Persefoni Panayi.
Speaking after the hearing, her English barrister, Lewis Power QC, said: "I think it was a very fruitful hearing where the court asked very poignant questions, considered the legal arguments and identified the points which will ultimately decide this appeal.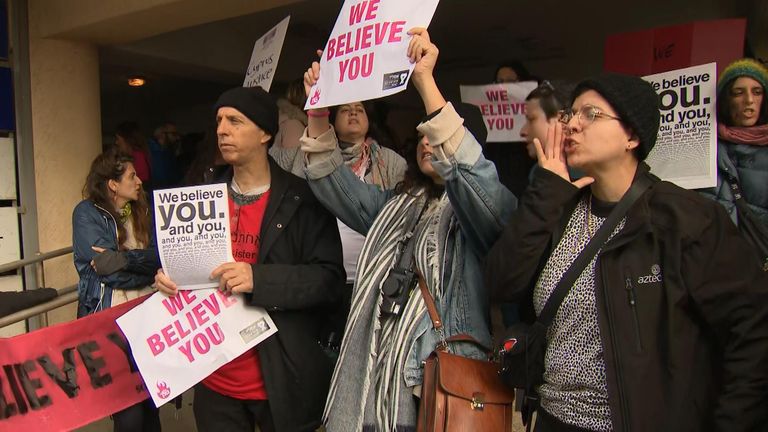 "We cannot pre-empt the decision of the court, but we were glad to see the court had given much thought and considerable consideration to a very, very difficult case."
Another member of the legal team, Michael Polak, added: "Without wanting to pre-judge the decision of the Supreme Court, we feel we were happy with the way proceedings went today and the way the judges engaged with our arguments."
The Supreme Court judges reserved judgment on the appeal.
The woman's lawyers submitted a written document of around 150 pages, which they will expand on in oral arguments based on transcripts from the trial.
Her legal team argued the retraction, which formed the basis of the prosecution case, should never have been admitted into evidence because it was made by a vulnerable teenager who spent almost seven hours in a police station without legal representation.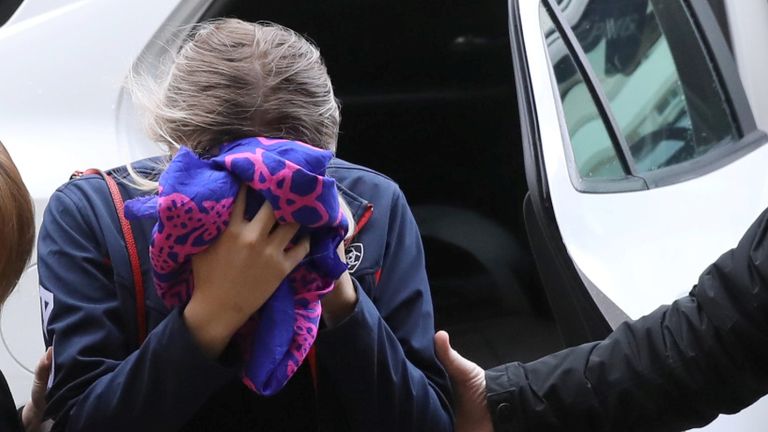 The decision could take between three to six months, although the lawyers hope it could come sooner.
Before the hearing started, Mr Power said: "The young woman's story has reverberated around the world since it hit the headlines in 2019.
"It has been both shocking and distressing and has for her been deeply harrowing, humiliating and personally intrusive.
"Today though, we hope, the Supreme Court of Cyprus (will ensure) this girl can free herself from the shackles of an unjust conviction, which has tarnished her young life."
If the appeal is unsuccessful, the woman's legal team plan to take the case to the European Court of Human rights, which they say found against Cyprus after a teenager was brought into a police station in Limassol and separated from his father before confessing to murder without a lawyer.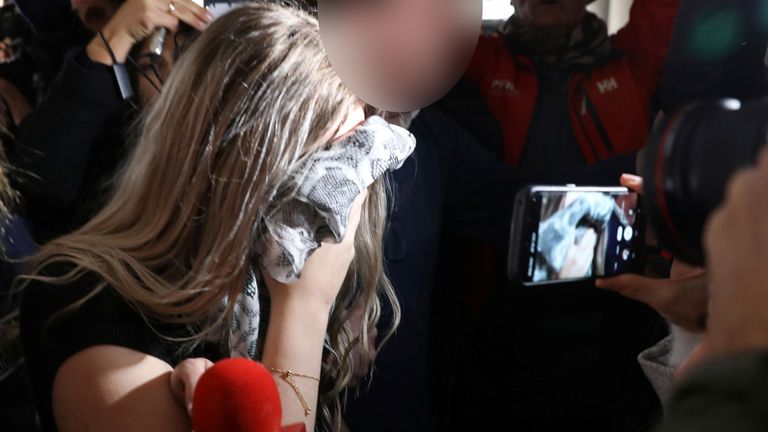 The 12 men accused of rape in 2019 were aged between 18 and 20 at the time and were arrested.
They denied any wrongdoing and were freed, before returning home.