Zuckerberg's testimony raises new questions about Facebook's lobbying practices
Get breaking news alerts and special reports. The news and stories that matter, delivered weekday mornings.
In February, Facebook gave $200,000 to The Committee to Protect California Jobs, a business-backed political action group dedicated to defeating a state ballot initiative that would expand Californians' privacy controls.
Then on Wednesday, after Mark Zuckerberg's two-day grilling by 44 members of Congress — in which he spoke positively about the prospect of regulation — Facebook withdrew its support from the group. Facebook told local San Francisco television station KPIX: "We took this step in order to focus our efforts on supporting reasonable privacy measures in California."
Just what "reasonable privacy measures" might mean to Facebook remains to be seen, but the company's state-based lobbying efforts are the subject of fresh scrutiny following Zuckerberg's testimony.
Mary Stone Ross, president of Californians for Consumer Privacy, the group behind the ballot initiative, said Facebook's move is a positive step but that the company will need to do more to show that it's truly changed its ways.
"We are really grateful that they pulled out of this initiative, but clearly it's not enough," Ross said. "If he's out there testifying that they truly care about users' privacy and safeguarding their personal information, then words are not enough."
Facebook was one of five tech giants in the California campaign finance committee, joining Google, Verizon, AT&T, and Comcast in donating a combined $1 million to fight the ballot measure on the grounds that the legislation was flawed and would cause tech businesses to flee the state. (Comcast owns NBCUniversal, the parent company of NBC News.)
Of the decision to pull out of the California group, a representative for Facebook told NBC News: "We have no further information to offer at this time." The representative declined to shed light on whether Facebook was currently involved in any other efforts to oppose privacy legislation in California or any other state.
Facebook has been at the center of a firestorm surrounding how it handles its users' data after the country learned that the personal information of an estimated 87 million American users was improperly harvested by a researcher and then used by Cambridge Analytica, a data analysis firm hired by President Donald Trump's election campaign. Following the revelations, Zuckerberg and his representatives have gone on an apology tour with the promise to "do better."
In recent days, Facebook has made a number of privacy-strengthening changes to its social network including limiting the data that can be gathered by apps that people connect to their Facebook profiles. The company also discontinued features that were vulnerable to abuse, like the ability to search for profiles by phone numbers. It also announced that it would adopt the recommendations of the Honest Ads Act, which seeks to regulate online political advertising.
Facebook's support for user privacy, however only goes so far, particularly when it comes to government regulation.
Facebook has responded to the prospect of federal regulation this year the old fashioned way: with money. In addition to its in-house team of lobbyists, Facebook spent more money on outside lobbying this year than it ever had before: $11.5 million on 11 different lobbying firms in 2017, according to disclosure filings analyzed by the nonpartisan Center for Responsive Politics.
Facebook spent 2.4 million euros last year on lobbying the European Union, doubling its 2016 expenditures in the region where sweeping online privacy reforms dictated by the General Data Protection Regulation are about to take effect.
At the U.S. state and local levels, Facebook's activity and influence is less clear. It spent $404,200 on state lobbying in 2017 and $838,460 in 2016, according to the National Institute on Money in State Politics. But as the Center for Public Integrity has reported, Facebook prefers to influence state laws through trade associations.
Coronavirus: Australia set for lowest daily infections in months – as it says Europe serves as a warning | World News
Australia appears to be heading for its lowest daily increase in coronavirus cases in three months, as a state leader said infection spikes in Europe served as a warning about the dangers of exiting lockdown too soon.
In the country's virus epicentre, Victoria, some of the toughest lockdown restrictions in the world were imposed in the city of Melbourne after a spike in cases last month.
Daily infections in the state had risen to over 700 at the time, but in the 24 hours to Sunday morning it recorded 14 new cases, down from 21 new cases the day before and the lowest number since 19 June.
Victoria is now on track to meet a target of keeping average daily increases below 50 by 28 September, when authorities have said they may consider lifting restrictions.
The state's premier, Daniel Andrews, said the numbers are a "cause for great optimism and positivity".
But after facing pressure over his hard-line approach to coronavirus restrictions, he pointed to recent surges in cases in Europe.
"It's heartbreaking to see, all that those communities have given, all the sacrifice that they've made, and now they've got cases running perhaps more wildly than their first wave," he said.
"You've got to see it off."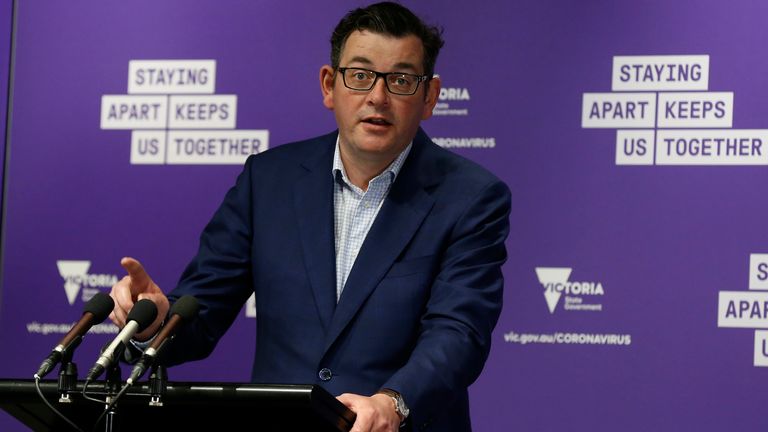 Cases have remained low in other Australian states, including New South Wales, which reported two new cases.
Queensland also recorded two infections, bringing the national total to 18, the lowest national tally since 23 June.
Australia's five other states and territories had not reported daily case numbers by Sunday morning, but have not reported any increases most days for weeks.
Victoria recorded five additional coronavirus-related deaths and NSW reported one in the previous 24 hours, taking the national death toll to 850.
Meanwhile, cases have risen in many European countries, including the UK, where the government has warned of an impending second wave.
Coronavirus: 'Dublin is in a very dangerous place' – new restrictions as cases treble in two weeks | World News
Tighter restrictions have come into force in Dublin in response to growing concern over the spread of coronavirus.
The Irish government from midnight on Friday moved the capital to "risk level three" restrictions in its COVID-19 response plan.
This means that indoor restaurant dining is now banned once again in Dublin – and residents are being advised against all non-essential travel.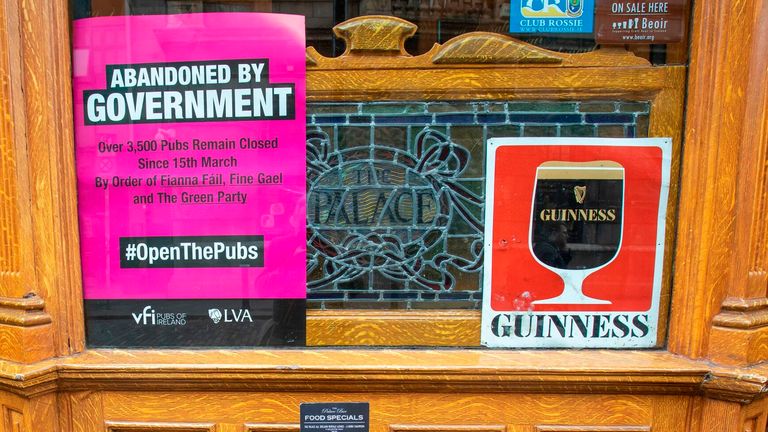 Indoor visits are only allowed between one other household, most sporting events will be cancelled, and attendance at weddings and funerals is going to be capped at 25 guests from Monday.
It is a big setback for Ireland, which was already one of the slowest countries in Europe to emerge from lockdown – however, more relaxed measures remain in place outside the capital.
Prime Minister Micheal Martin said that, despite the best efforts of Dubliners, the city is now in a "very dangerous place" – meaning there is a real risk that it could return "to the worst days of this crisis".
At a news conference, Ireland's Deputy Prime Minister Leo Varadkar said: "I know some people may not want to believe it – many of us don't want to believe it – but this is getting serious again.
"We've seen a marked increase in the number of COVID cases confirmed in Ireland – particularly though not exclusively in the Dublin area, where the number of new cases has trebled in the past two weeks."
Mr Varadkar said the rise was not just down to increased testing, as the positivity rate has "gone up considerably" and is now well above 2%.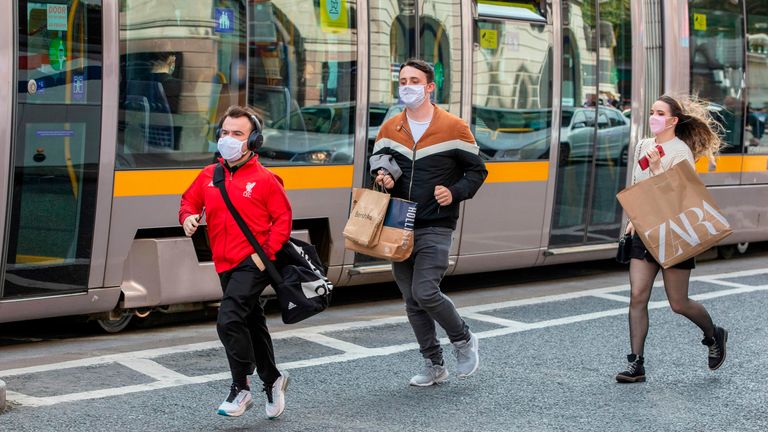 Dr Ronan Glynn, Ireland's acting chief medical officer, warned that the number of people in hospital has risen substantially since last month – as well as infections among people over the age of 65.
He also revealed that the R number in Ireland is now estimated to be between 1.3 and 1.7. This means that, on average, 10 people with COVID-19 will infect 13 to 17 others.
"If we do not interrupt transmission now, we are concerned we could have upwards of 1,000 cases per day by the middle of October – at least half of which would be in Dublin," Dr Glynn said.
He stressed that such an outcome doesn't have to be inevitable – and said that if everyone in Ireland cuts their social contacts by half, the R number can be halved too.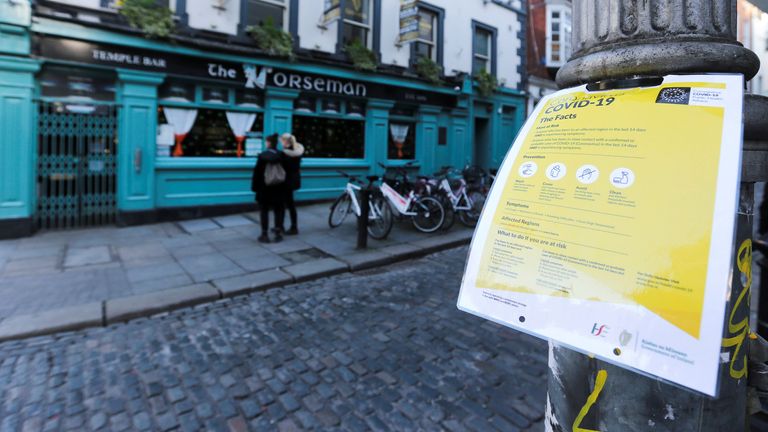 Dr Glynn also stressed that there is no evidence to suggest that the coronavirus has changed. This means Ireland could face a repeat of the early stages of the pandemic unless infection rates are brought under control.
In a message to businesses, Mr Varadkar stressed that companies in the capital will be given support – and he acknowledged that some people have now been laid off for the second in time in a year.
He said that affected employees will be able to get their wages subsidised by the government adding: "This isn't your fault. Unfortunately, this is the virus's fault, not anyone's fault, but we know you're going to need extra help."
Mr Varadkar stressed that this does not constitute another lockdown, as offices, shops, factories and construction sites will remain open.
"The real impact, sadly, is going to be felt in the hospitality sector – by the cafes, restaurants and hotels – this is going to be really tough for them," he admitted.
One reporter asked Mr Varadkar about an incident that happened earlier in the day.
As he was speaking to cameras at a park in Dublin, a woman wearing a mask threw a milkshake in his face before running away.
The deputy prime minister confirmed that he will be speaking to the police about the attack next week.
Coronavirus: 'COVID-19 only takes white people': Researchers battle disease myths in South Africa | World News
As the coronavirus clings on, reasserting itself in countries like the UK and US, the hopes and fears of politicians, scientists and the rest of humanity centre on a relatively small number of vaccines currently in development.  
According to the World Health Organisation (WHO), there are 182 vaccines being worked on but only nine are currently being evaluated in final "phase three" human trials.
A return to something like pre-outbreak normality now rests on a batch of these late-stage vaccines being proven effective.
In South Africa, three of the most promising vaccines are being tested in cities throughout the country, with 2,000 participants trialling an inoculation developed by Oxford University's Jenner Institute.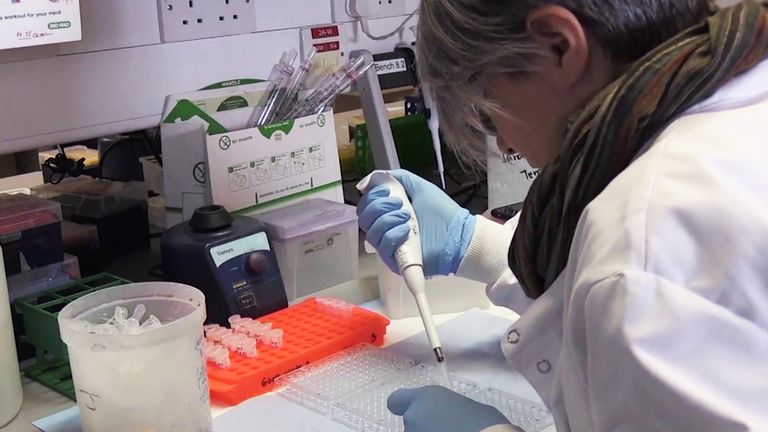 The study was recently paused after one person in the UK fell ill, but the trial has resumed with participants at Johannesburg's giant Baragwanath Hospital receiving the second part of this two-dose vaccine this week.
"Do you think this vaccine could work?" I asked Bonginkosi Ntombela, who lives in the township of Soweto.
"I hope it works, we have to cure this disease," he replied. "It is taking so many of our people, young, old, black, white."
The man in charge of the Oxford trial, as well as a second COVID-19 vaccine from US firm Novamax, is called Professor Shabir Madhi and we found him scuttling between a series of laboratories at the Baragwanath complex.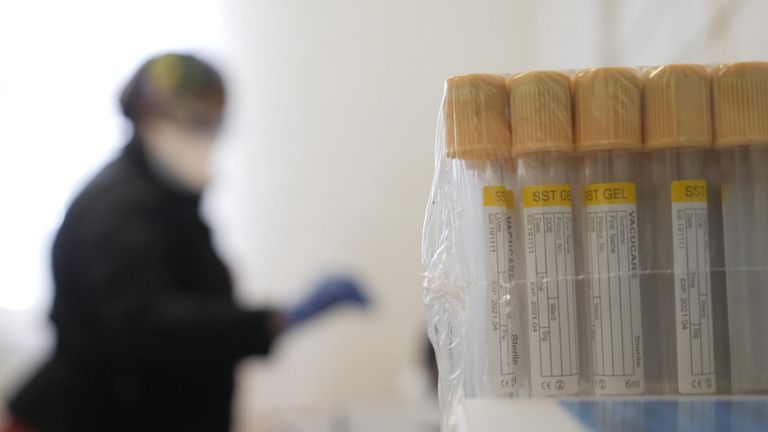 Mounting his own worldwide marketing campaign, the University of Witswaterand professor has personally convinced vaccine developers to undertake clinical trials in South Africa and secured millions of pounds in funding to make the enterprise happen.
"What we need to understand is that there is no rush on the part of pharmaceutical companies to do studies in Africa.
"None at all. There is very little incentive for them to come here. The only reason (the Oxford trial) is being done in South Africa is that I went out to convince people that you need to do it now… and you can't wait to do it after the pandemic has passed."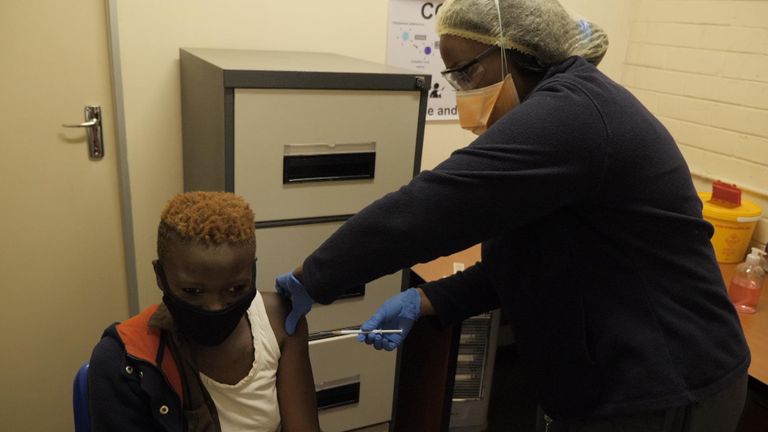 Professor Madhi invokes the memory of infections like swine flu when making the case for vaccine trials in Africa. Little research was conducted on this respiratory disease when it emerged in 2009 and by the time a usable vaccine was produced in Africa the pandemic was effectively over. The same mistake must not be repeated, he says.
"It would be a crime against humanity, a crime against the people of Africa if the mechanism was not put into place to introduce vaccines during the time of pandemic and not after it has passed – especially if we can show that the vaccines actually work."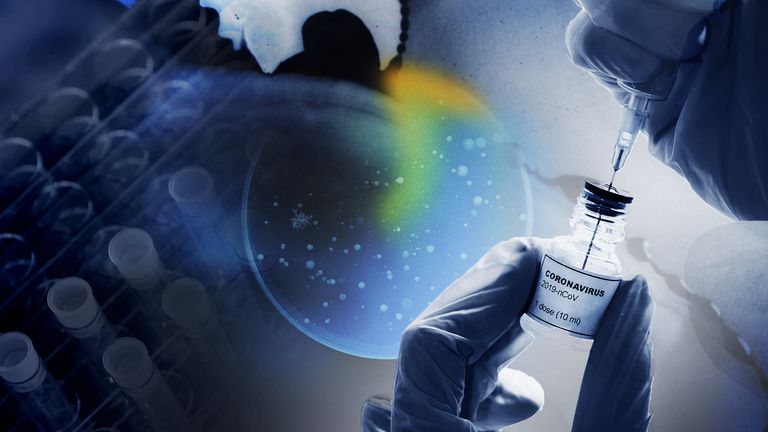 However, the battle against the virus will not be waged solely in the laboratory. Social scientists from the University of Witswaterand are asking members of the public whether they will take an effective COVID-19 vaccine.
In South Africa alone, there are a multitude of myths and misconceptions about the virus which are routinely advanced on the streets and social media.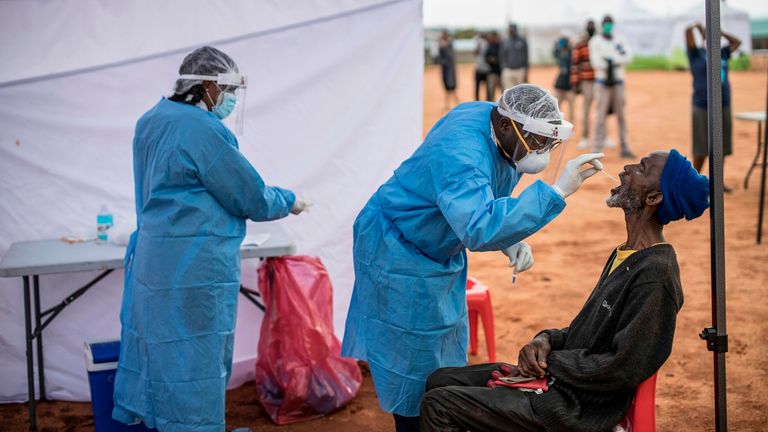 One such theory was laid out at the clinic at Baragwanath Hospital by a 19-year-old student called Shantel Manganye.
Explaining why her friends and neighbours would refuse a COVID-19 vaccine, she said there is a common view that the virus selects its prey.
"To be honest we have this mindset that this illness is only taking white people and stuff… they are trying to say this disease can see, it can feel, if you have money then it attacks you. If you are poor it cannot come because it knows that you don't have money."
Researcher Noni Mgwenya, from the University of Witswaterand, says such stories are created in an effort to make sense of something that is poorly understood.
"They feel that it is not real, that whoever invented (the virus) brought it here to kill South Africans… (people) think things have been put in to reduce the population in Africa."
:: Subscribe to the Daily podcast on Apple Podcasts, Google Podcasts, Spotify, Spreaker
Deep levels of scepticism and mistrust aimed at COVID-19 vaccine development are not unique to South Africa. They are a part of a global phenomenon, powered in part by amateur theorists on social media.
Challenging it through community education campaigns may become as important as the introduction of the vaccines themselves.