Students are being prepared for jobs that no longer exist. Here's how that could change.
The jobs that once kept the city prosperous are being replaced by skilled jobs in service sectors such as health care, finance and information technology — positions that require more education than just a high-school diploma, thus squeezing out many of those blue-collar, traditionally middle-class workers.
Lara's classmate Amber Phoumyvong, 17, shares his desire to escape from Lowell, but not his academic drive — a principal challenge to an education system trying to support a revitalization for places like Lowell. Six months before she graduates, she is not about to hide her feelings: She hates school. "Elementary school: hated it," Amber says. "Middle school: h-a-t-e-d it. School just isn't for me. I hate coming to school. I hate waking up early. I hate homework."
Amber envisions a comfortable future that includes a family, a modern-yet-rustic house and a good job, maybe as a business owner. Her distaste for school may put her dreams out of reach, but it would take more than a boost in motivation to change the tide.
On the surface, American high schools are educating better than ever. Eighty-four percent of students are graduating on time — an all-time high, according to the U.S. Department of Education — and 70 percent are enrolling in college directly after high school. And yet, beneath these optimistic benchmarks lies a career- and job-readiness picture that may be increasingly out of sync with what the future economy will require.
I think where high schools have gotten it wrong, or let's be honest, those of us in the policy world have gotten it wrong, is in thinking that high schools' only job is preparing kids for a four-year liberal arts degree.
I think where high schools have gotten it wrong, or let's be honest, those of us in the policy world have gotten it wrong, is in thinking that high schools' only job is preparing kids for a four-year liberal arts degree.
As emerging technologies rapidly and thoroughly transform the workplace, some experts predict that by 2030 400 million to 800 million people worldwide could be displaced and need to find new jobs. The ability to adapt and quickly acquire new skills will become a necessity for survival.
Critics say high schools aren't doing enough to prepare young people for life after graduation, in-demand jobs and a pathway to the middle class. Underscoring the criticism are sobering statistics: Nationally, just 25 percent of high school seniors are able to do grade-level math and just 37 percent score proficient in reading. Those numbers are egregiously lower among African-American and Hispanic students. And while 93 percent of middle school students say they plan to attend college, only 26 percent go on to graduate from college within six years of enrolling. These indicators, coupled with the staggering cost of higher education and millions of unfilled jobs in skilled trades, are pushing policymakers to rethink America's bachelor's-or-bust mentality.
At Lowell High School, educators are scrambling to prepare kids for the future, while acknowledging its fundamental unknowability.
"We're preparing kids for these jobs of tomorrow, but we really don't even know what they are," said Amy McLeod, the school's director of curriculum, instruction and assessment. "It's almost like we're doing this with blinders on. … We're doing all we can to give them the finite skills, the computer languages, the programming, but technology is expanding so rapidly, we almost can't keep up."
When The Hechinger Report surveyed nearly 1,000 Lowell High School juniors and seniors this winter to gauge their feelings about their job- and career-readiness, close to 70 percent said they felt well-prepared to succeed in college and careers; nearly 80 percent said they felt confident that they'd acquired the digital skills necessary to thrive after high school. But a national survey indicates this optimism may be misplaced: Just 16 percent of college instructors rated incoming students as "well" or "very well" prepared for college-level work, according to the 2015 study by ACT, the creators of the standardized college entrance exam.
At Lowell High School, students generally have strong performance on academic assessments and high graduation rates overall, but the school has a significant achievement gap: Academic performance and graduation rates for low-income, special education and English language learners — the high-needs students who make up nearly 60 percent of the school's population — are alarmingly lagging.
Disengaged from school
For Amber, college is dead-last on her to-do list. There is one part of her school day, however, that continues to stand out from the blur of required classes and tests she endures in order to graduate: "Culinary is most likely the best part of my day," she says. In her first year at Lowell High, Amber, like all freshman here, got to pick one or more courses from the school's Pathways Programs. She chose Culinary Arts and never deviated from the program all four years.
Lowell High School's amped-up program goes a step beyond typical enrichment offerings, with coursework intended to prepare kids for continuing education and jobs in local and state industries that are actively hiring and projected to grow.
Pathways — which include multiple classes organized under umbrella sectors such as engineering, health and bioscience, business, environmental sustainability and culinary arts — is extremely popular at the school. Last year, 463 of the 645 students who graduated accrued 10 or more Pathway credits, earning a special designation on their transcripts, a sort of postsecondary résumé-builder. Although the goal is to get kids into college or other postsecondary education, students can also become certified in a specific skill, enabling them to be job-ready by graduation.
For students like Amber, who would rather do just about anything but go to school, the Pathways program serves another function: It makes learning engaging, maybe even fun, and possibly keeps her in school and on track to graduate.
"I think we're turning kids off to learning in this country by putting them in rows and giving them multiple-choice tests — the compliance model," McLeod said. "But my hope is that in the pathways courses, we're teaching them to love learning. And they're learning about options in the field — there's plenty of options for kids to try here."
Amber, whose parents moved here from Laos before she was born, always loved food and cooking. At home, she likes to cook stir-fries and feu (Lao beef stew), and recently learned how to prepare a papaya salad, based on a recipe from her mother and grandmother. Her eyes light up when she speaks about the food she loves.
But turn the subject back to school, and she crosses her arms and her face becomes guarded once more. The Lowell culinary program ultimately became a disappointment. "I'm fine with the behind-the-scenes part of culinary, I still like cooking, it's still fun. But dealing with people and customer service, that's just not my thing," she says.
And so mid-senior year, she finds herself adrift. "All my friends, they have their lives planned out. They're going to college, they have scholarships, they know what they're going to major in, where they're going to live," she says. "I feel it's different for me because I wasn't born to have my life planned out."
Amber is far from alone as she faces finishing high school with plans for her future derailed and no clear path to college. A 2016 Gallup poll of students found that just 34 percent of 12th-graders across America feel engaged in school and only 44 percent of 11th-graders report feeling excited about the future. Engagement and optimism about the future are directly linked to making plans for life after high school — such as attending college or starting a business.
Though the mere mention of college depresses her, Amber knows she will eventually need more education after high school. Workers with bachelor's degrees now outnumber workers with high-school diplomas, according to a report by the Georgetown University Center on Education and the Workforce. Even when hiring workers without a bachelor's degree, employers still look for more than a high school diploma, increasingly favoring those who have an associate degree or some college training. American high schools need to do more to educate young people about careers that require two-year degrees or certifications, rather than primarily promoting expensive bachelor's degrees, say some experts.
The Pantanal: How wildfire devastated life in the world's largest tropical wetland | World News
A speedboat skims across the waters of the Piquiri river in central Brazil; on board are a group of vets and animal trackers.
The river, the forest and the wetlands are shrouded in a dense fog of smoke.
Wildfires have been burning here for months.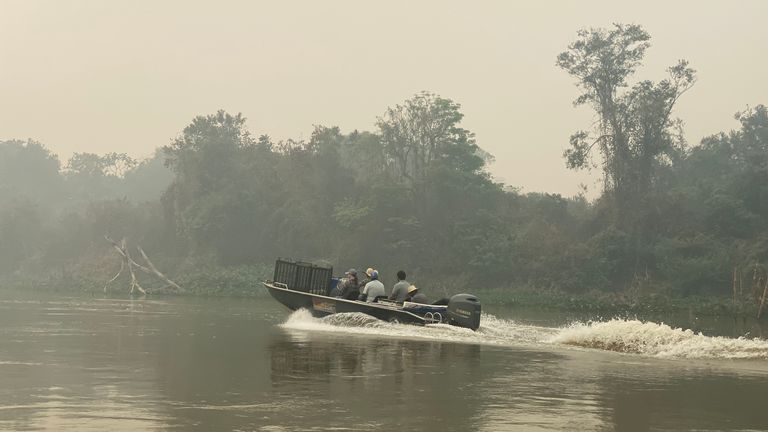 They are looking for injured jaguars, a big cat known for its solitary existence and preference for remaining unseen by humans.
All the inhabitants of the Pantanal, the world's largest tropical wetland, are in dangerously poor shape.
The country's far-right leader, Jair Bolsonaro, prompted widespread derision on Tuesday when he used a speech to the UN to blame indigenous people in the Amazon for fires in the rainforest
While environmental advocates say he has emboldened illegal ranchers and land speculators to deforest land, he accused the media of lying about the Pantanal, without specifying any coverage he believed to be false.
In the region, the animals have been burned out of their natural habitats and their usual prey have been killed or have disappeared.
The animals attempt to make it through the destroyed charred landscape to the riverbanks for water, for food and for safety.
The largest population of jaguars in the world is here. Spotting them is incredibly difficult. Their distinctive beautiful spotted coat ensures they almost disappear with just a step into the undergrowth.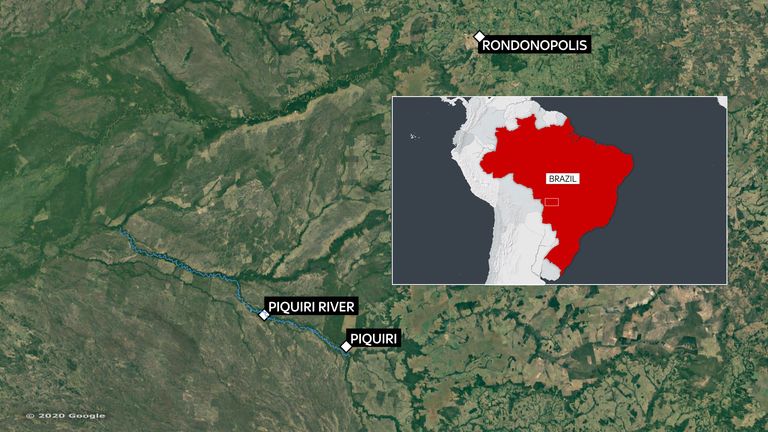 Some of the jaguars who have survived the fire storm are now badly injured and often hungry.
As we pass a burned-out wood, we spot a female jaguar.
To her side, almost completely out of sight, are her two cubs.
As she steps out of the wood we can see she is limping badly, but she has her sights on a family of otters who have just come ashore.
She stalks along the riverbank preparing to pounce, but the otters see her and flee for the safety of the water.
She is now too slow.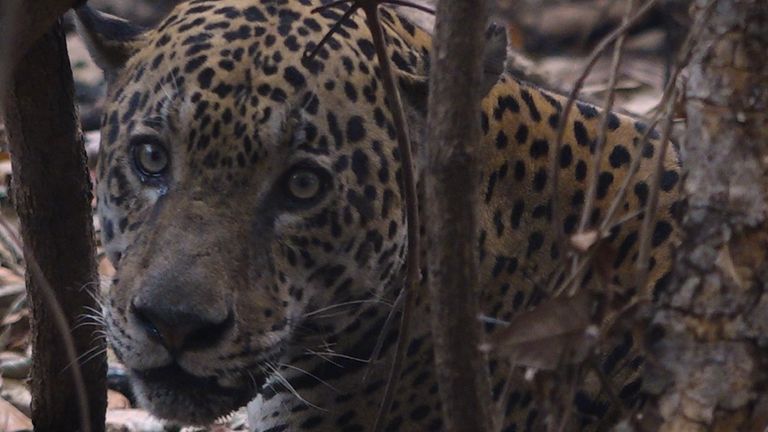 The heads of the otters pop out of the water and they let out a cry, a warning that a predator is nearby.
The jaguar sits down and looks nonchalantly at the otters as they swim away.
She will need to do better next time.
The vets say they have been monitoring this jaguar for the last few days and are unconcerned for her.
She is hunting, she is able to walk and her cubs appear well.
The monitoring will continue but for now they are worried about another jaguar in worse shape.
The tracking and veterinarian teams are specialists in looking after big cats.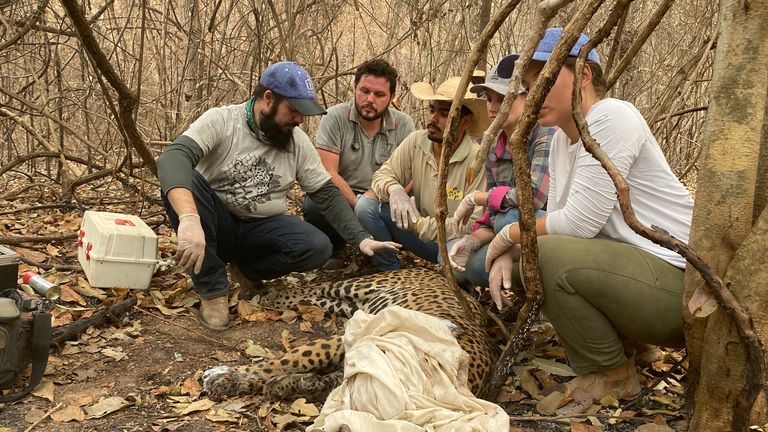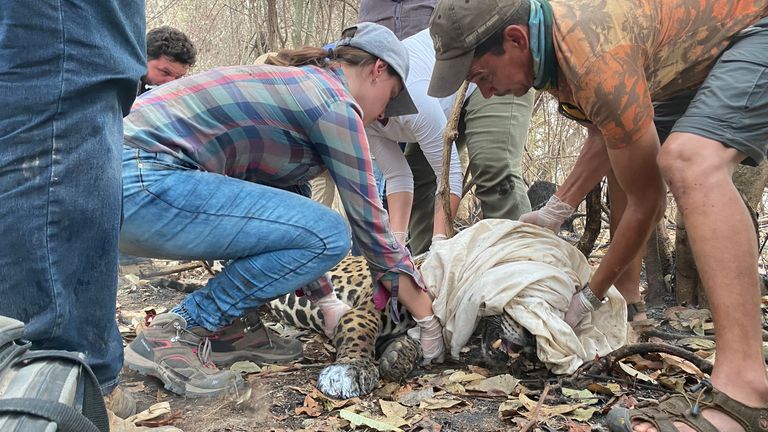 They go out every day looking for the animals who are now suffering because of the fires that have spread throughout the wetlands and grasslands of the Pantanal.
"We hear from fishermen who see the jaguars and tell us if they seem unwell, they take us to where they saw them last," Eduarda Fernandes, the 20-year-old founder of the rescue task force, tells me.
"There is one jaguar we have been watching who we are worried about. That is who we are looking for," she adds, gunning the boat's outboard motor and powering on further down the river.
Reports are coming in from fishermen that they have seen that same injured jaguar nearby.
The team gather themselves and consider their options.
They will tranquillise the animal and assess his injuries.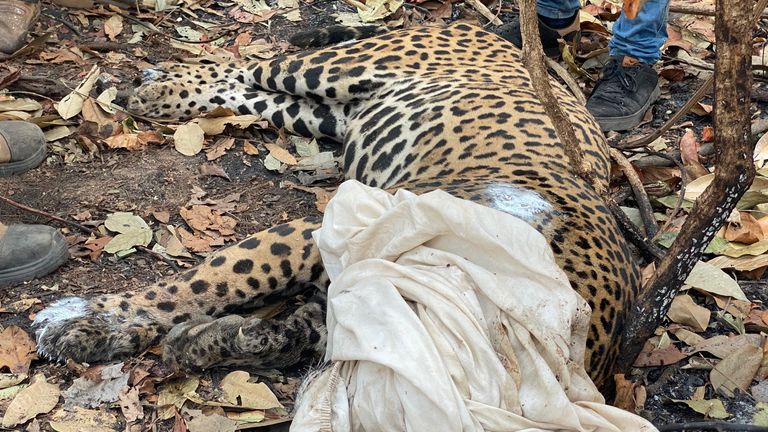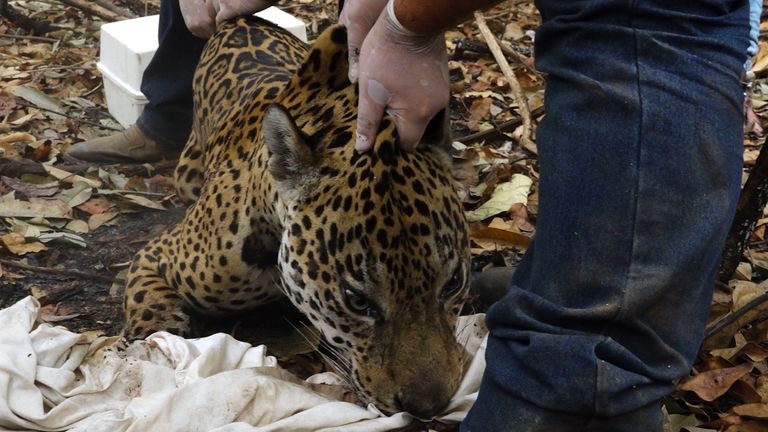 If he can be treated on site they will do so and let him be. If he is worse than expected, a helicopter will be brought into the wetlands and he will be taken to a specialist vet facility.
The team head off.
We catch up with them and find the vets surrounding the jaguar, which is awake but heavily sedated.
He is well over six feet long and powerful – panting but unable to do anything as the vets assess his injuries.
He has a few bite marks and one of his front paws is raw, swollen and sore.
Working as a team, they wash the jaguar's injuries, spraying bite marks with a silver sealant spray.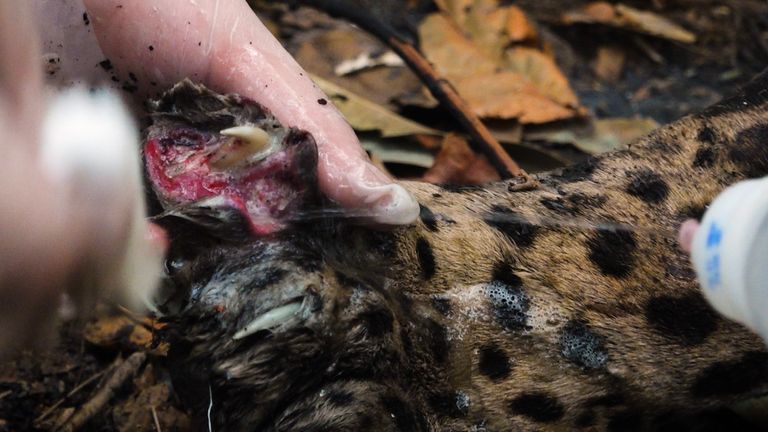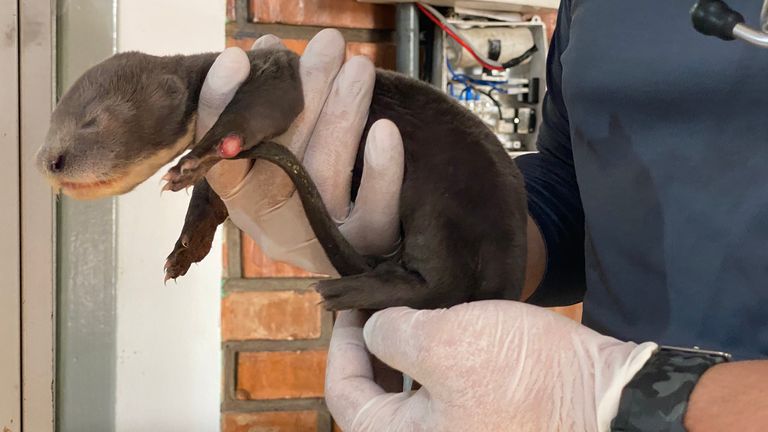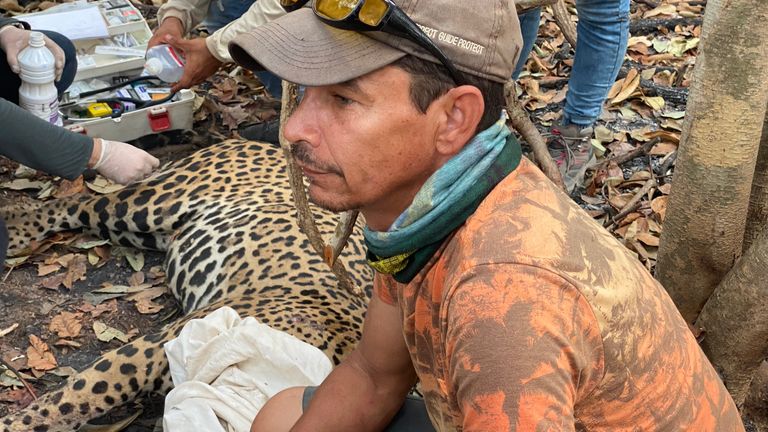 Ms Fernandes says it is likely that the jaguar has been in a fight with another male or injured while hunting.
"Because of the fires the jaguars are changing their territory, and there they can find other jaguars and dispute the territory, so we think that probably this jaguar had this problem because of it, the fires, that maybe [it] fought with another male or female."
They estimate this jaguar is between four and five years old.
Beside him are the remains of a wild pig.
This is a good sign – he is able to hunt – and they determine that after medicine and antibiotics he can be left here.
They patch him up then move him farther into the blackened forest away from the river.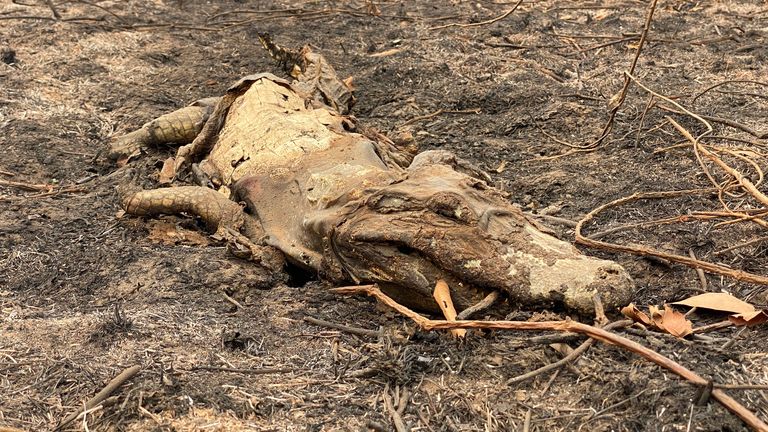 For the next hour they keep an eye on him as he slowly recovers from the tranquiliser and unsteadily, at first, gets to his feet.
He will recover, but so far the Pantanal has not.
Tens of thousands of square kilometres have been destroyed by fire.
A drought and soaring temperatures have left an area the size of Wales burned to the ground.
There are always dry season fires here, but nothing like this.
So far, 466 individual significant fires have been recorded within Encontro das Aguas State Park.
But the Pantanal Biome itself spans two states and more than 15,000 fires have raged here virtually without check since June.
The bodies of caimans, an indigenous alligator, lie where they died attempting to escape the flames.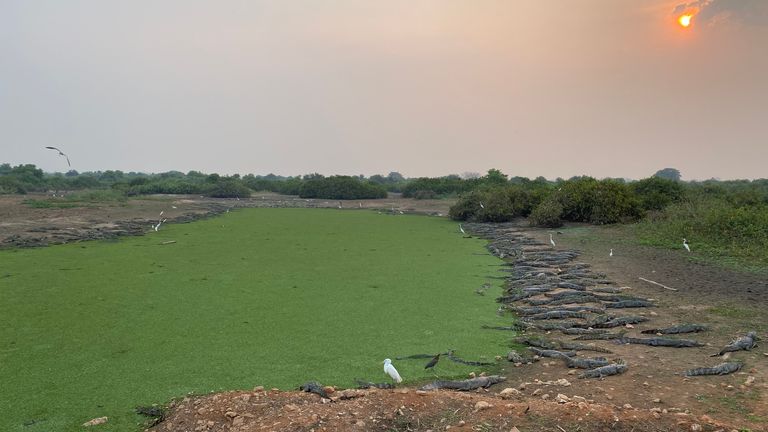 Countless numbers of mammals, birds and insects have been wiped out.
The fact is the Pantanal is an intrinsic part of life in this part of Brazil.
Humans, animals and vegetation depend on the wetland being healthy. All co-exist.
"The Pantanal is now just trash, trash; it's incinerated," our guide Roberto Macedo, tells me as we make our way through the smoky waterways.
"It's very bad, it's bad for everything; for tourism, for animals, for fishing, for local people. This destabilises our culture and everything here."
"Pantanal needs water (but) it's dry for five, six months. No water and the vegetation is dry. It's like gasoline," he says.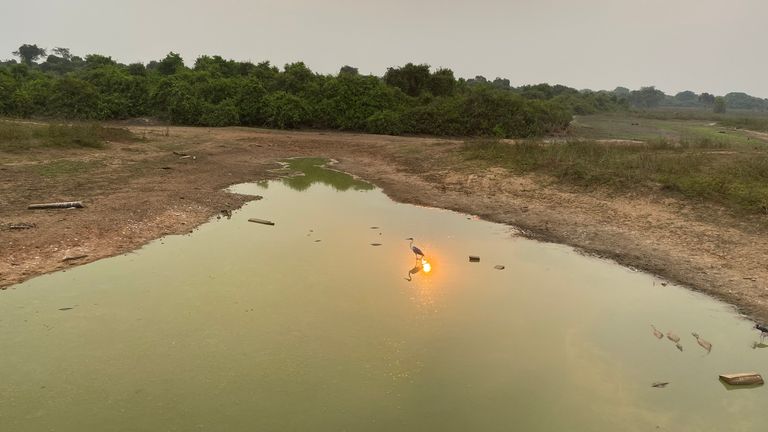 Driving through the Pantanal is certainly depressing.
The scale of the damage is difficult to comprehend.
Large ponds, a vital source of water and food, are almost dry.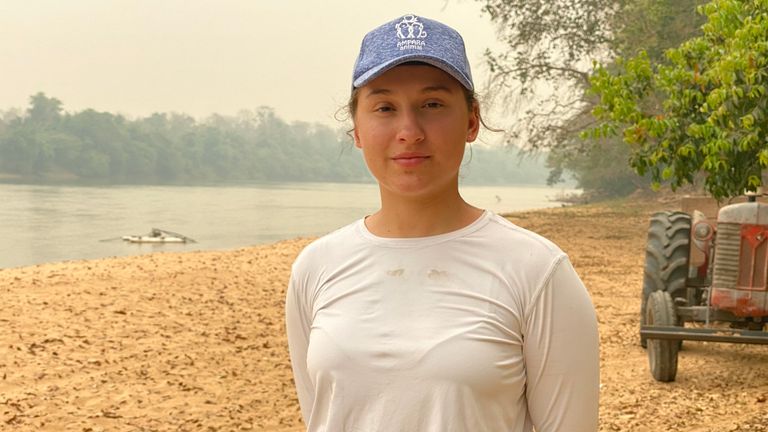 Caimans, hundreds of them at a time, congregate around the dwindling water supply. Birds hop between them looking for fish.
Each day without rain, the situation gets worse.
The Pantanal will survive this drought and the fires for certain. The guides and vets here say when the rains come life will return, and the animals and the park will recover.
But the long-term concern is that these fires could happen again next year, and then the year after that.
These wetlands can survive one devastating year and maybe another, but it cannot survive such devastation indefinitely.
Coronavirus: Madrid in lockdown as doctor warns Britons to follow the new rules or pay the price | World News
A front line doctor in Madrid has urged Britons to stay strong and obey the rules as the country faces a second wave of coronavirus.
"We only have to do this for a few more weeks, not forever," Dr Moreno Santiago told Sky News.
"Things like wearing a mask we only need to do for a few short weeks and in that time we can control the pandemic, if not we are going to pay for this. It will be very, very, very costly."
Live updates on coronavirus from UK and around world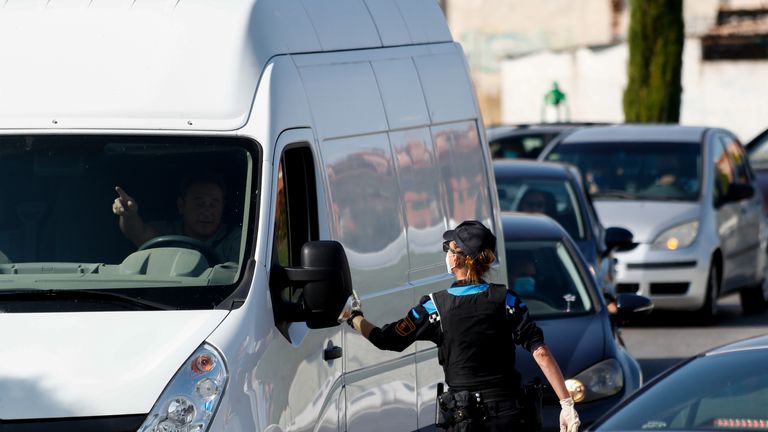 The warning comes as Spain struggles through its own new outbreaks, with data showing it is six weeks ahead of the UK.
Some 27 districts of Madrid went into new lockdown measures this week, in theory preventing inhabitants from leaving unless they have to go to work or need medical care.
We spent the day in one district and saw how few people were obeying it. Police at a checkpoint admitted they could only check every 10 or 15 cars going in or out, meaning citizens would need to self-police – and there is no enforcement on the subway in.
Inside the locked-down zones life appears reasonably normal with shops open and streets busy.
The new measures have largely targeted poorer southern districts of Madrid where many live closer together in smaller apartments. It has further exacerbated the sense of social divide and hit those already struggling the most.
Food banks are busy again with many of the users newly unemployed.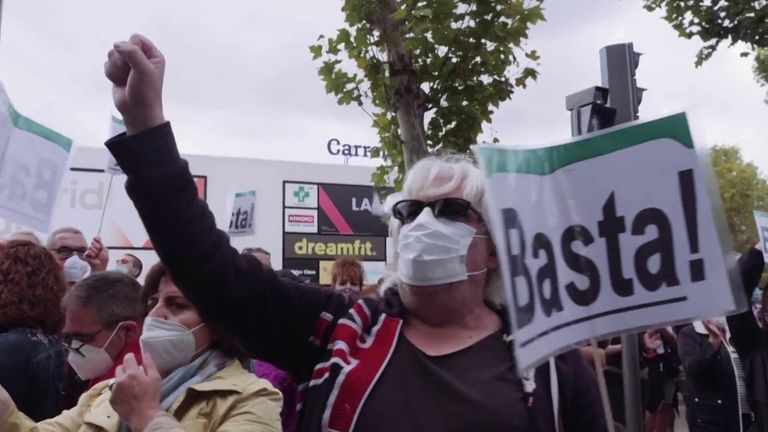 Francisco and Carmel are both out of a job and they are running out of hope.
"We want people to help us to give us a future where we value ourselves because the way we are living has no future, this isn't a life, even if you wanted it to be," Carmel told us.
:: Subscribe to the Daily podcast on Apple Podcasts, Google Podcasts, Spotify, Spreaker
Francisco was equally desperate: "To be honest I am hoping for help from my friends to find work soon because I am of a working age and can work.
"I am hoping for an opportunity because all I want is a chance to keep going ahead just like the rest of the world."
Alexei Navalny calls discharge from hospital 'miracle' after novichok poisoning | World News
Russian opposition figurehead Alexei Navalny says it is a "miracle" he has been discharged from hospital after being treated for novichok poisoning.
The 44-year-old became unwell on a domestic flight in Siberia last month and was airlifted to Berlin in a coma.
Laboratories in Germany, France and Sweden confirmed he was poisoned with the same nerve agent used to target Sergei Skripal in Salisbury in 2018.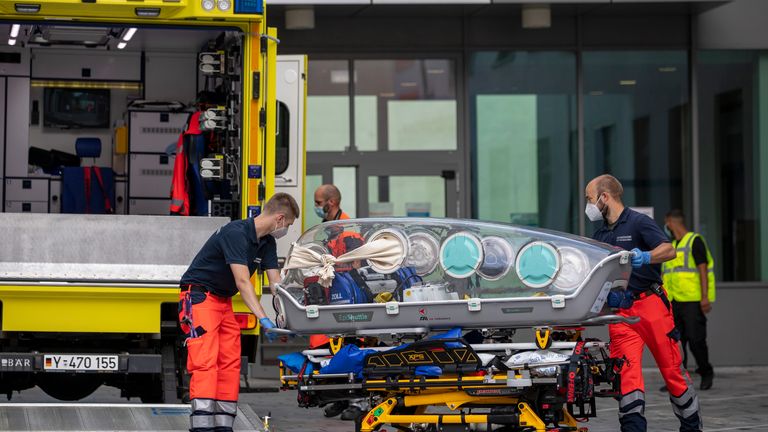 Mr Navalny said the first time he saw himself in a mirror after 16 days spent in a coma he looked like a character from Lord of the Rings and feared he would "never be discharged".
But doctors have performed a "miracle" and he says he now no longer needs to be an in-patient but can get on with the "noramlisation" of life, he wrote on Instagram in a post sent as he was "hobbling through the park".
Mr Navalny said he is still learning to regain strength in his limbs and cannot throw a ball with his left hand but will get sessions with a physiotherapist every day.
He added when he asked doctors how to exercise his brain, they told him: "Read more, write on social networks, play video games."
"I need to find out if the hospital can get a PlayStation 5 prescription," he joked in the sign-off.
Medics at the Charite hospital where Mr Navalny had been treated said his condition "improved sufficiently for him to be discharged from acute inpatient care".
The hospital added based on his progress and current condition, "the treating physicians believe that complete recovery is possible".
But it cautioned "it remains too early to gauge the potential long-term effects of his severe poisoning".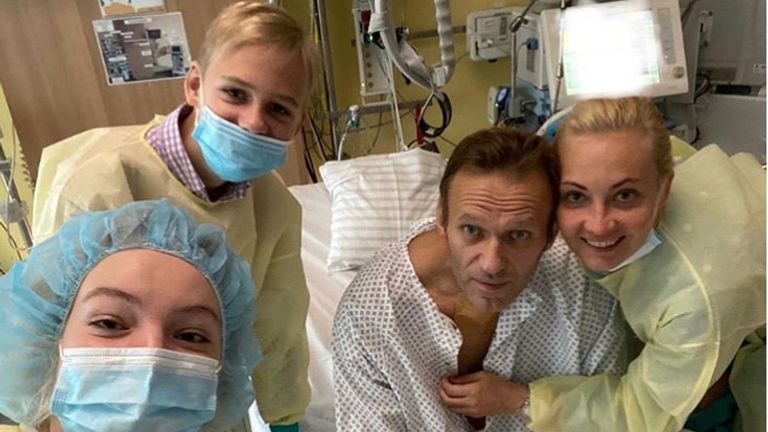 The Kremlin responded by saying it was pleased to learn of Mr Navalny's recovery.
He is free to return to Russia but it remains to be seen if he wants to share information with law enforcement officials there, a spokesperson added.
They also insisted no-one in President Vladimir Putin's entourage has access to novichok.
Mr Navalny had been in hospital for 32 days – 24 of them in intensive care.
His team said they searched the Siberian hotel room where he stayed prior to the flight on 20 August – an hour after the news broke he had been taken ill.
They claimed he was poisoned using a water bottle, gathered up as part of any evidence "that could even hypothetically be useful".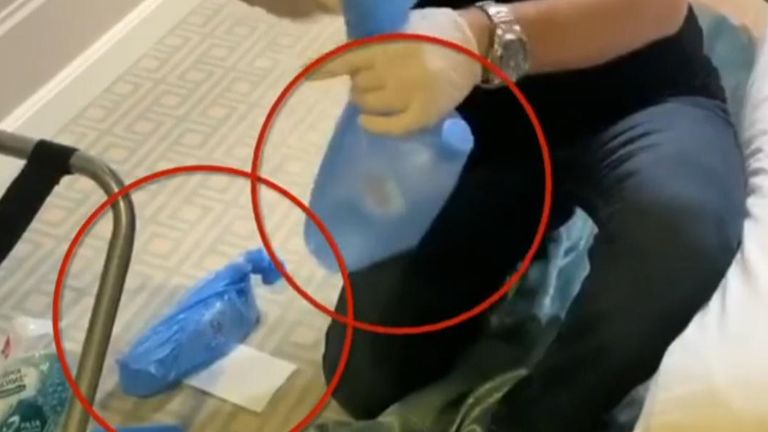 All the items were passed to German authorities because "the fact that the case would not be investigated in Russia was quite obvious," they added.
The UK and other Western countries have demanded answers from Russia.
Prime Minister Boris Johnson called for a "full, transparent investigation into what happened" and pledged to "join international efforts to ensure justice is done".
Moscow has said it is yet to see evidence of a crime and has declined to open an investigation so far.
The Kremlin has denied any involvement.