Students are being prepared for jobs that no longer exist. Here's how that could change.
The jobs that once kept the city prosperous are being replaced by skilled jobs in service sectors such as health care, finance and information technology — positions that require more education than just a high-school diploma, thus squeezing out many of those blue-collar, traditionally middle-class workers.
Lara's classmate Amber Phoumyvong, 17, shares his desire to escape from Lowell, but not his academic drive — a principal challenge to an education system trying to support a revitalization for places like Lowell. Six months before she graduates, she is not about to hide her feelings: She hates school. "Elementary school: hated it," Amber says. "Middle school: h-a-t-e-d it. School just isn't for me. I hate coming to school. I hate waking up early. I hate homework."
Amber envisions a comfortable future that includes a family, a modern-yet-rustic house and a good job, maybe as a business owner. Her distaste for school may put her dreams out of reach, but it would take more than a boost in motivation to change the tide.
On the surface, American high schools are educating better than ever. Eighty-four percent of students are graduating on time — an all-time high, according to the U.S. Department of Education — and 70 percent are enrolling in college directly after high school. And yet, beneath these optimistic benchmarks lies a career- and job-readiness picture that may be increasingly out of sync with what the future economy will require.
I think where high schools have gotten it wrong, or let's be honest, those of us in the policy world have gotten it wrong, is in thinking that high schools' only job is preparing kids for a four-year liberal arts degree.
I think where high schools have gotten it wrong, or let's be honest, those of us in the policy world have gotten it wrong, is in thinking that high schools' only job is preparing kids for a four-year liberal arts degree.
As emerging technologies rapidly and thoroughly transform the workplace, some experts predict that by 2030 400 million to 800 million people worldwide could be displaced and need to find new jobs. The ability to adapt and quickly acquire new skills will become a necessity for survival.
Critics say high schools aren't doing enough to prepare young people for life after graduation, in-demand jobs and a pathway to the middle class. Underscoring the criticism are sobering statistics: Nationally, just 25 percent of high school seniors are able to do grade-level math and just 37 percent score proficient in reading. Those numbers are egregiously lower among African-American and Hispanic students. And while 93 percent of middle school students say they plan to attend college, only 26 percent go on to graduate from college within six years of enrolling. These indicators, coupled with the staggering cost of higher education and millions of unfilled jobs in skilled trades, are pushing policymakers to rethink America's bachelor's-or-bust mentality.
At Lowell High School, educators are scrambling to prepare kids for the future, while acknowledging its fundamental unknowability.
"We're preparing kids for these jobs of tomorrow, but we really don't even know what they are," said Amy McLeod, the school's director of curriculum, instruction and assessment. "It's almost like we're doing this with blinders on. … We're doing all we can to give them the finite skills, the computer languages, the programming, but technology is expanding so rapidly, we almost can't keep up."
When The Hechinger Report surveyed nearly 1,000 Lowell High School juniors and seniors this winter to gauge their feelings about their job- and career-readiness, close to 70 percent said they felt well-prepared to succeed in college and careers; nearly 80 percent said they felt confident that they'd acquired the digital skills necessary to thrive after high school. But a national survey indicates this optimism may be misplaced: Just 16 percent of college instructors rated incoming students as "well" or "very well" prepared for college-level work, according to the 2015 study by ACT, the creators of the standardized college entrance exam.
At Lowell High School, students generally have strong performance on academic assessments and high graduation rates overall, but the school has a significant achievement gap: Academic performance and graduation rates for low-income, special education and English language learners — the high-needs students who make up nearly 60 percent of the school's population — are alarmingly lagging.
Disengaged from school
For Amber, college is dead-last on her to-do list. There is one part of her school day, however, that continues to stand out from the blur of required classes and tests she endures in order to graduate: "Culinary is most likely the best part of my day," she says. In her first year at Lowell High, Amber, like all freshman here, got to pick one or more courses from the school's Pathways Programs. She chose Culinary Arts and never deviated from the program all four years.
Lowell High School's amped-up program goes a step beyond typical enrichment offerings, with coursework intended to prepare kids for continuing education and jobs in local and state industries that are actively hiring and projected to grow.
Pathways — which include multiple classes organized under umbrella sectors such as engineering, health and bioscience, business, environmental sustainability and culinary arts — is extremely popular at the school. Last year, 463 of the 645 students who graduated accrued 10 or more Pathway credits, earning a special designation on their transcripts, a sort of postsecondary résumé-builder. Although the goal is to get kids into college or other postsecondary education, students can also become certified in a specific skill, enabling them to be job-ready by graduation.
For students like Amber, who would rather do just about anything but go to school, the Pathways program serves another function: It makes learning engaging, maybe even fun, and possibly keeps her in school and on track to graduate.
"I think we're turning kids off to learning in this country by putting them in rows and giving them multiple-choice tests — the compliance model," McLeod said. "But my hope is that in the pathways courses, we're teaching them to love learning. And they're learning about options in the field — there's plenty of options for kids to try here."
Amber, whose parents moved here from Laos before she was born, always loved food and cooking. At home, she likes to cook stir-fries and feu (Lao beef stew), and recently learned how to prepare a papaya salad, based on a recipe from her mother and grandmother. Her eyes light up when she speaks about the food she loves.
But turn the subject back to school, and she crosses her arms and her face becomes guarded once more. The Lowell culinary program ultimately became a disappointment. "I'm fine with the behind-the-scenes part of culinary, I still like cooking, it's still fun. But dealing with people and customer service, that's just not my thing," she says.
And so mid-senior year, she finds herself adrift. "All my friends, they have their lives planned out. They're going to college, they have scholarships, they know what they're going to major in, where they're going to live," she says. "I feel it's different for me because I wasn't born to have my life planned out."
Amber is far from alone as she faces finishing high school with plans for her future derailed and no clear path to college. A 2016 Gallup poll of students found that just 34 percent of 12th-graders across America feel engaged in school and only 44 percent of 11th-graders report feeling excited about the future. Engagement and optimism about the future are directly linked to making plans for life after high school — such as attending college or starting a business.
Though the mere mention of college depresses her, Amber knows she will eventually need more education after high school. Workers with bachelor's degrees now outnumber workers with high-school diplomas, according to a report by the Georgetown University Center on Education and the Workforce. Even when hiring workers without a bachelor's degree, employers still look for more than a high school diploma, increasingly favoring those who have an associate degree or some college training. American high schools need to do more to educate young people about careers that require two-year degrees or certifications, rather than primarily promoting expensive bachelor's degrees, say some experts.
German election frontrunner Olaf Scholz: Who is the man likely to replace Chancellor Angela Merkel? | World News
After 16 years of Angela Merkel in the chancellorship, Germany can be said to value leaders who are regarded as strong and steady.
It is something the leading contender in Sunday's election, Olaf Scholz, is counting on as he bids to become the natural successor to the outgoing leader – despite being from a different party.
The pair know each other well – Social Democrat Mr Scholz has been Ms Merkel's finance minister and vice chancellor in the uneasy "grand coalition" of conservatives and members of the Social Democratic Party (SPD) she had to bring together to form a government in 2017.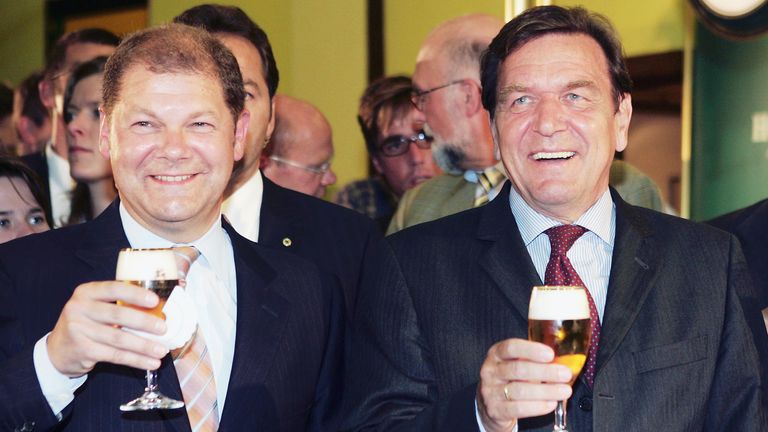 The latest polls suggest Mr Scholz has come from behind in his bid to replace her, while the main conservative candidate Armin Laschet has fallen behind.
If Mr Scholz wins, it will be a vindication of his attempt to follow in Ms Merkel's footsteps.
Germany election: What's at stake?

Although frequently labelled "boring", the 63-year-old finance minister has been keen to present himself as a man of action who can be trusted to get things done.
And, despite promising continuity and stability, Mr Scholz has distanced himself from his former conservative partners in the coalition, claiming they are too cozy with business.
A lawyer by background, he is a widely experienced politician having served in some of the highest offices at local and national level.
He first entered the German parliament at the age of 40 in 1998, and, amid spells of various lengths within the government of the city-state of Hamburg, has been high up in the federal government or SPD for the last 20 years.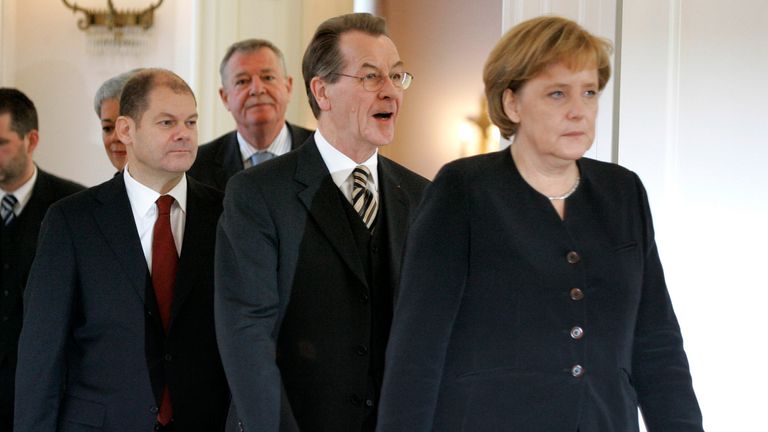 He was mayor of Hamburg from 2011 to 2018 but has also held the position of SPD chief whip, SPD deputy leader, and minister of labour and social affairs in Ms Merkel's first government, as well as his current roles.
During the pandemic, Mr Scholz won praise from the International Monetary Fund for his measures, having ditched a balanced budget at home to protect the German economy and helped create the EU's COVID recovery fund, despite Ms Merkel's initial resistance.
Amid soaring German inflation and pressure from his conservative adversaries, he has been keen to keep the activities of the European Central Bank (ECB) separate to the government's handling of the German economy, pointing to the need to respect the ECB's independence, following the lead of his chancellor.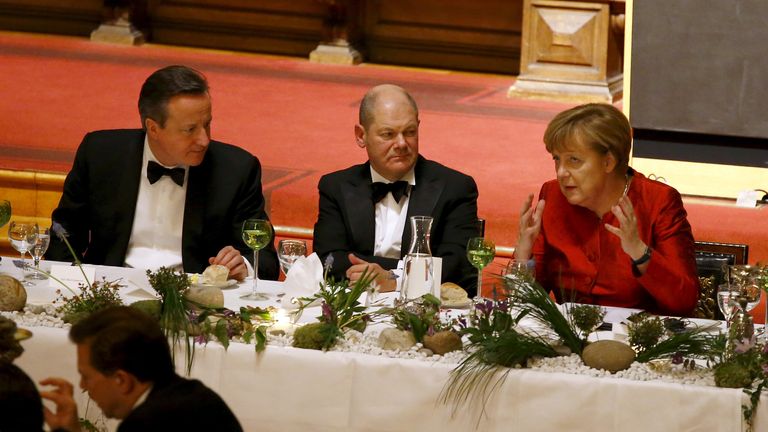 He also cooperated with France to drive forward efforts to introduce a global minimum rate of corporate tax and new tax rules for tech giants.
His combination of prudence and vital assistance amid the crisis have paid off.
A snap poll after the last TV debate showed Mr Scholz won a clean sweep, despite conservative candidate Armin Laschet attacking his record on tackling money laundering.
Is Germany as green as it would like to think?

From the moderate wing of his party and thoroughly versed in the realities of German government, if he wins he will set about the task of building a coalition, probably with the Greens, but perhaps of the grand coalition type that Ms Merkel has lived happily with repeatedly, alongside her CDU party.
During the COVID era, he has underwritten his left-of-centre credentials with a significant stimulus package but, in opposition to some on the left of his party – which is similar to the UK's Labour movement – he wants Germany to rein in debt by 2023, reintroducing strict limits on federal and state government spending.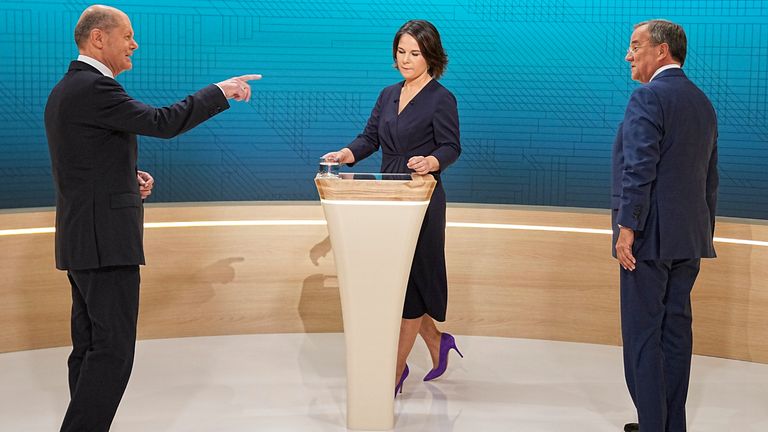 His claim to be as calm and collected as his potential predecessor may be on shakier ground than he admits, having shown a tetchiness in the past in his dealings with the media and rioters during the Hamburg G20 event, but he is adamant he is driven by pragmatism, not personality.
"I'm applying for chancellor, not to be a circus ringmaster," he told women's magazine Brigitte.
Taliban prisons chief says the group will resume executions and amputations as punishment | World News
One of the founders of the Taliban has said that the group will resume executions and amputations as punishment.
Mullah Nooruddin Turabi warned the world against interfering in the plans, which come just weeks after the Taliban took control of Afghanistan following the withdrawal of Western troops.
Mr Turabi, who was chief enforcer of the Taliban's harsh interpretation of Islamic law when they last ruled the country in the late 1990s, said: "Everyone criticised us for the punishments in the stadium, but we have never said anything about their laws and their punishments.
"No one will tell us what our laws should be.
"We will follow Islam and we will make our laws on the Quran."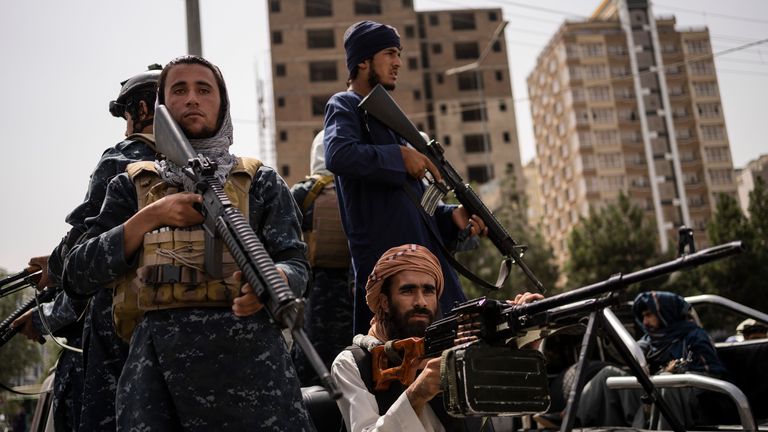 Previously, convicted murderers were shot in the head by the victim's family who also had the choice of accepting money and allowing the offender to live.
Convicted thieves had their hand amputated and highway robbers had a hand and a foot amputated.
Mr Turabi told the Associated Press that amputating hands "is very necessary for security", adding that during the Taliban's previous rule, such harsh punishments helped bring "complete safety" to the country.
US State Department spokesperson Ned Price said on Friday that the punishments "would constitute clear gross abuses of human rights".
"We stand firm with the international community to hold perpetrators of these, of any such abuses, accountable," he added.
"We are watching very closely, and not just listening to the announcements that come out but watching very closely as the Taliban conducts itself."
How popular is the Taliban in Afghanistan?

Taliban fighters have already revived an old punishment of public humiliation for men accused of small thefts.
At least twice in the past week men in Kabul have reportedly been put on the back of a pickup truck, their hands tied, and driven around the city.
But despite the revival of the old punishments, Mr Turabi insisted: "We are changed from the past."
Subscribe to the Daily podcast on Apple Podcasts, Google Podcasts, Spotify, Spreaker
Previously, the judiciary was heavily-influenced by hardline Islamic clerics but Mr Turabi said judges, including women, would adjudicate future cases.
He also said the Taliban would allow technology such as mobile phones, TV, photos and video "because this is the necessity of the people and we are serious about it."
Huawei's Meng Wanzhou released after reaching agreement with US prosecutors | Science & Tech News

Huawei's chief financial officer has reached a deal with US prosecutors that allows her to return to China.
Meng Wanzhou, who is also the daughter of the company's founder Ren Zhengfei, has been in Canada since she was arrested at Vancouver's airport in December 2018.
Her arrest followed an extradition warrant issued by the US for a range of charges relating to alleged breaches of sanctions against Iran.
But the deal means the US Department of Justice will drop its request to extradite her to the US and fraud charges against her will be dismissed in December 2022 – exactly four years after her arrest.
This will depend on her complying with certain conditions, including accepting responsibility for misrepresenting her company's business dealings in Iran.
Meng's defence lawyer Michelle Levin said she expected Meng to adhere to the conditions, adding: "We're very pleased that in the meantime she can go home to her family".
The details were confirmed during a court hearing, with Meng appearing via video from the Vancouver mansion where she was bailed after her arrest.
The court revoked all bail conditions, and Meng left for China shortly afterwards.
Before she left, Meng said: "Over the last three years my life has been turned upside down.
"It was a disruptive time for me as a mother, a wife and as a company executive.
"But I believe every cloud has a silver lining. It really was an invaluable experience in my life.
"I will never forget all the good wishes I received."
About an hour after Meng's departure, Canada's prime minister Justin Trudeau said that two Canadians arrested by Chinese authorities were also on their way home.
Michael Kovrig and Michael Spavor had been accused of spying and were arrested in China in December 2018 – shortly after Meng was arrested in Canada.
Mr Trudeau said: "These two men have been through an unbelievably difficult ordeal. For the past 1,000 days, they have shown strength, perseverance and grace and we are all inspired by that."