Netflix's 'Lost in Space' reboot has Hollywood explosions, grittier plotlines — and no fun
Get the Think newsletter.
The last decade of television has seen an explosion in reboots, revivals and "reimaginings" of famous titles. In an ever-expanding landscape, broadcast television executives seem willing to take fewer and fewer risks, preferring to count on audiences retuning into shows where name recognition is an overriding factor. Netflix has been just as much a proponent as broadcast in this endeavor, bringing back the 1990s hit "Full House" (now "Fuller House"), the 1980s series "One Day At A Time" and now the 1960s camp classic "Lost In Space."
Possibly the most candy-colored version of a "gritty reboot" to date, Netflix's "Lost in Space" is an attempt to resurrect camp — without the camp. The resulting show has lost all of its fun quirkiness but doesn't offer viewers a new reason to watch instead. In other words, it's the perfect example of a reboot that doesn't have a good reason to exist.
"Lost in Space" is an attempt to resurrect camp — without the camp. The resulting show has lost all of its fun quirkiness but doesn't offer viewers a new reason to watch instead.
The original "Lost In Space" show was silly, but it had heart. The entire premise was weird and subversive — instead of sending highly trained astronauts into space, Earth shot off a totally ill-prepared family, plus a hilarious evil villain who had stowed away somehow without anyone noticing. The family robot looked like a cross between a vacuum cleaner, a kitchen appliance and a length of dryer hose. Dawson Palmer's monster characters ranged from being covered in fur to bark. But beneath all of the schtick, there was also a message about the importance of family. Out of their depths and stuck in space with no way home, this was a family unit that stayed together, helped each other and made the best of it.
This new version of the show is not silly. It's expensive and it looks it. At a panel at AwesomeCon in Washington, D.C. in March, the executive producer compared the show to a "10-hour summer blockbuster." But in aiming for a blockbuster, Netflix has traded the joy of the unknown for an insistence on "realism" — there is no longer anything fun about getting lost in space.
In the early episodes, it seems like everything that can go wrong does, until the tension has been ratcheted to extreme heights. That may be the reality of going out into space, but it lends the constant crises a hysteria-like quality, especially when each time the issue is suddenly solved, because the show isn't actually going to kill off their core cast.
The original show was set in 1997. The Robinsons (father John, wife Maureen and kids Judy, Penny and Will) were wrecked when their ship, the Jupiter II, crashed on its way to the Alpha Centauri star system due to sabotage. In Netflix's version, it's the year 2048. The Robinsons are still here, aboard the Jupiter II. But their ship is now part of a mass colonization effort of Alpha Centauri. Sadly, the show skips over how the Earth became so uninhabitable, one of many missed opportunities from a show supposedly "couched in reality."
The original "Lost In Space" show was silly, but it had heart. The entire premise was weird and subversive — instead of sending highly trained astronauts into space, Earth shot off a totally ill-prepared family, plus a hilarious evil villain.
This is not the first time "Lost In Space" has been remade — Hollywood attempted a movie version back in 1998, starring Matt LeBlanc of "Friends" fame. That film also aimed for a more serious tone, with a "realistically dysfunctional family." It was a critical failure, but some of the film's tweaks have been included in the Netflix series, including the family's less than perfect relationships.
John (Toby Stephens) and Maureen (Molly Parker) are a couple on the edge of divorce, and one of the kids (Judy) is from Maureen's first marriage. The blended family aspect is nice, especially the scenes between Judy and her devoted adopted father. But while a divorce plotline might have felt radical the first time, here it's a cliché. Moreover, while Stephens and Parker are great together, their chemistry undermines their supposed acrimony.
But the biggest alteration, and perhaps the one the show is most proud of, is gender-flipping the series' famous antagonist, Dr. Zachary Smith. During the AwesomeCon panel, the executive producers insisted this was because the role's original actor, Jonathan Harris, was too iconic a character to try and recreate. What they meant is that Harris was the campiest part of the series, a man who chewed the scenery with hilarious gusto and made the show comedic in a way the new series doesn't seem to want to do. So instead, they cast Parker Posey as the new Dr. Smith. Despite her comic roots, Posey' ultra-serious read of the character encapsulates the series' issues.
Posey is great when she finally lets loose near the end of the series, even if her evolution doesn't totally make sense as a narrative arc. But the role (and the entire show) needs more madcap. While gender-role reversals often improve reboots — think "Ghostbusters" — in this case it actually may have hurt the project. Posey acts as if she has to play the role straight in order to be taken seriously, and it limits her.
Ultimately, and frustratingly, there just doesn't seem to be a good reason for this new "Lost In Space." The show doesn't seem concerned with trying to say anything interesting or new (or much of anything at all.) Good revivals take a dated series and use it to explore new themes, like 2004's "Battlestar Galactica," which used a 1970s Mormon parable to discuss the line between artificial intelligence and conscious beings as well as the role of religion. For all of the criticism of "Roseanne," her original show in the 1980s and 1990s had a lot to say about the working class condition. Audiences — knowing she would have something to say about how things have and haven't changed in 25 years — rewarded her return with the biggest ratings for a broadcast comedy in four years.
And beneath its silliness, the original "Lost In Space" did have something to say. This was a show that ran from 1965 to 1968, in the midst of massive political and social turmoil. The plot highlighted and embraced the idea that society was changing — and fast. In 30 years, our world could be totally unrecognizable to our own. But as long as the family sticks together in times of crisis, the showrunners implied, viewers would be ok.
Our society is in massive upheaval again this decade, featuring a similar push-pull of progressive impulses and conservative angst. A story in which family triumphs in the face of intergalactic drama might have been a comforting concept. But while the series pays lip service to this idea, there's not much "there" there. Instead, the showrunners seem far more interested in pulling together a lot of fancy CGI animation and noise, like every other summer blockbuster. At least it could have made us laugh.
Ani Bundel has been blogging professionally since 2010. Regular bylines can be found at Elite Daily, WETA's TellyVisions, and Ani-Izzy.com.
Read more: 'Jessica Jones' season two is the perfect example of how Netflix bloat is sabotaging its best shows
BBC America's new 'Killing Eve' is a welcome addition to the boy's club that is British crime dramas
Australia: Humpback whale escapes crocodile-infested river | World News
A humpback whale that made a wrong turn and entered a crocodile-infested river in Australia has managed to escape back to sea.
The whale was first spotted in the East Alligator River in the Northern Territory's Kakadu National Park last week.
Feach Moyle, Kakadu National Park manager, said: "It made its way out on the high tides and we're pleased it appeared to be in good condition and not suffering any ill effects."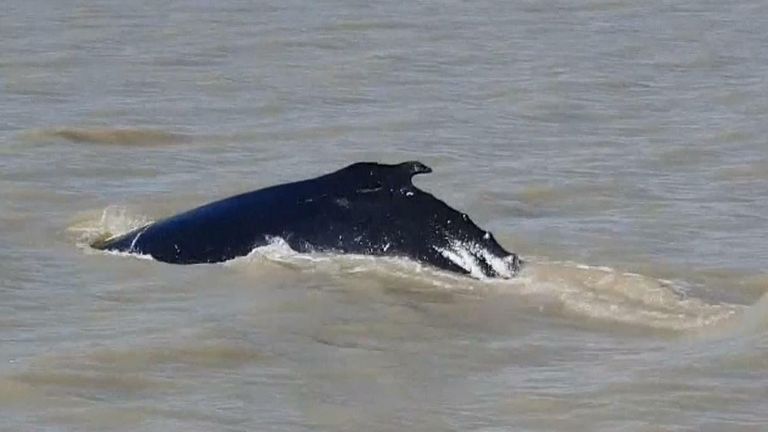 Officials had been monitoring the whale after it was spotted just over 18 miles inland.
A further two whales were also seen in the river last week, however they managed to return to the sea after a short time.
Scientists have suggested that the whales may have made a "wrong turn" while on their annual migration where they follow the western coast of Australia to get from the tropics to Antarctica.
It is the first time there have been any recorded sightings of whales in the East Alligator River.
Despite the river's name, Australia does not have any alligators – it was named by European explorers who did not know the difference between crocodiles and alligators.
The whales were considered unlikely to disrupt any crocodiles unless they became stranded.
Authorities also considered the chance of them being attacked by crocodiles was slim due to their size, unless they became weak or sick.
Marine ecologist Jason Fowler said he initially spotted three whales on 2 September while sailing with friends.
Mr Fowler said: "We happened to bump into some great big whales which completely blew me away.
"The water's incredibly murky. It's got zero visibility. So you can only see the whales when they're right on the surface."
He added: "There are so many humpbacks heading up the WA (Western Australia state) coast now, they're bound to end up in new places. What's incredibly weird is the fact that they're up a muddy, shallow river full of crocodiles – that's unheard of."
World's biggest banks 'allowed criminals to launder dirty money', leaked documents allege | Business News
Some of the biggest banks in the world have been accused of allowing criminals to launder dirty money, according to an investigation based on leaked internal reports.
Over 2,100 suspicious activity reports (SARs) covering more than $2 trillion (£1.5tn) in transactions were leaked to BuzzFeed News and shared with the International Consortium of Investigative Journalists (ICIJ).
These reports, and more than 17,600 other records obtained by the ICIJ, allegedly show how senior banking officials allowed fraudsters to move money between accounts in the knowledge that the funds were being generated or used criminally.
Covering transactions between 1999 and 2017, the SARs were leaked from the US Financial Crimes Investigation Network (FinCEN), an agency which is part of the US Treasury and tasked with tackling money laundering.
Two weeks ago FinCEN warned that media organisations were preparing to publish a story on documents that had been obtained illegally, before last week announcing that it was seeking public comments on how to improve the anti-money laundering system in the US.
According to the ICIJ, the $2 trillion in suspicious transactions identified within the documents represents less than 0.02% of the more than 12 million SARs that financial institutions filed with FinCEN between 2011 and 2017.
In the key findings of its report, the ICIJ alleged: "Big banks shift money for people they can't identify and in many cases fail to report suspect transactions until years after the fact.
"Government fines and threats of criminal prosecutions against banks haven't stopped a tide of illicit payments," the organisation adds, raising questions about money-laundering enforcement.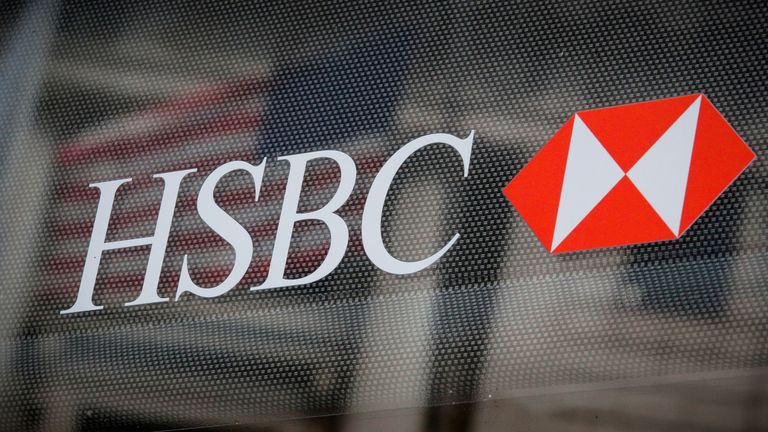 BuzzFeed News described the documents as revealing "how the giants of Western banking move trillions of dollars in suspicious transactions, enriching themselves and their shareholders while facilitating the work of terrorists, kleptocrats, and drug kingpins".
Among the criminal organisations named in the reports are the Al Zarooni Exchange, which was sanctioned by the US Treasury in 2015 for laundering funds for the Taliban.
The SARs reportedly also show how Russian and Ukrainian oligarchs avoid sanctions to move their money into the West.
Five global banks were named in the investigation: JPMorgan Chase, HSBC, Standard Chartered, Deutsche Bank and Bank of New York Mellon.
The ICIJ reported that some of these banks continued to work with "mobsters, fraudsters or corrupt regimes" even after they were warned by US officials that they would face criminal prosecutions for doing so.
The SARs were written by internal compliance officers at these banks, and are "not necessarily evidence of criminal conduct or other wrongdoing" the ICIJ reported.
London-based HSBC said it would not comment on suspicious activity reporting but said the documents referred to historical information which predated the conclusion of its deferred prosecution agreement with the US over its failures to prevent Mexican drug cartels from laundering hundreds of millions of dollars.
As part of the conclusion of that agreement, HSBC said that the authorities were satisfied with its work tackling money laundering.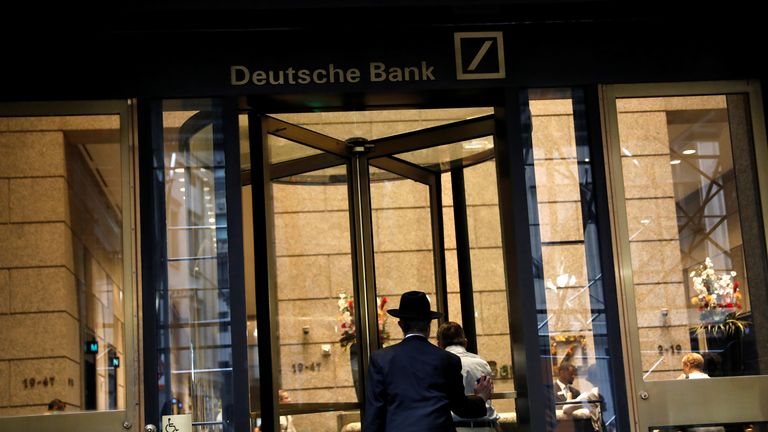 Standard Chartered, which is also based in the UK, responded to the reports by stating: "The reality is that there will always be attempts to launder money and evade sanctions; the responsibility of banks is to build effective screening and monitoring programmes to protect the global financial system.
"We take our responsibility to fight financial crime extremely seriously and have invested substantially in our compliance programmes," the bank added.
Germany's Deutsche Bank also stressed that the ICIJ "reported on a number of historic issues" and said "those relating to Deutsche Bank are well known to our regulators".
"The issues have already been investigated and led to regulatory resolutions in which the bank's co-operation and remediation was publicly recognised," Deutsche Bank added.
The Bank of New York Mellon said it takes its role "in protecting the integrity of the global financial system seriously, including filing suspicious activity reports" and added that it fully complied with all applicable laws and regulations.
JPMorgan Chase, which is also based in New York, stated: "We report suspicious activity to the government so that law enforcement can combat financial crime, and have thousands of people and hundreds of millions of dollars dedicated to this important work.
"We have played a leadership role in anti-money laundering reform that will modernise how the government and law enforcement combat money laundering, terrorism financing and other financial crimes."
Prince Charles warns climate crisis will 'dwarf the impact' of coronavirus pandemic | World News
The Prince of Wales will warn the climate crisis is "rapidly becoming a comprehensive catastrophe that will dwarf the impact of the coronavirus pandemic".
The stark message is part of a keynote speech that Prince Charles has recorded for the opening event of a virtual climate summit starting on Monday.
In his speech, he will say: "Without swift and immediate action, at an unprecedented pace and scale, we will miss the window of opportunity to 'reset' for… a more sustainable and inclusive future.
"In other words, the global pandemic is a wake-up call we cannot ignore…[the environmental] crisis has been with us for far too many years – decried, denigrated and denied. It is now rapidly becoming a comprehensive catastrophe that will dwarf the impact of the coronavirus pandemic."
Climate Week NYC is described as the only major international climate summit happening this year.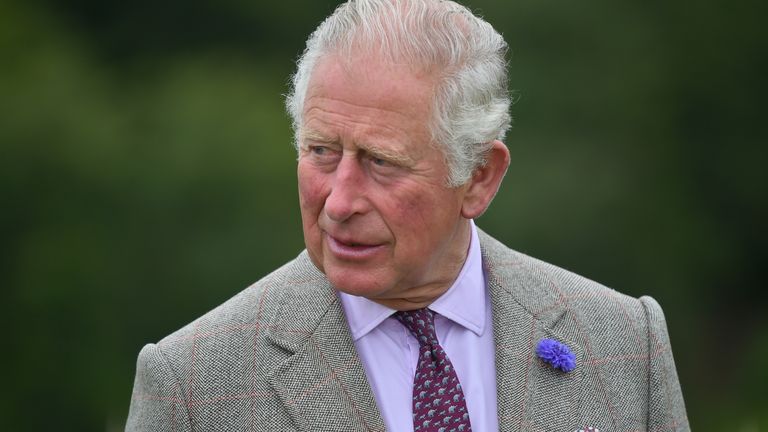 Run by international non-profit the Climate Group, it's hoping to bring together global leaders from business, government and philanthropic sectors to make sure that conversations and action on climate change continue in spite of the pandemic.
A number of major climate events and conferences had to be cancelled this year because of COVID-19, including the United Nations climate conference Cop26, which was due to take place in Glasgow in Scotland in November and has been rescheduled for next year.
This week, world leaders will gather online for the 75th United Nations General Assembly, where both the pandemic and environmental issues will feature in their discussions of global challenges.
To coincide with the UNGA, Oxfam has released a new report to highlight how much the wealthiest people on the planet have been the heaviest polluters.
It found that in the 25 years between 1990 and 2015 the total amount of carbon in the atmosphere doubled and that over half of that was added by the richest 10% of people on the planet.
Tim Gore from Oxfam told Sky News he believes governments are starting to realise that climate policy can't be treated separately from issues like public health and social inequality.
He said: "We don't need to have climate policy making in one box and concerns about public health in another, or biodiversity which is another major concern that is being addressed at the United Nations General Assembly this week."
:: Subscribe to the Daily podcast on Apple Podcasts, Google Podcasts, Spotify, Spreaker
He added: "These are all part of a common interlinked set of challenges that governments need to grapple with and they need the same policies to grapple with them all.
"A greener economy is one that will also be better for public health with cleaner air. We've seen of course the respiratory problems that come with polluted air particularly in cities have been exposed by the Covid crisis."
Speaking to Sky News at the end of lockdown, Prince Charles he felt the pandemic had forced us to refocus our attention on the need to tackle the climate crisis and make sure protecting the planet was at the centre of the economic recovery in the post-Covid world.
He said: "It's only catastophes which concentrate the mind which means for once there might be some real impetus to tackle all the things which have been pushed to one side because people have said it's irrelevant."
His speech for Climate Week NYC will be streamed on the summit website at 3pm on Monday.