Holocaust music written in Nazi concentration camps to be showcased at concert
The 16-year-old is one of 20 students who on Sunday will join Israel's Ashdod Symphony Orchestra to play works composed during the Nazis' reign of terror during World War II.
The Jerusalem concert will celebrate the 70th anniversary of the founding of the State of Israel, and also falls on the 73rd anniversary of the liberation of Germany's Bergen-Belsen concentration camp.
Shoham feels personally connected to this work as his grandfather survived the Holocaust.
"He heard this music and was very excited about it," Shoham says.
For Italian composer Francesco Lotoro, the concert is a culmination of decades of work.
He has traveled the world to salvage pieces ranging from one sheet of violin music to operas, puppet theater tunes and pieces written for plays.
Songs will be presented in Yiddish, Hebrew, Romani and German, and at least one composition was found on concentration camp toilet paper.
One of the pieces will get a different treatment.
Illustrating the enduring ties between the Nazis' victims and those alive today, Aviva Bar-On will sing a piece she learned by heart in Theresienstadt concentration camp in German-occupied Czechoslovakia.
Famous Jewish musician Ilse Weber taught the melody to the camp's children while she worked there as a nurse. When Weber's husband Willi was deported to Auschwitz, Weber asked to be transferred too, along with the couple's son. Mother and child were sent to the gas chamber upon arrival. Willi Weber survived.
While the song was never written down, Bar-On will perform it from memory more than 70 years after learning it.
"I'm searching all my life for music written by Jews in all concentration camps," Lotoro said. "Music written by all people and social groups — Jews, Christians and some Muslims. All people, including communists, homosexuals, all people that were prosecuted and exterminated or survived."
The concert featuring pieces composed by inmates of camps such as Auschwitz, Theresienstadt and Westerbork is also aimed at raising awareness of rising anti-Semitism, according to the Jewish National Fund U.K., a charity sponsoring the concert.
"This is a story of the defiance of the Jewish people and their ability to survive even in the most difficult times to continue and survive," says Samuel Hayek, the group's chairman. "Life did not end with the murder of these musicians. Life remains with the music they have written."
While some six million Jews are believed to have died in the Holocaust — some two-thirds of Europe's Jewish population — millions of Marxists, homosexuals, Roma, political dissidents and others were also victims of the Nazis and their collaborators.
Musicians had little choice but try and create something lovely in the face of such vast loss and injustice, Lotoro says.
"What can you do?" he says. "Either you do a rebellion, which will surely end in tragedy, or you sing. So a lot of them used to sing."
Lotoro added: "People can be persecuted and discriminated [against], but you can't stop them from doing music."
Alexandra Yatzik is one of the students from two music schools in southern Israel chosen to participate in the concert.
"I know that these are works written in the Holocaust in concentration camps, under harsh conditions, charcoal and toilet paper," the 12-year-old violinist says. "When I learned to play one of the pieces, I tried to think about what they were going through when they wrote the piece and convey their emotion."
Paul Goldman reported from Ashdod, and F. Brinley Bruton reported from London.
La Palma: Residents in limbo as pressure in the Cumbre Vieja volcano drops – but eruption threat remains | World News
Thousands of people have been forced to leave their homes to escape rivers of lava cascading from La Palma's erupting volcano.
But 160 of them will now be allowed to return, after local authorities said their houses were no longer in the path of the molten streams moving down the side of the Cumbre Vieja volcano range.
The rest of the evacuees will have to wait, including Eliza Gonzales.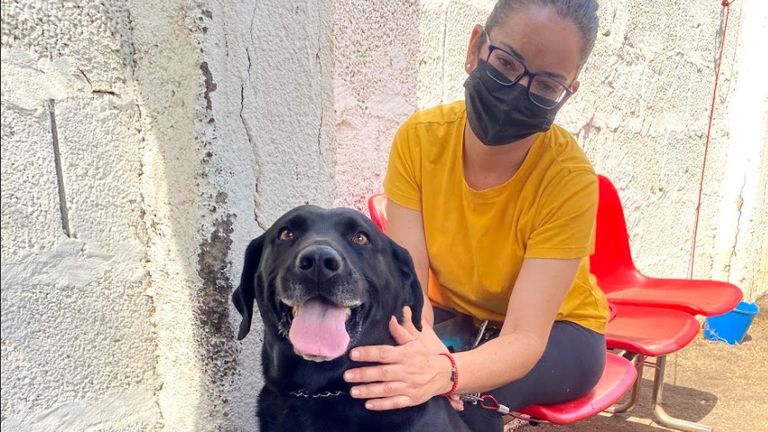 I met her at an improvised animal sanctuary on the island. She had come to see her dog Luna. They've been separated for days.
Ms Gonzales was told she had to leave Luna behind when she fled her home.
Thankfully the rescue centre called to tell her they had saved Luna. But the reunion is bittersweet. Ms Gonzales is staying in temporary accommodation and no dogs are allowed.
What's next for La Palma?

"It's very bad," she says.
Luna will be fostered while Ms Gonzales waits to go back home.
"I'm happy there are good people that offered their houses for the dogs to stay in and be calm."
There are several dogs at the sanctuary, waiting for their owners to come for them. They all bark whenever someone new arrives.
But the centre can only care for abandoned animals. Those who were badly injured during the eruption have to be taken for specialist care.
Volcano eruptions 'could last for months'

They rescued a goat whose udders were severely burnt and took it to the vet, hoping it can recover from its wounds.
Scientists say the pressure inside the volcano has decreased, but that doesn't mean the eruptions are about to stop.
The experts can't predict when the explosions of lava will end, they think it could last till December.
With each day that passes, people are becoming more desperate.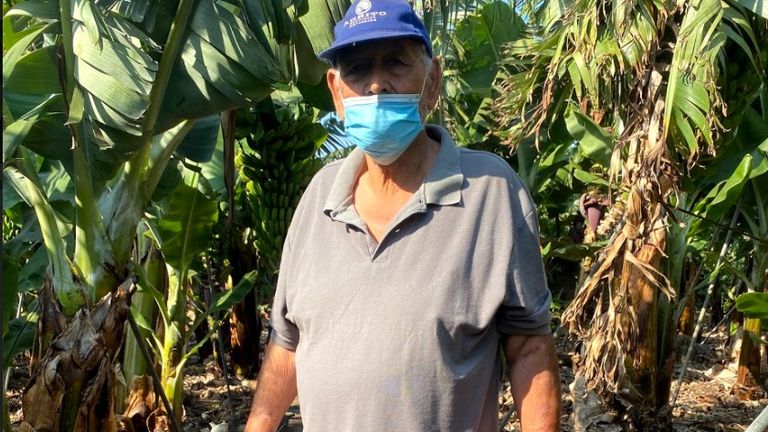 Ernesto de Paz Perez is a banana farmer. The plant is known as "plátano" here, they are slightly smaller than bananas from Latin America.
Mr de Paz Perez, 75, started working on a plátano farm when he was 14.
La Palma depends on the fruit for around half of its economic output.
But the volcanic dust is damaging the fruit's skin and farmers fear they won't be able to sell their produce to supermarkets.
The eruption has also cut off the water supply to Mr de Paz Perez's plants.
"If it [the eruption] keeps going for a long time it will cause a lot of damage. If the plátano fields are not watered we will lose them. There will be many losses," he said.
Elsewhere on the island they're trying to get back to normal. The airport is open after closing because of an ash cloud, but flights haven't immediately resumed.
The whole of La Palma just wants to repair and return to how their lives were before the volcano erupted, but when that will be, no one knows.
Lewis Hamilton hails 'magical moment' as he wins 100th Formula One race | UK News

Lewis Hamilton has spoken of the "magical moment" of winning his 100th Formula One race at Sunday's Russian Grand Prix.
Hamilton, 36, used his driving and overtaking skills, and his strategic thinking in the rain, to fight back from seventh place on the first lap to a landmark victory.
He is the first driver to reach 100 victories.
It was his fifth win of the season and his first since the British Grand Prix in July.
"It's taken a long time to get to 100 and at times, I wasn't sure it would come," the British driver said.
"It is a magical moment. I could only have dreamed of still being here, to have this opportunity to win these races, and to drive with such phenomenal talents this late on in my career."
"I am so proud of everything we have done with Mercedes, on and off the track, and this is a special moment for everyone that has been part of it.
"My dad called me last night and he has always been that one to reassure me and to continue to support me. I feel incredibly grateful for the amazing support that I have had."
The victory takes Hamilton two points clear of Max Verstappen in the title race with seven rounds to go.
It also denied Lando Norris of his first victory following a thrilling finale.
Norris, 21, appeared on course to keep Hamilton at bay, and become the youngest British Formula One winner.
Vladimir Putin pictured fishing and hiking on Siberian forest holiday | World News
The Kremlin has released pictures showing Russian President Vladimir Putin on a fishing and hiking holiday in Siberia.
Mr Putin, 68, was joined by defence minister Sergei Shoigu, his regular holiday companion, for the short break earlier this month.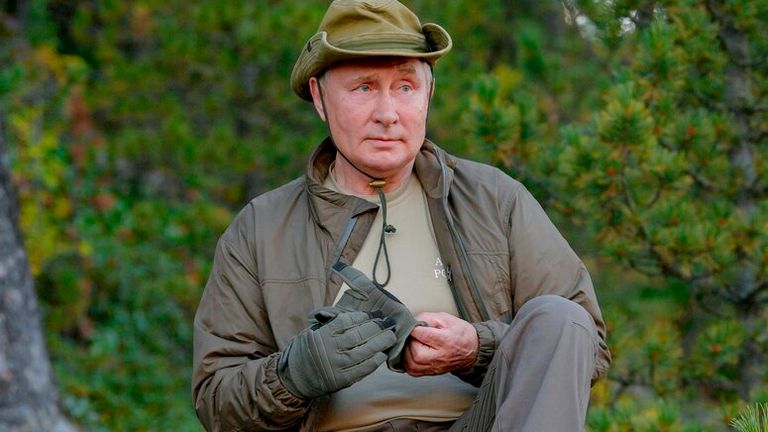 The Russian premier stopped off for a few days after a working trip to the Primorye and the Amur Region of Russia's Far East.
He appeared relaxed while walking through meadows against a dramatic mountain backdrop, casually dressed in a khaki-coloured hat and jacket.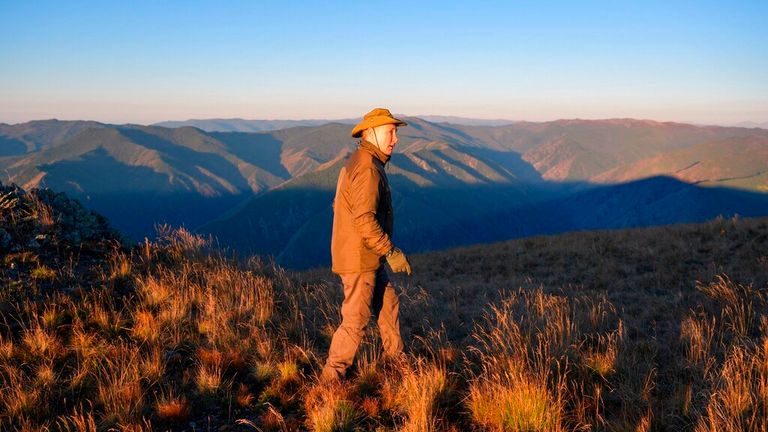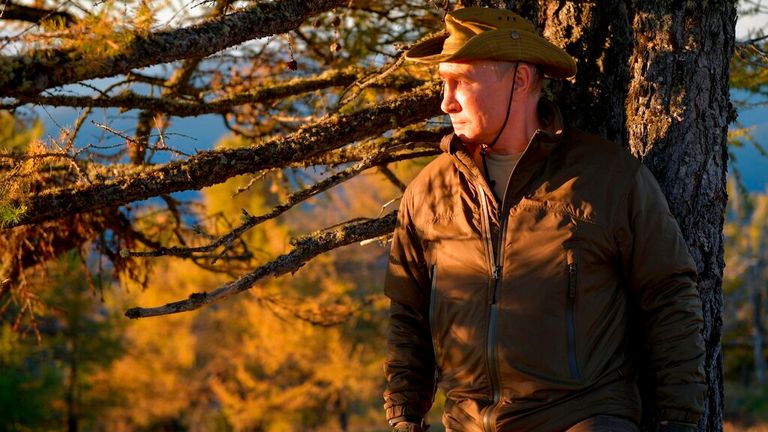 He took a moment to lean against a tree while staring into the distance in another shot.
And he couldn't disguise his delight as he smiled proudly while holding aloft a fish he caught in a nearby lake.
Video footage, released alongside the pictures by the Kremlin on Sunday, also showed Mr Putin driving an amphibious vehicle through a river in the region.
Days after the break, the Russian leader was forced to spend a "few days" in isolation after dozens of people in his inner circle caught COVID-19.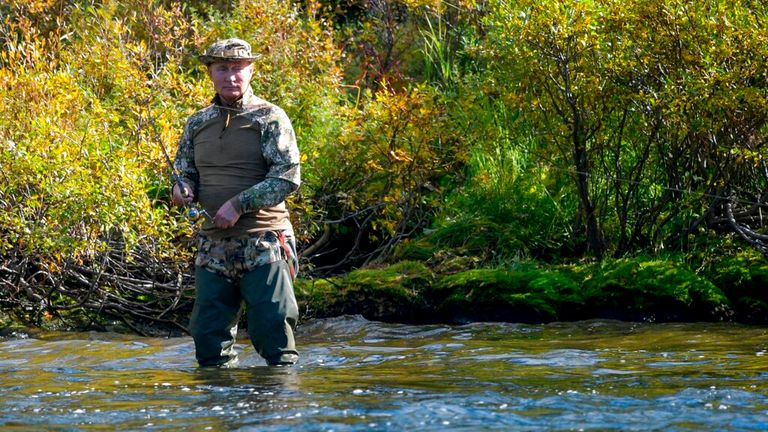 The outbreak prompted Mr Putin to cancel his trip to Tajikistan for a security summit.
He has had two shots of Russia's Sputnik V vaccine and is feeling healthy, the Kremlin said.
The Russian leader is known for his love of the great outdoors and has often been pictured bare-chested in an apparent bid to cultivate his macho image.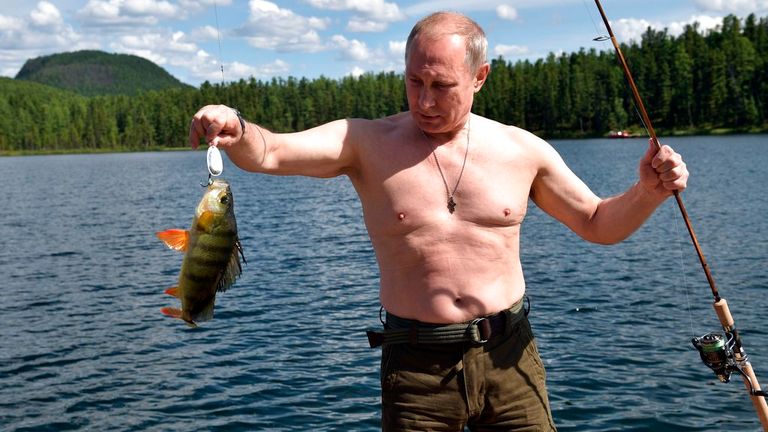 He was most famously pictured shirtless atop a horse on a mountain holiday in southern Siberia's Tuva region in 2009 where he paraded his bare chest and his fishing prowess.
Mr Putin later stripped down to the waist before plunging into an icy lake as part of evens to mark Orthodox Epiphany in January 2018.