Students are being prepared for jobs that no longer exist. Here's how that could change.
The jobs that once kept the city prosperous are being replaced by skilled jobs in service sectors such as health care, finance and information technology — positions that require more education than just a high-school diploma, thus squeezing out many of those blue-collar, traditionally middle-class workers.
Lara's classmate Amber Phoumyvong, 17, shares his desire to escape from Lowell, but not his academic drive — a principal challenge to an education system trying to support a revitalization for places like Lowell. Six months before she graduates, she is not about to hide her feelings: She hates school. "Elementary school: hated it," Amber says. "Middle school: h-a-t-e-d it. School just isn't for me. I hate coming to school. I hate waking up early. I hate homework."
Amber envisions a comfortable future that includes a family, a modern-yet-rustic house and a good job, maybe as a business owner. Her distaste for school may put her dreams out of reach, but it would take more than a boost in motivation to change the tide.
On the surface, American high schools are educating better than ever. Eighty-four percent of students are graduating on time — an all-time high, according to the U.S. Department of Education — and 70 percent are enrolling in college directly after high school. And yet, beneath these optimistic benchmarks lies a career- and job-readiness picture that may be increasingly out of sync with what the future economy will require.
I think where high schools have gotten it wrong, or let's be honest, those of us in the policy world have gotten it wrong, is in thinking that high schools' only job is preparing kids for a four-year liberal arts degree.
I think where high schools have gotten it wrong, or let's be honest, those of us in the policy world have gotten it wrong, is in thinking that high schools' only job is preparing kids for a four-year liberal arts degree.
As emerging technologies rapidly and thoroughly transform the workplace, some experts predict that by 2030 400 million to 800 million people worldwide could be displaced and need to find new jobs. The ability to adapt and quickly acquire new skills will become a necessity for survival.
Critics say high schools aren't doing enough to prepare young people for life after graduation, in-demand jobs and a pathway to the middle class. Underscoring the criticism are sobering statistics: Nationally, just 25 percent of high school seniors are able to do grade-level math and just 37 percent score proficient in reading. Those numbers are egregiously lower among African-American and Hispanic students. And while 93 percent of middle school students say they plan to attend college, only 26 percent go on to graduate from college within six years of enrolling. These indicators, coupled with the staggering cost of higher education and millions of unfilled jobs in skilled trades, are pushing policymakers to rethink America's bachelor's-or-bust mentality.
At Lowell High School, educators are scrambling to prepare kids for the future, while acknowledging its fundamental unknowability.
"We're preparing kids for these jobs of tomorrow, but we really don't even know what they are," said Amy McLeod, the school's director of curriculum, instruction and assessment. "It's almost like we're doing this with blinders on. … We're doing all we can to give them the finite skills, the computer languages, the programming, but technology is expanding so rapidly, we almost can't keep up."
When The Hechinger Report surveyed nearly 1,000 Lowell High School juniors and seniors this winter to gauge their feelings about their job- and career-readiness, close to 70 percent said they felt well-prepared to succeed in college and careers; nearly 80 percent said they felt confident that they'd acquired the digital skills necessary to thrive after high school. But a national survey indicates this optimism may be misplaced: Just 16 percent of college instructors rated incoming students as "well" or "very well" prepared for college-level work, according to the 2015 study by ACT, the creators of the standardized college entrance exam.
At Lowell High School, students generally have strong performance on academic assessments and high graduation rates overall, but the school has a significant achievement gap: Academic performance and graduation rates for low-income, special education and English language learners — the high-needs students who make up nearly 60 percent of the school's population — are alarmingly lagging.
Disengaged from school
For Amber, college is dead-last on her to-do list. There is one part of her school day, however, that continues to stand out from the blur of required classes and tests she endures in order to graduate: "Culinary is most likely the best part of my day," she says. In her first year at Lowell High, Amber, like all freshman here, got to pick one or more courses from the school's Pathways Programs. She chose Culinary Arts and never deviated from the program all four years.
Lowell High School's amped-up program goes a step beyond typical enrichment offerings, with coursework intended to prepare kids for continuing education and jobs in local and state industries that are actively hiring and projected to grow.
Pathways — which include multiple classes organized under umbrella sectors such as engineering, health and bioscience, business, environmental sustainability and culinary arts — is extremely popular at the school. Last year, 463 of the 645 students who graduated accrued 10 or more Pathway credits, earning a special designation on their transcripts, a sort of postsecondary résumé-builder. Although the goal is to get kids into college or other postsecondary education, students can also become certified in a specific skill, enabling them to be job-ready by graduation.
For students like Amber, who would rather do just about anything but go to school, the Pathways program serves another function: It makes learning engaging, maybe even fun, and possibly keeps her in school and on track to graduate.
"I think we're turning kids off to learning in this country by putting them in rows and giving them multiple-choice tests — the compliance model," McLeod said. "But my hope is that in the pathways courses, we're teaching them to love learning. And they're learning about options in the field — there's plenty of options for kids to try here."
Amber, whose parents moved here from Laos before she was born, always loved food and cooking. At home, she likes to cook stir-fries and feu (Lao beef stew), and recently learned how to prepare a papaya salad, based on a recipe from her mother and grandmother. Her eyes light up when she speaks about the food she loves.
But turn the subject back to school, and she crosses her arms and her face becomes guarded once more. The Lowell culinary program ultimately became a disappointment. "I'm fine with the behind-the-scenes part of culinary, I still like cooking, it's still fun. But dealing with people and customer service, that's just not my thing," she says.
And so mid-senior year, she finds herself adrift. "All my friends, they have their lives planned out. They're going to college, they have scholarships, they know what they're going to major in, where they're going to live," she says. "I feel it's different for me because I wasn't born to have my life planned out."
Amber is far from alone as she faces finishing high school with plans for her future derailed and no clear path to college. A 2016 Gallup poll of students found that just 34 percent of 12th-graders across America feel engaged in school and only 44 percent of 11th-graders report feeling excited about the future. Engagement and optimism about the future are directly linked to making plans for life after high school — such as attending college or starting a business.
Though the mere mention of college depresses her, Amber knows she will eventually need more education after high school. Workers with bachelor's degrees now outnumber workers with high-school diplomas, according to a report by the Georgetown University Center on Education and the Workforce. Even when hiring workers without a bachelor's degree, employers still look for more than a high school diploma, increasingly favoring those who have an associate degree or some college training. American high schools need to do more to educate young people about careers that require two-year degrees or certifications, rather than primarily promoting expensive bachelor's degrees, say some experts.
Fossil fuel firms sue governments across the world for £13bn as climate policies threaten profits | Climate News
Fossil fuel companies are suing governments across the world for more than $18bn (£13bn) after action against climate change has threatened their profits, according to research conducted by campaign group Global Justice Now and provided exclusively to Sky News.
Five energy companies, including British companies Rockhopper and Ascent, are using a legal process that allows commercial entities to sue governments under international laws governing trade agreements and treaties.
These corporate arbitration courts operate outside of a country's domestic legal system.
According to Global Justice Now, which has collated publicly available information, five of the largest lawsuits under way are being brought by TC Energy, RWE, Uniper, Rockhopper and Ascent Resources.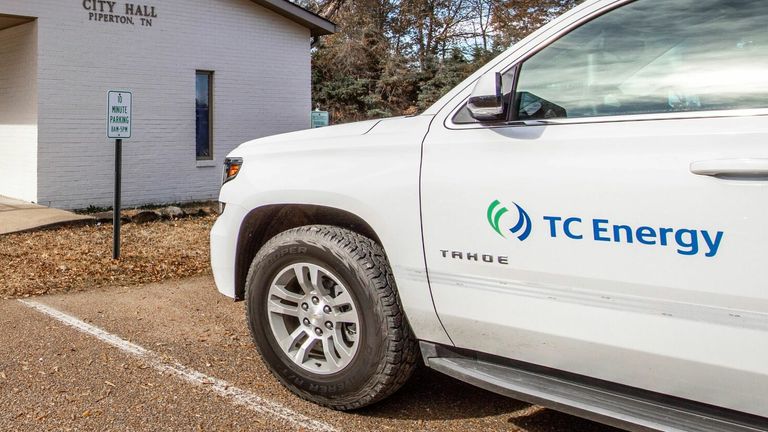 The $18bn they are collectively suing for is almost a quarter of the entire climate funding provided by developed nations for developing ones, according to the Organisation for Economic Co-operation & Development's (OECD) most recent assessment.
Rockhopper is currently suing the Italian government for $325m (£234.8m) in a dispute related to a ban on offshore oil drilling close to the coastline.
Ascent is asking for $118m (£163.3m) from Slovenia after it passed legislation requiring environmental assessments for fracking.
Canada based TC Energy, the company behind the controversial Keystone XL pipeline, is suing the US government for $15bn (£10.9bn) after the Biden administration cancelled the project, citing the fight against climate change.
Meanwhile German companies RWE and Uniper are suing the Dutch government for $1.6bn (£1.16bn) and $1.06bn (£768m) each following the Dutch government's move to phase out coal and shut down coal-fired power plants by 2030.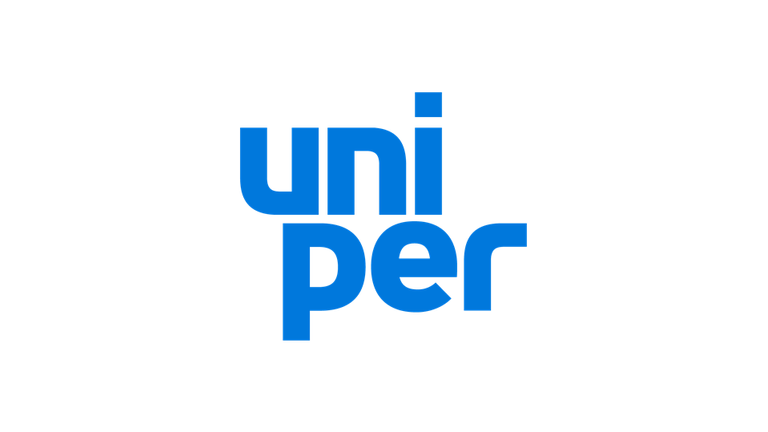 The majority of the cases are being brought under the Energy Charter Treaty, and are being hosted within the International Centre for The Settlement of Investment Disputes, a branch of the World Bank.
The Energy Charter Treaty was created after the end of the Cold War and was designed to provide a stable, transparent legal framework that protected foreign investors as energy markets opened up.
Global Justice Now trade campaigner Jean Blaylock told Sky News: "Fossil fuel companies should be paying to fix the climate crisis they caused, but instead they want a payout.
"They're suing governments who take climate action through secretive corporate courts, massively increasing the cost of climate action".
She added: "These courts are built into trade deals and operate outside of and supersede domestic courts and legal systems. That means a country that passes meaningful legislation to phase out fossil fuels could face a multi-billion dollar fine, despite acting entirely legally. It's utterly undemocratic.
"These cases are only becoming more common as governments commit to climate action. World leaders may finally be waking up to the threat of the climate and ecological crisis, but fossil fuel companies are holding them to ransom, demanding ever-greater pay-outs through corporate courts.
"When world leaders gather in Glasgow, they'll make lofty promises on climate action, but it will all be for nought if fossil fuel companies can sue governments into a state of climate paralysis. It could make a mockery of pledges at COP26."
Global Justice Now campaigners say that the UK is a hub for the international arbitration system and that all, but two of the top 30 law firms, involved in the lucrative industry have offices in London.
Protestors are planning to gather outside these law and energy firms on Friday.
Climate debate: End oil & gas exploration by 2050?

A spokesperson for Rockhopper told Sky News: "The Energy Charter Treaty is designed to provide a stable platform for energy sector investments. The Italian government issued licences and encouraged significant investment in oil and gas exploration, based on this platform.
"Clearly it is not equitable to change the rules halfway through. It is also important to note that those rule changes made by the Italian government were not related to climate change and that Italy continues to produce significant quantities of oil and gas within 12 miles of the coast."
A spokesperson for German company RWE said: "RWE is not suing the Dutch government for deciding to phase out coal. We expressly support the energy transition in the Netherlands and associated measures to reduce carbon emissions.
"[But] the Dutch law does not provide for the resulting disruption to the property of affected companies. We do not consider this right."
"RWE has therefore filed a request for arbitration against the Netherlands at the International Centre for Settlement of Investment Disputes [ICSID] in Washington under the Energy Charter Treaty."
Subscribe to ClimateCast on Spotify, Apple Podcasts, or Spreaker.
A spokesperson for Ascent Resources told Sky News: "Slovenia's Ministry of Health, Ministry of Infrastructure, the Institute of the Republic of Slovenia for Nature Conservation, the Forestry Institute of the Republic of Slovenia, the Chemical Office of the Republic of Slovenia and the Conservation Institute of the Republic of Slovenia all concluded that an Environmental Impact Assessment (EIA) was not required.
"The ARSO [Slovenian Environment Agency] decision was therefore not based on the recommendations of Slovenia's own experts and, furthermore, it contradicted the opinions they gave.
"It is therefore manifestly arbitrary and unreasonable."
A spokesperson for Uniper said: "The Dutch government has announced its intention to shut down the last coal-fired power plants by 2030 without compensation.
"Uniper is convinced that shutting down our power plant in Maasvlakte after only 15 years of operation would be unlawful without adequate compensation.
"International law provides a different standard of investment protection open to investors from other countries in international courts. The international tribunal is appointed by both parties, i.e. the Dutch state and Uniper.
"We are convinced that such an international tribunal will also form an objective opinion."
TC Energy said that it was unable to comment further on a legal matter.
German election: 'Boring' Olaf Scholz may be just the ticket amid uncertainty about life after 'Mummy' Merkel | World News
Germany is about to lose its political mother and an air of uncertainty clouds the current election to replace her.
They call Angela Merkel "Mutti", or Mummy, because of her calm reassuring style of rule in crisis after crisis.
For young Germans, she is the only leader they have ever known.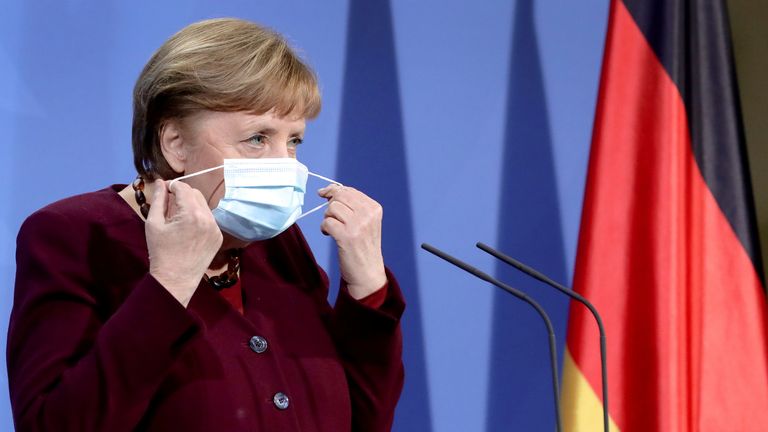 We joined a posse of young leafleteers from Ms Merkel's rivals' party, the Social Democratic Party.
Emma Otto, freshly back from au pairing in Dulwich, told us losing Mutti will be weird.
"She's been the only chancellor I've known," she said. "I can't remember a time before her so I think it's going to be a really big change."
They are missing her already.
We spoke to volunteers heading to help victims of July's devastating floods.
A huge voluntary effort has sprung up in the absence of official help.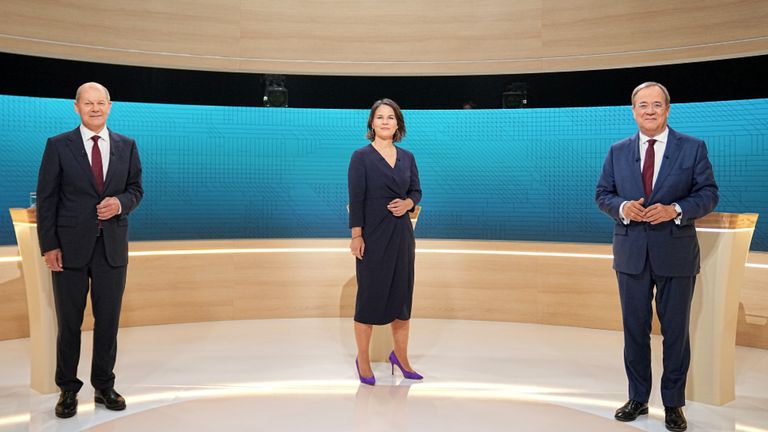 In its camp, many sounded disillusioned with politics in general.
"It's a difficult election," one volunteer told us. "I think none of the candidates is fully convincing.
"Someone was joking if Angela Merkel was still up for election she'd probably win because people would say we've seen the alternatives, we'd better stay with what we have."
Another young voter out handing out leaflets was welcoming change.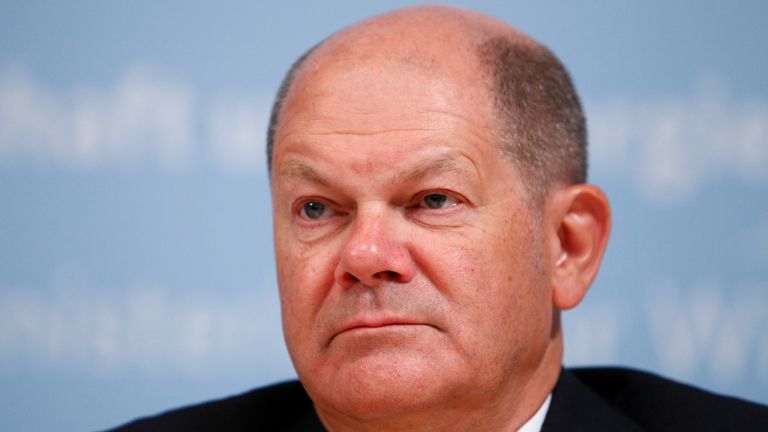 "Sixteen years of chancellorship is too much I'd say," Alicem Polat told Sky News.
"We have our candidate, Olaf Scholz, so we definitely say there is someone to replace her."
"People say he's boring," I interject.
"He is, I admit, but maybe that's the German way of politics."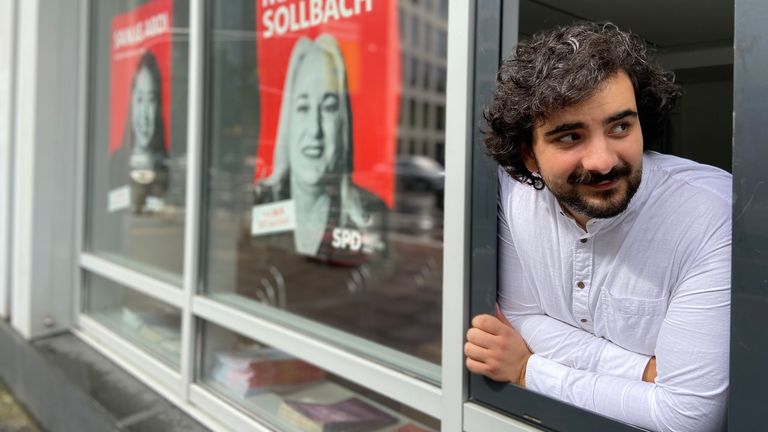 And there's the rub. The likely next chancellor Olaf Scholz, Germany's current finance minister, has no political pizzazz or charisma.
But that may be a good thing to voters.
Unsettled by the loss of Ms Merkel and the pandemic, Germans will take quiet, boring competence over excitement.
He is also the last person standing for now at least in the polls.
Ms Merkel's heir apparent should have been Armin Laschet.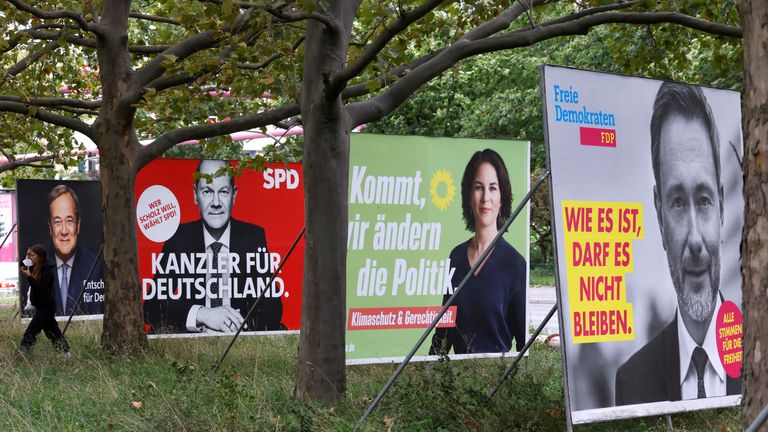 But the new Christian Democratic Union leader has slipped on a banana skin thrown up by recent disastrous floods.
In the background, while dignitaries made speeches honouring the floods' victims, Mr Laschet was caught on camera sniggering.
His standing took a beating in the polls.
So much for the CDU.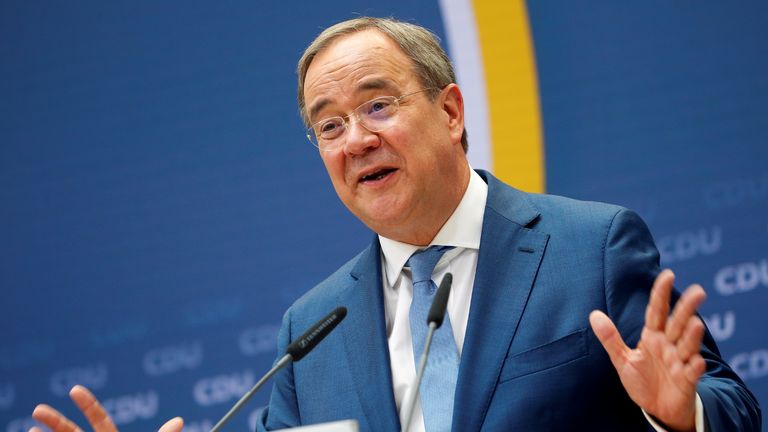 The floods should have been a godsend for the Greens, clear evidence of the dangers of climate change.
And yet Annalena Baerbock, their leader, has been unable to sustain an early lead in the polls.
Accused of plagiarism and lack of experience, she has floundered ever since.
So for now Mr Scholz remains the favourite to win the lion's share of the vote, giving him the chance to build a coalition.
Max Meyer, political scientist at Bonn University, told Sky News his alleged lack of personality may be just what Germany needs.
July: Angela Merkel meets the Queen during her visit to the UK

"That makes him probably a better leader," he said.
"Because it's more pragmatic and it's not the theatrics or the big flashiness of charisma, but it's more policy issues and it's more policy-driven."
He may be what Germany wants after Ms Merkel, but the shoes he has to fill are enormous if he wins.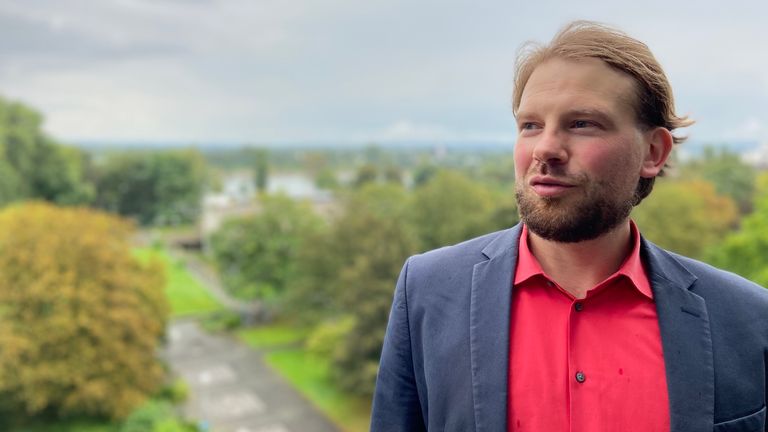 Ms Merkel rode out the euro crisis, the migrants crisis, the financial crisis and handled autocrats and allies with a firm fairness that soothed tensions and protected German interests.
"I think Germany is going to be very soon nostalgic," said Mr Meyer, "and probably most will look back with very positive feelings because she was capable of managing crisis and of portraying the country still as stable."
Germans are going to miss their Mutti.
Piers Morgan joining new channel talkTV where he will present 'global show' | Ents & Arts News
Piers Morgan has revealed his next presenting job will be for new television channel talkTV – which is being set up by Rupert Murdoch's News Corp.
The company, which will launch its new service next year, said Morgan's nightly show will be broadcast in the UK, the US and Australia.
He left Good Morning Britain earlier in the year, after criticising Harry and Meghan's comments in an interview they gave with Oprah Winfrey, saying he did not believe some of the things they said, particularly around mental health.
BREAKING: I've gone home. Great to be rejoining Rupert Murdoch's News Corporation after 28 years. The place I started my media career, with the boss who gave me my first big break. We're going to have a lot of fun…. pic.twitter.com/g6xBWvgXzd

— Piers Morgan (@piersmorgan) September 16, 2021
The show was recently cleared by Ofcom, after tens of thousands of complaints were made about it.
Talking about his new role, Morgan said: "I'm thrilled to be returning to News Corp, which is where I began my media career more than 30 years ago.
"Rupert Murdoch has been a constant and fearless champion of free speech and we are going to be building something new and very exciting together.
"I want my global show to be a fearless forum for lively debate and agenda-setting interviews, and a place that celebrates the right of everyone to have an opinion, and for those opinions to be vigorously examined and challenged.
"I'm also delighted to become a columnist for The Sun and the New York Post, two brilliantly successful and popular newspaper brands.
"I'm going home and we're going to have some fun."
'A good day for free speech' – Piers Morgan

Executive chairman of News Corp, Rupert Murdoch, added: "Piers is the broadcaster every channel wants but is too afraid to hire. Piers is a brilliant presenter, a talented journalist and says what people are thinking and feeling."
In the past, Morgan has been hired by ITV, CNN and NBC in various presenting roles.
News Corp said its new channel will "offer a mix of programming from our stable of household brands, proper hourly news bulletins, documentaries, entertainment and more".
The company already owns established news brands such as The Times and The Sun newspapers, as well as a number of radio stations such as Virgin and talkSport.
News Corp had previously scrapped plans for a linear news channel, and instead decided to focus on streaming its radio brands online, while rival GB News pushed ahead with its launch.
Responding to News Corp's announcement, GB News tweeted: "Congratulations to Piers Morgan.
"We love competition. Bring it on!"
In the US, Morgan's show will be carried on Fox Nation, while Sky News Australia will broadcast it down under.