FBI raid of Michael Cohen's office sought info on 'Access Hollywood' tape
According to multiple people with knowledge of the search warrant, investigators were also looking for communications and records associated with:
A $130,000 transaction between Cohen and adult film star Stormy Daniels, also known as Stephanie Clifford, who allegedly had an affair with Trump more than a decade ago;
A reported payment of $150,000 to a second woman who allegedly had an affair with Trump, Playboy model Karen McDougal;
Other matters still under seal.
Cohen has said he paid Clifford $130,000 out of his own pocket. Trump has denied the affair and said he had no knowledge of the payment.
Clifford is cooperating with federal investigators looking into the payment, according to multiple sources familiar with the proceedings.
The search of Cohen's office was not the work of Mueller's prosecutors but involved a matter his team came across and passed on to the U.S. attorney's office in Manhattan because it did not fall under the team's mandate to investigate Russian meddling in the election.
Cohen's lawyer, Stephen Ryan, said the court-ordered search warrants were "completely inappropriate and unnecessary" and resulted in the seizure of material protected by attorney-client privilege.
"Mr. Cohen has cooperated completely with all government entities, including providing thousands of nonprivileged documents to the Congress and sitting for depositions under oath," Ryan said.
Plane carrying aviation students crashes in Ukraine killing 22 | World News

A military transport plane carrying students from an aviation school has crashed in northeastern Ukraine, killing at least 22 people on board, officials have said.
The Antonov An-26 had been trying to land during a training exercise when it burst into flames just a mile short of a military airport on Friday evening.
General Staff of the Armed Forces Ruslan Khomchak said that, as well as those killed, at least two people were critically injured.
A total of 27 people were on the plane, according to the State Emergency Service of Ukraine.
Most of those on board were students from the Kharkiv University of Air Force, which is run by the country's defence ministry.
Deputy Interior Minister Anton Gerashchenko posted video showing the plane in flames with smoke billowing upwards.
Other pictures showed rescue workers inspecting the wreckage near Chuhuiv, about 250 miles east of Ukraine's capital Kiev.
The cause of the crash is being investigated but one pilot reported the failure of one of the plane's two engines, according to Oleksiy Kucher, the governor of the Kharkiv region.
He told Interfax Ukraine this would not have been a critical situation for an experienced pilot.
Some of those on board managed to jump out of the plane as it flew at low altitude, he added, something confirmed by a witness on the Ukraine 24 news channel.
President Volodymyr Zelenskiy will visit the scene on Saturday.
Breonna Taylor: Armed civilians are demonstrating their power in wake of decision over her killing | US News
Louisville is a tinder box of rage and frustration.
Protesters have been taking to the streets for 121 nights since Breonna Taylor was killed.
This week the city has been in a state of emergency, roads closed and businesses barricades. Military personnel line the streets, armoured vehicles patrol the airport and protesters hold vigil at a square, waiting for curfew to fall before they march.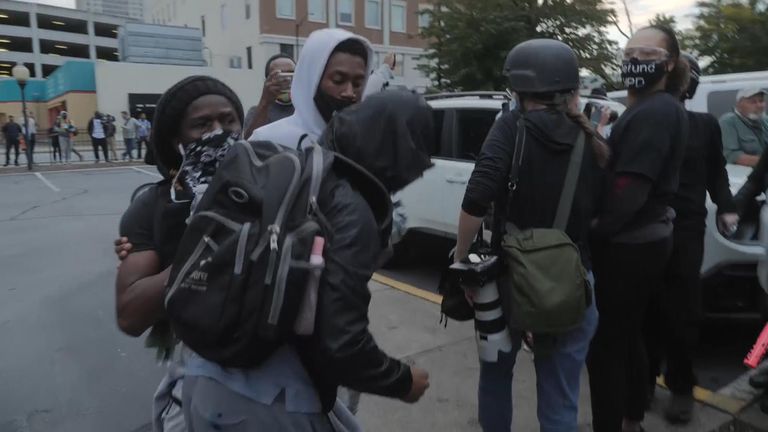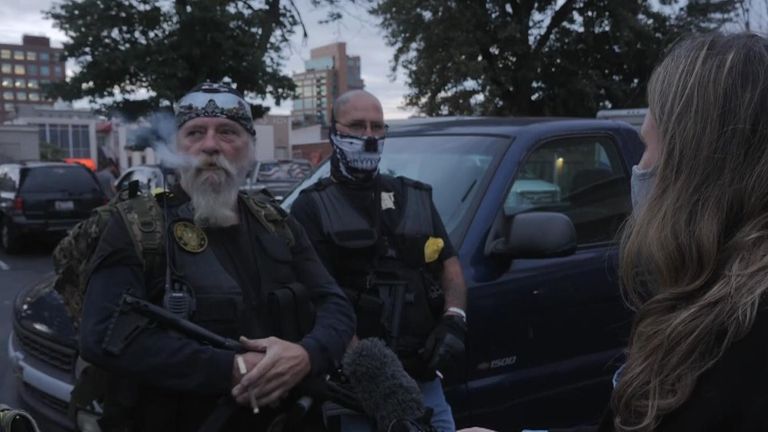 But there's another group who've started to make their presence felt in the past few days – loaded with rifles and army fatigues they look like active military personnel.
But they are in fact a far-right group who call themselves the Oath Keepers, described by the Southern Poverty Law Centre as one of the largest radical anti-government groups in the US.
We find them in the car park of a hotel. There are about 30 of them and the protesters marching by are immediately aggravated by the sight of them.
The anti-government group insists they've been invited here by business owners. The founder, Stewart Rhodes tells me: "We're here to protect businesses and apartments. We're also here protecting residents.
"We don't want to say who they are or where they lived because they're afraid. We're protecting life and property."
The crowd that's started to form around them is clearly incensed.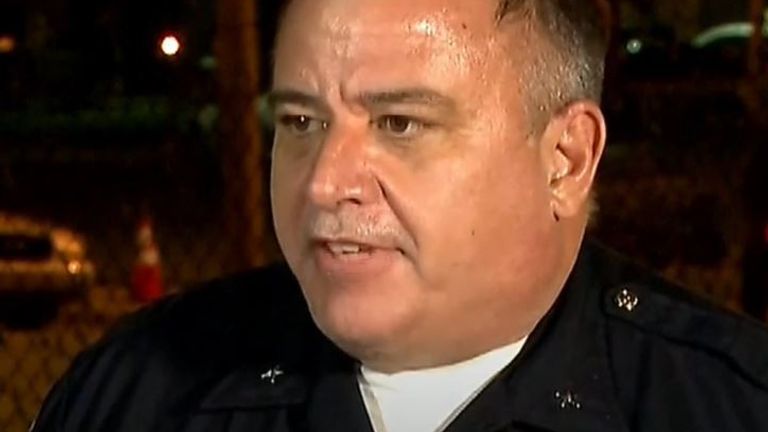 There are tense exchanges playing out everywhere as the two sides face off.
One member, George Douglas Smith Jr, tells me he won't raise his gun unless damage is done. He said: "What they do in their organisation is fine. Unless they try to turn the buildings down.
"I made a solemn oath to the store owners that I won't let that happen even if this crowd beats me downs and kill me."
It is an austerely incongruous sight, but it's become painfully commonplace in the pockets of tension around America that seemingly keep emerging. A nation where heavily armed civilians feel emboldened to demonstrate their power.
It constantly feels like the mood and risk can radically shift at any moment.
The protesters eventually make their way out of the car park, many encouraging each other not to rise to the bait.
For another two hours, they walk around Louisville. They eventually make their way to a church where they're welcomed in and offered refreshments.
The police keep watch on the edge of the grounds. It is a far less disparate and chaotic scene than some of the skirmishes and arrests we witnessed the night before, when two officers were shot.
:: Subscribe to Divided States on Apple podcasts, Google Podcasts, Spotify, and Spreaker
But it's a constant game of cat and mouse that's hard to imagine any resolution to right now.
Twenty five minutes out of town, we meet neighbours of Breonna Taylor who were there the night she died. They're incredulous at the grand jury's decision not to charge any officers with her killing.
Deja Moore lives opposite Breonna's apartment. She tells me there were gun shells all around her door and she could see Breonna's body.
The attorney general said the police announced their presence. But Deja is emphatic that she and others didn't hear it.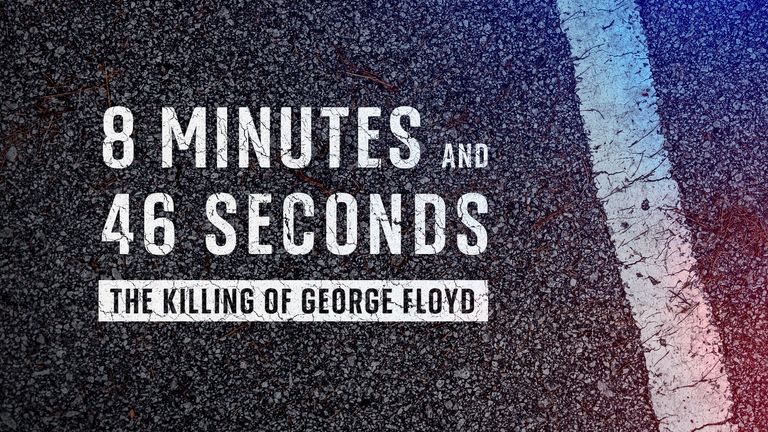 She is exasperated at the lack of progress on racial justice in America, but defiant too.
"Honestly a change needs to come. Whether they like it or not it's going to turn violent. We're upset, angry, disappointed and if they won't change it we will," she said.
Quite what the change looks like in a country where it's proved so illusive, is very unclear.
Evel Knievel's son sues Disney over Toy Story 4 character | Ents & Arts News
Evel Knievel's son is suing Disney over a daredevil character in the animated film Toy Story 4.
Kelly Knievel has held the publicity rights to his father's name since 1998, according to his US District Court filing in Las Vegas.
The federal trademark infringement lawsuit claims that Disney-owned Pixar did not ask permission to use his father's likeness when creating the character Duke Caboom.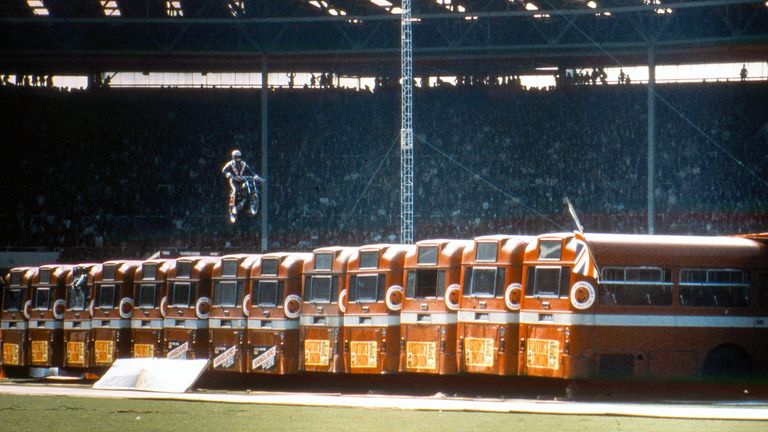 Knievel is seeking damages of more than $300,000 (£235,000) over allegations including false endorsement and unjust enrichment.
The 60-year-old said: "Evel Knievel did not thrill millions around the world, break his bones and spill his blood just so Disney could make a bunch of money."
Duke Caboom, voiced by Keanu Reeves in last year's film, was a 1970s toy who rides a motorbike and is "Canada's greatest stuntman", the lawsuit said.
Knievel was famous for stunts such as a motorbike jump over a row of buses at Wembley Stadium.
He was seriously injured many times during 75 motorbike jumps, but died from lung disease in 2007.
An Evel Knievel toy was released in 1973 with a white helmet and jumpsuit, with a motorbike that could be propelled with a wind-up device.
Disney and Pixar released a similar Duke Caboom toy along with Toy Story 4.
The toy also featured in McDonald's Happy Meals.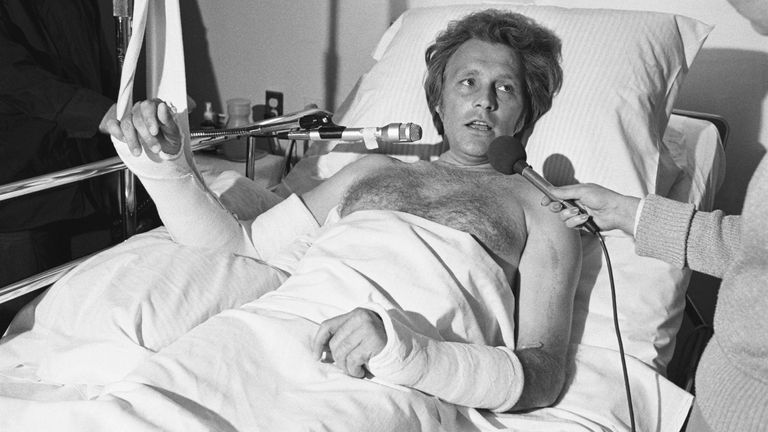 The lawsuit claims consumers and film reviewers "universally caught on to the connection", despite the film company and Reeves avoiding any comparison.
Jeffrey R Epstein, corporate spokesman for The Walt Disney Co, described Knievel's claims as meritless, saying the film company will defend itself vigorously.