Russia will target U.S. military if strikes hit Syria, envoy says
The envoy's comments came after the U.S. heaped condemnation on Syria and its main backer Russia since images emerged of the suspected poison gas attack that allegedly killed dozens in Douma on Saturday.
Trump canceled a trip to Latin America to focus on the Syria incident, the White House said. Defense Secretary Jim Mattis also canceled plans to travel to California in the coming days. Trump told reporters all options were on the table regarding Syria.
The USS Donald Cook, a Navy destroyer, left a port in Larnaca, Cyprus on Monday. The guided missile destroyer is armed with Tomahawk cruise missiles, which were used a year ago after an alleged sarin gas attack on Syrian civilians.
France's President Emmanuel Macron has called for a "strong and joint response" to the latest incident.
Macron also said his country, the U.S. and Britain would decide how to respond in the coming days. Trump has also spoken by phone with British Prime Minister Theresa May on the violence in Syria.
Eurocontrol, the pan-European air traffic control agency, warned airlines Tuesday to exercise caution in the eastern Mediterranean due to possible airstrikes in the next 72 hours.
Retired Adm. James Stavridis, a former head of NATO and an NBC News analyst, warned that any U.S. strike on Syria would likely require manned aircraft and characterized it as a "high-risk operation."
"Last year was about sending a signal," Stavridis said, referring to the April 2017 strike ordered by Trump. "This year its about destroying actual Syrian capability."
Retired Lebanese Gen. Khalil Helou said the ultimate objective of any U.S. action should be to force President Bashar al-Assad to change course.
"The aim is to soften the rigidity of Assad, to push him to accept, at least, starting of a peace process in Syria," he said.
Some 500,000 people have died in the Syrian civil war as Assad fights rebels trying to unseat him. In addition to Russia, Iran and Iran-backed Lebanese group Hezbollah are allied to the Syrian strongman.
F. Brinley Bruton reported from London, and Bill Neely and Charlene Gubash reported from Beirut, Lebanon.
La Palma eruption: Lava spread raises fears of more damage on Spanish island as it rises 50 feet in places | World News
The advance of lava from a volcanic eruption in Spain's Canary Islands has slowed, rising in some places up to 50 feet as it thickens.
One giant river of lava on the island of La Palma slowed to 13 feet (4m) per hour on Wednesday – on Monday, a day after the eruption, it was moving at 2,300 feet (700m) per hour.
A second stream of lava has virtually ground to a halt.
As it slows, it has raised concerns that the molten rock may fan out across the land and destroy more homes.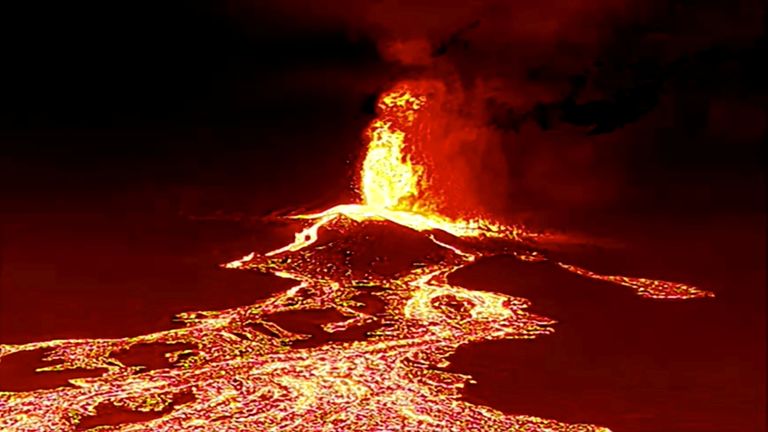 Correspondent broadcasts live as volcano erupts

It now covers 410 acres and has entombed 350 homes.
There have been no casualties reported from the eruption but damage to property, infrastructure, and farmland is expected to be extensive.
Almost 7,000 people were evacuated after scientists monitoring the volcano warned of the eruption.
The lava slowing has allowed more residents of towns in its path to grab belongings under police escort.
Officials had initially expressed fears about what would happen when the lava – with temperatures exceeding 1,000 degrees Celcius – reached the Atlantic ocean, as it could cause explosions, trigger landslides and produce clouds of toxic gas.
However, the head of the National Geographic Institute in the Canary Islands, Maria Jose Blanco, said some lava streams won't reach the ocean until the weekend, and others may never reach it at all.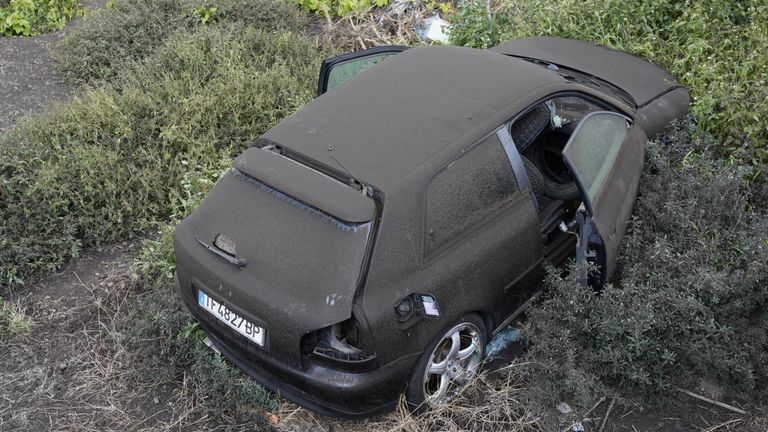 Meanwhile, molten lava, ash and smoke continue to pour from the volcano's mouth, shooting up to nearly 14,000 feet high, the Canary Islands Volcanology Institute said, raising concerns about whether airspace above the island could remain open.
Readings taken of the air found no threat to health, authorities said.
Joel Francisco, 38, said he and his elderly parents left their home with only a handful of belongings and important documents.
Now the flow appears to have slowed, he hopes to return, if police allow.
"We don't know how long we have to wait until we can return to our homes because the roads are closed," he told The Associated Press.
"Some people have it worse off, their houses are gone."
Video of La Palma eruptions burning buildings and destroying homes

The Canary Islands Volcanology Institute said the eruption and its aftermath could last for up to 84 days.
This means residents could still be at risk of earthquakes, lava flows, toxic gases, volcanic ash, and acid rain.
However, tourists visiting the island have been largely undeterred, with many continuing to land for previously planned holidays.
Ukraine leader pledges 'strong response' after shots fired at aide's car in assassination attempt | World News
Ukrainian president Volodymyr Zelenskiy has warned the "response will be strong" after one of his top aides survived an assassination attempt.
At least 10 bullets struck Serhiy Shefir's car, the top aide and close personal friend of Mr Zelenskiy, outside of Kiev on Wednesday.
The driver of his black Audi was badly wounded and taken to hospital, but Mr Shefir escaped uninjured.
It is not known who carried out the shooting and the gunman is still at large.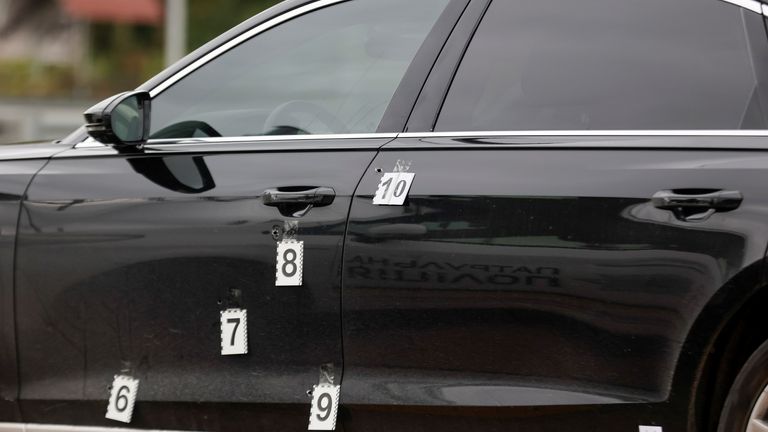 Mr Zelenskiy issued a warning to the attacker from New York, where he is taking part in the UN General Assembly.
He said he did not know who was responsible for the attack, but pledged "a strong response".
"These could be internal or external forces. But I don't consider them to be strong because sending me a 'hello' by firing from a forest into the automobile of my friend is weakness," he said.
"This [attack] will not affect the strength of our team.
"This does not affect the path toward change that I have chosen with my team, for taking our economy out of the shadows, for the fight against criminal elements with large, influential financial groups – on the contrary, because the people of Ukraine gave us a mandate for change."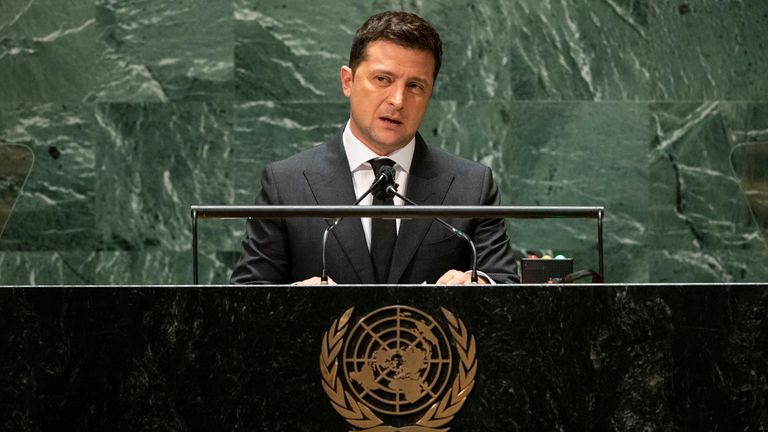 Mr Shefir praised his driver for acting "heroically" by accelerating away from the gunman as the "shots rang out".
He added: "We had to speed up a little, it was scary."
Mr Shefir also said he believed he had been targeted in an attempt to intimidate the "highest echelon of power", but added this would not work.
He said: "One has to understand that our president [Zelenskiy] is very strong-willed, he has a spine and cannot be intimidated."
The Kremlin has denied any Russian involvement.
Kremlin spokesman Dmitry Peskov added any suggestion of a link with Russia showed "the signs of an excessively excited emotional state".
He said: "Unfortunately nowadays, whatever happens in Ukraine, none of the current politicians is able to rule out the Russian trace."
Ukraine has seen a huge rise in violence since its conflict with Russia began in 2014 when the Crimean peninsula was annexed.
Several military and political officers have been targeted in assassination attempts since then, with seven deaths taking place between 2016 and 2017 alone in the Ukrainian capital Kiev.
The attack came just days before Ukrainian politicians were set to debate Mr Zelenskiy's bill on cracking down on the country's powerful oligarchs, who dominate the economic and political landscape.
On Thursday, a day after the shooting, Ukraine's parliament passed a law which bans oligarchs from financing political parties or taking part in privatisations.
It must now be approved by the president to come into force.
Climate change: UK must suspend aid for Congo Basin rainforest protection until DRC drops plans to increase logging, demand NGOs | Climate News
The UK must suspend funding for rainforest protection in the Democratic Republic of the Congo (DRC) until the country drops contentious plans to increase logging, more than 40 NGOs have urged.
The DRC is about to lift a 19-year moratorium on new industrial logging in the Congo Basin, the second largest rainforest in the world and vast carbon sink.
But countries including the UK are poised to commit hundreds of millions of pounds to protect the rainforest in the DRC, where half the Congo Basin lies.
In a letter shared exclusively with Sky News, a global coalition including Greenpeace Africa, Global Witness and Congolese indigenous groups have called on donor countries to make any new funding conditional on a reinstatement of the ban.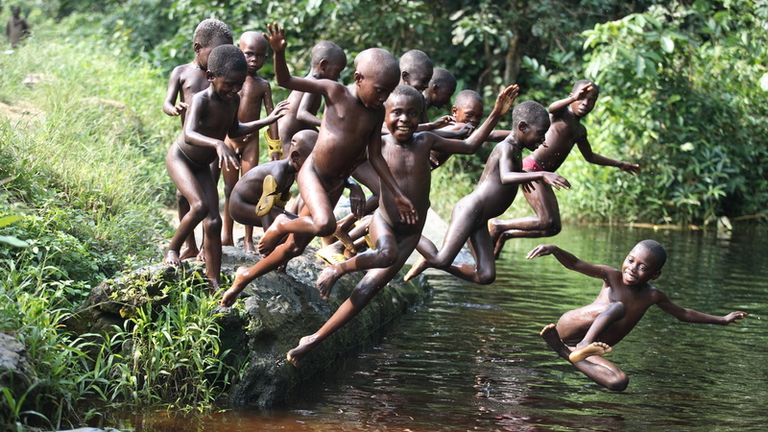 Opening up "some of the world's last remaining intact tropical forests" to more logging would be an "unmitigated disaster for the climate, biodiversity, rule of law, and human rights of forest communities" the letter says.
The Central African Forest Initiative (Cafi), which counts the UK, Germany and Norway as donors, is about to extend a forest protection and poverty reduction scheme in the DRC, reportedly worth $1bn.
A Foreign, Commonwealth and Development Office spokesperson said the UK government was "concerned by the changes to the logging moratorium" but recognised the "challenges around implementation".
"We will continue to work with the government of the Democratic Republic of Congo on this issue," the spokesperson said.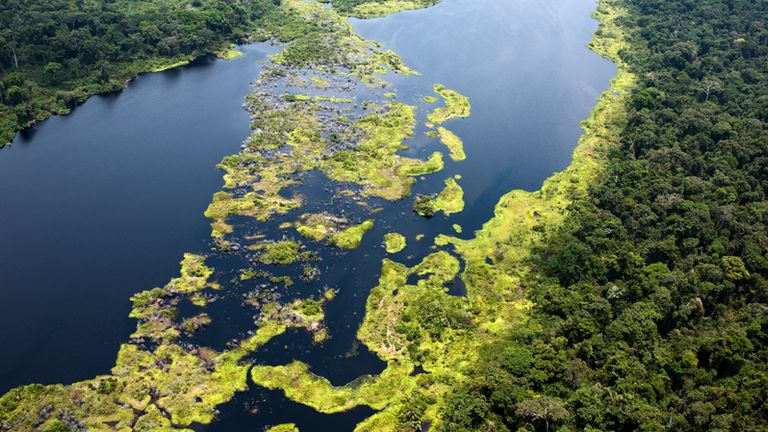 Failure to act would be a "serious betrayal" of millions of rural Congolese whose rights will be impacted and of the Paris Agreement climate change goals, the letter claims.
"Your silence now would send a completely wrong message" ahead of COP26 climate change negotiations at Glasgow and biodiversity talks in Kunming, it said.
Joe Eisen, executive director of Rainforest Foundation UK and letter signatory, said allowing more industrial logging would be a "huge blow, not only to COP26 but to what many see is one of our last chances to limit the worst affects of climate change".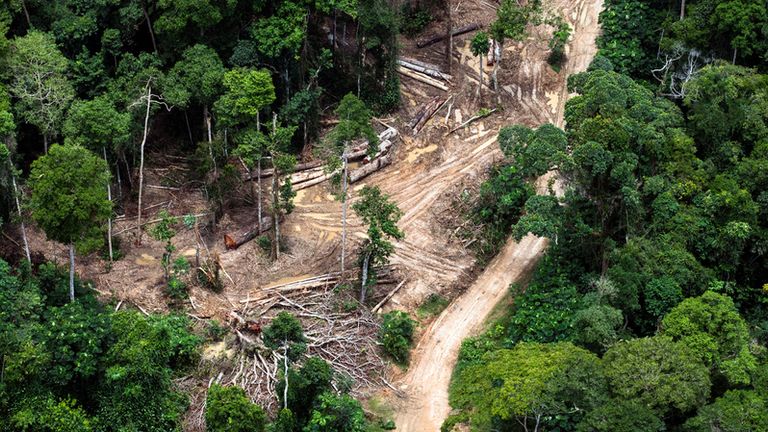 Professor Félicien Lukoki from Kinshasa University's biology department said keeping the moratorium was "vital".
"Maintaining the moratorium would have made it possible to revisit the various logging contracts, to cancel them or renegotiate them," he told Sky News.
DRC's vice prime minister Eve Bazaiba said the government had "no lessons to learn about our resources from an NGO," calling the letter "beyond daring for the 21st century".
"We will use our resources as we see fit… We hope to leave development aid behind and instead aim for win-win partnerships, so our people can benefit from the riches of their nation.
"The moratorium will be lifted."
Watch the Daily Climate Show at 6.30pm Monday to Friday on Sky News, the Sky News website and app, on YouTube and Twitter.
The show investigates how global warming is changing our landscape and highlights solutions to the crisis.