FBI general counsel says in letter that Mueller asked him to testify in Russia probe
It couldn't be determined Tuesday night whether Boente has testified before Mueller's team, or what Mueller wanted to asked him about. But a separate letter sent to Boente by the FBI's counterintelligence division, dated Jan. 17 and also obtained by "The Rachel Maddow Show," certifies that handwritten notes that Boente took about a conversation with former FBI Director James Comey on March 30, 2017, aren't classified.
Comey, Boente, the Justice Department and the FBI all declined to comment, according to "The Rachel Maddow Show."
Trump fired Comey in May 2017, citing inaccurate testimony that Comey made before Congress about the FBI's investigation into Democratic presidential candidate Hillary Clinton's use of a private email server when she was secretary of state. Trump told NBC News at the time that the Russia investigation played no role in his decision to dismiss Comey, who at the time was in charge of the inquiry.
Comey testified before the Senate Intelligence Committee that he informed Boente — who at the time was his boss — about two discussions he had with Trump about Russian interference in the 2016 presidential election, one of them the March 30 conversation and the other occurring on April 11.
Comey testified that in the March 30 conversation, Trump complained that the Russia investigation was "a cloud" that was "impairing his ability to act on behalf of the country" and asked whether Comey could "lift the cloud" by declaring publicly that Trump wasn't under investigation.
Democratic lawmakers and some legal experts have suggested that Trump's alleged comments to Comey in several conversations could be used to build an obstruction-of-justice case against the president.
Rep. Adam Schiff of California, the ranking Democrat on the House Intelligence Committee, told Maddow on Tuesday night: "It does appear that the president may have been be trying to obstruct an investigation that could lead to him."
Boente, a holdover from the Obama administration, was briefly acting attorney general early last year, succeeding Sally Yates, whom Trump fired for refusing to enforce his immigration-related travel restrictions.
After Jeff Sessions was confirmed as attorney general in February 2017, Boente became acting deputy attorney general, eventually overseeing the Russia investigation when Sessions recused himself. Boente, who remained U.S. attorney for the Eastern District of Virginia, stepped down from the Justice Department in October after he was asked to make way for a successor chosen by Trump.
Boente was appointed general counsel of the FBI in January.
France urges Arab nations to stop boycotts of French products over Macron's defence of prophet cartoons | World News
France has called on Arab nations to end "baseless" calls for a boycott of its goods – after French President Emmanuel Macron's defence of the right to show cartoons of the Prophet Muhammad.
The French foreign ministry also urged authorities in the countries to speak out against such protests in order to help French companies and ensure the safety of its citizens.
French products have been covered or removed from some shops in Kuwait, Qatar and Jordan, while In Saudi Arabia, the Arab world's largest economy, a hashtag calling for the boycott of French supermarket retailer Carrefour has been trending on social media.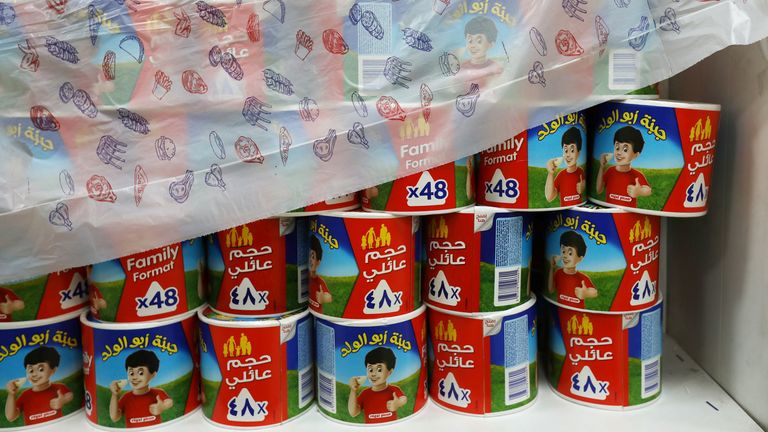 France's foreign ministry said: "These calls for boycotts are baseless and should stop immediately, as well as all attacks against our country, which are being pushed by a radical minority."
The boycotts follow comments made by Mr Macron after the murder of a French teacher earlier this month.
Samuel Paty had shown caricatures of the Prophet Muhammad during a class on freedom of expression at his secondary school in Conflans-Sainte-Honorine, northwest of Paris. His killing is being investigated as an Islamist terror attack.
Mr Macron said France would not renounce its freedoms, and said Mr Paty "was killed because Islamists want our future" and described the history teacher as a "hero".
Muslims see any depiction of the prophet as blasphemous, but Mr Macron has defended the teacher's actions as freedom of expression.
Earlier this month he described Islam as a religion "in crisis" worldwide and pledged a crackdown on extremism.
Mr Macron tweeted on Sunday: "We will not give in, ever."
He did not directly address the boycott calls.
We will not give in, ever.
We respect all differences in a spirit of peace. We do not accept hate speech and defend reasonable debate. We will always be on the side of human dignity and universal values.

— Emmanuel Macron (@EmmanuelMacron) October 25, 2020
There have also been protests in Istanbul, Turkey, and calls for demonstrations in other countries.
The president of Turkey took a second insulting swipe at Mr Macron on Sunday for his stance.
Recep Tayyip Erdogan said the French leader has "lost his way".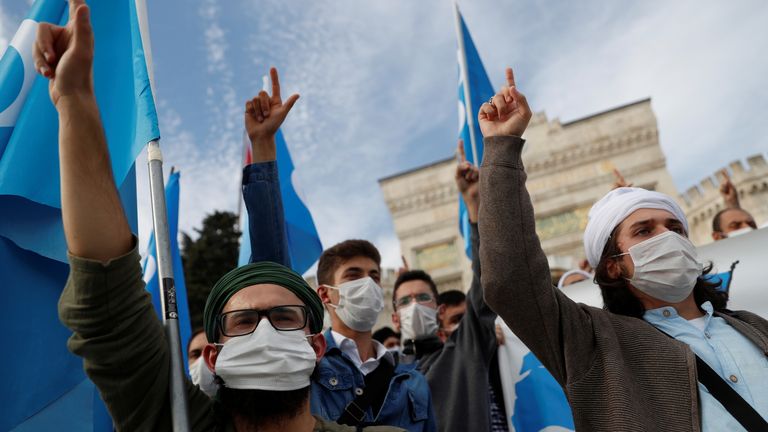 France had already recalled its ambassador to Turkey on Saturday after Mr Erdogan said Mr Macron needed "mental health treatment" over his attitude towards Muslims.
French authorities have also denounced Turkish "propaganda" against France which they have said is aimed at fanning hate at home and abroad.
Pakistan and a bloc of other Muslim nations have also criticised Mr Macron's stance.
The 57-nation Organisation of Islamic Cooperation, headquartered in Saudi Arabia, has condemned the "ongoing practice of running satirical caricatures depicting the Prophet Muhammad" and said it "will continue to decry justification for blasphemy of any religion in the name of freedom of expression".
The beheading of Mr Paty carried echoes of the Islamist attack on the offices of the satirical magazine Charlie Hebdo in 2015.
The publication had shown images of the Prophet Muhammad.
Australia condemns Qatari authorities over 'grossly disturbing' strip-searches | World News
Australia has condemned Qatari authorities over "grossly disturbing" reports that women were subjected to invasive strip-searches before a flight from Doha to Sydney.
The women, including 13 Australians, were searched in an ambulance after a newborn baby was found abandoned in a terminal toilet at Hamad International Airport on 2 October.
Australia's foreign affairs department described the treatment of the group as inappropriate and beyond circumstances in which they could give free and informed consent.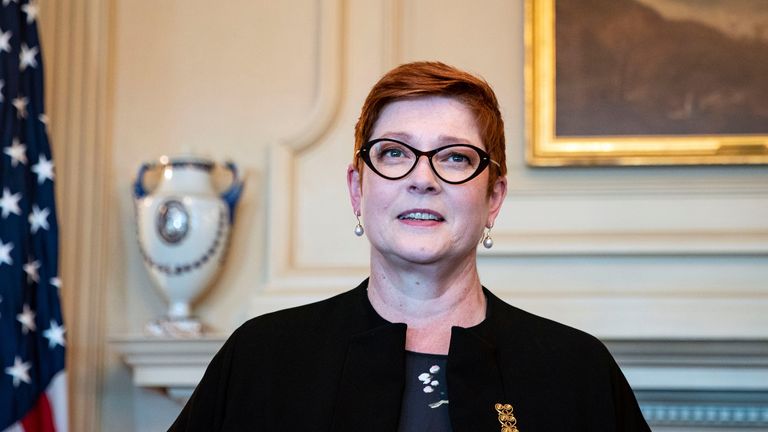 "This is a grossly, grossly disturbing, offensive, concerning set of events," foreign minister Marise Payne said.
"It's not something that I've ever heard of occurring in my life, in any context.
"We have made our views very clear to the Qatari authorities on this matter."
Australia will await a report from the Qatari government before they determine the next steps, Ms Payne said.
Hamad international airport management said the baby was safe and being cared for by medical and social workers.
Medical professionals were concerned for the mother's health after the infant was found and had requested she be located, the airport said in a statement.
"Individuals who had access to a specific area of the airport where the newborn infant was found were asked to assist in the query," the statement added.
The women were taken off the delayed Qatar Airways flight and examined in an ambulance parked on the tarmac, Australia's seven network news reported.
Wolfgang Babeck, who was returning home to Australia on the flight, said women were taken from the plane regardless of their age.
"When the women came back, many of them or probably all of them were upset. One of them was in tears, a younger woman, and people couldn't believe what had happened," Mr Babeck told the Australian Broadcasting Corporation.
"They told me they had to take their underwear off or their clothes from the bottom and then it was inspected whether they had given birth."
State-owned Qatar Airways told Guardian Australia it had not been contacted by any of the passengers on the flight and said it could not comment.
"We appreciate the concerns and distress expressed to you by the Australian passengers who you have spoken to and will be investigating these matters with relevant authorities and officials," a spokeswoman said.
Belarus: Nationwide strike looms after stun grenades used against protesters | World News
Police in Belarus have fired stun grenades to disperse protesters ahead of a nationwide strike called by opposition leader Svetlana Tikhanovskaya.
Ms Tikhanovskaya, who is in exile in neighbouring Lithuania, had previously set out a "people's ultimatum" for President Alexander Lukashenko to step down by Sunday night, pledging industrial action if that did not happen.
"The regime once again showed Belarusians that force is the only thing it is capable of," she said.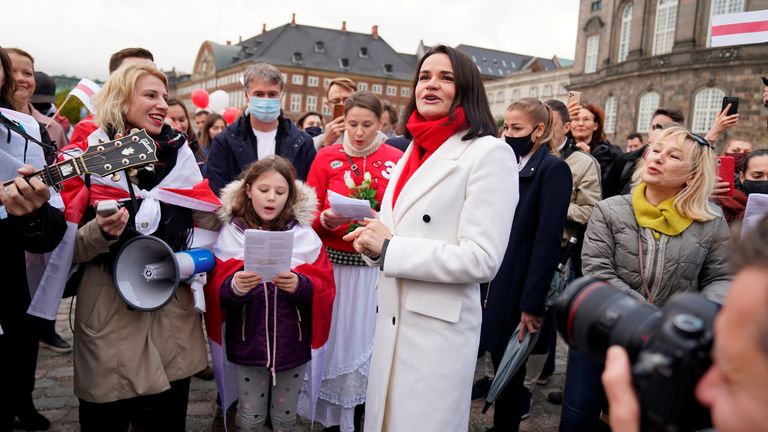 "That's why tomorrow, 26 October, a national strike will begin."
Belarusians have been protesting each weekend since Mr Lukashenko, who has been in power since 1994, won a presidential election on 9 August.
Opposition politicians claim the ballot was rigged, and the president's main opponents have either joined Ms Tikhanovskaya in exile or been jailed.
Tens of thousands again took to the streets of the capital Minsk on Sunday.
Explosions and white smoke were seen amid the white and red flags of the opposition movement.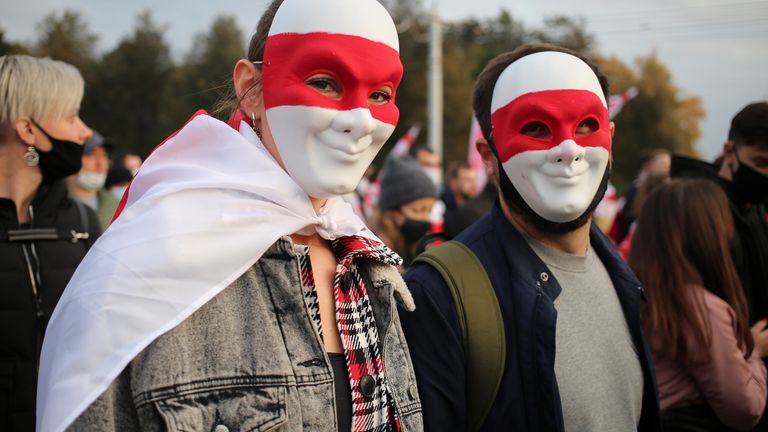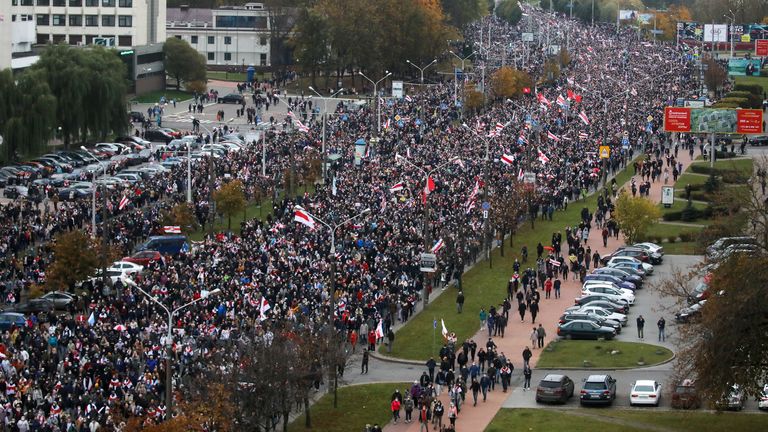 A dozen metro stations were closed, and there were reports of mobile phone internet connections not working.
According to human rights group Vesna-96, at least 216 people were detained on Sunday.
A government spokesperson said an official figure would not be available until the morning.
The US, EU, UK and Canada have all imposed sanctions on the Lukashenko regime.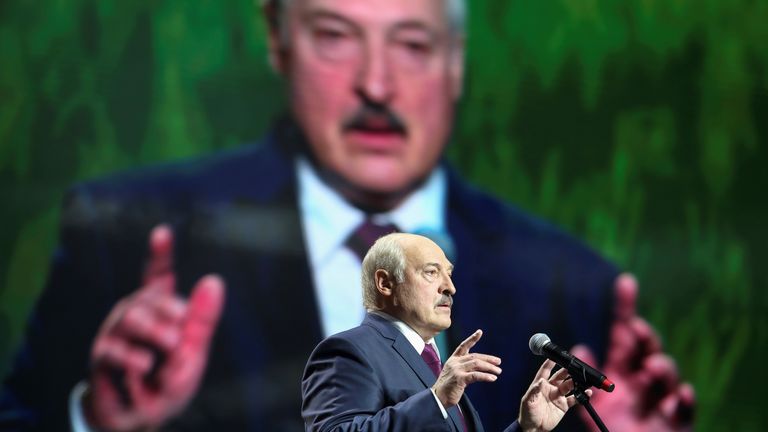 In return, he has accused western countries of interfering in the internal affairs of Belarus.
In a telephone call with US Secretary of State Mike Pompeo on Saturday, Mr Lukashenko said Belarus and Russia were ready to respond to external threats.