Bootleg liquor kills more than 100 in Indonesia

More than 100 people have died from alcohol poisoning in Indonesia after drinking toxic bootleg liquor.
The deaths, which have all occurred this month, have been mainly concentrated in West Java and the capital Jakarta.
Police say they will crackdown on producers and distributors in a bid to put a stop to a black market in alcohol.
Deputy National Police Chief Muhammad Syafruddin said: "I have ordered all the police chiefs in Indonesia to make these cases stop, zero victims, meaning to reveal the roots (of this problem)."
Muslim-majority Indonesia has a thriving bootleg business, fuelled by high taxes and limited sales of legal alcohol.
It is the poor population of the country who are most affected by the illegal trade.
The gap between rich and poor has grown faster in Indonesia than in any other country in South East Asia, according to Oxfam.
Survivors of quake which rocked Turkey and Greece hold on to hope that loved ones will be found | World News
The death toll for Friday's earthquake that struck Turkey and Greece has reached 27 – including two children.
Greece's Prime Minister Kyriakos Mitsotakis tweeted today to announce the deaths of the two children following the disaster. Turkey has reported that at least 804 people were injured on top of the 25 fatalities there.
Here is an eyewitness account of the aftermath of the earthquake in Izmir, Turkey, from Sky's Moscow correspondent Diana Magnay.
Dust wafts over the rubble. Every now and then rescue teams spray water on what's left of this crumpled apartment block so their colleagues can see what they're doing.
Bulldozers tear away at the sides, dumping debris into huge pick up trucks. Draped strangely across the twisted wire and concrete are blankets and curtains, sheets and towels – the fabric of people's private lives strewn across the sorry remains of their homes.
Someone yells a command. "Quiet!" Everything stops.
Rescue workers are listening for signs of life. The crowd waits too. Only the sound of mobile phones cuts through. Then everything starts again. And still the anxious relatives don't know what – if anything – the rescue teams heard.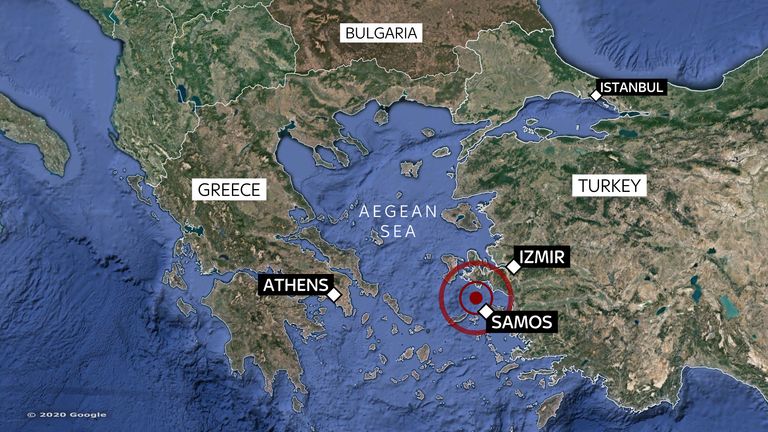 63-year-old Ragip Öztürk was one of the first to be rescued, twenty minutes after the quake hit. He hid beside his fridge, which he thinks protected him when the ceiling caved in.
He tapped against metal with a pen and shouted to get attention. He was found.
His wife though is still somewhere underneath that monstrous pile of rubble. He thinks she was in the lift, heading out for a walk to the park with their niece and nephew.
They've been married for 40 years. "Love your spouse, enjoy life", he says, choking on the words. "And in an earthquake, don't panic".
We're told there are still 40 people trapped inside this one building. Among them are Koray Demirhan's four nieces.
They're only little, aged between two and eleven. His sister, their mother, weeps nearby.
Buildings were destroyed after the magnitude 7 earthquake in Izmir, Turkey

Other relatives with tear-streaked faces sit wrapped in blankets in a neighbouring cafe which is handing out food and drinks for free. Aid workers bring round soup, water, coffee and pastries.
Izmir's mayor says 20,000 of the local boyoz speciality were baked overnight for the relief efforts. They're even offered to journalists and they're delicious. The community is in this together, everyone mingling, watching, helping and hoping.
Turkey has long experience of earthquakes. Esref Bati has lived through a few but he says this one was the biggest he remembers.
He is in a wheelchair and only has one leg. It must be scary to be that immobile during an earthquake. He was in hospital having dialysis at the time and screamed to be taken out.
The nurses hoisted him out of bed and to the street. "There's no way it was just a 6 magnitude quake", he says. "It was far bigger".
His generation remember well the earthquake in 1999 in Izmit which killed at least 17,000 people. Turkey lies on major fault lines and geologists warn that a major quake in Istanbul is only a matter of time.
But the Turks must live with it, hoping that the walls around them are earthquake-proof. The rubble I'm looking at suggests that plenty are not.
Nice terror attack: Third person arrested after three killed in church stabbing | World News
A third person has been arrested in connection with the Nice terror attack, according to Reuters.
Three people were killed on Thursday in the attack at the Notre Dame church in the southern city.
A police source told Reuters that the latest arrest took place on Friday. The person being held is said to be a 35-year-old Nice resident suspected of meeting with the presumed attacker the day before the atrocity.
Flowers and candles have been placed outside the church in the French city of Nice where three people were stabbed to death.

The two previously arrested were 21-year-old suspect Brahim Aouissaoui, and a 47-year-old man who was detained on suspicion of having been in contact with Aouissaoui.
France's President Emmanuel Macron deployed thousands of soldiers to protect sites including places of worship and schools following the attack.
Tunisian Aouissaoui was reportedly unknown to security services, having arrived in Europe by boat last month.
Tensions have been rising in France around cartoons of the Prophet Muhammad which Muslims say are offensive.
The attack in Nice occurred almost two weeks after Samuel Paty – a teacher in Paris – was decapitated by an 18-year-old Chechen after showing pupils a cartoon in a lesson on freedom of expression.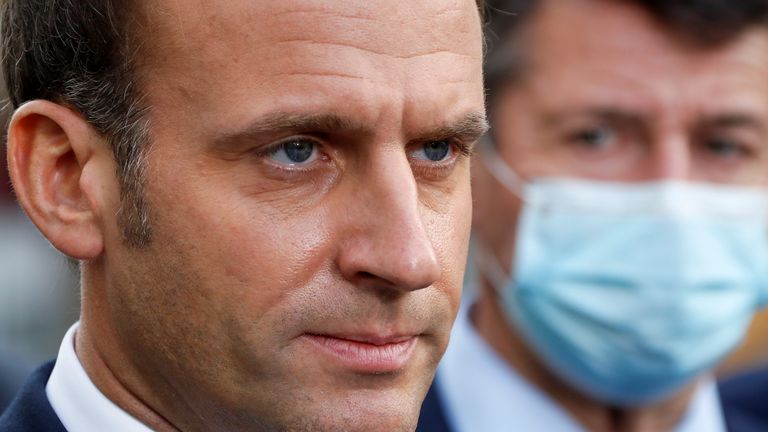 France has been the location of a string of terrorist attacks in recent years.
There have been protests around the world in countries like Lebanon, Pakistan, Bangladesh and Somalia, with calls to boycott French products.
Following the attack, president Macron said: "We will not give any ground."
He added that France had been attacked "over our values, for our taste for freedom, for the ability on our soil to have freedom of belief".
Too scared to go back inside their homes: Aftermath of Turkey's deadly earthquake | World News
The neighbourhood of Bayrakli in the Aegean city of Izmir is new compared to the rest of the century-old city.
Developed at the start of the 2000s, it's a mixture of middle class housing and swanky office towers.
But 20 of those buildings have now collapsed. Most on their sides, four just crumbled in on themselves. They are all just a few hundred metres from each other.
With several others seriously damaged, people are being warned by police officers to stay away from cordoned-off areas, fearing a tremor could cause another collapse.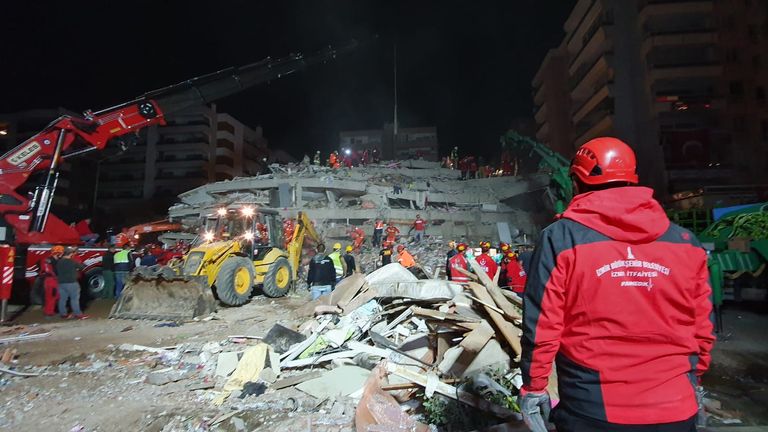 It seems like a regular Friday night, but as I get closer, the crowds of people and cars parked both sides of the road to get closer to the rescue site are striking.
People are stood outside and sat in nearby cafes, packing up their cars to spend the night with relatives or at second homes in resort towns nearby.
One small family-of-three chose to stay in their car with their seven-year-old daughters.
Their building was so severely damaged they couldn't get back into their apartment.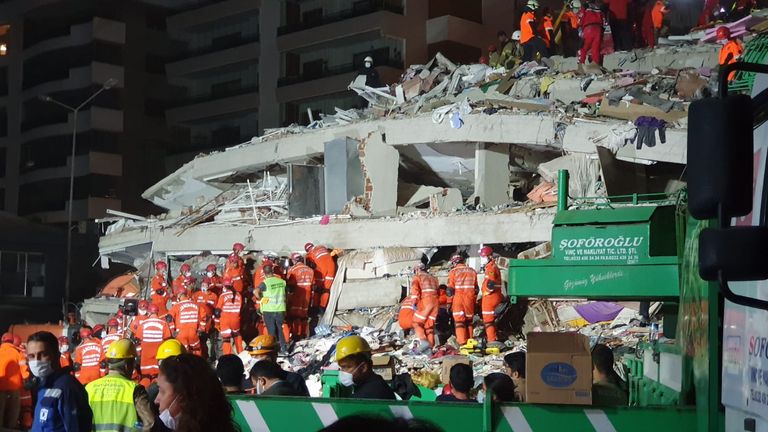 Everyone seems scared to go back inside their homes – especially those who live close to the areas that suffered the most damage.
I arrive at one block and only rubble remains of the seven-floor building.
Before there were 28 apartments, but now nothing but a mountain of dust and concrete can be seen.
A young father and his son are watching the rescue operation closely and attract my attention.
Asked if he lived in the building, the father said: "No I live just next door but our friends live here and they are missing their daughter."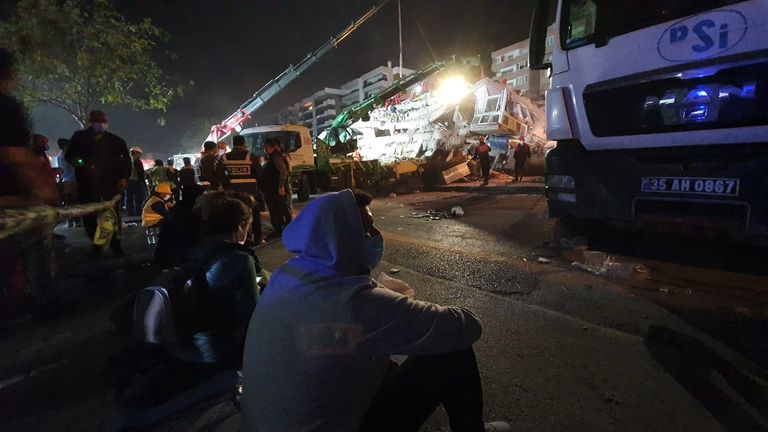 Elif Inan is nine and was home alone when the earthquake hit.
Her parents were at work and there was no one else with her.
Her mother is in deep distress, she sits on a folded chair, held by her friend and relatives.
She sees pieces of furniture in the rubble and rushes to the teams on the ground asking if Elif could be close by.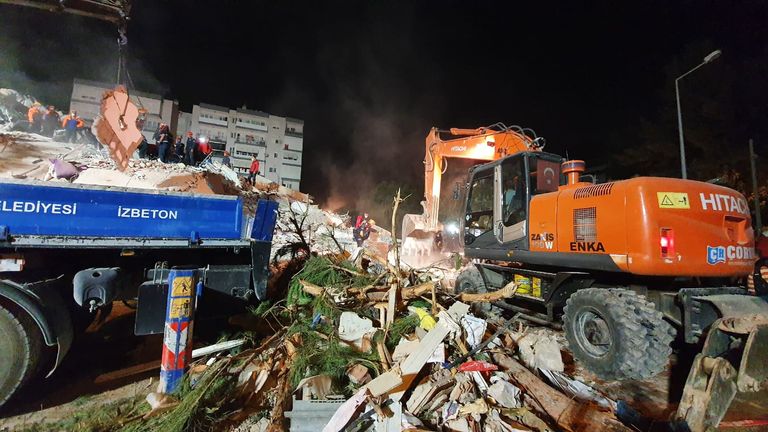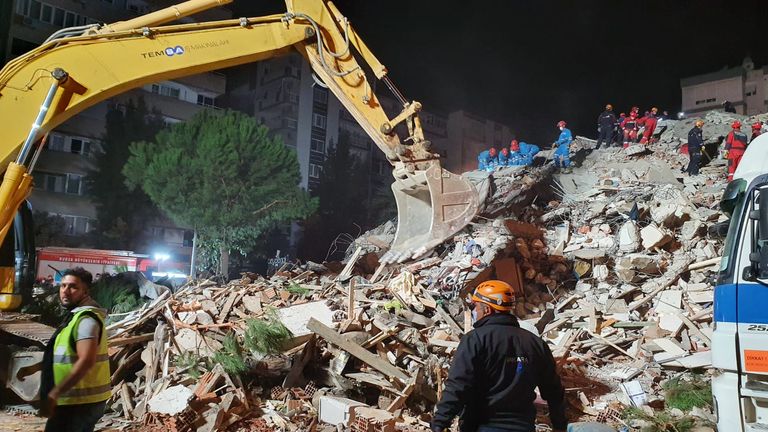 She is sent back to safety, but all she wants is just one glimmer of hope, some information about what could have happened.
Could Elif still be down there? Maybe she got out and is in hospital.
An official from the rescue operation comes to tell her that her daughter might have been taken to one of the two hospitals where those found in the rubble are being sent.
She stays on the folding chair outside the building while her husband goes to check the hospitals.
Further away I could see small groups scattered along the street sitting on chairs and looking at the same building.
Moment building collapses after quake

This 75-year-old man is called Yaşar Koza,
He had just stepped out to buy some bread. But when he came back his home was gone.
"I just saw a huge cloud of dust and my home was gone," he told Sky News.
His wife could still be alive, he hopes.
"No one gives me any information, she might be in the hospital but I do not know. I cannot leave, she could still be under the concrete," he says.