Yulia Skripal discharged from U.K. hospital after poisoning
Get breaking news alerts and special reports. The news and stories that matter, delivered weekday mornings.
LONDON — The daughter of poisoned ex-Russian spy Sergei Skripal has been discharged from a British hospital, officials confirmed Tuesday.
Salisbury District Hospital medical director Dr. Christine Blanshard told reporters that both Yulia Skripal, 33, and her 66-year-old father responded exceptionally well to the medical treatment, but are at different stages in their recovery.
"This is not the end of her treatment, but marks a significant milestone," Blanshard said, adding that doctors hope Sergei Skripal will also be able to leave hospital "in due course."
On Friday, medical officials revealed that Yulia and her father had improved rapidly in recent weeks.
The double agent and his daughter were found unconscious on a bench in the southern English city of Salisbury on March 4.
Britain says they were poisoned with a military-grade nerve agent called Novichok and has blamed Russia for the attack.
351 sea turtles found dead on same coastline as mass sea lion beaching | Climate News

351 loggerhead sea turtles have been found dead on the same stretch of coastline where 137 sea lions were found deceased earlier this month.
The loggerhead sea turtles and sea lions were found on the Baja California coast, in northwestern Mexico.
The Mexican Centre for Environmental Law and the Centre for Biological Diversity have both said the death of the sea turtles highlights the need for net and line fishing to be banned in this area of the Pacific coast.
Searches following reports of beached sea lions on 4 September found the animals' carcasses scattered along an 80-mile stretch of coast in Comondu, Baja California.
Tissue samples from the animals have been collected to establish a cause of death after authorities said the sea lions showed no sign of injuries from fishing nets or lines.
In Mexico, California sea lions are a protected species but aren't considered to be at danger of extinction.
However, loggerhead sea turtles are considered endangered in the country.
Activists have argued that the use of nets are the main reason behind the death of the sea turtles.
The groups have said the area where they were found is considered a protected zone for sea turtles as current regulations only allow for 90 deaths a year while a temporary ban on commercial long-line and gill net fishing is implemented.
However, Mario Sanchez, who works for the Centre for Environmental Law, said: "We are concerned that the deaths of loggerhead turtles is getting worse in the Gulf of Ulloa and that environmental authorities have still not enforced the applicable regulations."
In 2019, 331 loggerhead turtles were found dead in the area, and in 2018 the figure stood at 459.
Breonna Taylor: Family of black woman shot dead by US police to get $12m in settlement | US News
The family of Breonna Taylor, a black woman shot dead during a US police drug raid, is to receive $12m (£9.3m) from the city of Louisville in Kentucky.
As part of the financial settlement over a civil lawsuit brought by her mother Tamika Palmer, police practices will be reformed, including how warrants are handled by officers.
Ms Taylor, a 26-year-old emergency medical technician, was killed in March when police burst into her apartment at night using a so-called "no knock" arrest warrant that did not require them to announce themselves.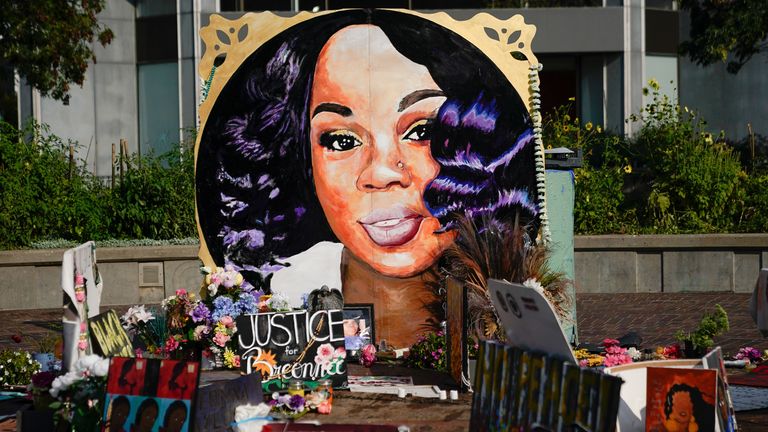 Police typically use them in drug cases over concerns that evidence could be destroyed if they announce their arrival.
Ms Taylor was woken from her bed before being shot several times.
Police found no drugs at her home and the killing sparked months of protests in the city.
There were also nationwide calls, including from TV host Oprah Winfrey and basketball star LeBron James, for the officers involved to be charged.
Ms Palmer filed a lawsuit in April against three Louisville officers, accusing them of wrongfully causing her daughter's death.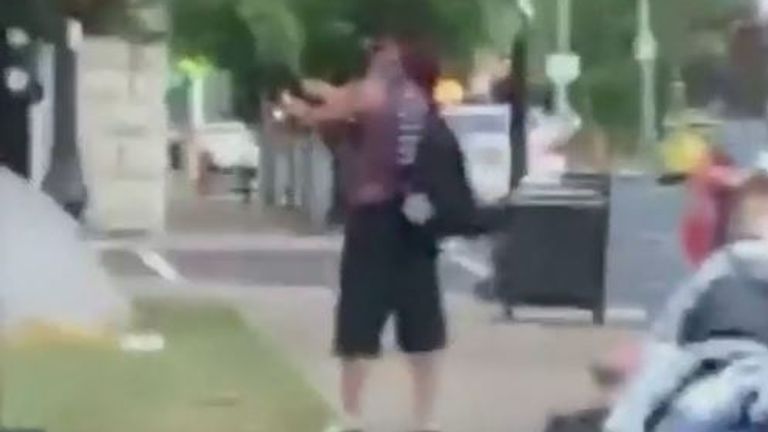 The lawsuit alleged police used flawed information when they obtained the "no knock" warrant to enter the apartment, used excessive force and the search was grossly negligent.
Officer Brett Hankison, who shot 10 rounds blindly into the apartment, was sacked in June.
Officer Myles Cosgrove and Sergeant Jonathan Mattingly, who also opened fire, have been placed on administrative leave, along with the detective who requested the warrant.
None of the officers involved in the case have been charged.
:: Subscribe to Divided States on Apple podcasts, Google Podcasts, Spotify, and Spreaker
Ms Taylor's boyfriend, Kenneth Walker, was in the apartment with Ms Taylor and fired a single shot that struck an officer in the leg.
Mr Walker said he did not hear police announce themselves and said he thought he was guarding against an intruder.
The warrant was one of five issued as part of an investigation into drug suspect Jamarcus Glover, who was a former boyfriend of Ms Taylor's.
Louisville has already taken some reform measures, including passing 'Breonna's Law' that bans the use of no knock warrants.
Kentucky's attorney general Daniel Cameron is investigating police actions over the 13 March shooting.
It is also being looked into by the FBI.
UAE and Bahrain sign historic diplomatic normalisation accords with Israel | World News
The foreign ministers of the United Arab Emirates (UAE) and Bahrain have signed historic diplomatic normalisation deals with Israel at a ceremony at the White House.
In an event overseen by President Donald Trump, the Emirati foreign minister Sheikh Abdullah bin Zayed Al Nahyan and Bahrain's foreign minister Dr Abdullatif bin Rashid Al-Zayan signed the accords with the prime minister of Israel, Benjamin Netanyahu.
The agreements, details of which are still being negotiated, represent the first time in a quarter of a century that any Arab country has given diplomatic recognition to the Jewish State. Jordan and Egypt signed deals with Israel in 1994 and 1979 respectively.
The moves, which signal a significant shift in regional geopolitics, should see the opening of embassies in the respective countries, as well as flights, tourism and trade links.
Defence ties are also expected to be put in place quickly, with the possible sale of Israeli fighter jets to the Gulf Arab nations.
The deals strengthen the regional alliance against Iran – a common enemy for both sides.
The Abraham Accords, as they have been named, are framed by the Trump administration as a "pathway to peace" for the region and proof of Mr Trump's credentials as a deal maker.
The images of the signings and the apparent shift in regional alliances they represent are sure to be used by Mr Trump and his re-election team.
There was a clear desire by the Trump administration to conduct today's ceremony before November's election. As a consequence, much of the details of the alliances have yet to be finalised.
:: Subscribe to the Daily podcast on Apple Podcasts, Google Podcasts, Spotify, Spreaker
The UAE, and then Bahrain, agreed to normalise relations and recognise Israel after the Israeli prime minister pledged to suspend plans to annex parts of the Palestinian West Bank.
The move by the Gulf Arab countries breaks a key Arab convention, outlined in the Arab Peace Accord of 2002, that no Arab country would recognise Israel until it withdrew fully from the Occupied Palestinian Territories (Gaza and the West Bank) and allowed the establishment of a Palestinian state with East Jerusalem as its capital.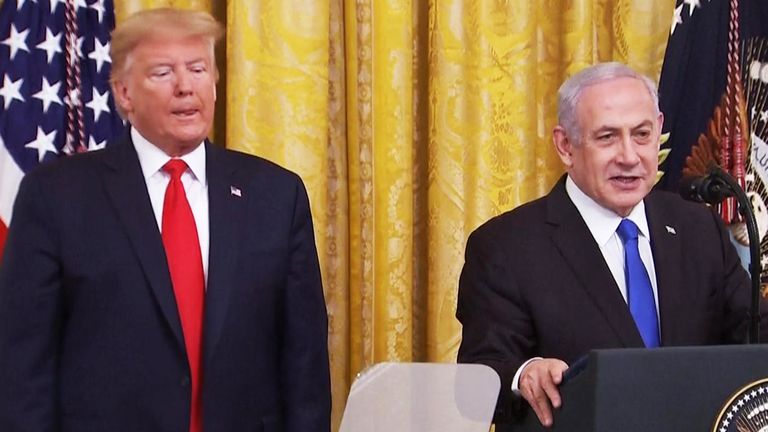 The Palestinian leadership see the deals as a betrayal.
Donald Trump's administration and the Israelis say the accords mark a turning point and will prompt the Palestinians to accept the reality of the situation as it is now.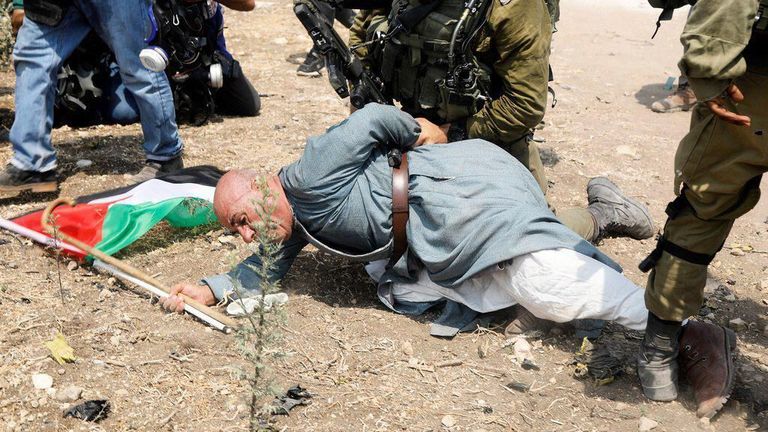 The Trump peace plan for the Israel-Palestinian conflict, unveiled in January, envisages a future Palestinian state but on less land than it currently has, which would not be contiguous, and without East Jerusalem as its capital.
In the hours before the signing ceremony, the UAE minister of state for foreign affairs, Anwar Gargash, told a Zoom briefing with journalists that the Palestinian issue was still a central concern.
He said that a two state solution was still the objective and that his country's decision to normalise ties with Israel had "broken the psychological barrier".
He suggested that Arab countries now have more leverage against the Israelis on the Palestinian issue.