Trump calls FBI raid on his lawyer's office 'an attack on our country'
Trump wasted no time addressing the raids when reporters entered the Cabinet Room where he was meeting with senior military leaders, starting his remarks by calling Mueller's investigation a "witch hunt" and a "disgrace."
It's "an attack on our country in a true sense, an attack on what we all stand for," Trump said of the raids, which were first reported by The New York Times.
"That is at a whole new level of unfairness," the president added. "This is now getting ridiculous."
Trump last week denied having any previous knowledge that Cohen paid Stormy Daniels, whose real name is Stephanie Clifford.
"You'll have to ask Michael Cohen. Michael is my attorney. You'll have to ask Michael," he told reporters.
Cohen used his Trump Organization email while arranging to send the $130,000 to Clifford from a company that he had set up in Delaware shortly before the transfer.
Trump also repeated his assertion that there had been no "collusion" between his campaign and Russia, while reiterating his frustration with Attorney General Jeff Sessions, calling his decision to recuse himself from the probe "a terrible mistake."
"He certainly should have let us know if he was going to recuse himself, and we would have put a different attorney general in," Trump said. "So he made what I consider to be a very terrible mistake for the country. But you'll figure that out."
Esther Dingley: Missing British hiker's partner says someone may have 'seen opportunity in a lone female' | World News
The partner of a British hiker missing in France has said she could have been harmed by someone who "saw an opportunity in a lone female".
Esther Dingley, 37, vanished from Port de la Glere in late November while on a solo trek along the French-Spanish border.
Her partner Dan Colegate claims that despite the coronavirus lockdown in place at the time, the "possibility of Esther encountering an individual with a weapon remains".
"In such a mountainous location, there is no practical way to police anybody choosing to ignore the COVID-19 restrictions," he said in a statement issued by the LBT Global – formally the Lucie Blackman Trust.
"That doesn't mean that nobody could have been up there, and that somebody who was breaking the rules didn't see an opportunity when encountering a lone female hiker.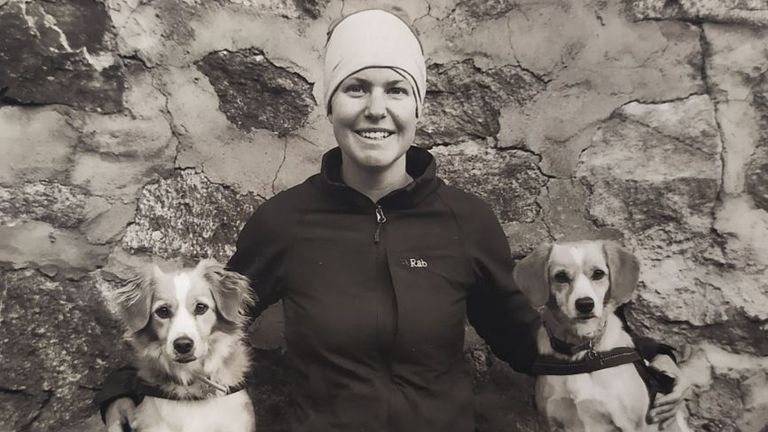 "With the additional knowledge that nobody else should be nearby and so close to a road, an individual with a weapon could feasibly force somebody back to their vehicle."
Mr Colegate, who has been in a relationship with Ms Dingley for 19 years, said she may have come across a hunter.
The Durham-based couple had been travelling across Europe in a campervan together since 2014, but decided to embark on final separate trips before returning to the UK.
There has been no sign of her, with French police investigating three possibilities: an accident, voluntary disappearance, or someone else being involved.
Mr Colegate claims he spoke to her every day in the run-up to her disappearance on 22 November.
He has hit out at suggestions she may have gone missing on purpose, with a dossier of her case compiled by the missing person's charity claiming it would be "totally out of character, in every way".
"Esther has no motive or means to do so. She hasn't accessed any funds.
"There were no large cash withdrawals in the weeks/months leading up to her trip.
"She was already doing her own thing as part of her usual relationship with Dan. She didn't need to vanish to get time to herself," it said.
On the possibility of her suffering an accident, her partner claims she did the same route the previous day and is an experienced climber.
He said in a final emotional statement: "Since Esther went missing I have been lost in a world that no longer makes sense to me. Every aspect of my life and the future I dream of includes Esther.
"I never imagined that one day she would not come home."
Bobi Wine: How an ex-pop star could finally threaten the 'big man syndrome' of African politics | World News
If there is a powerful irony at work in the upcoming Ugandan presidential election, it is evident in the way a political upstart called Bobi Wine has rattled the confidence of Africa's third-longest serving leader, Yoweri Museveni, while simultaneously accepting that that he will not win the poll.
The 38-year old pop star turned parliamentarian is running as the presidential candidate for the National Unity Platform. It's a progressive political party founded earlier this year, with the charismatic singer as its leader.
And he has fired the imagination of many in Uganda – and right across Africa.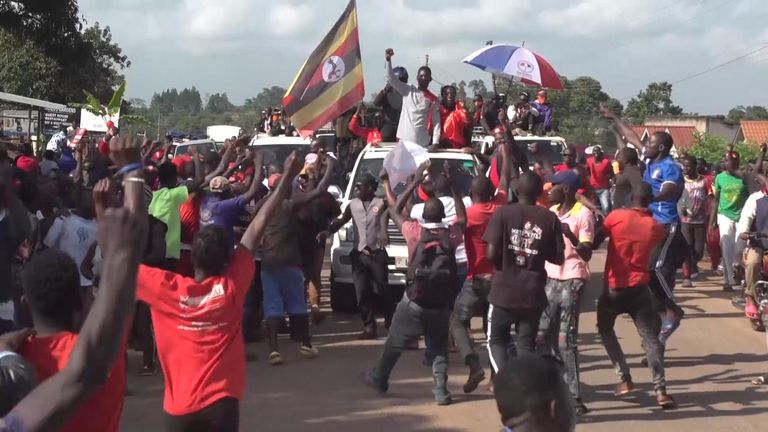 His campaign appearances draw thousands of people with a basic message about democracy, accountability, and the importance of elected officials following the law.
He represents hope and change in a country where the vast majority have only known Mr Museveni as their president.
"The Uganda we want to live in, what we call the new Uganda, is a Uganda where everyone is equal, the law treats us the same… a Uganda where we are respected and applauded on an international platform, not known for poverty, disease, corruption, and for dictatorship," he says.
"That's the Uganda that I envision – that we envision – as a generation."
To Western ears, Wine's manifesto does not sound particularly radical – but the public's enthusiastic embrace has unnerved the government.
The coercive apparatus of state has been deployed to quell his campaign activities, although the authorities say they're taking measures to stop the spread of coronavirus.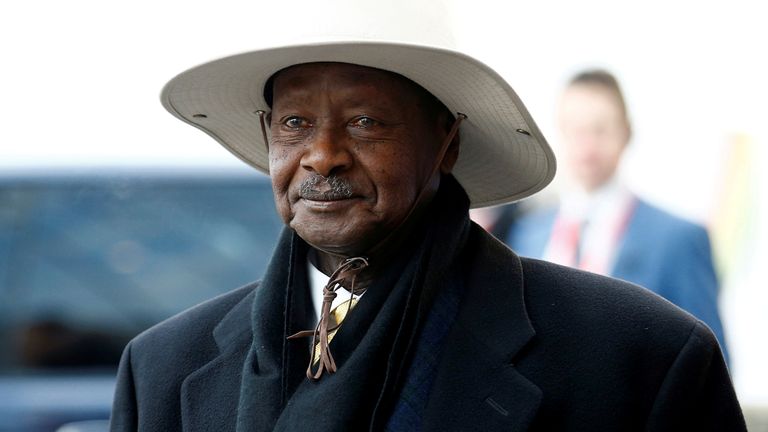 Mr Wine said: "The election is being stolen and rigged, not will be (on election day), by the mere fact that I have been blocked from campaigning, that my posters are not allowed to be there, that I'm not allowed to have any billboards, that I am blocked from radio and TV stations, that I'm a presidential candidate who is not allowed to drive on main roads or even address people in towns."
Last week, journalists watched as Mr Wine was physically dragged out of his vehicle parked by the roadside.
Ten days ago, every member of Wine's campaign team was arrested on Kalangala Island, south of the capital Kampala, as he attempted to hold a rally.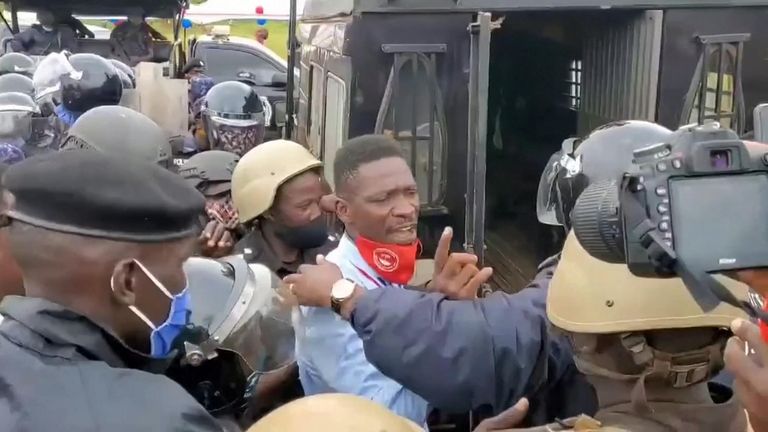 He was not detained by the authorities, although he was flown back home in a military helicopter.
The unwanted detour is evidence that the authorities are trying to come to terms with Mr Wine's popularity.
When they briefly detained him in November for violating COVID-19 guidelines, unruly protests broke out in several towns, with police, soldiers and plainclothes gunmen killing at least 54 people in response.
Still, President Museveni, who effectively controls the security services – as well as the country's electoral commission – is not going to hand over the reins of power.
Curiously, the problem is one he himself recognised when he seized the presidency back in 1986: "The problem of Africa in general and Uganda in particular is not the people but leaders who want to overstay in power."
The 76-year old, who brought a measure of peace and stability in the first years of his rule, now follows a well-trodden path.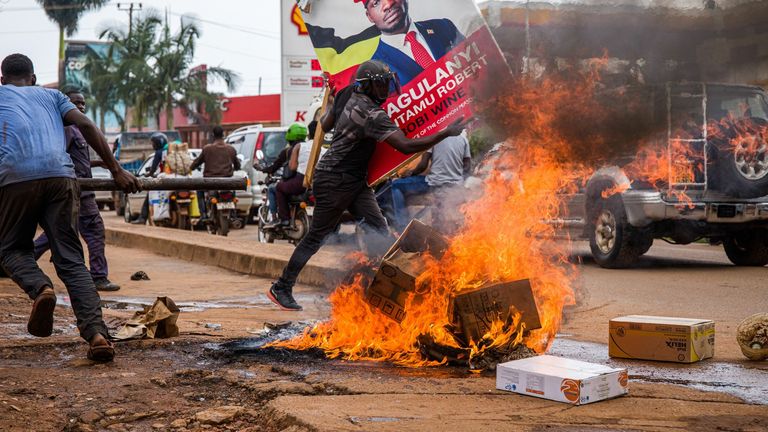 Like the leaders of many other African countries, he has changed the country's constitution to perpetuate his rule.
Some analysts blame the continent's so-called "big man syndrome" – a sort of cultural respect for the powerful – but recent events in the US show the instinct to rule to be a universal.
The person in the presidential chair will never have enough time and will doubtless argue "the people still love me".
That is probably why Bobi Wine is such a threat to Yoweri Museveni.
The opposition politician's popularity cannot be contained with tear gas and rubber bullets.
Mr Wine says he is in this fight for the duration.
"We are going to get our freedom or we are going to die trying to get our freedom. Good enough. We are not violent and we are living in a generation where the world is watching."
Bobi Wine: The pop star, the presidency, and how politics in Uganda can be a dangerous business | World News
In Uganda, running for the presidency can be a dangerous business – especially for pop star turned politician Bobi Wine.
The 38-year-old, who is the leading opposition in the country's upcoming presidential election, has told Sky News he has been targeted with bullets and tear gas and "miraculously" survived several attacks in the run-up to the vote.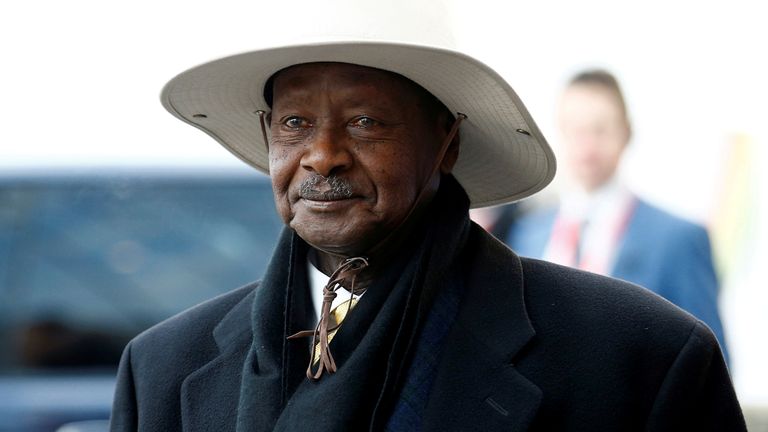 "It's not out of fashion to put on a bullet-proof jacket and a ballistic helmet," he said. "It was an effort to secure my life some more. That is after I survived gun attacks more than once, more than twice, I was targeted. My car was riddled with bullets, flattening old tyres. And at one occasion, the military shoot into the windscreen of my car.
"Miraculously, I'm still alive and nobody was shot dead in my car. However, many of my close allies have been shot dead."
After making the improbable journey from the slums to the recording studios of East Africa, Wine – real name Robert Kyagulanyi – is now challenging the 35-year rule of Uganda's incumbent president, Yoweri Museveni.
His singing career, a genre he describes as "edutainment", took off in the early 2000s, with lyrics decrying urban poverty and political oppression, backed by catchy, feel-good beats.
Harnessing his musical fame to start a political revolution, he is promising equality, "a Uganda where we are respected and applauded on an international platform, not known for poverty, disease, corruption, and for dictatorship – that's the Uganda we envision as a generation".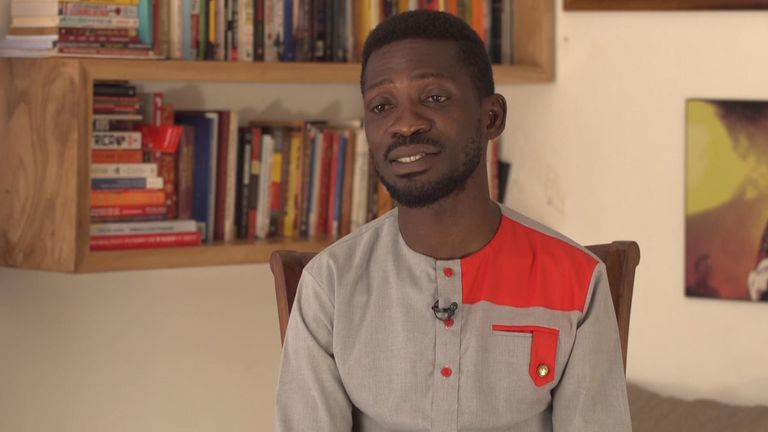 When Mr Museveni took power in 1986, he was praised as a visionary. But five presidential terms later, is he about to be unseated? In a country with one of the youngest populations in the world, Wine is certainly expected to do well.
However, he has been arrested multiple times during his campaigning. Mr Museveni has deployed the military to prevent what he sees as opposition attempts to create civil unrest that could cause regime change.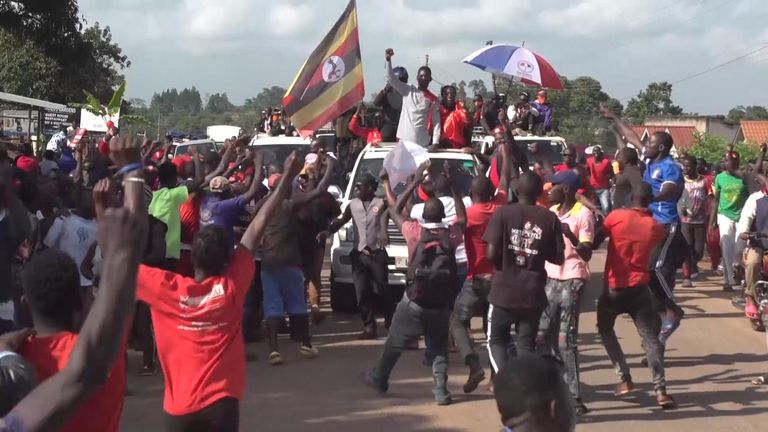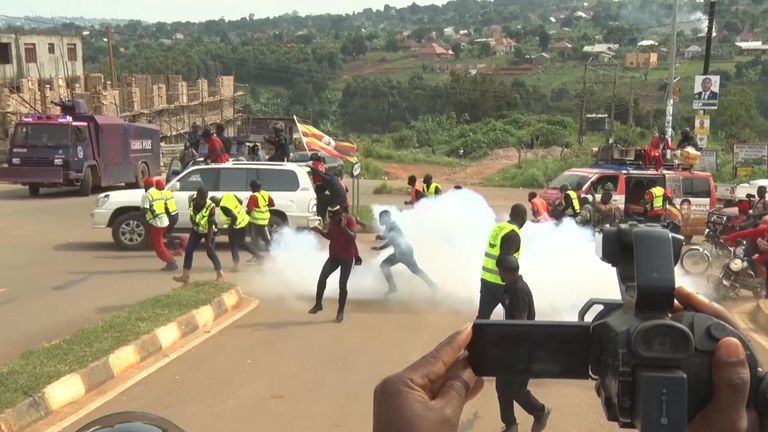 The election "is being stolen and rigged", Wine claims.
"By the mere fact that I was arrested on the day of nomination, that I've been blocked from campaigns, that my posters are not allowed to be there, that I'm not allowed to have any billboards, that I'm blocked from radio and TV stations, that I'm a presidential candidate who's not allowed to drive on main roads or even to address people in towns – that's a rig."
Wine says he will continue, despite saying his life is at risk. "I live every day as if it's the last day. My life is threatened, the life of my wife is threatened, my close allies and everybody that associates with me.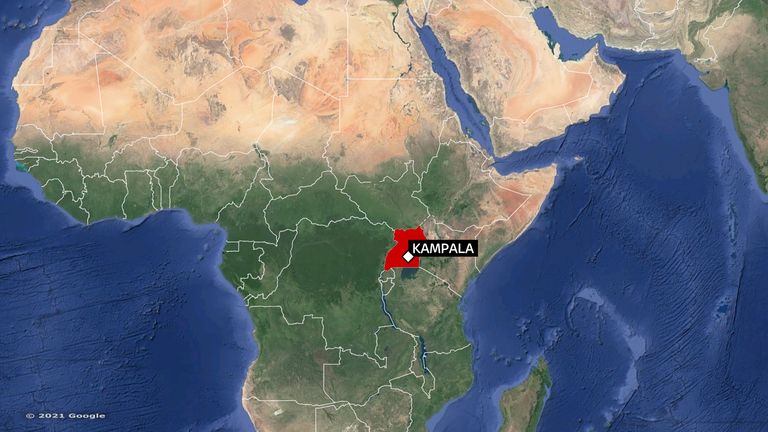 "But we keep going knowing that our lives do not end with us. So many people have already paid the ultimate price, and my life is not any much more valuable than the lives of the people of Uganda."
So undeterred, he is calling on Ugandans to vote and "change our country forever" when the election takes place on Thursday.
"This is our only opportunity," he said. "We are non-violent. So we are using this election as a protest to speak – and speak loudly."