T.J. Miller, former 'Silicon Valley' star, arrested over alleged fake bomb threat
Get breaking news alerts and special reports. The news and stories that matter, delivered weekday mornings.
This was no joke.
Comedian and former "Silicon Valley" star T.J. Miller appeared in federal court Tuesday for allegedly calling in a fake bomb threat involving an Amtrak train traveling out of Washington.
The 36-year-old actor, who was arrested Monday night at LaGuardia Airport in New York, faces charges of intentionally providing false information to authorities for claiming there was an explosive device on a train passing through New York's Penn Station and Connecticut on March 18, the U.S. Attorney's Office said.
Miller faces up to five years in prison if found guilty. A judge in New Haven, Connecticut, allowed him released on $100,000 bond.
Federal prosecutors said Miller called 911 to report a female passenger who "has a bomb in her bag," and described the woman with brown hair and a scarf. When Amtrak investigators were alerted, the train was in Connecticut and forced to stop at a station in Westport.
A bomb squad conducted a search of the train, but found no evidence of an explosive.
Investigators traced the initial call to Miller, who got off the train in New York City. He allegedly told officials that the woman had red hair and a red scarf, and was holding a "black bag carry on suitcase with a handle," according to the complaint.
Miller said the woman appearing to want to get off the train without the suitcase, according to prosecutors.
The actor was slurring his words, but said he had only one glass of red wine and responded "no" when asked if he had a mental illness, prosecutors added.
"This is the first time I've ever made a call like this before," Miller told investigators, according to the complaint. "I am worried for everyone on that train. Someone has to check that lady out."
But investigators determined that Miller was on a different train than the one first stopped. After speaking with an attendant on that train, they were told he appeared drunk when he boarded in Washington and consumed multiple drinks. He was ordered off in New York because he was intoxicated, prosecutors said.
They added that Miller got into hostile exchanges with a woman sitting in a different row in his First Class car.
That woman was later interviewed and found not to have explosives — and Miller's actions were motivated by his "grudge" against her, prosecutors said.
An attorney for Miller could not immediately be reached for comment Tuesday.
Miller made headlines late last year after allegations resurfaced about him sexually assaulting a woman when he was in college. He strongly denied the accusation.
He left HBO's "Silicon Valley" last year after four seasons for what were described at the time as creative differences with the show's producers.
Miller currently co-stars in the Stephen Spielberg sci-fi film, "Ready Player One." He made no mention of the arrest Tuesday on social media, instead tweeting about an upcoming comedy show in Philadelphia.
Climate change: President Xi Jinping vows to end Chinese funding of coal plants abroad at the United Nations General Assembly (UNGA) | Climate News
China will stop funding new coal-fire projects abroad, President Xi Jinping announced at the United Nations General Assembly (UNGA).
China was the last significant public financier of overseas coal – predominantly in Africa and Asia – delivered under its enormous global infrastructure project known as the Belt and Road Initiative (BRI).
But international pressure on Beijing to stop financing the most polluting fossil fuels has intensified, as the world attempts to meet Paris Agreement targets to prevent runaway climate breakdown.
Is President Biden's pledge enough to help developing countries tackle climate change?

In a pre-recorded video address, President Xi told the UNGA China will "step up support for other developing countries in developing green and low-carbon energy, and will not build new coal-fired power projects abroad".
Bernice Lee, director of Futures at global affairs think tank Chatham House, said recipient countries were already "moving away from [coal] plants anyway".
"But it is a big deal, credit where credit is due," she said. "It is important that this is now formalised and locked into the system."
The move could be a significant step towards tackling global emissions, potentially culling $50 billion of investment across 44 projects, according to US think tank Global Energy Monitor (GEM). The Chinese President did not specify when the commitment would come into effect – although his country has not directed any BRI funding toward coal power plants so far this year.
But China itself accounts for half of the world's coal consumption, according to Our World in Data.
The country's "substantial domestic plans" for new coal plants is "the next new frontier" said Ms Lee.
The move is not just about tackling climate change but also about geopolitics, according to Dr Rebecca Nadin, director of ODI's Global Risks and Resilience programme.
"Beijing also hopes the announcement will send a clear message to developing countries that they don't need to… rely on the US's 'Build Back Better World' (B3W) or the G7's Clean Green Initiative, if they want a clean energy future.
"The message is now very much that China can provide that, either as financier, technology provider, knowledge broker or development partner."
The announcement came hours after the US President Joe Biden promised to double his country's aid to help poorer nations cut emissions and cope with climate change, bringing the total to $11.4bn (£8.3bn).
In May the Group of Seven (G7) countries vowed to end all new finance for coal power abroad by the end of this year, and to rid forever their own power systems of unabated coal in the 2030s.
China's announcement could help galvanise COP26, United Nations (UN) climate talks hosted in Glasgow in November, as it had been under pressure to end the financing as a part of its updated package of climate pledges to be submitted to the UN.
However China has yet to confirm it will attend the talks, the COP26 president Alok Sharma told Sky News on Sunday.
Analysis by Thomas Cheshire, Asia Correspondent
China was the biggest financier of coal projects abroad – so Xi's pledge is a big deal. Simply, "it leaves no international financing for new coal", according to Lauri Myllyvirta, an analyst at the Centre for Research on Energy and Clean Air (CREA).
Coal's appeal had been waning internationally. A recent analysis from CREA found that overseas coal capacity linked to China was more likely to be cancelled than built, because of economic reasons and public opposition.
But this is now the official end – and hopefully prevents overseas coal creeping back if conditions were to improve.
So, good news. But, as ever, the more important issue is China's own use of coal.
It still relies on it a huge amount and remains the world's biggest polluter. Xi has promised that emissions will peak by 2030
But even if that is achieved – and that's a big if, with new coal power stations still being built – experts say it will be too late to prevent the worst effects of warming.
Watch the Daily Climate Show at 6.30pm Monday to Friday on Sky News, the Sky News website and app, on YouTube and Twitter.
The show investigates how global warming is changing our landscape and highlights solutions to the crisis.
US-Mexico border crisis: Vehicles form barrier at Texas crossing to deter Haitian migrants – as VP Kamala Harris criticises 'horrible' tactics | US News
Parked vehicles have created a steel barrier which stretches for miles along the US border with Mexico in the latest measure to deter migrants from crossing into Texas.
The US has been expelling Haitians from a large makeshift camp at the border, which at one point had attracted more than 12,000 migrants.
Around 8,600 people remain at the camp beneath the Del Rio International Bridge, which spans the Rio Grande from Texas to Mexico's Ciudad Acuna, after more than 3,000 migrants were moved.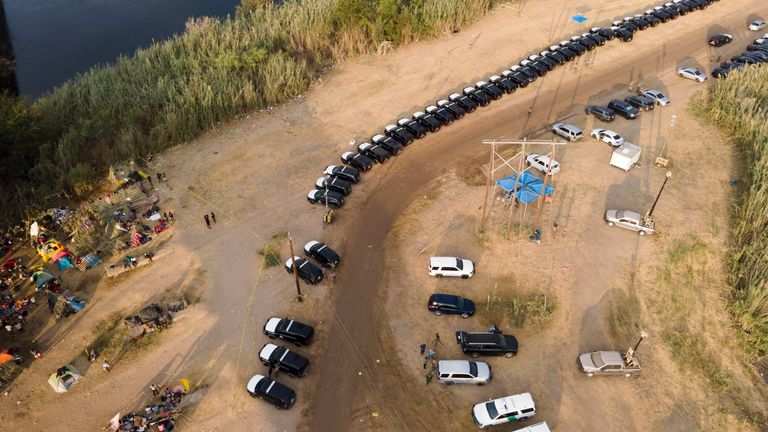 Law enforcement officers on horseback were pictured using what appeared to be aggressive tactics against the migrants – and a barrier has now been set up along the border, using vehicles belonging to the Texas National Guard and the Texas Department of Public Safety.
Greg Abbott, the Republican governor of Texas, has backed his approval of the tactics – and criticised the Biden administration for not doing more, claiming local people and officials had "taken the lead on securing the border".
But US Vice President Kamala Harris criticised the way the migrants had been treated, when she said: "What I saw depicted, those individuals on horseback treating human beings the way they were, was horrible."
She added she supported an investigation into the horseback incidents, while homeland security officials called the images "extremely troubling".
In recent days, US authorities have removed at least 4,000 people from the site for processing in detention centres.
More than 500 Haitians have been deported to their homeland on four flights, with repatriations set to continue on a regular basis, the US Department of Homeland Security said.
Some of those returned reacted angrily as they stepped off flights at Port-au-Prince airport in the Haitian capital after spending large amounts of money to travel from the troubled Caribbean nation via South America, hoping for a better life in the US.
The disturbances underscored the instability in the Caribbean nation – it is the poorest in the Western hemisphere, where a presidential assassination, rising gang violence, and a major earthquake have spread chaos in recent weeks.
The rapid expulsions were made possible by a pandemic-related authority adopted by former president Donald Trump in March 2020, which allows for migrants to be immediately removed from the country without an opportunity to seek asylum.
Unaccompanied children are exempt from the order, a decision which was made by President Joe Biden.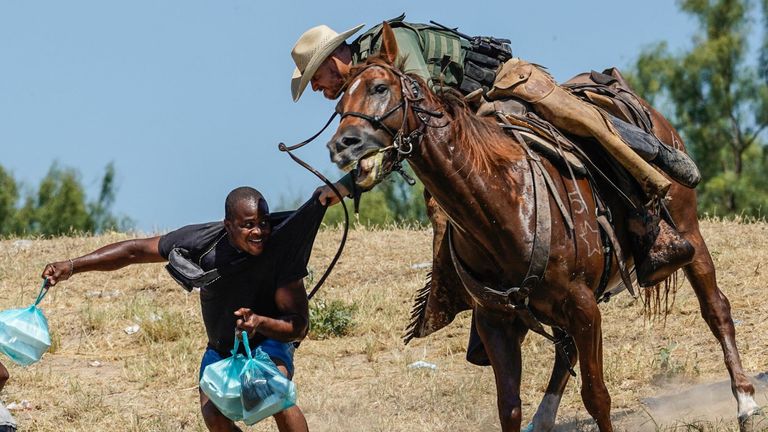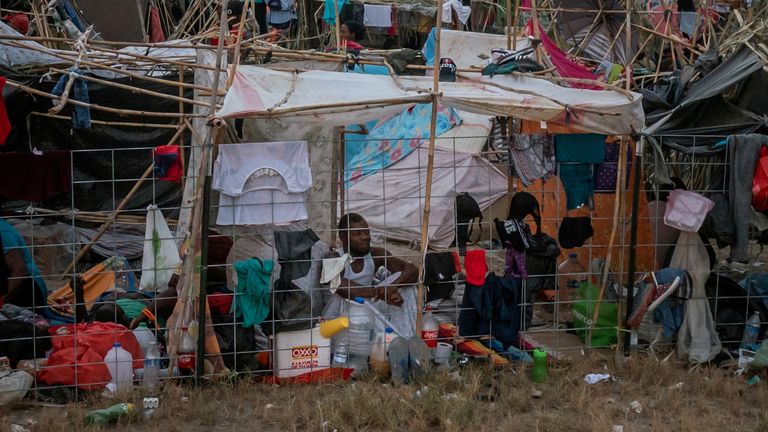 Mexico has also begun moving Haitian migrants away from the border, authorities said on Tuesday, signalling their support for the US as the situation creates a political headache for Mr Biden.
Republican politicians with an eye on the 2022 midterm elections, when they will bid to retake control of Congress, have been quick to portray the camp as the result of a push to end some migration restrictions.
There are also reports that some of the Haitian migrants facing expulsion back to their homeland are instead being released in the US, with some observed at the Del Rio bus station by Associated Press journalists.
Lithuanian defence ministry urges people to 'throw away' Chinese phones after discovering censorship tools | Science & Tech News
The Lithuanian Ministry of Defence has urged people to stop buying Chinese phones and throw away the ones they already possess after discovering censorship software.
It followed a report from the country's National Cyber Security Centre (NCSC) which found that Xiaomi devices were censoring terms deemed to be offensive to Beijing.
According to an analysis by the Lithuanian NCSC, the Chinese company's flagship devices sold in Europe have a built-in ability to detect and censor particular terms.
The phrases included "demonstration", "free Tibet", "long live Taiwan independence", and "church" according to the Lithuanian authorities.
Although the censorship capability had been turned off for devices in the European Union, the ministry of defence warned that it could be turned on remotely.
"Our recommendation is to not buy new Chinese phones, and to get rid of those already purchased as fast as reasonably possible," said Defence Deputy Minister Margiris Abukevicius, according to Reuters.
Chinese Ambassador banned from parliament: 'Standing up for free speech is critical'

A spokesperson for Xiaomi declined to comment when contacted by Sky News.
The call to throw away Chinese phones comes amid growing tensions between Lithuania and China over the former's support for Taiwan – which China claims as part of its own territory.
China demanded Lithuania recall its ambassador in Beijing last month and recalled its own envoy from Vilnius in a protest over Taiwan announcing its mission in the country would use the name of Taiwan, instead of the city of Taipei, which is typically used in other European nations and in the US.
Professor Alan Woodward, a cyber security expert at the University of Surrey, told Sky News: "We all know there are different builds of phones for different countries. If you want to sell a device in a country then you have to obey the laws there.
"But to have censorship software left in that can be remotely activated… that's a whole different level of one country effectively exporting its domestic regulations via technology," he said.
Professor Woodward said he could understand the thought process behind the Lithuanian warning: that if one Chinese vendor has included a censorship capability to please Beijing then that made it harder to trust others haven't done so too.
"Lithuania is a small market so I can imagine this might blow over, but the censorship software seemed to specifically be addressing items that were part of the tension between the two countries," added Professor Woodward.
"That starts to look like a deliberate attempt to interfere," he said.
"I'm sure other countries are also looking at these devices, so it behoves the Chinese government to make sure that they aren't trying to export their censorship regulations elsewhere or else they could destroy trust in all Chinese vendors, and that won't end well for anyone."