Some GOP senators warn Trump on firing Mueller
Sen. Chuck Grassley, R-Iowa, chairman of the Senate Judiciary Committee, said on Fox Business Network Tuesday that he had "confidence" in the special counsel, and that "it would be suicide for the president to fire Mueller."
Sen. John Kennedy, R-La., said he thought Trump was "too smart" to get rid of Mueller: "I think it would provoke some sort of reaction by Congress. I think he knows that," Kennedy said on CNN's "New Day," adding that "the president can't just fire Mr. Mueller. He's got to direct Mr. Rosenstein to fire him, and I don't think Mr. Rosenstein would do it."
Sen. Bob Corker, R-Tenn., said it would be "inappropriate" for Trump to dismiss either Mueller or Rosenstein. "I think it would be a massive mistake for the president to do anything to interfere with this investigation," said Corker, adding: "he knows most every Republican senator feels that way."
And Sen. Lindsey Graham, R-S.C., also said Tuesday that he didn't think Trump was likely to dismiss either man because he knew "it would be the beginning of the end of his presidency."
Graham is a co-sponsor of one of two bipartisan Senate bills introduced last August that would seek to protect Mueller's position. The measure he proposed with Sen. Cory Booker, D-N.J., would ensure that any action to remove a special counsel would have to be reviewed by a panel of federal judges. A similar bill proposed by Sens. Thom Tillis, R-N.C., and Chris Coons, D-Del., would allow the special counsel to challenge his or her removal in court before a three-judge panel.
Neither of those bills has come up for a vote.
Trump lashed out at Mueller Monday evening ahead of a meeting with his military leadership after news broke that the FBI had raided the office of his personal attorney, Michael Cohen. The president was asked why he won't fire Mueller, whose office referred the case involving Cohen to federal prosecutors in New York.
"I think it's a disgrace what's going on," Trump told reporters at the White House. "We'll see what happens. But I think it's really a sad situation when you look at what happened. And many people have said, 'You should fire him.' Again, they found nothing."
On Tuesday afternoon, White House Press Secretary Sarah Huckabee Sanders reiterated that the president "certainly believes he has the power" to fire Mueller.
Mueller's investigation is ongoing, and only Republicans on the House Intelligence Committee have released a report stating that they had not found evidence of collusion between Russia and members of the Trump presidential campaign.
Despite the warnings, there was no early sign that Trump's Monday remarks had given any fresh momentum to proposals to protect the special counsel.
Senate Majority Leader Mitch McConnell, R-Ky., said Tuesday he hadn't "seen clear indication yet that we have to pass something to keep him from being removed, because I don't think that's gonna happen." Senate Republican Conference Chairman John Thune, R-S.D. agreed: "I don't know that us legislating on that is the right path forward."
Sen. Joni Ernst, R-Iowa, asked if legislation is necessary to prevent Mueller from being dismissed, said "no, because I don't think the president's going to do it — and do you think the president would sign that legislation?"
Democrats said Congress couldn't trust Trump to leave Mueller in place, calling for more concrete action.
"I beseech my colleagues on both sides of the aisle to stand up and say what President Trump is doing is wrong," Senate Minority Leader Chuck Schumer, D-N.Y., speaking on the Senate floor Tuesday morning. "Make it clear that firing Mueller or interfering in his investigation would be a red line and a threat to our constitutional order."
Sen. Richard Blumenthal, D-Conn., said Monday evening that the raid raises the stakes for Trump — and that the president is likely to be angrier and act more "impulsively…than he has been so far."
"And we have a very important responsibility — in fact, more important than ever — to protect the special counsel" he said. "To send a message to the President of the United States that we will not tolerate any interference whatsoever, because the stakes have been raised for him."
Germany election: Angela Merkel's party has been castigated in the polls – and CDU activists are not happy | World News
It has not been a great election for Angela Merkel's own party, the CDU.
Its candidate Armin Lashert was castigated in the polls, caught on camera laughing as the country's president made a speech after the country's devastating floods.
But they had hoped for better, especially after a rally in the polls in the final leg of this contest. They were gathering from early evening in bar R 23 buying drinks hoping to have something to celebrate.
CDU leader Laschet 'not happy' with Germany exit polls

As exit polls and official projections predicted a tie between them and rivals, the SPD, there was a palpable sense of deflation.
Sandra Khalatbari, candidate for the Berlin parliament told Sky News they weren't the figures she'd hoped for.
"It is disappointing," she said.
"In the last one-and-a-half weeks we were raising our votes and we were very hopeful that it's going to be successful but now it is kind of disappointing."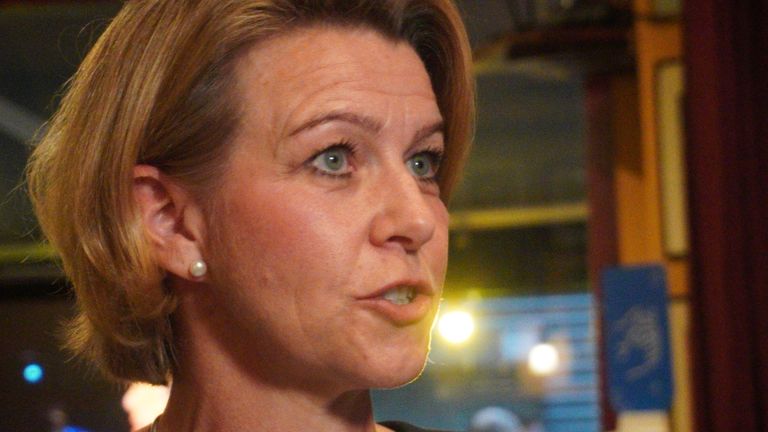 The right of centre CDU, Merkel's party, should have done better. Its chancellor has completed 16 years in power and is one of the most popular politicians in German history. Yet her party has not been rewarded by voters.
There was some consolation in the party's recovery from its meltdown early on, but campaigner Martin Feldmann told Sky News, only outright victory is what counts.
"The numbers in the past few weeks were disturbing – now it's about 25%.
"This is okay but only because of the numbers in the past few weeks. What we want is to be number one. At the moment we are not and I'm not happy about this."
As CDU activists took consolation in large servings of German lager, the period of reflection was already beginning. For some, the problem was the candidate or how voters perceived him on the doorstep.
Regional party organiser Christophe Lehmann told Sky News the problem was the candidate.
He said: "We had to drive against the wind."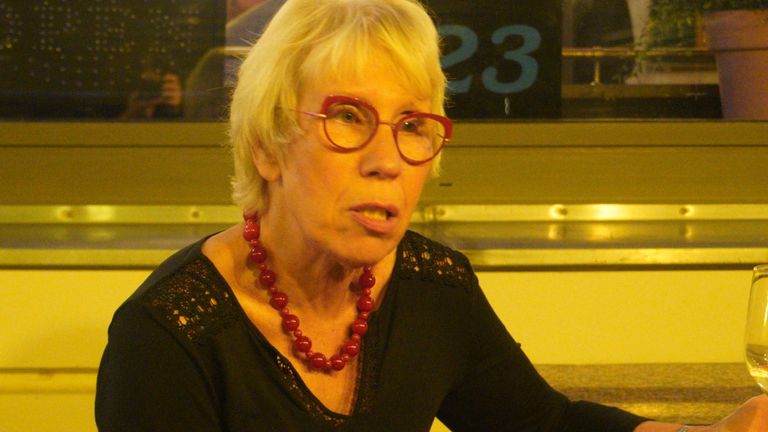 "Because many people didn't understand why we picked Laschet. Voters were not convinced."
Former member of Berlin parliament Cordula Kollotschek told Sky News, Laschet is not political box office but that wasn't the only problem.
"He has not the charisma, he's not really a star, he is not really good looking in the media – that's really important in a time like now but also I don't think we have the answer especially for young people for things like climate change."
A look back at Angela Merkel's 16-year career

On the bar television, coverage continued in almost funereal tones. German political coverage is serious and sombre. Most had drifted away from the screen though, to drink outside on a balmy late summer evening, or head off home.
It's a longer game now.
Whoever clinches the biggest share of Bundestag seats, haggling and horse-trading starts to form a coalition and with everything so close – that may take a while.
La Palma: Residents in limbo as pressure in the Cumbre Vieja volcano drops – but eruption threat remains | World News
Thousands of people have been forced to leave their homes to escape rivers of lava cascading from La Palma's erupting volcano.
But 160 of them will now be allowed to return, after local authorities said their houses were no longer in the path of the molten streams moving down the side of the Cumbre Vieja volcano range.
The rest of the evacuees will have to wait, including Eliza Gonzales.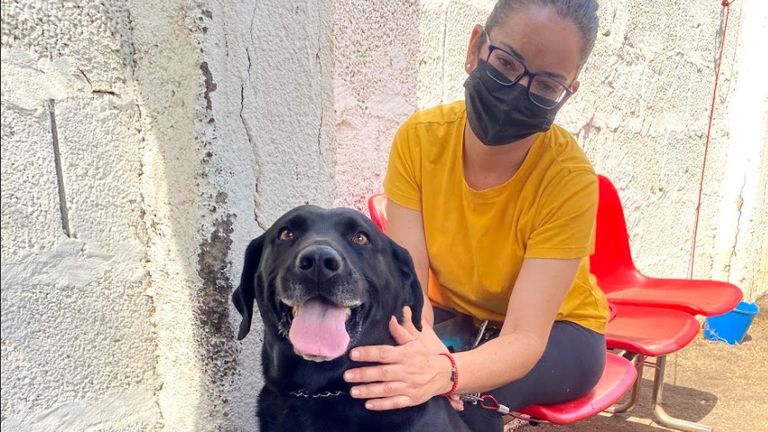 I met her at an improvised animal sanctuary on the island. She had come to see her dog Luna. They've been separated for days.
Ms Gonzales was told she had to leave Luna behind when she fled her home.
Thankfully the rescue centre called to tell her they had saved Luna. But the reunion is bittersweet. Ms Gonzales is staying in temporary accommodation and no dogs are allowed.
What's next for La Palma?

"It's very bad," she says.
Luna will be fostered while Ms Gonzales waits to go back home.
"I'm happy there are good people that offered their houses for the dogs to stay in and be calm."
There are several dogs at the sanctuary, waiting for their owners to come for them. They all bark whenever someone new arrives.
But the centre can only care for abandoned animals. Those who were badly injured during the eruption have to be taken for specialist care.
Volcano eruptions 'could last for months'

They rescued a goat whose udders were severely burnt and took it to the vet, hoping it can recover from its wounds.
Scientists say the pressure inside the volcano has decreased, but that doesn't mean the eruptions are about to stop.
The experts can't predict when the explosions of lava will end, they think it could last till December.
With each day that passes, people are becoming more desperate.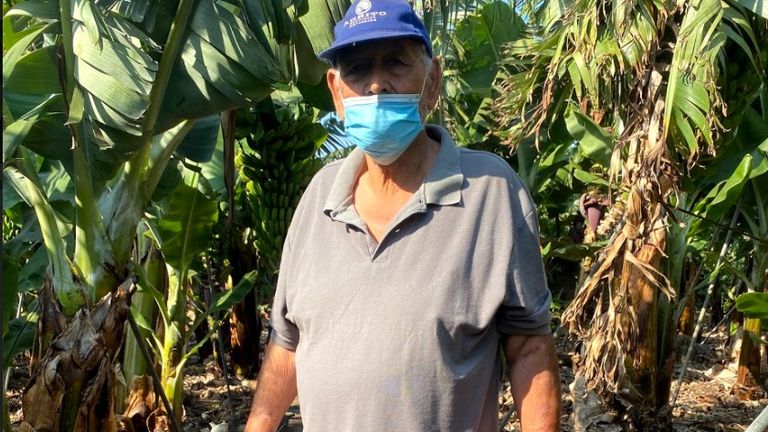 Ernesto de Paz Perez is a banana farmer. The plant is known as "plátano" here, they are slightly smaller than bananas from Latin America.
Mr de Paz Perez, 75, started working on a plátano farm when he was 14.
La Palma depends on the fruit for around half of its economic output.
But the volcanic dust is damaging the fruit's skin and farmers fear they won't be able to sell their produce to supermarkets.
The eruption has also cut off the water supply to Mr de Paz Perez's plants.
"If it [the eruption] keeps going for a long time it will cause a lot of damage. If the plátano fields are not watered we will lose them. There will be many losses," he said.
Elsewhere on the island they're trying to get back to normal. The airport is open after closing because of an ash cloud, but flights haven't immediately resumed.
The whole of La Palma just wants to repair and return to how their lives were before the volcano erupted, but when that will be, no one knows.
Lewis Hamilton hails 'magical moment' as he wins 100th Formula One race | UK News

Lewis Hamilton has spoken of the "magical moment" of winning his 100th Formula One race at Sunday's Russian Grand Prix.
Hamilton, 36, used his driving and overtaking skills, and his strategic thinking in the rain, to fight back from seventh place on the first lap to a landmark victory.
He is the first driver to reach 100 victories.
It was his fifth win of the season and his first since the British Grand Prix in July.
"It's taken a long time to get to 100 and at times, I wasn't sure it would come," the British driver said.
"It is a magical moment. I could only have dreamed of still being here, to have this opportunity to win these races, and to drive with such phenomenal talents this late on in my career."
"I am so proud of everything we have done with Mercedes, on and off the track, and this is a special moment for everyone that has been part of it.
"My dad called me last night and he has always been that one to reassure me and to continue to support me. I feel incredibly grateful for the amazing support that I have had."
The victory takes Hamilton two points clear of Max Verstappen in the title race with seven rounds to go.
It also denied Lando Norris of his first victory following a thrilling finale.
Norris, 21, appeared on course to keep Hamilton at bay, and become the youngest British Formula One winner.