Mark Zuckerberg's Facebook testimony is a start. But only bipartisan cooperation will fix this crisis.
Get the Think newsletter.
As Mark Zuckerberg prepares to testify before the U.S. Congress this week, the whole world seems to be against Facebook. Is this a watershed moment for the future of the company and the broader consumer internet as we know it? Will the tremendous public outcry against Facebook and the rest of the industry result in truly meaningful change that actually advances consumer interests and protects the long-term integrity of American democracy?
Perhaps. But if this is to happen, we will need to look beyond the monotone drumbeat of anti-industry rhetoric to understand precisely how the core business model of internet platform companies like Facebook really work. Only then can we reverse the exploitative and polarizing tactics that were likely pursued by political communicators during the 2016 elections.
Will the tremendous public outcry against Facebook result in change that actually protects the long-term integrity of American democracy?
The market structure that permitted Cambridge Analytica's breathtaking scale of data collection and exploitation was not a hack or a breach or an illegal act. It was merely an example of the core product offered by Facebook — targeted advertising — functioning as designed and exploited to its logical (if unsavory) extreme. Leveraging user data to target ads and customize content that appeals to people is the business. And there are precious few restrictions on how it can be done, even if the results undermine the integrity of democratic political culture.
What is really at stake here is not just privacy. Yes, the fact that 87 million users' Facebook data was (and maybe still is) out there for nefarious actors to manipulate is not good for individual privacy; none of us want our sensitive information in the hands of strangers. But if we think of the incident only in this way, we run the risk of casting it in the same light as the recent data breaches at Uber, Equifax, Sony, or Target.
Remember them? All of these incidents were significant and caught the public's eye, too — and were equally damaging to consumer privacy. But notably, nothing really happened to any of these companies. After a few weeks of public backlash and some minor slaps on the wrist, it was back to business as usual.
But there is something different about the Facebook incident; the data leaked to Cambridge was especially rich and sensitive, and came into the possession of people who aimed to directly influence our political freedom. News reporting has not yet revealed in great detail what kind of data Cambridge took. We can guess, though. First, the data likely included personally identifiable information — persistent indicators that can uniquely identify a person including his or her name, phone number, email address, and perhaps most dangerously, Facebook user ID. Second, we know that Cambridge gained access to users' "Likes" — that is, the pages, personalities, news reports and other content in which users indicated their interest.
The combination of these two types of data would necessarily have allowed Cambridge — and by proxy, potentially its clients — to infer the preferences, interests, beliefs and behaviors of the people whose data was stolen. And as far as we know from the disclosures, most of those 87 million people were American voters.
So, should we demand better security, privacy and policy practices of Facebook and like companies? Most definitely, yes. But this will not immediately shut off the potential for future disinformation operations. The fact is, no grade of security is capable of never being breached. And though the academic question of whether or not this incident should be classified as a "security breach" (a term that carries certain legal ramifications) has correctly been challenged by Facebook, the company could surely have done things better — in choosing its research partners, in holding them accountable for the handling of sensitive data and in disclosing these details to consumers.
But what the public needs to understand is the nature of the digital advertising industry itself — and by extension, the nature of the customized social media feeds into which these ads are integrated. We are its consumers whenever we use the internet. And though its commercial underpinnings may not be readily apparent to us, this market is driven first and foremost by our personal information.
This world of digital commerce, which is dominated by advertising, is premised on the collection of vast quantities of user data, the creation of networked platforms that offer compelling services and the sale of targeted ad space to anyone who will pay for it. The fact that nefarious actors have invaded this space now should motivate us to clean up the digital square.
Left unchecked, we will see a race to the bottom to use digital tools for political exploitation. Now is the moment to put country over party on both sides of the aisle.
Which brings us back to the matter of Zuckerberg's Congressional testimony. This is not one of those issues that can be treated with party line dogmatism. And while Trump and his brand of Republicanism may have benefited from this degradation of American politics in the short term, this is surely not a constant. Left unchecked, we will see a race to the bottom to use digital tools for political exploitation. Now is the moment to put country over party on both sides of the aisle.
So far, reaction from policymakers has been publicly strong but privately uneven. Facebook has faced criticism from both sides of the aisle following reports of data breaches, but legislation that might work to close privacy loopholes has been slow to materialize. Last October lawmakers introduced a bill, The Honest Ads Act, sponsored by a bipartisan group of Senators and supported by as many as 18. The bill proposes that the marketers that fund internet-based political advertising be explicitly displayed in the ads. This approach represents a good start. But the bill has so far failed to move out of Committee. Now that Facebook has reversed course and announced its support for the bill, this may change.
But even if the bill does find the votes, it does not go far enough. Transparency alone — even if there was consensus around a gold standard — cannot stop the actions of nefarious actors intent on affecting our electoral process. Nor would proposed algorithms that might better detect malicious content, because disinformation actors and other bad players will find ways around them.
Even with the current backlash, it is difficult to imagine legislation that reforms the ways that internet data is collected and advertising algorithms are developed could find enough votes.
What we need is comprehensive reform of business practices in the sector. As we argued in a report published by New America and the Shorenstein Center at the Harvard Kennedy School earlier this year, it is the business model of the digital advertising industry itself that has been the root cause of the problems that have surfaced over the past few years.
More effective than the Honest Ads Act would be a baseline privacy law. But even with the current backlash, it is difficult to imagine that legislation that reforms the ways that internet data is collected and advertising algorithms are developed could find enough votes to pass Congress.
This is a grim reality. Our challenge is not just to overcome the natural resistance of mega-corporations to regulatory oversight, but to break free of the self-defeating partisanship that threatens to turn an existential crisis of democratic integrity into another Washington soap opera. Cambridge Analytica has shown us the consequences of failure. What we need now is leadership — from industry and from government — that meets this crisis with ambition and principle.
Dipayan Ghosh is a fellow at New America and the Shorenstein Center at the Harvard Kennedy School. He was a technology and economic adviser during former President Barack Obama's administration, and until recently, worked on privacy policy issues at Facebook.
Ben Scott is senior advisor at New America and served as Policy Advisor for Innovation in the U.S. State Department during the Obama administration.
Afghanistan: Youngsters protest online against order telling girls not to go to school | World News
Afghan girls and boys have joined a social media protest against a decision by the Taliban to prevent young females going to school.
Putting their own safety at risk, many have created makeshift banners to make their points, opposing an edict by the Taliban government that female middle and high school students should not return to school for the time being, while boys of the same age can resume their studies this weekend.
It comes as the interim mayor of Kabul is telling female city authority employees to stay home, with only those whose jobs cannot be done by men allowed to work.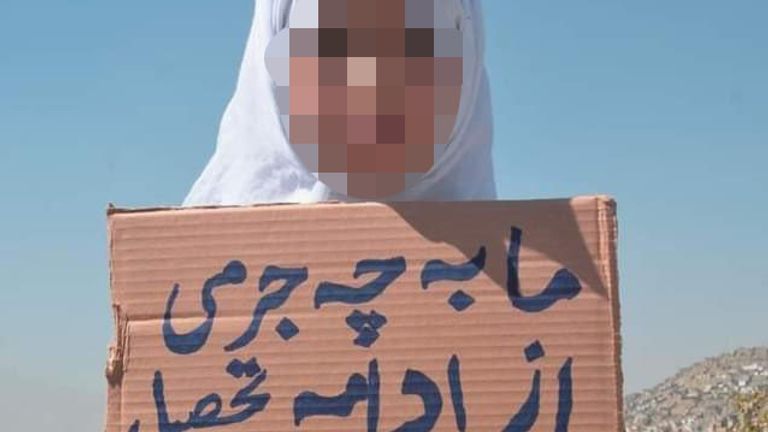 The moves are further evidence the Taliban, which overran Kabul last month, is enforcing its harsh interpretation of Islam despite initial promises that it would be tolerant and inclusive.
Among the slogans on the banners displayed by the youngsters are statements like: "What is our crime that we are prevented from education?" and "I won't go to school without my sister. I support my sister. We are equal."
Sky News has blurred the faces of some of those protesting, as there are fears they could be at risk in a country that appears to be clamping down on the right of expression.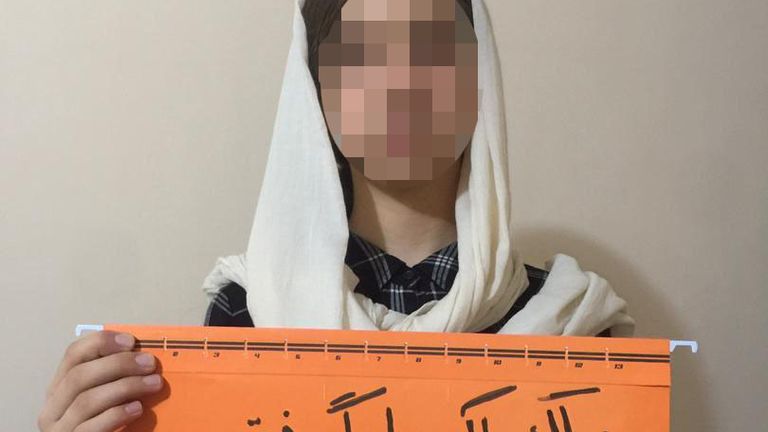 On Sunday, just over a dozen women staged a protest outside the new ministry, holding up placards calling for the right of women to participate in public life.
The protest lasted for about 10 minutes before a short verbal confrontation occurred with a man and the women got into cars and left, as members of the Taliban watched from nearby cars.
Kabul's new interim mayor, Hamdullah Namony, told his first news conference that, pending a further decision, most of the 1,000 or so female city authority employees would be required to stay home.
He said exceptions would only be made for women who could not be replaced by men, including some in the design and engineering departments and the attendants of public toilets for women.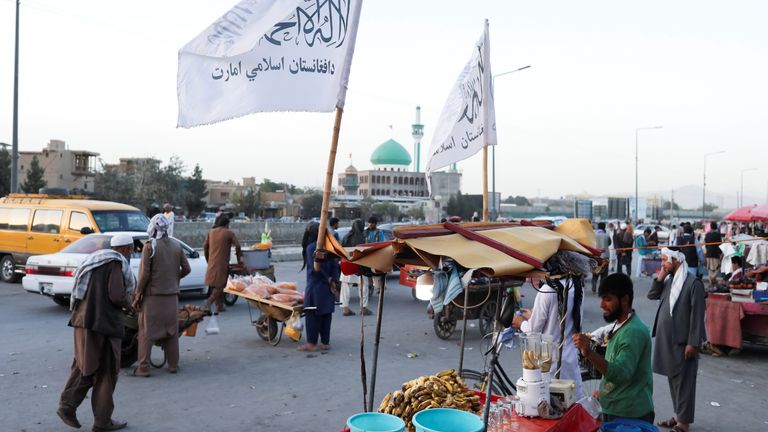 Mr Namony added: "There are some areas that men can't do it, we have to ask our female staff to fulfil their duties, there is no alternative for it."
During its previous rule between the mid 1990s and 2001, the Taliban had forbidden girls and women from schools, jobs and public life.
In recent days, Taliban officials told female university students that classes would take place in gender-segregated settings, and they must abide by a strict Islamic dress code.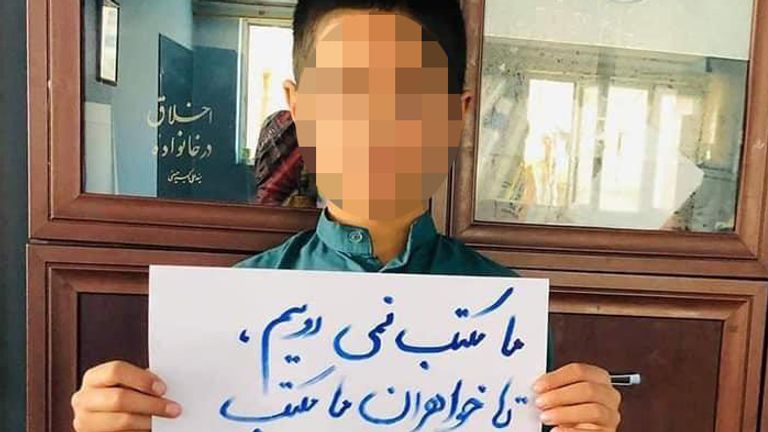 Under the previous US-backed administration, before it was deposed by the Taliban in August, men and women had sat alongside each other in universities, for the most part.
On Friday, the Taliban shut down the ministry for women's affairs, replacing it with a government department responsible for the "propagation of virtue and the prevention of vice", with the job of enforcing Islamic law.
Amid deteriorating conditions for ordinary Afghans, many of whom previously relied on international aid, witnesses said an explosion targeted a Taliban vehicle in the provincial city of Jalalabad, the second such deadly blast in as many days in an area where Islamic State militants are said to dominate.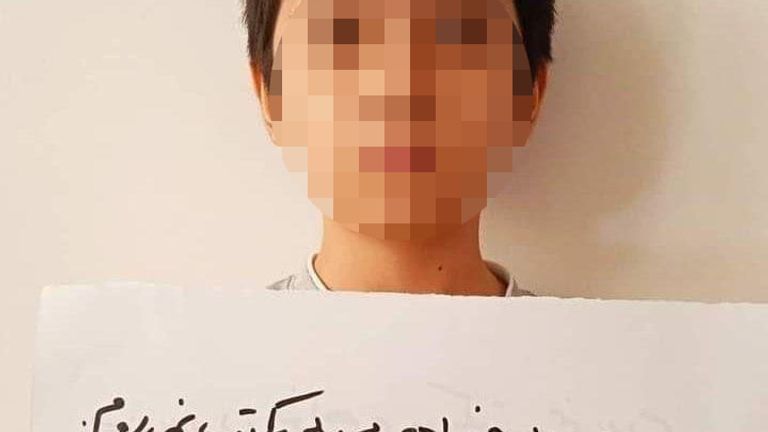 The Taliban and IS extremists are enemies and battled each other before the Taliban took control of Afghanistan last month.
Initial reports said five people were killed, with a child among the two civilians said to have died. The Taliban were not immediately available for comment.
Boris Johnson tells world leaders he is growing 'increasingly frustrated' at their efforts to tackle climate change | Politics News
Boris Johnson has criticised other world leaders over their efforts to tackle climate change, telling them he is growing "increasingly frustrated" that their commitments are "nowhere near enough".
Speaking during a meeting at the United Nations in New York, the prime minister said the gap between what has been promised by industrialised nations and what they have so far delivered remains "vast".
Co-hosting a discussion on the issue at the UN General Assembly, Mr Johnson urged fellow leaders to renew their efforts to meet a key financing pledge to help developing nations.
The PM wants to get countries to commit to giving $100bn (£73bn) a year in support to developing nations to cut their carbon emissions and shield themselves against climate change.
But he earlier told reporters there was only a "six out of 10" chance of this target being met before the COP26 climate summit in Glasgow in November – which he then said will be "a turning point for the world" and "the moment when we have to grow up and take our responsibilities".
He told Sky News' political editor Beth Rigby: "We have been here before, we have all heard lots of positive noises, let's see where we get to.
"We are not counting our chickens."
However, Joe Biden's climate envoy sounded upbeat when questioned by Sky News.
"I think we're going to get it done by COP and the US will do its part," John Kerry said.
Asked if the US president will announce more money this week, he replied: "I'm not hoping… I'm telling you to stay tuned into the president's speech and we'll see where we are."
Chairing the climate discussion on Monday, Mr Johnson noted that "everyone nods and we all agree that something must be done".
Kerry 'confident' of $100bn climate target

"Yet I confess I'm increasingly frustrated that the 'something' to which many of you have committed is nowhere near enough," he continued.
"It is the biggest economies in the world that are causing the problem, while the smallest suffer the worst consequences.
"And while progress is being made all over the world, the gulf between what has been promised, what is actually being delivered, and what needs to happen… it remains vast.
"Too many major economies – some represented here today, some absent – are lagging too far behind."
And the PM warned countries there would be consequences if the financing target is not met, saying: "If you say that the lives of their children are not worth the hassle of reducing domestic coal consumption, will they vote with you in fora such as this?
"Will they work with you, borrow from you, stand with you if you tell the world that you don't care whether their land and their people slip below the waves?
Subscribe to ClimateCast on Spotify, Apple Podcasts, or Spreaker
"To be merely a bystander is to be complicit in their fate – yet that is exactly what you will be if you fail to act this year."
Ahead of the UN meeting, Downing Street said developed countries had "collectively failed" to meet the target.
Figures released last week by the Organisation for Economic Co-operation and Development showed that $79.6bn was mobilised in 2019, more than $20bn off the target.
Watch the Daily Climate Show at 6.30pm Monday to Friday on Sky News, the Sky News website and app, on YouTube and Twitter.
The show investigates how global warming is changing our landscape and highlights solutions to the crisis.
Serbians block roads in Kosovo in protest over license plate restrictions | World News
Protesters have blocked roads in northern Kosovo after authorities stopped cars with Serbian plates from entering the country.
Police in Jarinje, Kosovo are forcing drivers from Serbia to remove or hide license plates and use temporary registration details that are valid for 60 days and cost €5 (£4.30).
Serbia, which lost control of Kosovo in 1999, does not recognise Kosovo and has stopped cars with Kosovo license plates from entering the country.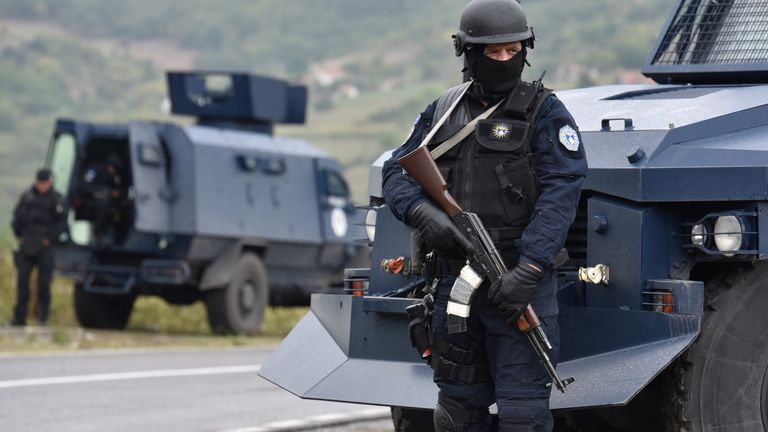 Almost 50,000 Serbs who live in the north of Kosovo and share a border with Serbia, refuse to recognise Pristina's authorities and as restrictions came into force on Monday, cars and trucks blocked roads in protest.
Police in Kosovo deployed riot gear and armoured vehicles as the blockades built up and Kosovo's Prime Minister, Albin Kurti, said the move was not taken to harm drivers but was a retaliation measure against Belgrade.
"Today there is nothing illegal or discriminatory," Mr Kurti said in parliament.
"Just as yesterday, today and tomorrow, Serb citizens will move freely and safely."
Serbian President Aleksandar Vucic said the situation is very "serious and difficult".
"When you are dealing with people who are not responsible, it is difficult to find a solution," Mr Vucic said.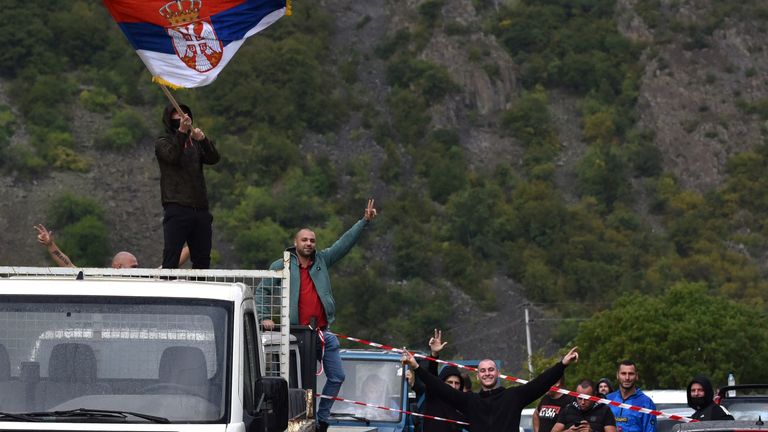 The two countries began talks in 2013, mediated by the European Union, to resolve the issues, but little progress has been made.
Kosovo is recognised by around 110 countries, including the United States, Britain and most western countries, but Russia, Serbia's traditional ally, does not recognise it.