Mark Zuckerberg's big moment before Congress is here
Get breaking news alerts and special reports. The news and stories that matter, delivered weekday mornings.
It's a moment Mark Zuckerberg tried to avoid, but the Facebook CEO on Tuesday will face questions from a firing squad of lawmakers keen to get answers about the company's data privacy efforts.
Zuckerberg, 33, will testify before the Senate Judiciary and Commerce Committees on Tuesday in a session that is expected to last several hours. On Wednesday, he'll face more questions from the House Energy and Commerce Committee.
The billionaire CEO, who is wildly protective of his own privacy and rarely gives interviews, will come face to face with lawmakers, many of whom are former prosecutors and likely eager to be seen on camera being tough on Facebook.
The first hearing will begin at 2:15 p.m. ET on Tuesday. Zuckerberg will give a brief opening statement and it's then expected he'll face up to four hours of questioning from as many as 44 Senators, who will be filtering in and out of the room throughout the hearing.
Zuckerberg is used to the glare of the spotlight, but only when it's something he can control, such as sharing positive Facebook news or talking about his philanthropy.
Expect Zuckerberg to be outside of his comfort zone when he sits behind the table on Tuesday, taking ownership for Facebook's mistakes and stressing accountability. He'll likely swap his trademark t-shirt for a suit and tie.
In a preview of his opening remarks released by the House, Zuckerberg plans to apologize in his opening statement.
"We didn't do enough to prevent these tools from being used for harm as well. That goes for fake news, foreign interference in elections, and hate speech, as well as developers and data privacy. We didn't take a broad enough view of our responsibility, and that was a big mistake. It was my mistake, and I'm sorry," Zuckerberg wrote. "I started Facebook, I run it, and I'm responsible for what happens here."
He'll then have the task of convincing the people who have the power to regulate his company that Facebook has a plan to make sure election meddling and data harvesting don't happen again.
"So now we have to go through every part of our relationship with people and make sure we're taking a broad enough view of our responsibility," Zuckerberg wrote. "It will take some time to work through all of the changes we need to make, but I'm committed to getting it right."
There have been questions about Zuckerberg's leadership, a topic that could come up during the hearings from lawmakers who may wonder if Facebook and its leader have become too powerful for their own good.
As the chairman and CEO of Facebook, Zuckerberg wields unparalleled influence over the company, including the majority of voting shares, making a coup nearly impossible. Zuckerberg is showing no signs of wanting to fire himself. He told NBC News last week he still believes he's the best person to run Facebook.
"The reality of this is when you're building something like Facebook, there are going to be things you mess up. I don't think anyone is going to be perfect, but I think everyone should learn from mistakes and continuing to be better," he said.
Zuckerberg's testimony will be his first time before the United States government and a long-time coming after 18 months of scandals, ranging from election meddling to user privacy. He's spent months wriggling his way out of invitations from Congress, instead sending the company's general counsel and suggesting he wants the best qualified person to testify.
This week, the world will be watching as Zuckerberg finally faces the reality he tried so hard to avoid. He is the best person to speak for Facebook.
Ireland's health service shuts down IT systems over 'significant ransomware attack' | World News

Ireland's health service has closed down its computer systems after what it described as a "significant ransomware attack".
The Republic's Health Service Executive (HSE) said it had shut down its entire IT network as a "precaution."
It said COVID-19 vaccinations were not affected by the attack.
"There is a significant ransomware attack on the HSE IT systems," the HSE said on Twitter.
"We have taken the precaution of shutting down all our IT systems in order to protect them from this attack and to allow us fully assess the situation with our own security partners."
It added: "We apologise for inconvenience caused to patients and to the public and will give further information as it becomes available.
"Vaccinations not affected are going ahead as planned."
Israeli ground forces launch attacks on Gaza as fighting worsens | World News
Israeli ground forces began launching attacks on Gaza in a widening of hostilities as Israel braced for more internal strife between its Arab and Jewish citizens following Friday prayers.
The Israeli military said air and ground forces were firing at the Hamas-run enclave, though it does not appear to mean the start of a ground invasion, with Sky News witnessing troops launching artillery and tank rounds from Israel's side of the border.
"I said we would extract a very heavy price from Hamas," Prime Minister Benjamin Netanyahu said in a videotaped statement. "We are doing that, and we will continue to do that with heavy force."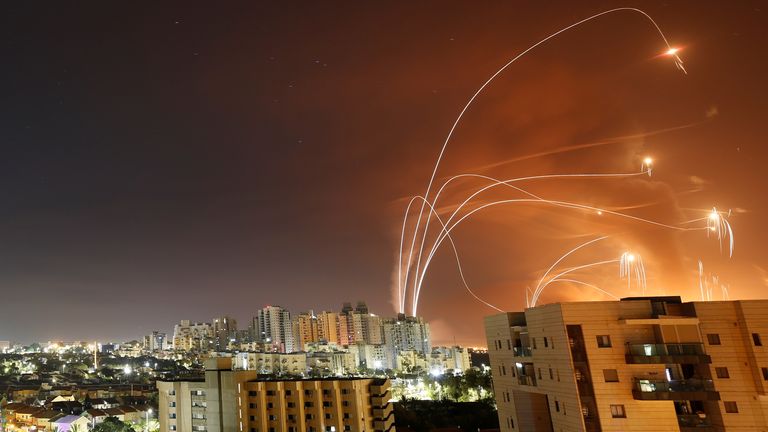 Thousands of Israeli forces along with tanks, armoured vehicles and artillery are massing along the frontier with Gaza, preparing to push inside if given the order, in what would be a hugely significant escalation.
Unperturbed, Palestinian militants continued to launch rockets from the strip towards Israel into Friday morning.
At least 109 Palestinians have died since the exchanges began on Monday, including 28 children and 15 women, according to Gaza's health ministry. Palestinian militants have said 20 of their fighters are among the dead, though Israeli officials said this figure is much higher.
Almost half of the deaths happened on Thursday – the deadliest day so far.
On the Israeli side, seven people have been killed, including two children and a soldier.
But this is a crisis on many fronts, as decades of Israeli-Palestinian trauma erupt into clashes on the streets of many towns and cities inside Israel – with Arabs and Jews, who had lived together peacefully, turning on each other, prompting warnings of a risk of civil war.
Synagogues have been attacked, cars torched and individuals beaten up by mobs in the worst internal violence in decades.
New protests could erupt following Friday prayers, with al Aqsa Mosque in Jerusalem's Old City a potential flashpoint.
It was at this walled compound – one of the most sacred sites in Islam, which is also revered by Jews and Christians – that violence between Israeli police and Palestinian protesters on Monday sparked the first volley of rockets from Gaza into Israel that ignited the wider crisis.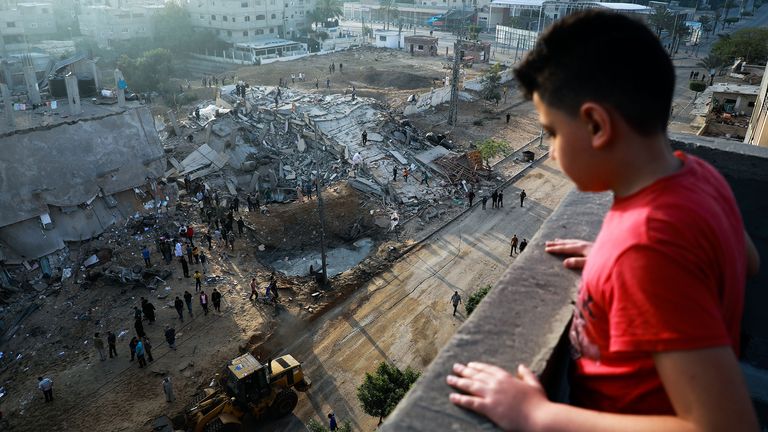 There is of course a regional dimension as well.
On Thursday night, three rockets were fired towards Israel from Lebanon. They landed harmlessly in the Mediterranean Sea in what appears to have been a show of solidarity with Gaza by Palestinian groups in Lebanon rather than the start of a separate offensive.
With so much at stake, frantic diplomatic efforts are underway to try to broker a ceasefire.
Egyptian officials have been speaking with both sides as have officials from the United Nations. The US has dispatched a senior diplomat to the region and Russian President Vladimir Putin has added his voice to those calling for both sides to de-escalate.
In Washington, President Joe Biden said he spoke with Prime Minister Netanyahu about calming the fighting but also backed the Israeli leader by saying "there has not been a significant overreaction".
He said the goal is to "get to a point where there is a significant reduction in attacks, particularly rocket attacks that are indiscriminately fired into population centres", and called the effort "a work in progress".
The UN Security Council is due to hold its first public session on the situation on Sunday after the US objected to an open session on Friday, apparently wanting to give diplomacy a little longer to have an effect.
However, with bombardments between the two sides – unprecedented in their intensity – entering their fifth day, there is no obvious sign that diplomacy is cooling heads.
The Israel Defence Forces has hit close to 1,000 targets in Gaza, including multi-storey buildings, rocket launch sites and individual Hamas military commanders. But this blockaded strip of territory is also home to some two million Palestinians who have no means to flee.
Overnight, masses of red flames illuminated the skies as deafening blasts from the outskirts of Gaza City jolted people awake.
The strikes were so strong that people inside the city, several miles away, could be heard screaming in fear, according to the AP news agency.
At the same time, Hamas and Islamic Jihad, a fellow Palestinian militant group, have fired close to 2,000 rockets towards Israel. Many were shot down by the country's air defence system but some have penetrated deep into Israeli territory, including the commercial capital of Tel Aviv, sending families racing into shelters.
Fresh uncertainty for UK tourists as Portugal extends 'state of calamity' until 30 May | UK News
Britons hoping for a holiday in Portugal when travel restrictions lift next week are facing fresh uncertainty after the country extended its "state of calamity".
The second-highest level of alert is going to remain in place until 30 May at the earliest, almost two weeks after the country is added to a "green list" of destinations where holidaymakers can go without having to isolate on their return.
Portugal would have been one of the few options for travellers seeking a quick sunny break, as many of the other countries on the "green list" are either closed to tourists, too cold, or too remote.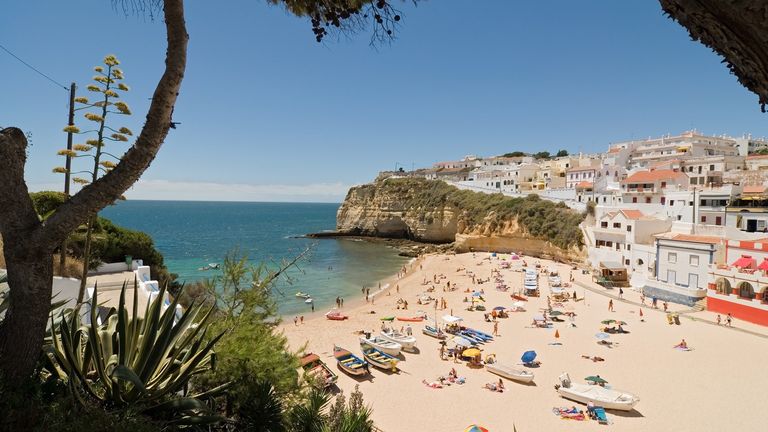 Other popular hotspots such as Greece, Italy, Spain and France are on the amber list, requiring 10 days of isolation and two COVID-19 tests on return to the UK.
The new restrictions cast a shadow over the Champions League final between Manchester City and Chelsea that is due to take place in Porto on 29 May – an event that has already been moved from Turkey, which is on the red list.
When asked whether restrictions on travel from the UK would be lifted, Portuguese Cabinet office minister Mariana Vieira da Silva said she had "no information to give yet".
In comments reported by the BBC, she said: "Work is going on and as soon as there is a decision it will be announced, but no decision was taken in this cabinet meeting."
She said British fans could still come to see the football game but they would need to fly on charter planes, arriving and leaving on the same day.
On Thursday, the world's largest travel firm warned it may be forced to cancel holiday flights to Portugal, just as the UK allows them again, because of a continuing EU ban on non-essential travel from countries outside the bloc.
TUI, which told Sky News earlier this week that people were giving up on booking a break abroad because of a lack of clarity on the rules, said holidays could not happen unless "borders are open".
The "state of calamity" means non-residents of Portugal can only enter if their travel is essential, a COVID test is required within 72 hours of departure, and even those with a negative result can still be refused permission to board a flight or be made to quarantine in government-approved accommodation on arrival.
It is understood the UK government has been speaking with Portuguese representatives this week about unlocking travel between the two countries.
The government is also talking to the European Commission about how to safely reopen travel on the continent, the PA news agency understands.
Portugal has reported 840,929 cases of COVID-19, with 16,999 deaths.