Israeli Labor Party cuts ties with Jeremy Corbyn over anti-Semitism
The Israeli Labor Party has suspended ties with Jeremy Corbyn over the Labour leader's response to anti-Semitism and his "hostility" to the Jewish community.
In a letter addressed to Mr Corbyn, Avi Gabbay, the chairman of the Israeli Labor Party, informed the Labour leader of a "temporary suspension of all formal relations".
He wrote: "It is my responsibility to acknowledge the hostility that you have shown to the Jewish community and the anti-Semitic statements and actions you have allowed as Leader of the Labour Party UK.
"This is in addition to your very public hatred of the policies of the Government of the State of Israel, many of which regard the security of our citizens and actions of our soldiers – policies where the opposition and coalition in Israel are aligned."
He added: "While there are many areas where our respective parties can and will cooperate, we cannot retain relations with you, Leader of Labour Party UK, while you fail to adequately address the anti-Semitism within Labour Party UK."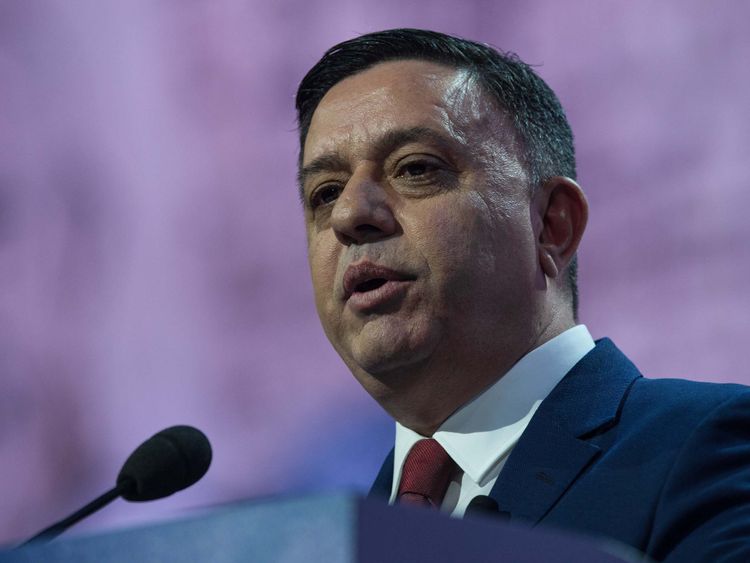 The Israeli Labor Party is the largest opposition party in Israel's legislature, the Knesset.
Mr Gabbay's decision to suspend ties with Mr Corbyn comes after the Labour leader has faced weeks of demands to deal with anti-Semitism within his party.
The crisis has even seen British Jewish leaders stage an unprecedented protest against Mr Corbyn's handling of anti-Semitism allegations outside Parliament.
Mr Gabbay also revealed he had asked one of his officials to "update me quarterly" on Mr Corbyn's response to anti-Semitism, telling the Labour leader: "Should this suspension change, you will be updated accordingly."
Responding to the news, Jennifer Gerber, the director of Labour Friends of Israel, who count many Labour MPs and peers among their supporters, said: "We fully understand why the Israeli Labor Party has decided to suspend relations with Jeremy Corbyn.
"He has failed to respond to their repeated offers of dialogue, including invitations to host him at Yad Vashem, Israel's national Holocaust museum.
"Labour Friends of Israel's relationship with the Israeli Labor Party remains unaffected and we will continue our close cooperation."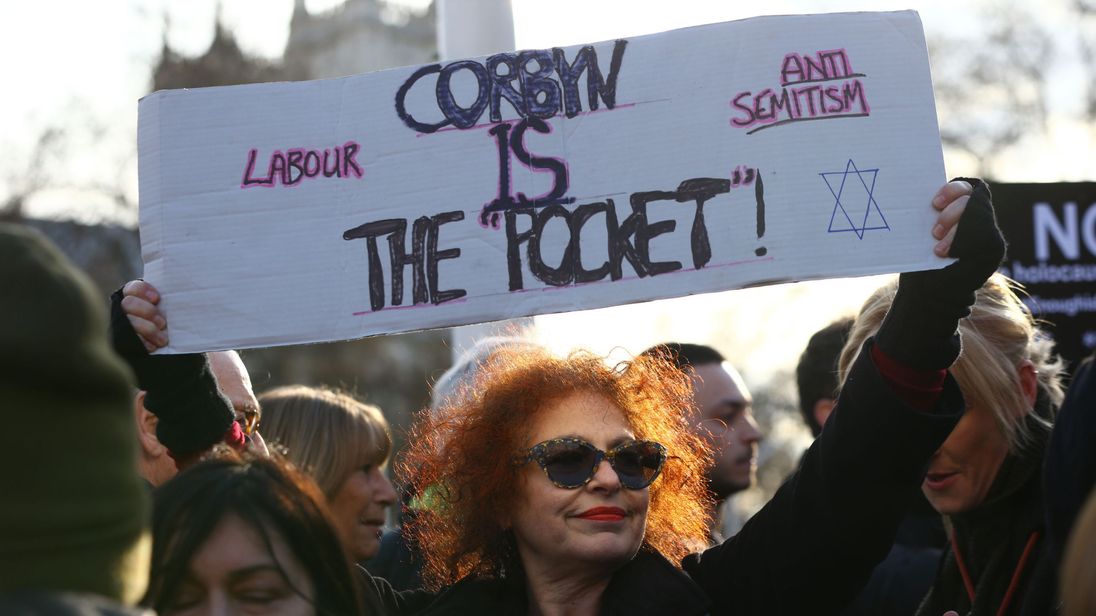 Ethan Schwartz, the international officer for the Jewish Labour Movement, a formal affiliate of the UK Labour Party, said: "International solidarity is a central foundation of socialism.
"It's deeply disappointing that the fight against anti-Semitism within the UK Labour Party has come to this.
"Clearly this proves that the Jewish Labour Movement's work is more important than ever, and we're not going anywhere."
At the weekend, Mr Corbyn asked for a statement to be read in his name at a demonstration supporting Palestinian people in Gaza, amid fresh violence at the border with Israel.
In the statement, the Labour leader called the apparent killing and wounding of Palestinian protesters on the Israel-Gaza border by Israeli forces an "outrage".
"Firing live ammunition into crowds of unarmed civilians is illegal and inhumane and cannot be tolerated," he said.
"We stand in solidarity with the Israelis who have taken to the streets this last week to protest their Government's actions."
Mr Corbyn also called for the UK Government to support the UN Secretary General's call for an independent inquiry into the killings.
Israel believes the protests have been instigated by Hamas as a disguise for terror attacks.
Thousands of rocket strikes from Gaza have hit Israel over the past few years.
The Israeli military has insisted it has "very strict" rules for its troops on using force in responding to the demonstrations.
France cancels missile collaboration meeting with UK amid AUKUS submarine row | World News
France has cancelled a high-level meeting with the UK this week that was meant to discuss the renewal of a collaboration on missiles in a worsening of a row over submarines.
Florence Parly, the armed forces minister, had been due to travel to Britain to meet with Defence Secretary Ben Wallace under the framework of a long-standing defence and security treaty.
A French source said: "The Franco-British Council scheduled for September 22 and 23 in London will not be held on these dates, the organisers having considered the context did not allow it. Mrs Parly's displacement will not take place given the current context."
'AUKUS alliance will bring us closer than ever'

A British defence source said the meeting had been postponed, rather than cancelled.
"We work closely with the French in many areas," the source said, adding: "They are an important ally."
Sky News understands the meeting was supposed to include a focus on renewing technologies for ship-launched and aircraft-launched missiles – vital weapons for both nations.
Up until the weekend, the UK side had still been planning for the meeting to go ahead as scheduled.
But French sources confirmed on Sunday evening that it has been cancelled amid fury in Paris after Australia scrapped a multi-billion-pound submarine contract with France in favour of teaming up with the United States and the UK in a new defence partnership.
In an extraordinary step, France also recalled its ambassadors to Washington and Canberra for consultations – a sign of extreme unhappiness at the so-called AUKUS defence alliance.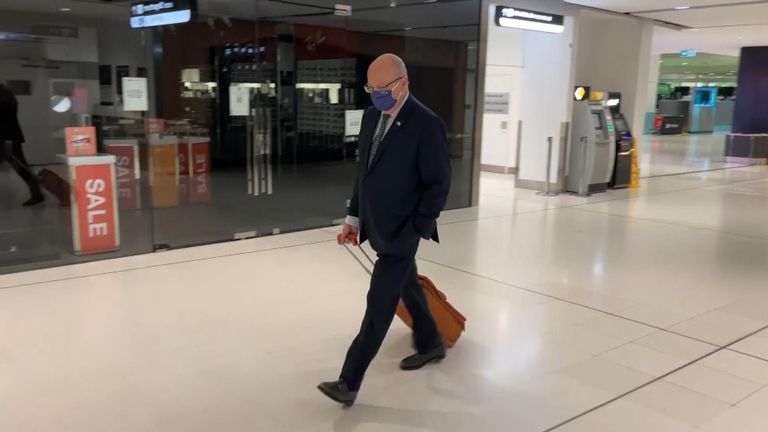 The French government did not recall its ambassador to London, however.
France's Europe minister Clement Beaune suggested it was because the UK was the "junior partner" which had accepted its "vassalisation" by the US.
A separate British defence source said the cancellation of the missile meeting with the UK was "quite big" a deal given the requirement for both countries to renew their missile systems – an area where they work closely together.
"It depends on how much they [France] want to cut off their nose to spite their face," the source said.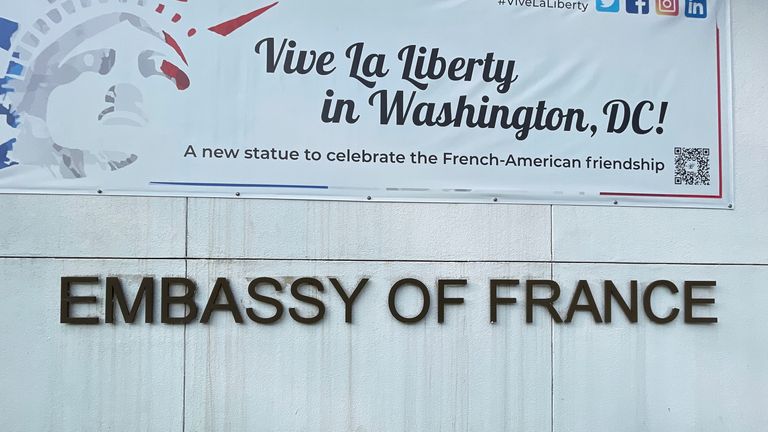 France and the UK have forged a close defence and security alliance, which includes joint training and the joint development of complex weapons, since then prime minister David Cameron and then president Nicolas Sarkozy signed their landmark treaty at Lancaster House in 2010.
Prime Minister Boris Johnson has urged French President Emmanuel Macron not to "worry" about the AUKUS military alliance.
He said on Sunday Anglo-French relations were "ineradicable".
Perm State University shooting: At least eight dead and several injured in Russia after gunman opens fire on campus | World News
At least eight people have been killed and several are injured after a gunman opened fire at a university in the Russian city of Perm, officials have said.
The gunman at Perm State University has since been "neutralised", according to the independent Russian news agency Interfax.
Students and staff of the university locked themselves in rooms during the incident, and the university urged those who could leave the campus to do so.
The Tass news agency quoted police as saying that some students jumped out of windows of a building during the incident.
It is not immediately clear whether those reported wounded sustained injuries from the shooting or from trying to escape the building.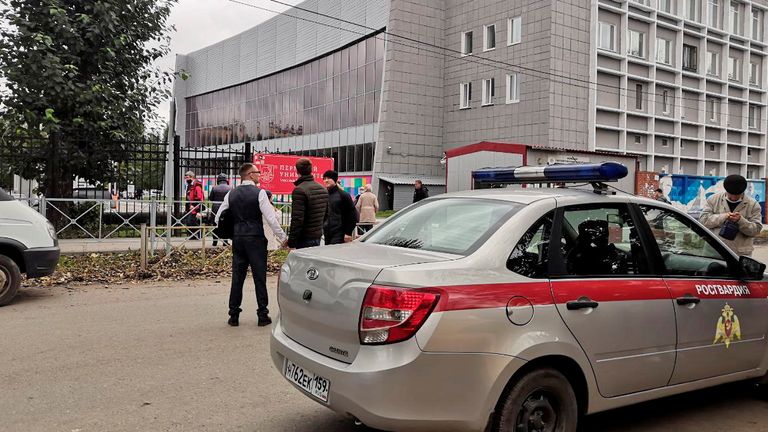 The Russian Investigative Committee said the suspect had been identified and that he was "wounded" while being arrested.
Local media identified the gunman as an 18-year-old student who had earlier posted a photo of himself posing with a rifle, helmet and ammunition, on social media.
"I've thought about this for a long time, it's been years and I realised the time had come to do what I dreamt of," he
said on a social media account attributed to him that was later taken down.
He indicated his actions had nothing to do with politics or religion but were motivated by hatred.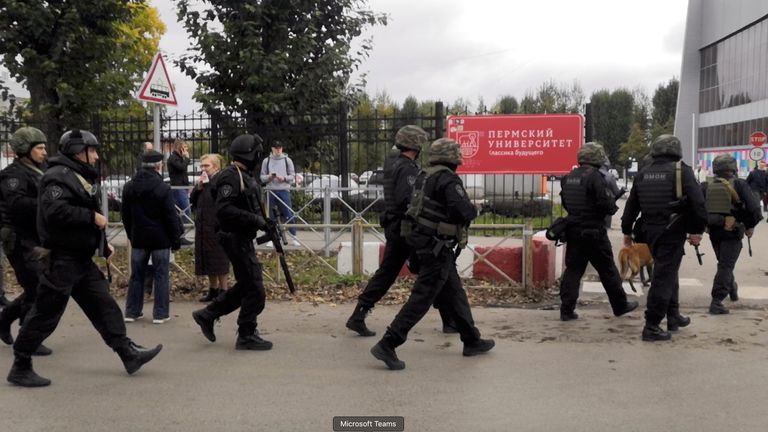 Forensic investigators have been sent to the university to assist with the police investigation.
Perm is situated about 700 miles (1,127km) east of Moscow, with a population of about one million. The university enrols some 12,000 students.
Russia has strict restrictions on civilian firearm ownership, but some categories of guns are available for purchase for hunting, self-defence or sport, once would-be owners have passed tests and met other requirements.
Boris Johnson calls on richest countries to meet $100bn climate pledge | Politics News
Rich countries must do more to help developing nations cut carbon emissions, Boris Johnson will tell other world leaders at a high-level gathering in New York.
The prime minister will be hosting the meeting on climate change with UN secretary general Antonio Guterres.
It is understood Mr Johnson is likely to focus on coal, cash support, cars and trees, which soak up carbon dioxide.
The prime minister is also expected to discuss global warming with US President Joe Biden in a meeting at the White House in Washington.
Ahead of the gathering in New York, Mr Johnson said richer nations have "reaped the benefits of untrammelled pollution for generations".
This has often been "at the expense of developing countries", he added.
"As those countries now try to grow their economies in a clean, green and sustainable way we have a duty to support them in doing so – with our technology, with our expertise and with the money we have promised," the prime minister said.
The UN meeting is seen as a way of galvanising action on climate change ahead of the COP26 summit, being held in the UK in November.
Earlier, however, COP26 president Alok Sharma admitted Chinese President Xi Jinping is yet to commit to attending the gathering in Glasgow, now fewer than 50 days away.
That is despite China being "key" to the talks because it is the "biggest emitter in the world", Mr Sharma told Sky News.
He wants the Chinese to "come forward and make (COP26) a success together with the rest of the world".
How will cabinet reshuffle impact climate goals?

Developed countries agreed to give $100bn (£73bn) a year to developing ones by 2020, to help them cut their emissions, Downing Street said.
But by 2019 the level had reached only $79.6bn (£58bn), more than $20bn (£14bn) short of the target set for the following year.
The UK has asked Germany and Canada to take a lead on developing a "$100bn Delivery Plan", to be published ahead of COP26.
Downing Street said that at the end of the UN General Assembly this week, the UK will publish the detail of countries' climate finance commitments to date.
The UK has already committed £11.6bn in international climate finance over the next five years, Number 10 said – twice the previous five-year commitment.
Boris Johnson will say in New York that £550m of that will be allocated to support developing countries in adopting policies and technologies that end the use of coal.
The prime minister will also be meeting Amazon boss Jeff Bezos, to discuss the amount of tax the giant online retailer pays, and the help it might be able to offer on the environment.
Subscribe to the Daily podcast on Apple Podcasts, Google Podcasts, Spotify, Spreaker
Despite Amazon's UK sales rising by 51% to almost £20bn during coronavirus lockdowns last year, it is estimated to have a tax to turnover ratio of just 0.37%.
Asked if Mr Johnson will bring up tax when he sits down with Mr Bezos, the prime minister's official spokesman said: "We will very much be looking to raise that.
"We have been a lead advocate for an international solution to the tax challenges posed by digitalisation of the economy."
Watch the Daily Climate Show at 6.30pm Monday to Friday on Sky News, the Sky News website and app, on YouTube and Twitter.
The show investigates how global warming is changing our landscape and highlights solutions to the crisis.