Defense statements set for Day 2 after juror questions, topless protester delayed opening
The judge ultimately decided not to dismiss the juror, and the prosecution was able to make its opening statements late Monday afternoon.
"This case is about trust. This case is about betrayal and that betrayal leading to a sexual assault of a woman named Andrea Constand," prosecutor Kevin Steele said. ""We are going to talk about trust, a trust that was built over time."
Steele alleged that Cosby gave Constand Quaaludes that left her unable to consent to sexual activities and left her feeling violated. As part of a civil trial, while under oath, Cosby had previously admitted to using Quaaludes during sex.
Even before setting foot inside the courthouse on Monday, Cosby was confronted by a topless protester — who was later revealed to be a former child actress on "The Cosby Show."
Covered in nothing but the names of Cosby's accusers, Nicolle Rochelle, 39, jumped a barrier separating a crowd of protesters from Cosby before being tackled by police and detained. She was later charged with disorderly conduct and could face a fine, officials said.
In a conference call with reporters, Rochelle said she had been living in Paris and working with women's activist group Femen, which regularly stages topless protests against people and institutions it accuses of oppressing women, and the group's name was prominently scrawled on Rochelle's body.
"Protesting Bill Cosby was important for us because he is a man who has been disempowering women's bodies for decades and in being naked today, I was symbolically taking back the ownership of all the victims' bodies and redefining it as a political tool as opposed to a sexual object," Rochelle told NBC News in a statement Monday night.
After Rochelle's protest, security was increased at the courthouse on Tuesday and protesters did not immediately appear to be outside.
When asked how he was feeling on Tuesday, Cosby shook his head "yes" but said nothing, raising his hand as he made his way past reporters.
Among those expected to testify during the retrial is former supermodel Janice Dickinson.
The retrial comes after Cosby's first trial ended in a deadlocked jury last year and is the first high-profile case of the #MeToo movement. Over the past few years, about 60 women have come forward with allegations against Cosby dating to the 1960s.
Meredith Mandell reported from Norisstown, Penn., and Kalhan Rosenblatt reported from New York, N.Y.
AUKUS: Maintaining West's unity will 'require a lot of effort', German official says, as France rages over nuclear submarine deal | World News
Maintaining unity between Western allies will "require a lot of effort" in light of an unfolding rift between France and members of a new security partnership, Germany's ambassador to the UK has said.
Andreas Michaelis was responding to France recalling its ambassadors to the US and Australia, after the latter's government ditched a multi-billion dollar deal with Paris for new nuclear submarines and decided to instead buy ones made with US technology.
The response to the cancelled agreement – resulting from something that has been dubbed the AUKUS partnership, between Australia, the UK, and US – has been described by Sky's security and defence editor Deborah Haynes as "one of the gravest rifts among allies in living memory".
The new 🇩🇪 government to be elected on 26/9 will be faced with important strategic discussions. The AUKUS debate illustrates this vividly. 🇩🇪 has always aimed for coherence&unity of the West. It became part of our DNA during the Cold War. This unity will require a lot of effort. https://t.co/nmNEwk6hYP

— Andreas Michaelis (@GermanAmbUK) September 18, 2021
It comes as Germany's long-standing chancellor, Angela Merkel, is due to be replaced next weekend by whoever wins federal elections.
Mr Michaelis, referencing Deborah Haynes' Sky News analysis, said on Twitter: "The new German government to be elected on 26/9 will be faced with important strategic discussions.
"The AUKUS debate illustrates this vividly. Germany has always aimed for coherence&unity [sic] of the West. It became part of our DNA during the Cold War. This unity will require a lot of effort."
The decision to pull out its representative in the US, outlined last night by foreign minister Jean-Yves Le Drian on the orders of President Emmanuel Macron, was the first time France has ever recalled its American ambassador.
He said the cancellation by Australia of the big contract to buy French conventional submarines in favour of nuclear-powered subs built with US technology was "unacceptable behaviour".
It means France loses a nearly $100bn Australian dollars (£47bn) deal to build diesel-electric submarines.
'AUKUS alliance will bring us closer than ever'


Australia said on Saturday morning it regretted that France was recalling its ambassador, adding that it valued the relationship with France and would keep engaging with Paris on other issues.
A US State Department spokesperson said France was a "vital ally" and the United States would be engaged in the coming days to resolve the differences.
A French foreign ministry statement did not mention the UK, but a diplomatic source said France believed Britain's joining of the deal was opportunistic.
The AUKUS partnership is part of a new strategic Indo-Pacific alliance between the US, Australia and Britain, US President Joe Biden announced last week.
Did Biden forget Australian PM's name?

French President Emmanuel Macron has so far not commented directly, but on Friday a top French diplomat spoke anonymously of a "crisis" in relations with the US.
He said that for Paris "this is a strategic question concerning the very nature of the relationship between Europe and the United States about the Indo-Pacific strategy".
He added that Australia never mentioned to France its wish to shift to nuclear-powered submarines, including during a meeting between Mr Macron and Prime Minister Scott Morrison.
The French diplomat said that Mr Macron received a letter from Mr Morrison on Wednesday morning announcing the decision to cancel the submarine deal.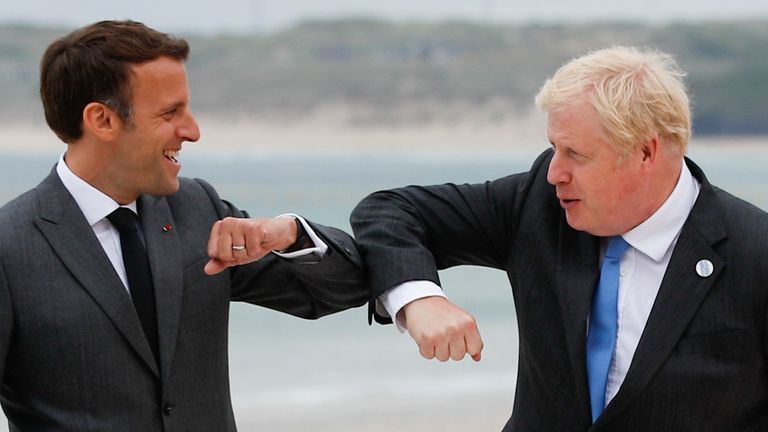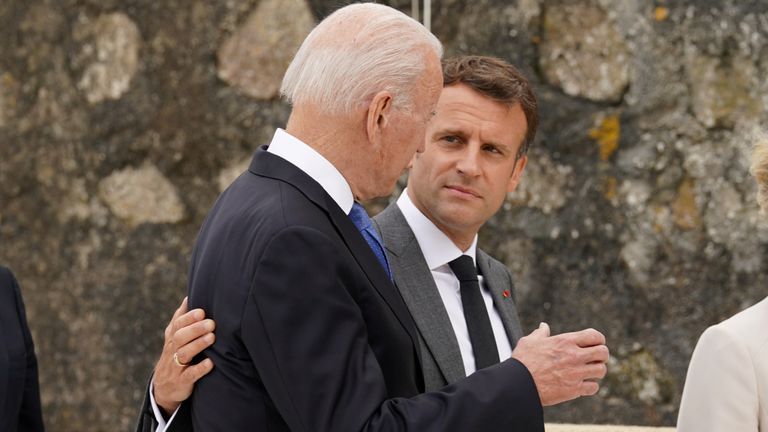 After the deal was announced, Mr Le Drian told franceinfo radio it was a "brutal, unilateral and unpredictable decision" reminiscent of the sort of actions Donald Trump would take.
He said: "I am angry and bitter. This isn't done between allies. It's a stab in the back. We created a relationship of trust with Australia, and that trust has been broken."
The "landmark" UK, US and Australia partnership aims to boost defences and share nuclear submarine secrets at a time of growing concern over China.
China has condemned the agreement, saying the Western powers' cooperation in nuclear submarines "severely damages regional peace and stability" and "jeopardises the international efforts in promoting the non-proliferation of nuclear weapons".
London, Canberra and Washington have said they will seek to collaborate in cyber, quantum technologies and artificial intelligence, as well as other underwater capabilities.
COVID-19: Australia deploys thousands of police officers to counter anti-lockdown protests in Sydney and Melbourne | World News
Thousands of police officers have been deployed to counter anti-lockdown protests in Sydney and Melbourne, as Australia grapples with a surge in coronavirus cases.
Australia recorded 1,882 new COVID-19 cases on Saturday, along with seven deaths in the latest 24-hour period, fuelled by an outbreak of the Delta variant that has been causing problems since mid-June.
The country had been widely praised for its response to the coronavirus pandemic, but Sydney; Melbourne; and the capital city, Canberra, all find themselves under strict lockdown.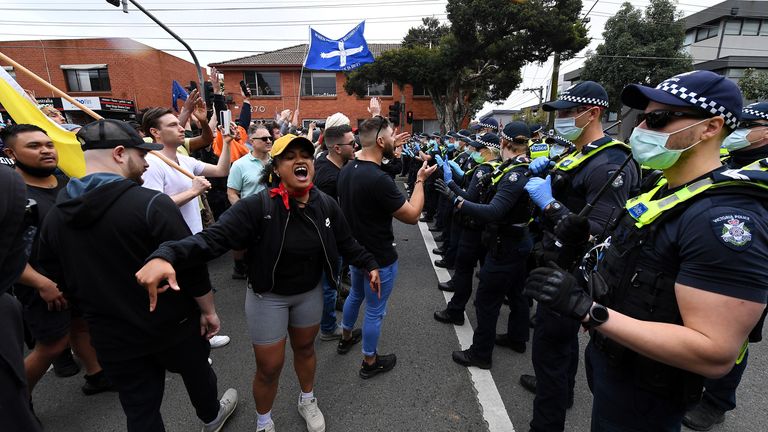 Officers used pepper spray in an attempt to disperse a gathering of around 1,000 demonstrators in Melbourne, Australia's second-largest city.
Protesters scuffled with officers in the suburb of Richmond, where the protest was located, after a last-minute change intended to evade the authorities.
About 700 people managed to gather in parts of Melbourne and 235 have been arrested.
Most of the protesters did not wear face masks, defying regulations.
Around 2,000 police officers were deployed at road checkpoints and barricades in an attempt to stop the rally from going ahead.
The city entered its sixth lockdown on 5 August.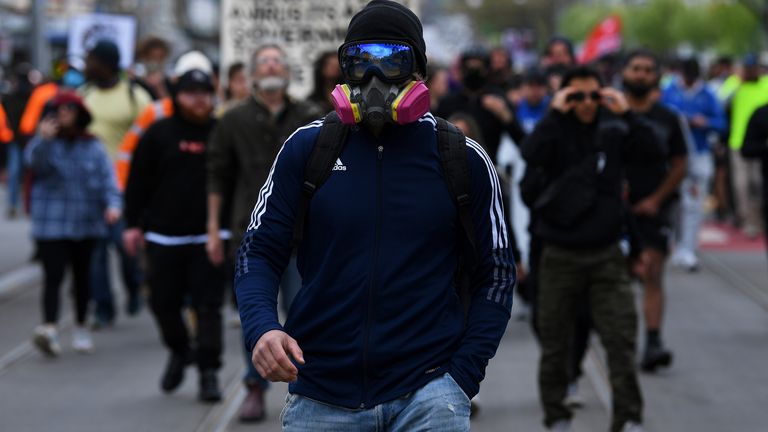 Along with police officers in Sydney, riot squad officers, highway patrol and detectives were deployed to counter the protests.
Thirty-two people have been arrested there.
New South Wales reported 1,331 cases on Saturday, mostly in the state capital Sydney, along with six deaths, while Victoria reported 535 new cases, mostly in the capital state Melbourne, along with one death.
Australia's lockdown restrictions in Victoria, New South Wales, and Canberra will remain until at least 70% of people aged 16 and older are fully vaccinated.
Based on the current rate of inoculations, that could take until late October or early November.
While the vast majority of Australians support vaccinations and the restrictions, there have been protests against the country's management of the pandemic.
The vaccine rollout has been slow compared to other developed nations, not helped by many Australians having been made reluctant to get the AstraZeneca jab due to conflicting government advice.
Australia has seen just under 85,000 coronavirus cases and 1,145 deaths since the pandemic began.
On Friday, police in New South Wales issued a warning against the protests, cautioning that participants could expect punishments ranging from a fine to being arrested.
SpaceX Inspiration4 mission: Crew appear in live video featuring weightless flips and ukulele performance | Science & Tech News
The first all-civilian astronaut crew to reach orbit have appeared in a live video feed featuring weightless flips and a ukulele performance.
The crew of SpaceX's Inspiration4 broadcast a 10-minute live YouTube video showing Chris Sembroski, a 42-year-old data engineer, strumming chords while the craft orbits Earth.
The four-member team hosted a show-and-tell session as they soared over Europe at about 17,500mph.
Go to the 16-minute mark for Mr Sembroski's ukulele performance:
Sian Proctor, 51, a geoscientist and former NASA astronaut candidate, showed off a piece of artwork she had made in orbit showing the Crew Dragon capsule being carried into space by an actual dragon.
Hayley Arceneaux, 29, a physician assistant at St Jude Children's Research Center in Tennessee, where she was treated for cancer herself as a child, performed flips to illustrate microgravity.
"Hayley is a champ at spinning. She's been spinning from the moment we got in orbit," Ms Proctor said.
Ms Arceneaux showed a small plush-toy dog in a white coat, which the crew use to indicate they are in zero-gravity.
They said when the toy floats freely in the cabin, they know they are in zero-G.
The dog is inspired by one of the golden retrievers which serve as comfort dogs for young St Jude patients.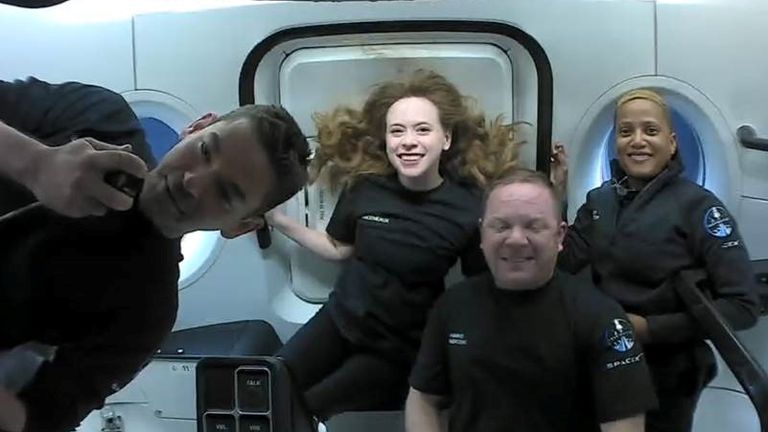 The crew also attempted to show off spectacular views of Earth through the capsule's cupola (a dome-shaped window), but the spacecraft flew into Earth's own shadow.
Ms Proctor said she could see an aurora borealis display, a spectacular lights showing akin to the Northern Lights, but it did not show up well on the camera.
From ground to orbit: Day one of SpaceX launch

The astronauts have also phoned friends, family, and supporters such as Elon Musk and Tom Cruise.
They also appeared by video on the New York Stock Exchange on Friday for the ringing of the closing bell.
Meet the crew of the SpaceX Inspiration4 mission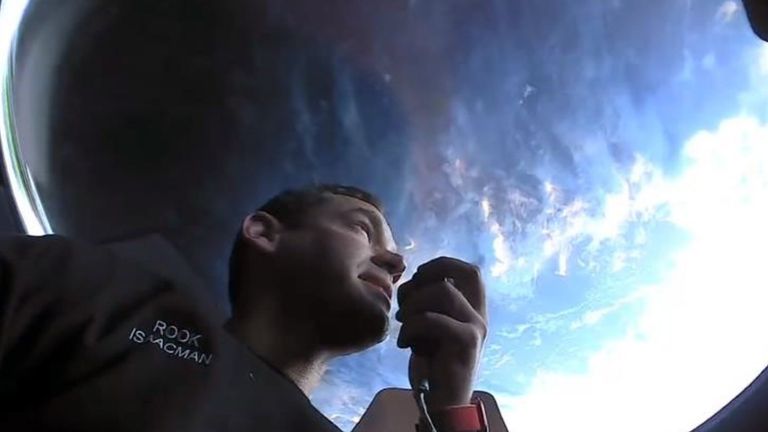 The flight was funded by billionaire Jared Isaacman, chief executive of e-commerce firm Shift4 Payments Inc, and a crew member.
He paid SpaceX's Mr Musk an undisclosed sum for the flight, which is reported to be roughly $200m (£146m).
He hopes to raise the same amount for St Jude and has said his donation will make up half of that amount.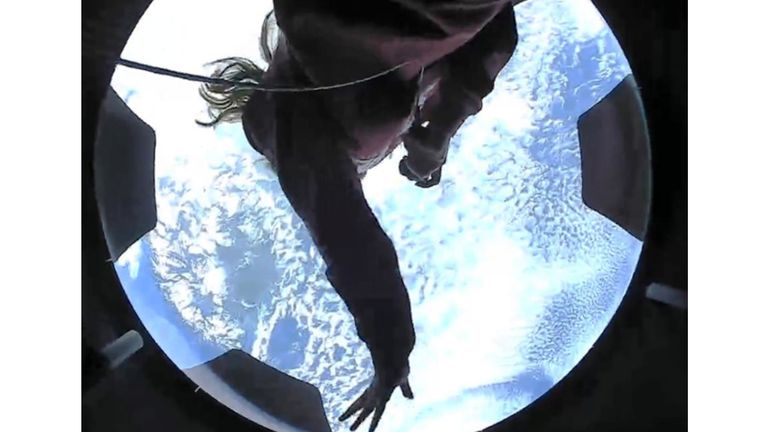 Inspiration4 launched from the Kennedy Space Center in Cape Canaveral on top of a SpaceX Falcon 9 rocket on Wednesday.
SpaceX has announced that the crew are expected to return to Earth on Saturday, with splashdown in the Atlantic off Florida's coast set for just after 11pm GMT.
On Friday, the spacecraft completed two rocket "burns" to reduce altitude and line up the capsule's trajectory with the landing site.