Bill Cosby paid Andrea Constand $3.4 million to settle civil suit in 2006
"Protesting Bill Cosby was important for us because he is a man who has been disempowering women's bodies for decades and in being naked today, I was symbolically taking back the ownership of all the victims' bodies and redefining it as a political tool as opposed to a sexual object," Rochelle told NBC News in a statement Monday night.
"Regardless of whether I had been on the show or not, I would have been there today protesting on behalf of Femen and for the rights of women worldwide," she said.
Cosby's first trial last spring ended in a cliffhanger, with jurors unable to reach a unanimous verdict after five days of tense deliberations on charges that the man who played Dr. Cliff Huxtable on "The Cosby Show" drugged and molested Constand at his suburban Philadelphia home in 2004.
Opening statements Monday were delayed after attorneys were summoned to the judge's chambers to discuss a jury candidate, who wasn't selected for the trial, who claimed that a juror told him that he believed that Cosby was guilty. The judge decided not to dismiss the juror.
Steele alleged in his opening argument that Cosby drugged Constand with blue pills, saying he had "three friends for you to make you relax." He said Cosby placed Constand's hand on his genitals and then touched her genitals. He said Constand later awoke on Cosby's sofa feeling "violated."
The defense will make its opening statement Tuesday morning.
After limiting the focus of the first trial, Judge O'Neill has been willing to let both sides push the retrial well beyond Constand's allegations.
This time, O'Neill is letting prosecutors have five additional accusers testify — including model Janice Dickinson — as they try to show that Cosby made a habit of drugging and violating women. The judge allowed just one other accuser to take the stand last time. Over the past few years, about 60 women have come forward with allegations against Cosby dating to the 1960s.
"You've seen previews and coming attractions, but things have changed," said Laurie Levenson, a professor at Loyola Law School in Los Angeles.
"This one will be harder for the defense," Levenson said. This time, Constand "is not alone, and there is strength in numbers."
The comedian, who has said the sexual encounter was consensual, faces three counts of aggravated indecent assault — each punishable by up to 10 years in prison.
His retrial is taking place in a radically changed and potentially more hostile environment. Months after the first trial, the #MeToo movement caught fire, raising awareness of sexual misconduct as it toppled Harvey Weinstein, Sen. Al Franken, Matt Lauer and other powerful men. Nearly every potential juror questioned for the retrial said he or she had heard about #MeToo.
Kristen Houser of the National Sexual Violence Resource Center said that could help prosecutors overcome the skepticism some jurors had last time about Constand's yearlong wait to report her allegations to the police.
"The #MeToo movement is amplifying what experts have been saying for decades: People are ashamed, they're confused, they can't believe somebody they trust would hurt them, and then they worry that others won't believe them," Houser said.
'Very special moment' as Nepali sherpas are the first to reach top of K2 in winter | World News

A team of Nepalese sherpas has made history by scaling the world's second-highest peak during the winter season.
The 10 climbers reached the summit of Pakistan's K2 on Saturday, more than 20 years after the first winter attempt to reach the 8,611m summit.
The secretary of Pakistan's Alpine Club, Karrar Haideri, said four international teams had arrived about a month ago to scale the mountain but the Nepalis were the only ones to succeed so far.
He said that the sherpas had been spread across different teams but had formed a new group so they could claim the historic feat for their country.
Previously nobody had managed to get higher than 7,750m in the winter – a record set almost two decades ago – but on Saturday the weather conditions were fair enough for the team to push ahead.
The group comprised Nirmal Purja, Gelje Sherpa, Mingma David Sherpa, Mingma G, Sona Sherpa, Mingma Tenzi Sherpa, Pem Chhiri Sherpa, Dawa Temba Sherpa, Kili Pemba Sherpa, and Dawa Tenjing Sherpa.
Mr Purja said in an Instagram post that the moment the group reached the top of the mountain was "very special".
"The whole team waited 10m below the summit to form a group then stepped onto the summit together while singing our Nepalese national anthem.
"We are proud to have been a part of history for humankind and to show that collaboration, teamwork and a positive mental attitude can push limits to what we feel might be possible."
K2 is on the Pakistan-China border and during the winter, winds on K2 can reach more than 125mph and temperatures can drop as low as -60C (-76F).
The mountain was first climbed in 1954 by Italian Achille Compagnoni and he is among only 367 people to have completed the ascent. Some 86 people have died trying.
Uganda presidential election: Incumbent Yoweri Museveni declared winner | World News
Yoweri Museveni has been declared the winner of the Uganda presidential election with 58.64% of the total votes, according to the country's electoral commission.
The incumbent will now serve a sixth term as president of the east African nation following some of the worst pre-election violence since the 76-year-old took office in 1986.
His man opposition, singer Bobi Wine, has alleged vote rigging throughout the process and had strong support in urban centres where frustration with unemployment and corruption remains high. He won 3.48 million votes, or 34.8% of the total, according to the commission.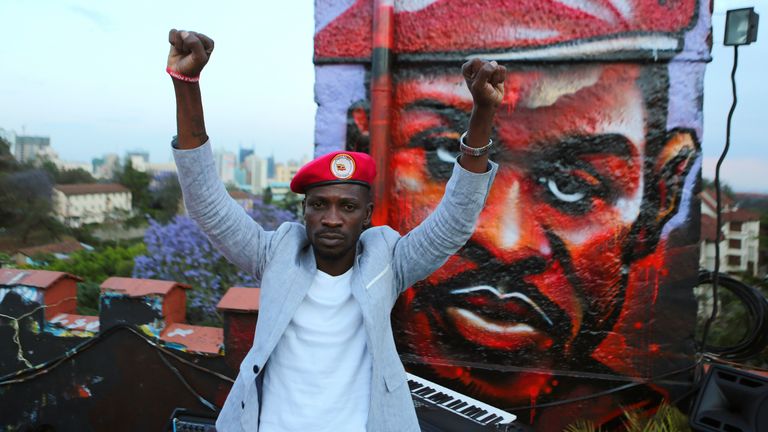 Mr Wine and other opposition candidates were often harassed, and more than 50 people were killed when security forces halted riots in November after he was arrested.
Although Mr Museveni holds on to power, at least 15 of his cabinet ministers including the vice president were voted out, with many losing to candidate's from Mr Wine's party, according to local media.
Mr Wine, real name Kyagulanyi Ssentamu, claimed victory on Friday and said he had video evidence of vote-rigging and insisting "every legal option is on the table" to challenge the election results.
He was beaten up and arrested several times during the election campaign but was never convicted of any charge. He later wore a flak jacket and said he feared for his life.
On Saturday, Mr Wine said his home in the capital Kampala had been surrounded by soldiers and the military was now allowing him to leave.
The army's deputy spokesman, Deo Akiiki, told Reuters security officers were assessing threats to Mr Wine if left his home.
Monitoring of the elections has been hit by the arrest of independent observers and the denial of accreditation for members of the UN observer mission.
Tibor Nagy, the top US diplomat for Africa, tweeted on Saturday that "Uganda's electoral process has been fundamentally flawed", adding that the "US response hinges on what the Ugandan government does now".
COVID-19: India begins vaccine roll-out and aims to administer 300 million jabs by August | World News
India has began its ambitious project of vaccinating its 1.3 billion citizens – as it aims to administer 300 million jabs by August.
Prime Minister Narendra Modi launched the voluntary vaccination programme at 3,006 locations across the country this morning.
About 300,000 health workers will be vaccinated today and the numbers will increase as more capacity is enhanced every week.
In the first phase, vaccines will be given to 30 million health and frontline workers for free.
In its second phase 270 million citizens over the age of 50 and those under 50 with other health problems will be vaccinated.
There is an air of relief and optimism at the Rajiv Gandhi Super Speciality hospital as the first beneficiaries line up for the jab.
There is also relief and celebration by health workers at the Lok Nayak Jai Prakash (LNJP) Hospital in Delhi.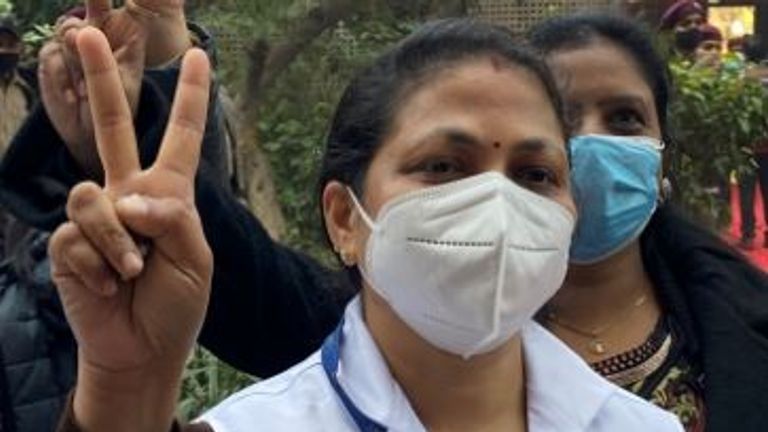 Staff nurse Biji Tony, the first to be vaccinated there, told Sky News: "I am so relieved. It has been a very difficult year, working day and night.
"We've stayed away from family and loved ones. We are human as well. Now all this ends. We are not afraid anymore after we get the second dose."
Dr Suresh Kumar, the medical superintendent at the LNJP hospital, told Sky News: "Today is a historic day and like a festival, we are feeling as if we have won a super world cup.
"But it has come with a lot of struggle. We have lost doctors and staff to the virus. But now we are ready to win the COVID war."
The two vaccines, the Oxford-AstraZeneca's "Covishield" and Bharat Biotech's "Covaxin", were approved for emergency use by the Central Drugs and Standards Committee (CDSCO) on 3 January.
Millions of doses of Covishield, manufactured by the Serum Institute of India at its Pune plant, and Covaxin, produced by Bharat Biotech in Hyderabad, were transported under security to various cities across the nation.
The approval of the latter has raised concerns amongst scientists and epidemiologists as third phase trails are still ongoing and its efficacy has not yet been published.
Prime minister Modi said: "The DCGI (Drug Controller General of India) gave approval after they were satisfied with the data of the two vaccines. So stay away from rumours."
Professor KS Reddy, president of the Public Health Foundation Of India (PHFI) – a non- profit organisation and a watchdog of public health – said: "Ideally at the best of circumstances one should see the phase three trials completed and efficacy data fully evaluated and out in the public domain through scientific publications as well as other scrutiny.
"However in this pandemic situation it was felt that given the large number of persons in India that need to be immunised the potential escalation of the epidemic due to mutants. I think the policy makers have taken the decision, I too wish the trial could have been completed earlier.
"But as far as the safety is concerned it has been adequately proven for Covaxin. But anyone who has doubts of the vaccine need not take it even if it is offered, they can decline it."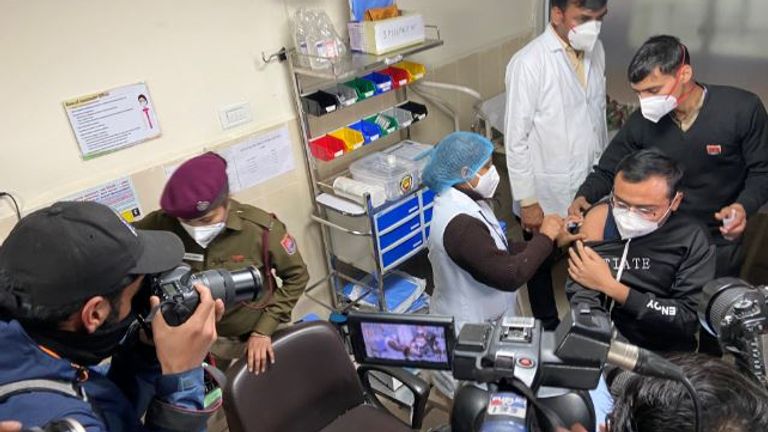 Indian Health Ministry spokesperson Rajesh Bhushan said: "There is no option for recipients to choose which vaccine they want to be inoculated with."
Preparations for these dry runs took place in more than 700 districts across the country with mock transportation and dummy injections by more than 150,000 health staff.
The country has 29,000 cold-chain points, 240 walk-in coolers, 70 walk-in freezers, 45,000 ice-lined refrigerators, 41,000 deep freezers and 300 solar refrigerators for storage.
Immunising a country that is almost 2,000 miles north to south and the same east to west with over a billion people will be a herculean task.
Reaching remote and rural areas where most of India lives and where the infrastructure is wanting will be a challenge.
Added to this is a second jab required to complete the cycle.
And then there are the many summer months where temperatures soar to 40C (104 F) or more in most parts of the country.
It has been a tragic winter for the Sharma household
Deviram Sharma, 65, died within four days of being admitted to a hospital with the virus.
His son Avneesh is donning a PPE suit to perform the last rites at Nigambodh Ghat – the largest Hindu crematorium.
Subscribe to the Daily podcast on Apple Podcasts, Google Podcasts, Spotify, Spreaker
Families have no time for mourning as farewells are hurried and from afar due to restrictions.
Traditional last rites are rushed under the overbearing shadow of the virus, the bereavement a mere formality.
Avneesh told Sky News: "It has jolted our family, it has shaken our roots, even I had to go on medication and am still feeling low myself.
"I hope and pray that this virus is removed through the use of vaccination and others don't have to suffer what our family has gone through."
With more than 10.5 million cases, India is the second worst affected country after the United States.
Almost 152,000 deaths have been reported so far and the need for a vaccine has never been as critical as now.