Missouri Sen. McCaskill faces a strong GOP challenger and Trump
He had just $1.2 million in the bank at the end of the year, compared to $9.1 million for McCaskill, who has a fundraiser featuring former President Barack Obama scheduled in Beverly Hills next month.
On top of that, Hawley's been skipping county parties' Lincoln Day dinners to avoid being on the same stage with Greitens — he doesn't think it's appropriate when he's investigating the governor, but other Republicans say it's a mistake to miss out on opportunities to energize his base before the election.
"His heart is not into the campaign the way it was two years ago," lamented one fellow Republican elected official who asked to remain anonymous because he supports Hawley.
Missouri McCaskill, Washington McCaskill
For the 64-year-old McCaskill to win, political experts here say, she'll have to run up the score with Democratic base voters in two vote-rich Democratic areas — St. Louis and Kansas City — swing working-class whites in their suburbs back into the Democratic column, and hold down Hawley's margins in the rest of the state.
That's a tall order for two reasons: Republicans in Missouri's suburbs didn't abandon Trump the way their counterparts did in some other areas of the country in 2016. And McCaskill has been hearing rumblings from the state's African-American leaders that she hasn't done enough for the black community.
"I'm going to vote for Claire, but Claire is going to have to bring her ass to St. Louis," state Rep. Bruce Franks, an African-American lawmaker who gained attention as an activist during the Ferguson police shooting protests, said at a February town hall.
Even in a year in which anti-Trump sentiment is expected to drive Democratic voters to the polls in droves, McCaskill can ill-afford to lose any available votes in a state where her party has been hemorrhaging them for years. In 2008, Obama lost Missouri by less than two-tenths of a percentage point while racking up more than 1.4 million votes. Four years later, he got about 220,000 fewer votes. And Hillary Clinton, running in 2016, tallied about 371,000 fewer votes than Obama had in 2008.
Other than McCaskill in 2006, the last Democrat to win a midterm Senate election in Missouri was Tom Eagleton in 1974.
McCaskill's other potential problem centers around her voting record, particularly her propensity to toe the Democratic line and vote against top Trump priorities.
Overall, the website FiveThirtyEight reports, McCaskill has voted with Trump 46.3 percent of the time. That ranks her sixth-highest among Senate Democrats.
But her score is far below the 83.8 percent of the time the website says McCaskill would be expected to back his position given his margin of victory in her state. Three other Democratic senators in tough races — Heidi Heitkamp of North Dakota, Joe Manchin of West Virginia and Joe Donnelly of Indiana — register at more than 55 percent support for Trump.
McCaskill has always campaigned as a politician who has been independent from her party and has sought bipartisan solutions. An aide noted that she has sponsored, cosponsored or worked behind the scenes on more than 20 bills that Trump has signed into law. And she's taken the lead on some high-profile legislative efforts, including a recent anti-sex-trafficking law she worked on with Sen. Rob Portman, R-Ohio.
But Hawley said McCaskill's reports of cross-aisle work in the Senate don't match up to reality.
"There are unfortunately two different Claire McCaskills," Hawley said in an interview with NBC News. "The real Claire McCaskill is the D.C. Claire McCaskill."
The Trump Effect
The president remains popular in Missouri. A recent Morning Consult poll showed that 50 percent of registered voters in the state approve of him, while 45 percent don't.
Trump endorsed Hawley last year, and during a speech to Hawley donors in St. Louis last month, Trump called Hawley "a wonderful guy…who knows what it's all about," according to an audio recording of the president's remarks obtained by NBC News.
Trump got involved in the race early, taunting McCaskill in one Tweet delivered among an unrelated series about hurricane relief last August.
The combination of McCaskill's efforts to demonstrate when she's agreed with him and Hawley's unwillingness to distance himself from the president suggest both sides understand the power of Trump's appeal here.
For example, in an interview, Hawley declined to say whether he supports Trump's new tariffs, which threaten to directly or indirectly hurt businesses like Anheuser-Busch and Boeing in St. Louis and the state's many farmers.
"One of my top concerns is to ensure there is no retaliation against our agricultural community — including Missouri farmers — and that we are not punishing trade partners who do follow the rules in the process," Hawley said. "Trade is good for Missouri workers and farmers when our trade partners follow the same rules we do."
Hawley also declined to offer support for Attorney General Jeff Sessions, a favorite target of Trump's wrath, saying that the decision on whether the nation's top law enforcement officer should keep his job is "up to the president."
Hawley has said that Trump is welcome to visit the state any time, and Republicans here hope that the president will rally voters in the southern part of the state in the campaign's home stretch.
"She's always the underdog," state Rep. Michael Butler, a Democrat who represents a St. Louis district, said of McCaskill. "But she thrives as the underdog."
Brazil: 20 killed including an officer in police shootout with drug traffickers | World News
At least 20 people, including a police officer, have died in a shootout with drug traffickers in Rio de Janeiro, according to local media.
The O Globo newspaper said two passengers on a metro train were also wounded in the shooting in Jacarezinho, a shanty town in northern Rio, Brazil.
The shootings, it said, happened during a police operation.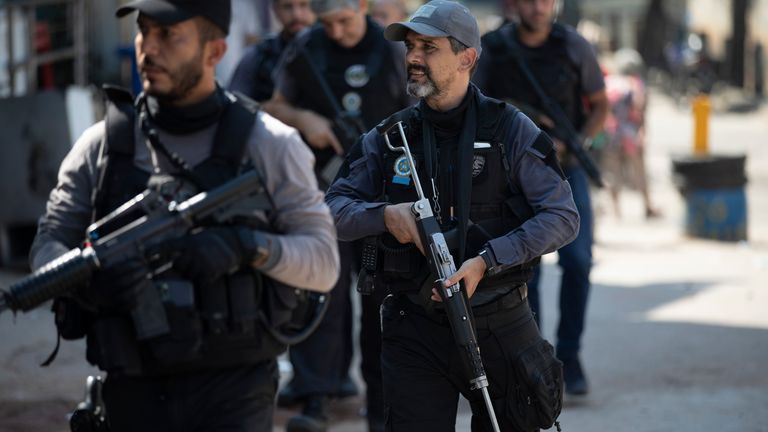 An O Globo tweet said witnesses reported "fear and violence" in the neighbourhood.
Cutting human sources of methane would reduce global warming and improve human health – scientists | Climate News
Cutting human sources of methane would be a quick win for the climate, according to a new United Nations report.
Roughly halving emissions of the greenhouse gas from human activity, often with existing, cost-effective solutions, would reduce the future rise in global temperatures by around 0.3C by the 2040s, it is claimed.
The analysis was carried out by the UN Environment Programme and the Climate and Clean Air Coalition (CCAC).
Scientists have hailed the strategy as a "win-win" because it would reduce global warming and simultaneously improve human health and the economy.
Levels of methane in the atmosphere have doubled since pre-industrial times.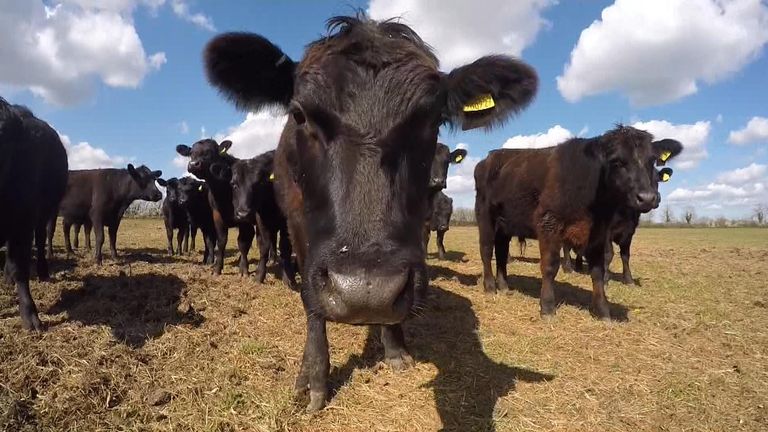 It is a potent greenhouse gas that is 10 times more powerful than carbon dioxide at trapping heat in the atmosphere.
According to the UN's Global Methane Assessment, human activity results in around 380 million tonnes of methane being released into the atmosphere every year.
Agriculture accounts for 40% of the emissions, largely from livestock and rice cultivation, while another 32% comes from oil and gas extraction and coal mining.
The report says reducing the emissions by 45%, or 180 million tonnes a year, by 2030 is critical for limiting global heating to 1.5C, the point where the climate would become increasingly and significantly unstable.
Professor Drew Shindell, chair of the CCAC and one of the report authors, told Sky News: "It's vital to tackle methane because it's the strongest lever we have to reduce the rate of warming in the near term.
"And that warming rate is what's leading to stronger hurricanes, more intense heatwaves, flooding, droughts all those consequences.
"Three tenths of a degree accounts for 70 billion lost hours of labour.
"That's people working outside in places that can't be air conditioned like agriculture and construction, so they are real costs to the economy, human wellbeing and more people dying from heat exposure.
"All these 10ths of a degree sound minor, but they're not at all."
The report says the target could be achieved with known solutions, many of which would pay for themselves within a few years.
They include reducing methane leaks from gas pipelines, better management of coal mines, eliminating organic waste from landfill and reducing meat consumption.
Reducing emissions would have a swift impact on global warming because the gas only survives in the atmosphere for around 10 years, whereas carbon dioxide stays there for several centuries.
Method found to reduce methane from cows

Professor Grant Allen, professor of atmospheric physics at the University of Manchester, said: "This does not mean that cutting methane emissions alone can solve the warming problem.
"We must also continue to reduce carbon dioxide emissions to meet Paris Agreement targets and avoid dangerous warming.
"But it does mean that we can help to quickly slow the rate of global temperature increase and avoid some significant degree of warming in the near future."
As well as warming the climate, methane results in increased ozone air pollution.
Meeting the 45% target for reduced emissions would prevent 255,000 premature deaths and 775,000 asthma-related hospital visits every year, the report concludes.
Professor Dave Reay, executive director of the Edinburgh Climate Change Institute, University of Edinburgh, said: "Seldom in the world of climate change action is there a solution so stuffed with win-wins.
"This blunt report makes clear that slashing emissions of methane – a powerful but short-lived greenhouse gas – will deliver large and rapid benefits for the climate, air quality, human health, agriculture, and the economy too.
"Meeting the Paris Climate Goals will need every climate action trick in the book. Cutting methane emissions should be on page 1."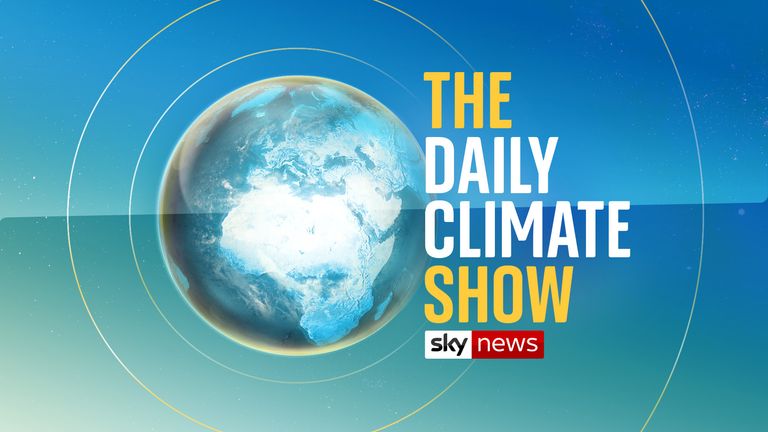 Sky News has launched the first daily prime time news show dedicated to climate change.
The Daily Climate Show is broadcast at 6.30pm and 9.30pm Monday to Friday on Sky News, the Sky News website and app, on YouTube and Twitter.
Hosted by Anna Jones, it will follow Sky News correspondents as they investigate how global warming is changing our landscape and how we all live our lives.
The show will also highlight solutions to the crisis and show how small changes can make a big difference.
What are your holiday options? COVID-19 infection and vaccination rates for tourism hotspots revealed | UK News

The UK is set to relax restrictions for visiting a handful of countries under a new traffic light system.
Those returning to the UK from countries on the green list will not need to self-isolate for 10 days, while visitors to countries on the amber list will have to quarantine and get tested on their return.
Many European nations are doing all they can to can to attract tourists this summer. But for many Britons, a destination with a low infection rate might be the clincher.
The UK's rapid vaccine rollout and the long winter lockdown means infection rates are lower here than many holiday destinations.
Portugal, which imposed a lockdown in January to curb what was then the world's worst COVID-19 surge, also has a relatively low infection rate.
The country started lifting restrictions last month and has since reopened some schools, restaurant and cafe terraces, museums and hair salons.
But Greece, where a fifth of jobs and GDP depend on tourism, is battling one of Europe's highest coronavirus–linked death rates.
Greece's prime minister has blamed vaccine hesitancy among the elderly for the persistently high rates of death and hospitalisations.
Meanwhile, the country has said it will invite vaccinated Britons into the country without the need for tests, while Spain, Portugal and France have said they will offer similar in the coming weeks.
European nations are also speeding up their vaccinations ahead the summer travel season.
European Commission President Ursula von der Leyen has said the bloc has now administered 150 million doses.
She added: "A quarter of all Europeans have had their first dose.
"We'll have enough doses for vaccinating 70% of EU adults in July."
Spain, the most popular tourist destination for Britons prior to the pandemic, has varying infection rates throughout the country.
Some regions in northern Spain have restrictions on travel while others have reopened bars until 1am.
Mallorca, Menorca, Ibiza, and Formentera, which make up the Balearic Islands, have a relatively low level of infections compared to mainland Spain.
The Foreign Office has also said it was no longer advising against travel to the Canary Islands in Spain, which include Tenerife, Fuerteventura, Grand Canaria and Lanzarote.
The US, also among the most visited by British tourists prior to the pandemic, is seeing varying levels of infection rates across the country.
It was also among the first to relax rules around COVID-19 as it sped up its vaccination programme.
In some areas of the US, more people in their 20s are now being treated in hospital for COVID-19 than people in their 70s.
Ministers plan to review the traffic light system for international travel at the end of June, before the holiday season begins, which could see vaccinated people able to avoid quarantining.
The hope is that more of Europe will be on the "green list" by this point as many countries impose tougher restrictions to control a third wave of infection.