IS 'Beatles' warn of more attacks in Europe in Sky News interview

Two British men accused of being members of the Islamic State 'Beatles' cell have told Sky News there will be more IS-inspired attacks in Europe.
Alexanda Kotey and El Shafee Elsheikh, who were captured by the US-backed Syrian Democratic Forces (SDF) earlier this year, issued the warning in a Sky News interview.
The men, both from west London, did not deny being members of the 'Beatles' group, and seemed unrepentant when they spoke to chief correspondent Stuart Ramsay.
More follows…
Ghislaine Maxwell pictured with 'black eye' in photo released by lawyer | US News
Ghislaine Maxwell has been pictured with a "black eye" in a photo released by her lawyer.
The 59-year-old British socialite, who has pleaded not guilty to charges alleging she recruited teenage girls for ex-boyfriend Jeffrey Epstein to sexually abuse, said did not know where the bruise came from – but it may be due to her using a sock or towel to shield her eyes.
Guards shine light into her prison cell every 15 minutes to make sure she is still breathing and has not tried to kill herself, lawyer Bobbi Sternheim said.
The claims are contained in a letter to the district court judge overseeing the case.
The letter said that guards at the Brooklyn jail where Maxwell is being held had threatened to move her to separate housing if she could not explain the bruise.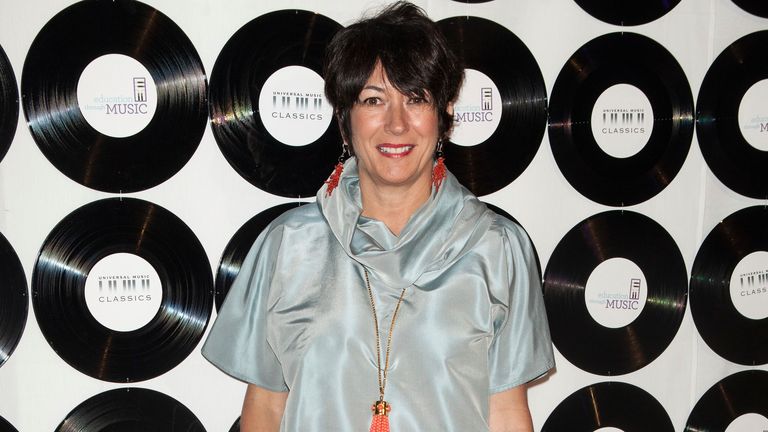 Ms Sternheim wrote: "While Ms Maxwell is unaware of the cause of the bruise, as reported to medical and psych staff, she has grown increasingly reluctant to report information to the guards for fear of retaliation, discipline, and punitive chores."
Judge Alison J Nathan said prosecutors must explain within a week whether and why jail officials might be subjecting Maxwell to "flashlight surveillance" and whether she could be given "appropriate eye covering".
Maxwell faces sex trafficking and other charges related to her alleged role in procuring four teenage girls for financier Epstein to abuse between 1994 and 2004.
Last week she pleaded not guilty to all charges in her first appearance before a judge.
She has been in custody since she was arrested in July 2020 in New Hampshire.
Her lawyers have previously said that prison conditions are undermining her preparation for a trial scheduled for 12 July, but she has been denied bail three times due to concerns she is a flight risk.
Her lawyers had offered a guarantee of $28.5m (£20m), 24-hour armed guards, and a promise from Maxwell – a US citizen – that she would renounce her British and French citizenships.
Epstein killed himself in jail in August 2019 while awaiting his own trial on sex trafficking charges.
COVID-19: Hundreds of oxygen concentrators donated to UK-based aid group to help with India crisis | World News
Hundreds of oxygen concentrators have been donated to a UK-based humanitarian organisation which will be used to help India's COVID crisis.
India is currently the epicentre of the coronavirus pandemic, with total cases passing 18 million and hospitals and morgues overwhelmed.
Live COVID updates from the UK and around the world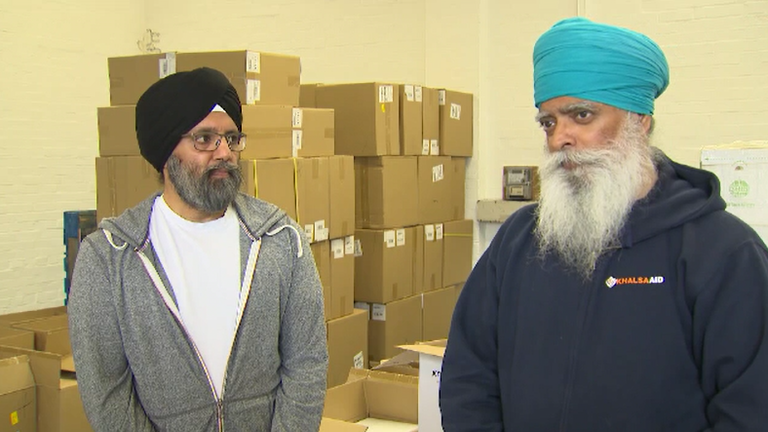 The country reported 379,257 new COVID infections and 3,645 new deaths on Thursday – the highest number of fatalities in a single day in the world's second most populous nation.
At least 200 boxes of oxygen concentrators have been collected by Slough-based Khalsa Aid following an appeal.
They will be taken on board a Virgin Atlantic plane to New Delhi on Saturday.
The flight will be piloted by senior first officer Jas Singh, who is also a volunteer for Khalsa Aid and managed to secure space on the aircraft free of charge.
Speaking to Sky News in the warehouse where the concentrators currently are being stored, he said: "I will be flying all the units out which is a real honour and a privilege.
"It's been such a rollercoaster the last few days. It's been amazing, absolutely amazing."
Khalsa Aid chief executive Ravi Singh said people have been making desperate phone calls to his organisation saying their sick relatives needed air and it was a "real tragedy".
He said: "The messages continue to come through the social media inboxes, emails, office phone calls, mobile phone calls – desperate calls for help.
"People saying 'grandma's ill, grandfather's ill', people sobbing on the phone with their relatives right in front of them and they cant breathe.
"And we feel helpless, there's not much available machinery-wise in India at the moment so it is a real tragedy unfolding."
Families in India are struggling to find oxygen.

Chris Hall, a training and operating captain at Virgin Atlantic, separately set up fundraising efforts within the airline to secure further oxygen supplies, and more than £11,000 was raised in two days.
Meanwhile, the UK government is sending more vital oxygen equipment to India, with ministers describing the spiralling coronavirus crisis there as "harrowing".
The Foreign Office said three oxygen generation units the size of shipping containers will be sent from surplus stocks in Northern Ireland to help the country tackle the virus.
Each unit is capable of producing 500 litres of oxygen per minute, enough for 50 people to use at a time, it added.
It follows the UK sending 495 oxygen concentrators and 200 ventilators to the country, with the first shipment arriving in Delhi on Tuesday.
Also the Disasters Emergency Committee (DEC), which brings together a number of UK organisations, has extended its coronavirus appeal to include India.
Follow the Daily podcast on Apple Podcasts, Google Podcasts, Spotify, Spreaker
Organisations including the Indian Red Cross, ActionAid, Oxfam India and Save the Children, will help support the country's health system by providing PPE, disinfection kits, medical supplies and ambulances, and setting up isolation facilities.
Israel: At least 28 people killed after 'disastrous' crush at bonfire festival | World News

At least 28 people have been killed after a "disastrous" crush at a religious bonfire festival in Israel.
The country's prime minister, Benjamin Netanyahu, has described the incident as a "heavy disaster", adding: "We are all praying for the wellbeing of the casualties."
Dozens of people were hurt at the Lag Ba'Omer event in northern Mount Meron, where annual commemorations that include all-night prayer and dance were taking place.
Tens of thousands of ultra-Orthodox Jews had gathered at the tomb of a second-century sage.
Magen David Adom, Israel's ambulance service, said it was "fighting for the lives of the dozens wounded, and will not give up until the last victim is evacuated".
Early on Friday morning, it said 38 people were in a critical condition and still in the field, six people who were critically hurt had been evacuated and 18 others were severely injured.
The gathering had been held despite health officials warning that the crowding could cause coronavirus to spread.
Israel has seen COVID-19 cases plummet since launching one of the world's most successful vaccination campaigns late last year.