Florida Gov. Rick Scott to challenge Sen. Bill Nelson
Get breaking news alerts and special reports. The news and stories that matter, delivered weekday mornings.
WASHINGTON — Florida Gov. Rick Scott will run for Senate, a Scott political adviser confirmed to NBC News on Monday, challenging longtime incumbent Democrat Sen. Bill Nelson and turning up the heat in what will be one of the nation's most-watched midterm election battles.
Scott's move sets up a contentious and pricey battle for Democrats to defend the seat they've held for almost two decades, but also brings President Donald Trump's possible impact on down-ballot races into close focus yet again.
The president has been urging Scott — a key supporter of Trump for president in 2016 — for months publicly and privately to run for the seat, held by Nelson since 2000. Trump considers Florida his second home and has spent most winter weekends as president at his Mar-a-Lago estate in West Palm Beach.
But in an interview with Politico Monday morning, Scott wouldn't cast himself in the mold of a "Trump Republican," nor would he say if he wanted the president on the campaign trail with him.
"I'm going to campaign for this job. I know there are going to be people that like what I'm saying. There are going to be people who don't like what I'm saying," the Florida governor told Politico, which first reported the news that he would take on Nelson. "Let's go back to 2010. No one, I don't believe hardly anybody, endorsed me in 2010. Did that phase me? No. Whether they do or whether they don't, I'm doing what I believe in."
But strategists are skeptical about whether Trump will be a boon to candidates, like Scott, that he anoints. Past races in Alabama, Virginia and Pennsylvania's 18th congressional district have all seen Trump's chosen candidates felled by Democrats.
"(Trump)'s his own brand, his own thing, and we've not really seen any evidence that him anointing you makes you a winner," one Florida strategist with ties to both Trump and Scott told NBC News.
Veteran political watchers have raised flags about Nelson's ability to keep his seat. Charlie Cook of the Cook Political Report put Nelson at the top of his "most vulnerable" Democrats list, while pointing out that the movements on gun control in the wake of the Parkland, Florida, shooting and teachers strikes across the country could provide momentum to Democrats in tough spots across the country.
Those marches and movements are "all stirring up people that aren't in the Republican base," he said.
The gun issue is one that will certainly play a key role in Scott's race. Scott signed new gun restrictions into law last month — a response to a school shooting at Marjory Stoneman Douglas High School that left 17 people dead. The measure raises the age to buy all firearms to 21, imposes a three-day waiting period for most gun purchases, allows trained school workers to carry handguns, provides new mental health programs for schools, and restricts access to guns from people who show signs of mental illness or violence.
Another longtime Republican Florida strategist called that move "a self-inflicted ding" by Scott that could harm him with voters who strongly support the National Rifle Association and the Second Amendment.
"You don't touch Second Amendment rights," the GOP strategist said, while telling NBC they still saw the race as "Scott's to lose."
Nelson, on the other hand, has pushed for gun control measures alongside students from Parkland, who have taken the national spotlight in their crusade for stricter gun laws from lawmakers both in Florida and Washington.
Lithuanian defence ministry urges people to 'throw away' Chinese phones after discovering censorship tools | Science & Tech News
The Lithuanian Ministry of Defence has urged people to stop buying Chinese phones and throw away the ones they already possess after discovering censorship software.
It followed a report from the country's National Cyber Security Centre (NCSC) which found that Xiaomi devices were censoring terms deemed to be offensive to Beijing.
According to an analysis by the Lithuanian NCSC, the Chinese company's flagship devices sold in Europe have a built-in ability to detect and censor particular terms.
The phrases included "demonstration", "free Tibet", "long live Taiwan independence", and "church" according to the Lithuanian authorities.
Although the censorship capability had been turned off for devices in the European Union, the ministry of defence warned that it could be turned on remotely.
"Our recommendation is to not buy new Chinese phones, and to get rid of those already purchased as fast as reasonably possible," said Defence Deputy Minister Margiris Abukevicius, according to Reuters.
Chinese Ambassador banned from parliament: 'Standing up for free speech is critical'

A spokesperson for Xiaomi declined to comment when contacted by Sky News.
The call to throw away Chinese phones comes amid growing tensions between Lithuania and China over the former's support for Taiwan – which China claims as part of its own territory.
China demanded Lithuania recall its ambassador in Beijing last month and recalled its own envoy from Vilnius in a protest over Taiwan announcing its mission in the country would use the name of Taiwan, instead of the city of Taipei, which is typically used in other European nations and in the US.
Professor Alan Woodward, a cyber security expert at the University of Surrey, told Sky News: "We all know there are different builds of phones for different countries. If you want to sell a device in a country then you have to obey the laws there.
"But to have censorship software left in that can be remotely activated… that's a whole different level of one country effectively exporting its domestic regulations via technology," he said.
Professor Woodward said he could understand the thought process behind the Lithuanian warning: that if one Chinese vendor has included a censorship capability to please Beijing then that made it harder to trust others haven't done so too.
"Lithuania is a small market so I can imagine this might blow over, but the censorship software seemed to specifically be addressing items that were part of the tension between the two countries," added Professor Woodward.
"That starts to look like a deliberate attempt to interfere," he said.
"I'm sure other countries are also looking at these devices, so it behoves the Chinese government to make sure that they aren't trying to export their censorship regulations elsewhere or else they could destroy trust in all Chinese vendors, and that won't end well for anyone."
Boris Johnson says France needs to 'get a grip' amid anger over AUKUS pact | Politics News
Boris Johnson has said France should get over its anger at a partnership between the UK, US and Australia that saw the latter pull out of a major contract with Paris for submarines.
"What I want to say about that is I just think it's time for some of our dearest friends around the world to prenez un grip [get a grip] about all this and donnez-moi un break [give me a break]," the prime minister said when asked about the continuing row over the AUKUS initiative.
"This is fundamentally a great step forward for global security. It's three very like-minded allies standing shoulder to shoulder and creating a new partnership for the sharing of technology.
'AUKUS alliance will bring us closer than ever'

"It's not exclusive, it's not trying to shoulder anybody out. It is not adversarial towards China, for instance.
"It is there to intensify links and friendship between three countries in a way that I think will be beneficial for things that we believe in."
The AUKUS deal saw the UK, Australia and the US form a trilateral security pact to develop and deploy nuclear-powered submarines, adding to the Western military presence in the Pacific region.
Nuclear-powered submarines are superior to their diesel counterparts, as they can operate more quietly and stay underwater for longer.
France recalled its ambassadors to the United States and Australia in a backlash over the new security partnership, with foreign minister Jean-Yves Le Drian describing it as a "stab in the back".
La Palma eruption: Residents warned of earthquakes, toxic gases, volcanic ash and acid rain | World News
Authorities have warned people on the island of La Palma of fresh dangers after a new volcanic vent blew open and rivers of unstoppable lava flowed towards more densely populated areas and the sea.
Residents were cautioned on Tuesday about earthquakes, toxic gases, volcanic ash and acid rain after several small earthquakes shook the Spanish island, which sits in the Canary Islands archipelago off northwest Africa.
How bad has the damage been?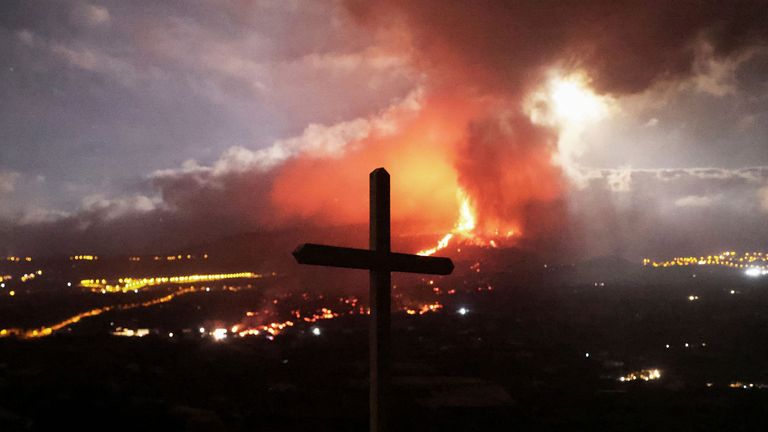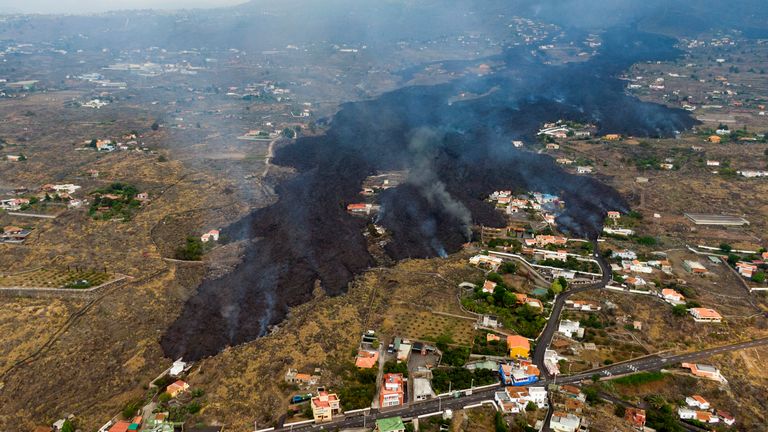 The volcanic eruption on Sunday afternoon forced the evacuation of 6,000 people and unstoppable rivers of molten lava have destroyed around 190 houses and caused significant damage to farmland and infrastructure.
The island of 85,000 people is a popular tourist destination for Europeans.
Thousands of small earthquakes have happened in the days following the eruption.
How long will the eruption last?
The aftermath of the volcanic eruption could last for up to 84 days, the Canary Islands Volcanology Institute has said.
It based its calculation on the length of previous eruptions in the archipelago.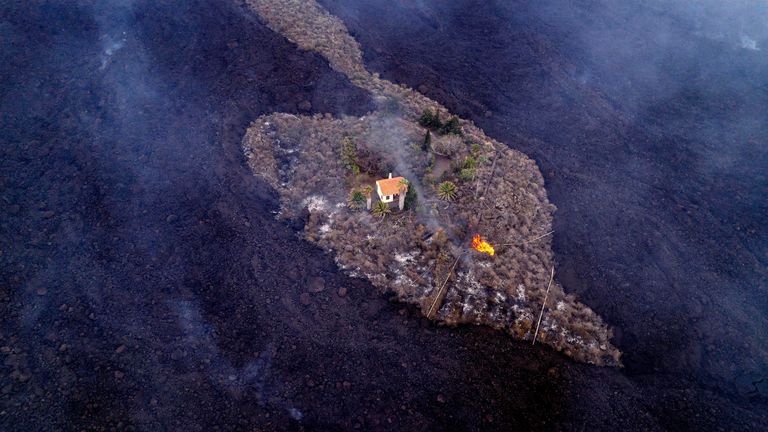 On Tuesday a new volcano vent opened up 3,000ft north of the Cumbre Vieja ridge, where the first eruption happened on Sunday.
Why is lava meeting the ocean so dangerous?
Drone footage shows lava swallowing swimming pools and homes

The flow of lava has slowed to around 120m (400ft) an hour and was not expected to reach the Atlantic Ocean until Wednesday, according to the head of the Canary Island Volcanic Emergency Plan, Miguel Angel Morcuende.
Angel Voctor Torres, the head of the Canary Islands government, said there would be a "critical moment" when the lava reaches the sea.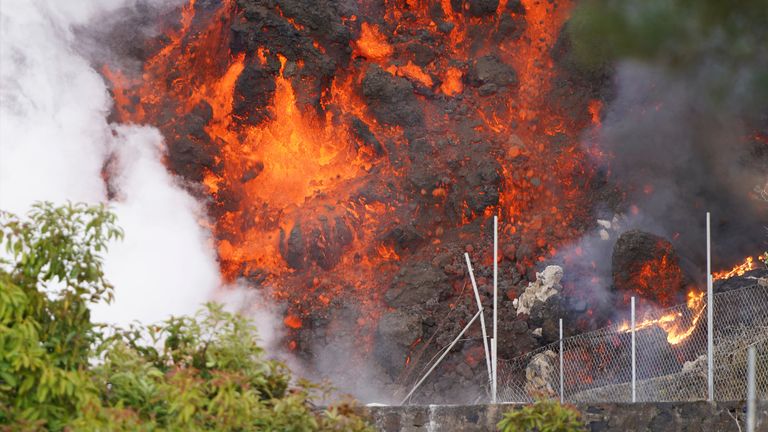 The rivers of molten rock, which are up to six metres (nearly 20ft) high, have a temperature exceeding 1,000C and could cause explosions and produce clouds of gas when they meet the sea.
Mr Torres reminded locals of the island's last eruption in 1971, when one person died after inhaling the gas emitted as lava met the water.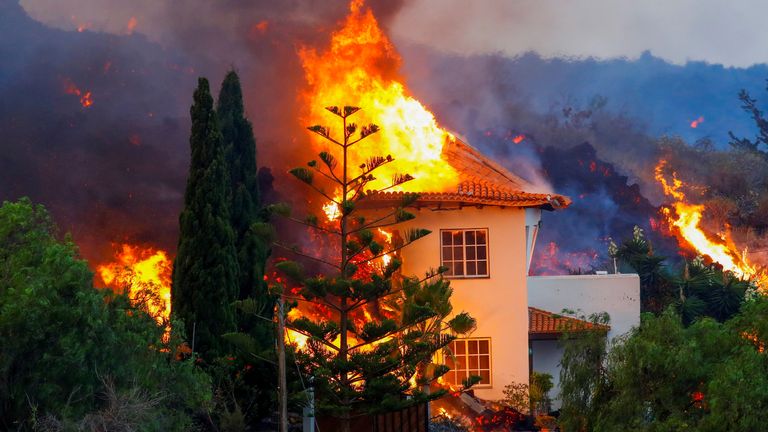 Late on Tuesday, emergency services attempted to divert some of the lava by using front-loaders to clear a path for it to follow in the hopes of steering it away from properties. Officials said they did not know if it would work.
What dangers lie ahead?
Firefighters filmed lava oozing down streets

A change in wind direction on Tuesday blew volcanic ashes, which irritate the eyes and lungs, over a vast area on the western side of the island.
The volcano has also been spewing out 8,000 to 10,500 tons of sulfur dioxide, which also affects the lungs, every day, according to the Volcanology Institute.
How is the government helping?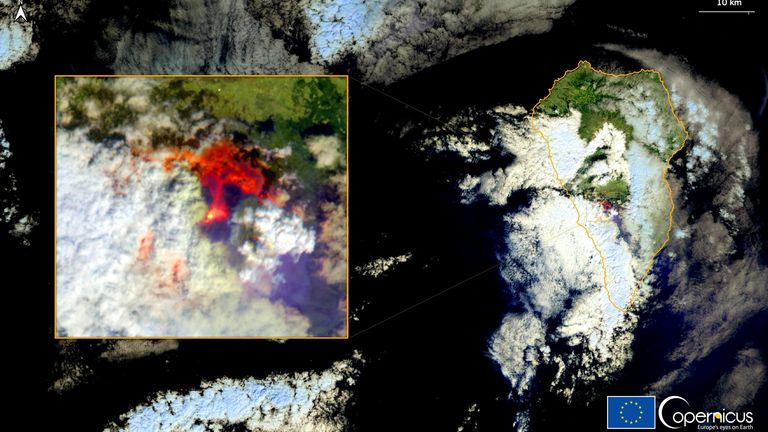 Mr Torres described the region as a "catastrophe zone" and said he would request funding to rebuild roads, water pipes and create temporary accommodation for families who have lost homes and their farmland.
Spain's King Felipe VI and Queen Letizia will visit the island on Thursday.