Bill Cosby's sex-assault retrial begins as first big court case of the #MeToo era
Cosby's first trial last spring ended in a cliffhanger, with jurors unable to reach a unanimous verdict after five days of tense deliberations on charges that the man who made millions of viewers laugh as wise and understanding Dr. Cliff Huxtable on "The Cosby Show" drugged and molested Constand at his suburban Philadelphia home in 2004.
After limiting the focus of the first trial, Judge Steven O'Neill has been willing to let both sides push the retrial well beyond Constand's allegations.
This time, O'Neill is letting prosecutors have five additional accusers testify — including model Janice Dickinson — as they attempt to show Cosby made a habit of drugging and violating women. The judge allowed just one other accuser to take the stand last time. Over the past few years, about 60 women have come forward with allegations against Cosby dating to the 1960s.
"This one will be harder for the defense," Levenson said. This time, Constand "is not alone, and there is strength in numbers."
The comedian, who has said the sexual contact was consensual, faces three counts of aggravated indecent assault — each punishable by up to 10 years in prison.
His retrial is taking place in a radically changed and potentially more hostile environment. Months after the first trial, the #MeToo movement caught fire, raising awareness of sexual misconduct as it toppled Harvey Weinstein, Sen. Al Franken, Matt Lauer and other powerful men.
Nearly every potential juror questioned for the case this time knew about #MeToo.
Kristen Houser of the National Sexual Violence Resource Center said that could help prosecutors overcome the skepticism some jurors had last time about Constand's yearlong wait to report her allegations to the police.
"The #MeToo movement is amplifying what experts have been saying for decades: People are ashamed, they're confused, they can't believe somebody they trust would hurt them, and then they worry that others won't believe them," Houser said.
The judge has decided the jury can hear the answer to one of the biggest questions hanging over the case: How much did Cosby pay Constand to settle her lawsuit against him more than a decade ago? The two sides agreed at the first trial not to mention the lawsuit.
The judge also decided that this time Cosby's legal team can call as a witness Constand's former co-worker of at Temple University who said Constand spoke of setting up a "high-profile person" so she could sue and enjoy a big payday. Constand's lawyer has said the co-worker is lying.
Cosby lawyer Tom Mesereau, who won an acquittal in Michael Jackson's 2005 child molestation case, said the jury will learn "just how greedy" Constand was.
In a twist, the judge hinted that he might not allow jurors to hear Cosby's lurid deposition testimony about giving quaaludes to women before sex. He said he would rule on it during the trial. Cosby testified in 2005 and 2006 as part of Constand's lawsuit.
Cosby did not take the stand at the first trial and is unlikely to do so this time.
Public praised for 'heroic' acts in detaining attacker in NZ supermarket stabbing | World News
Shoppers and staff at a New Zealand supermarket have been praised for their courage in trying to stop an attacker armed with a knife while waiting for police to arrive.
The man stabbed four people, including two employees at the Countdown supermarket in the South Island city of Dunedin on Monday.
All four victims are in hospital, with three in a serious but stable condition, while the fourth is described as being in a moderate condition.
According to NZ media reports, one is a Department of Corrections officer, one is his wife (a nurse), the third is a manager at the supermarket and the other is a female employee.
New Zealand Police superintendent Paul Basham said he had watched CCTV footage of the attack and the efforts of bystanders to detain the man until police arrived were "nothing short of heroic".
"This was a fast-moving and extremely traumatic event for every person in the supermarket – for the victims who were stabbed, for those who were present who tried to intervene and those who had to flee to a place of safety.
"What I can say is that those who intervened, some of whom became injured themselves, I think have acted selflessly and with great courage to prevent this man from hurting anybody else," he said.
A man, 42, has been charged with four counts of attempted murder and he will appear in court later today.
He was also injured in the attack and was treated under police guard.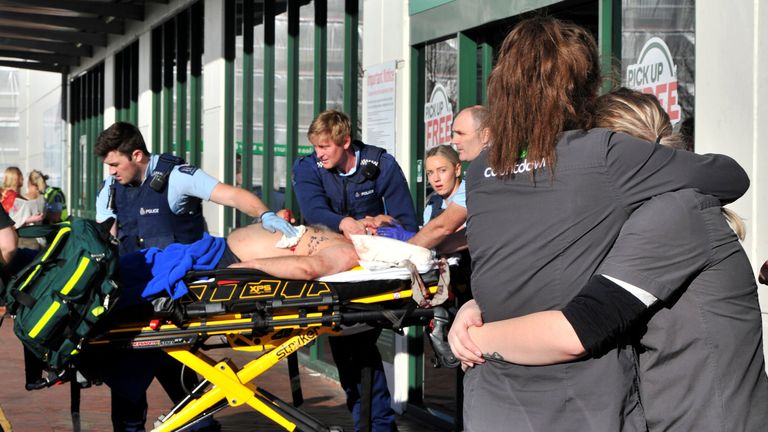 The motivation for the attack has not been confirmed, with Mr Basham saying: "On the face of what we currently know, we believe this was a random attack".
New Zealand Prime Minister Jacinda Ardern also praised the actions of those in the supermarket during the attack, describing them as "courageous acts…to protect those around them".
Supermarket chain Countdown said employees were "shocked and devastated" by what had happened, adding: "We are deeply upset that customers who tried to help our team members were also injured".
The company said its priority is the injured employees and "caring for our wider team in the wake of this extremely traumatic event".
COVID-19: Overweight and obese more likely to test positive for the virus | World News

People with a higher body mass index – BMI – are more likely to test positive for the virus that causes COVID-19, a study suggests.
Research by Chaim Sheba Medical Centre in Israel found that people who are overweight – with a BMI between 25 and 29.9 – are 22% more likely to contract the virus.
The figure for people who are obese – with a BMI between 30 and 34.9 – rises to 27%.
For those who are morbidly obese, with a BMI at or above 40, the risk increases by 86%.
Some 26,030 people were tested between 16 March and 31 December last year and 1,178 positive COVID-19 tests were recorded.
Even after age, sex, and other medical conditions were considered, the relationship between BMI and the probability of a person testing positive remained significant, the researchers found.
The study authors concluded: "As BMI rises above normal, the likelihood of a positive SARS-CoV-2 test result increases, even when adjusted for a number of patient variables.
"Furthermore, some of the comorbidities associated with obesity appear to either be associated with an increased risk of infection or to be protective."
People with diabetes were 30% more likely to test positive, while the likelihood was six times greater for those with high blood pressure.
But the risk was reduced for those with a history of stroke (by 39%), ischemic heart disease (by 55%) and chronic kidney disease (by 45%).
The researchers were unable to explain this.
Also, research by the IRCCS Policlinico San Donato research hospital in Italy, has found that abdominal obesity is more important than general obesity in predicting the severity of chest X-ray results in coronavirus patients.
Abdominal obesity is fat around the waist as opposed to general obesity, which is determined by BMI.
Chest X-ray severity scores were calculated by dividing each lung into three zones, with each one scoring a maximum of three points – zero for normal lung performance and three for poor function.
Some 59% of patients with abdominal obesity had a high score, whereas this was true for just 35% of those without abdominal obesity.
Hamas says it has fired rockets at Jerusalem in retaliation for Israeli 'aggression' | World News

A number of rockets have been fired at Jerusalem and the surrounding area, says Israel's military.
It came minutes after an ultimatum from Hamas for Israel to withdraw forces from two flashpoints in the city.
The group claimed responsibility for the attack, calling it retaliation for Israeli "crimes and aggression".
Israel carried out a missile strike in northern Gaza in response, causing injuries, according to Palestinian media.
Seven rockets had set off sirens in Jerusalem and the surrounding area and rocket fire from Gaza was continuing, said Israel's military.
A civilian car was hit and one person injured by one of the rockets, it added.
Sky's Mark Stone, in Jerusalem, said he understood a number of rockets were fired at an area 10-15km west of the city.
He said Israel's Iron Dome defence system is believed to have destroyed most, but that a few landed.
Stone said the attack was almost certain to mean a "heavy night of bombardment" on Hamas base the Gaza Strip this evening.
It comes as clashes in Jerusalem between Palestinians and Israeli forces reportedly injured more than 300 people.
Police fired stun grenades and tear gas inside the Old City's Al Aqsa Mosque during the violence this morning.
Israeli authorities said "extremists" had thrown stones and other objects at officers, and onto a road near the Western Wall where thousands of people had gathered to pray.