Sanctions for Russian oligarchs unlikely to seriously impact Putin, experts say
Among those named was Oleg Deripaska, a man known not just for the billions he accrued as an aluminum magnate but also because of his ties to former Trump campaign chairman Paul Manafort.
Another, Kirill Shamalov, is reportedly Putin's son-in-law and Russia's youngest billionaire thanks to his large stake in the petrochemical giant Sibur.
Igor Rotenberg is the son of Arkady Rotenberg, Putin's childhood friend and erstwhile judo sparring partner.
Also sanctioned were Vladimir Bogdanov, Suleiman Kerimov, Andrei Skoch and Viktor Vekselberg.
They were punished because of what the Treasury called Russia's "malign activity around the globe," namely its actions in Ukraine, Syria, and its attempts to meddle in Western elections, including in the U.S.
"The Russian government operates for the disproportionate benefit of oligarchs and government elites," the Treasury said, adding that these people "who profit from this corrupt system will no longer be insulated from the consequences of their government's destabilizing activities."
Pressuring Putin's rich friends equates to pressuring Putin — at least that's the theory.
"The guys we're talking about now, they are very, very rich, but they do not have power over the Kremlin."
"The guys we're talking about now, they are very, very rich, but they do not have power over the Kremlin."
However, according to experts like Galeotti, this thinking is based on an outdated understanding of the role oligarchs play in Putin's Russia.
"No one gets to be rich in Russia and not have a relationship of some sort with the Kremlin," Galeotti said. "The guys we're talking about now, they are very, very rich, but they do not have power over the Kremlin."
It's certainly true that in the years after the fall of the Soviet Union, people who made lots of money from the carve-up of state resources held considerable sway. That all changed under Putin, however, with the Russian president making it clear that he wouldn't tolerate such behavior.
This shift severely weakened the role of the oligarchs in Russian political life, according to Jonathan Eyal, international director at the Royal United Services Institute, a London think tank known as RUSI.
"Today, it is not like the Yeltsin period, where the oligarchs told the president what to do," Eyal said, referring to Boris Yeltsin, who was Russian president between 1991 and 1999. "These oligarchs are not likely to sway Putin's hand about the major things that he wants to do."
This is the same point made by Kremlin spokesman Dmitry Peskov this week.
"The phrase 'Russian oligarchs' is considered inappropriate," Peskov told reporters. "The time when there were oligarchs in Russia passed long ago. There are no oligarchs in Russia."
Not everyone agrees that the latest U.S. sanctions won't hurt Putin.
On Twitter, financier and longtime Putin critic Bill Browder called the news "huge" and commended the government for "finally hitting Putin and his cronies where it counts."
And while analysts like Eyal and Galeotti caution that the sanctions may not change Russian policy more broadly, that doesn't mean the moves are useless, they add.
"The last thing that the oligarchs appreciate is being put on lists that make it very difficult for them to travel abroad, buy property abroad, have their girlfriends abroad or send their children for education abroad, all the things that makes them enjoy the finer things in life," Eyal said.
Despite their reduced importance, Eyal still sees the oligarchs as one of the "pillars of the regime," adding that "if the pillars start suffering themselves, then there is a cumulative impact" that could have some influence on Putin if combined with other measures.
"The sanctions are not what's going to change Russia's behavior," he added, "but they are intended to increase the costs of the defiance of Putin of international norms."
"The sanctions are not what's going to change Russia's behavior, but they are intended to increase the costs of the defiance of Putin of international norms."
"The sanctions are not what's going to change Russia's behavior, but they are intended to increase the costs of the defiance of Putin of international norms."
Galeotti also stressed that the sanctions should be welcomed as a means to clean out dirty money in the West — just not as a way to curb Putin's foreign policy.
Part of the reason for this, according to many analysts, is that the Russian president is a man who is not so much interested in wealth but in power.
"The thought that Putin is going to be bothered, to the point of actually reversing what is a clearly not just a pragmatic policy but one that he genuinely believes in, because there's a few hundred million in stake in condos in Florida or whatever, I think that's misunderstanding the man," Galeotti said.
Another problem that some critics have identified with Friday's sanctions is that the people targeted will have likely seen this coming a mile away.
All of the oligarchs named had already been mentioned on a much larger list of Russian billionaires released by the Treasury in January.
This list was widely mocked because it was cribbed from Forbes' ranking of the "200 richest businessmen in Russia 2017."
And what it effectively did was give oligarchs time to hollow out investments in the U.S. that will be impacted by the new restrictions, according to some experts and U.S. officials.
"Those people have a thousand different ways to channel money that will go unchallenged by any sanctions," according to Mathieu Boulègue, a research fellow at the London think tank Chatham House. "It's a headache but it's not a problem for Russia."
He added that "sanctions do not affect the Russian leadership the way we would want them to. They are not a magic wand we can agitate in front of the Kremlin and hope to curb Putin's cost-benefit calculus."
This echoed what one U.S. official told NBC News ahead of Friday's sanctions. "They had to know these were coming," the official said, referring to the oligarchs.
Nor will the sanctions cause the Russian public to turn against their strongman leader, or foment a debate inside the country about the direction of its foreign policy, according to Boulègue.
"Sanctions have been in place since 2014 and the Russian state has transformed them into a show of force in their propaganda," he said. "Russia has learned to live with them. They are a new normal in relations with the West."
COVID-19: Overweight and obese more likely to test positive for the virus | World News

People with a higher body mass index – BMI – are more likely to test positive for the virus that causes COVID-19, a study suggests.
Research by Chaim Sheba Medical Centre in Israel found that people who are overweight – with a BMI between 25 and 29.9 – are 22% more likely to contract the virus.
The figure for people who are obese – with a BMI between 30 and 34.9 – rises to 27%.
For those who are morbidly obese, with a BMI at or above 40, the risk increases by 86%.
Some 26,030 people were tested between 16 March and 31 December last year and 1,178 positive COVID-19 tests were recorded.
Even after age, sex, and other medical conditions were considered, the relationship between BMI and the probability of a person testing positive remained significant, the researchers found.
The study authors concluded: "As BMI rises above normal, the likelihood of a positive SARS-CoV-2 test result increases, even when adjusted for a number of patient variables.
"Furthermore, some of the comorbidities associated with obesity appear to either be associated with an increased risk of infection or to be protective."
People with diabetes were 30% more likely to test positive, while the likelihood was six times greater for those with high blood pressure.
But the risk was reduced for those with a history of stroke (by 39%), ischemic heart disease (by 55%) and chronic kidney disease (by 45%).
The researchers were unable to explain this.
Also, research by the IRCCS Policlinico San Donato research hospital in Italy, has found that abdominal obesity is more important than general obesity in predicting the severity of chest X-ray results in coronavirus patients.
Abdominal obesity is fat around the waist as opposed to general obesity, which is determined by BMI.
Chest X-ray severity scores were calculated by dividing each lung into three zones, with each one scoring a maximum of three points – zero for normal lung performance and three for poor function.
Some 59% of patients with abdominal obesity had a high score, whereas this was true for just 35% of those without abdominal obesity.
Hamas says it has fired rockets at Jerusalem in retaliation for Israeli 'aggression' | World News

A number of rockets have been fired at Jerusalem and the surrounding area, says Israel's military.
It came minutes after an ultimatum from Hamas for Israel to withdraw forces from two flashpoints in the city.
The group claimed responsibility for the attack, calling it retaliation for Israeli "crimes and aggression".
Israel carried out a missile strike in northern Gaza in response, causing injuries, according to Palestinian media.
Seven rockets had set off sirens in Jerusalem and the surrounding area and rocket fire from Gaza was continuing, said Israel's military.
A civilian car was hit and one person injured by one of the rockets, it added.
Sky's Mark Stone, in Jerusalem, said he understood a number of rockets were fired at an area 10-15km west of the city.
He said Israel's Iron Dome defence system is believed to have destroyed most, but that a few landed.
Stone said the attack was almost certain to mean a "heavy night of bombardment" on Hamas base the Gaza Strip this evening.
It comes as clashes in Jerusalem between Palestinians and Israeli forces reportedly injured more than 300 people.
Police fired stun grenades and tear gas inside the Old City's Al Aqsa Mosque during the violence this morning.
Israeli authorities said "extremists" had thrown stones and other objects at officers, and onto a road near the Western Wall where thousands of people had gathered to pray.
COVID-19: Ireland getting back to normal as restrictions on gatherings, shopping and travel ease | World News
Life in Ireland is returning to normal with the easing of some lockdown restrictions including rules affecting meeting people, travel and shopping.
From Monday, click-and-collect services and in-store shopping by appointment will be allowed as part of a phased reopening of non-essential retail.
The sector is scheduled to reopen fully in a week.
Latest pandemic updates from the UK and around the world
Close contact services, such as hairdressers, can resume, while COVID restrictions on travel between counties have lifted and some of the limitations on indoor and outdoor social gatherings have eased.
From today, up to 50 people can attend religious services in Ireland, including weddings and funerals, although a maximum of six will be allowed at indoor wedding receptions and 15 at outdoor celebrations.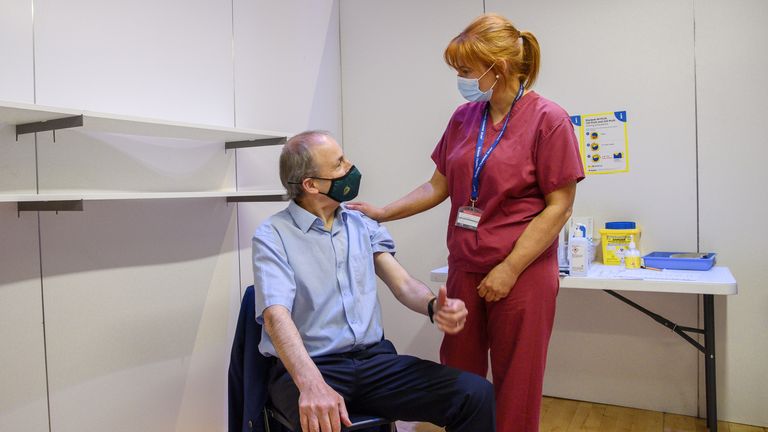 Three households, or up to six people from individual households, can now meet outdoors, including in private gardens.
People from vaccinated households can also meet with an unvaccinated household indoors without masks or social distancing.
But it applies only if they are not at risk of severe illness and there are no more than three households present.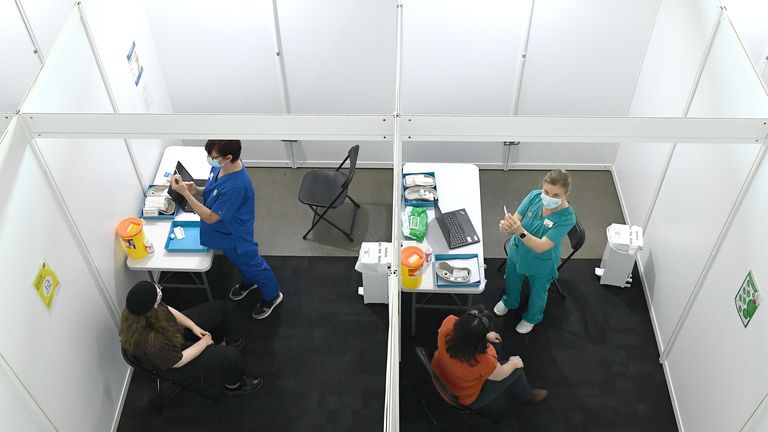 This measure will enable grandparents to meet and hug other family members indoors.
Many museums, galleries and libraries are now able to reopen and groups, or pods, of up to 15 adults can get together for team sports training.
The maximum permitted capacity on public transport has also increased to 50%.
Next Monday retail will reopen fully, with a variety of other restrictions due to lift in June.
On Sunday, Ireland's leader, Taoiseach Micheal Martin, said he hoped Ireland could look forward to a good summer.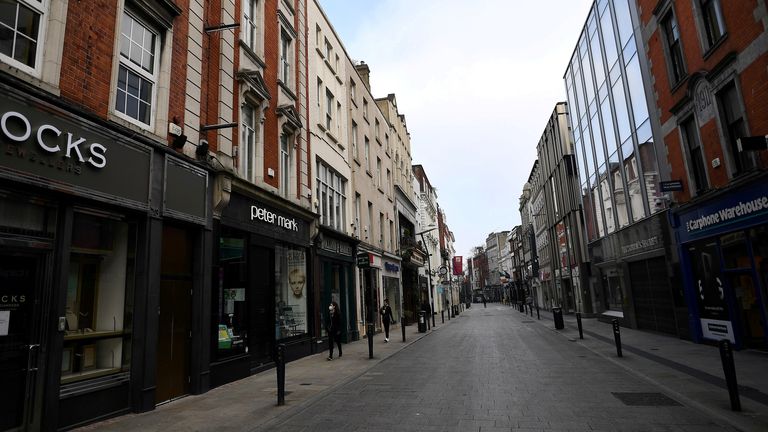 Speaking after he received an AstraZeneca vaccine in Cork, Mr Martin said: "I think we're making great progress as a country.
"I think people have done extremely well in responding to the various guidelines over the last number of months and the results are that we are emerging from this pandemic.
"We're set to have a good summer if we can keep this progress going and the vaccination is certainly helping in bring down severe illness and bringing down death and hospitalisation, so keep with it and we're making progress."
Subscribe to the All Out Politics podcast on Apple Podcasts, Google Podcasts, Spotify, Spreaker
Ireland's vaccination programme continues to gather pace and on Friday the country achieved a record for the number of jabs administered in one day, 52,000.
Another two coronavirus-related deaths and 514 more cases were recorded by the country's department of health, bringing the total number of confirmed cases to almost 253,000.
A total of 4,921 people have died after catching the illness.