Sacramento Mayor Darrell Steinberg offers measured response in wake of unrest
The mayors of New York, Los Angeles and New Orleans have reached out with their support.
After days of protracted meetings, Steinberg said he told his staff he needed to get out in the community more. "I need the inspiration and the connection," he said. "Especially now, that's the fuel for doing this work."
On Thursday morning, that meant a stop by the city's Violence Reduction Summit, which had been scheduled before Clark was killed. There, Steinberg, 58, credited the city and Hahn, a former Sacramento police officer, for keeping the peace despite waves of anger over Clark's death. The mayor also praised the police for "not arresting protesters and not escalating the tension" and citizens for "exercising their rights in largely constructive ways."
Steinberg told about 200 community workers from around the state at Thursday morning's session that he did not expect activists' anger to go away any time soon.
"If we think we are just going to get back to life the way it was, not only would that be mistaken, it would be an incredible missed opportunity," he said.
An immediate task will be studying police policy and procedure to see if changes can prevent more deadly confrontations. But, as important, according to the mayor, is a call for economic growth to be spread more equitably among the city's populace. The one-time labor lawyer pointed to a new downtown arena for the NBA's Sacramento Kings and the redevelopment of the city's riverfront and a planned tech center.
"There is still a fundamental disconnect between all that cool stuff . . . and the day-to-day struggles of people in many of our neighborhoods," Steinberg said.
Later in the day, the mayor and his aides stopped at Parkway Elementary School, where the student body comes almost entirely from a nearby housing project and all are poor enough to qualify for government-subsidized lunches. Though much of the community is furious with police, a second-grader made it clear the sentiment was not universal.
Saying he wanted to be a cop, Evontae added: "I love police officers." To which Steinberg responded: "They are very important people in our community. That is wonderful."
The everyday tasks of running a city of 500,000 have not faded with the crisis. While being driven between events, Steinberg made a quick phone call, coaxing a corporate leader to get her company to donate $3.3 million over three years to help build 1,000 "efficiency" apartment units for homeless people.
The call concluded, the mayor smiled: "She's saying 'yes,'… at least conceptually."
On the front burner, for now, however, is the Clark shooting.
Steinberg speaks daily to Hahn, the police chief. During protests, like one Wednesday that filled the street outside the district attorney's office, police officers reduce friction by staying at a distance, often a city block, away from demonstrators.
The mayor has told officers he appreciates the work they are doing, often as protesters taunt them mercilessly. Some officers have made clear they don't agree with Steinberg's view that the police, and the rest of the city's citizens, need to be cognizant of inherent racial bias that everyone carries in their hearts.
Steinberg has been careful not to pronounce judgment on the officers' actions in the Clark shooting. But he has said that other questions about police policy can be tackled immediately.
At a public event scheduled for next Tuesday, he has asked Hahn to address the first of those questions, including what training the police have in de-escalating confrontations, what protocols exist for how many rounds should be fired, what rules apply for how and when officers identify themselves during a pursuit, and what the guidelines are for muting of audio on police body cameras.
Steinberg said he thinks it's important that, if reforms are ordered, they come from Hahn.
"The chief needs to take the lead," he said, "because the answers need to be owned, not only by the chief but by the entire department."
While the mayor is an unabashed liberal who gained a some acclaim earlier in his political life for helping to forge a compromise that closed a record $46 billion deficit in the state budget, nothing could have fully prepared him for the city's current crisis. Steinberg said, however, that past experiences have taught him that "people will not panic if you don't."
"So as I look at my obligations through all of this," he added, "I am confident I can deliver."
More than 90 Palestinians injured after another night of clashes in Jerusalem | World News
More than 90 Palestinians have been injured in another night of clashes in Jerusalem with tension throughout Israel, Gaza and the West Bank at its highest level in years.
In the south, a rocket was fired from the Gaza strip into Israel and Palestinians rioted along their side of the Israeli-built border fence.
The rocket landed in open ground prompting the Israeli Air Force to strike a military position belonging to the Hamas organisation, which governs within Gaza.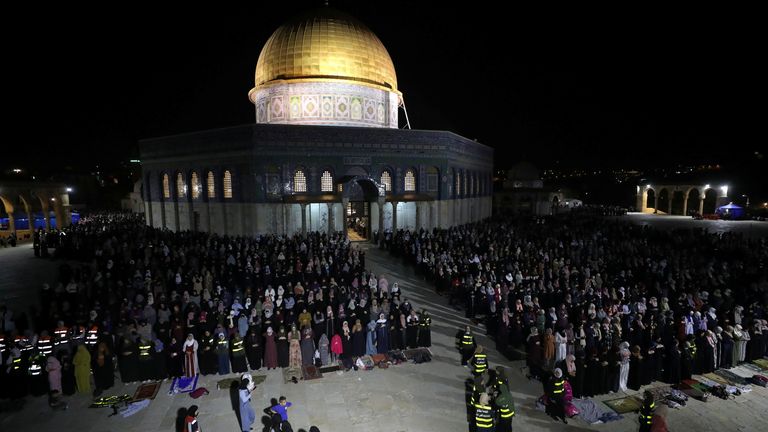 Hamas leaders said the protests along the Gaza fence were a response in solidarity with Palestinians injured in the Friday night clashes in Jerusalem where more than 200 Palestinians were injured in the worst night of violence since 2017.
90,000 Palestinian worshippers had gathered on Saturday night at the courtyard outside the Old City's Al Aqsa mosque to mark Laylat Al Qadr, the holiest night in the month of Ramadan.
Israeli police, who had fired stun grenades in the courtyard and into the mosque on Friday, used sponge-tipped bullets, tear gas and water cannon to disperse protests against the police which began at the end of prayers.
The Al Aqsa complex is one of Islam's most revered sites but is also the location of the holiest site in Judaism, the Temple Mount.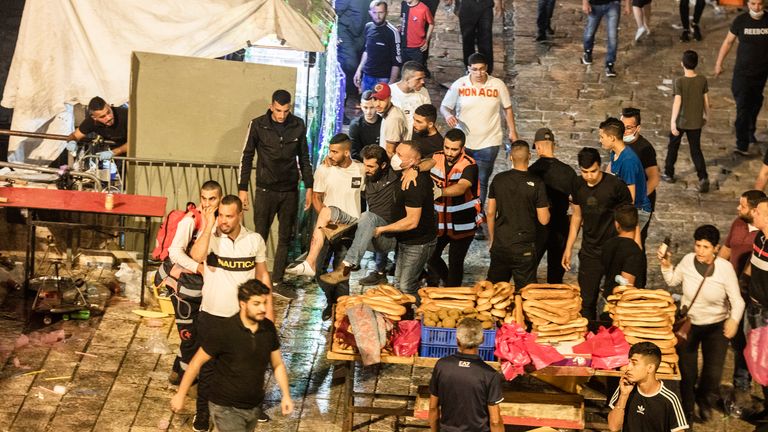 The mosque courtyard sits adjacent to and above the Jewish Western Wall plaza. Police say they were forced to evacuate Jewish worshippers from the Western Wall area twice because of stone throwing.
More clashes took place at the Damascus Gate entrance to the Old City which has been a site of tensions throughout Ramadan and in the Sheikh Jarrah neighbourhood where an Israeli court is due to rule on an eviction order against Palestinian homes to make way for Jewish settlers.
According to the Palestinian Red Crescent, the Israeli police initially prevented ambulances from reaching the injured.
Eleven people were taken to hospital. Six of the wounded are under 18, including a one-year-old.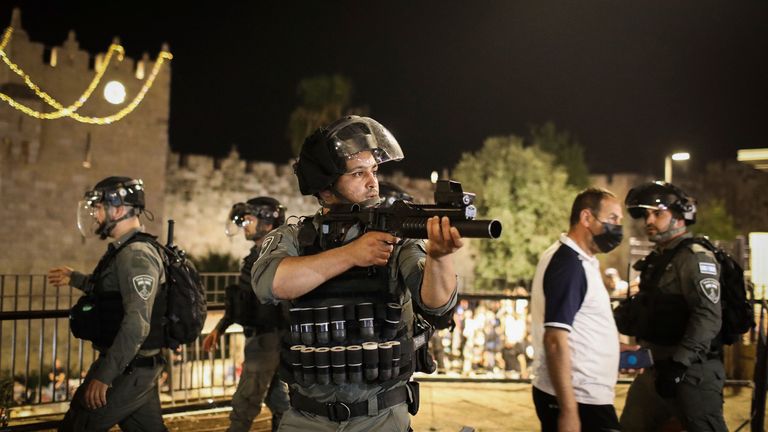 Israeli Prime Minister Benjamin Netanyahu held meetings with his defence minister and military chief ahead of Jerusalem Day, marking the city's reunification by Israel after the Six-Day War in 1967, which begins at sunset on Sunday.
There are expectations of further serious clashes on Monday because of a confluence of controversial moments.
Parades by Jewish nationalists through Jerusalem's Old City are planned for Sunday evening and Monday morning.
Some will march through the Muslim quarter and are likely to be given access to the Temple Mount/Al Aqsa compound.
And on Monday morning, three Supreme Court justices are expected to hear requests from three Palestinian families who live in the Sheikh Jarrah neighbourhood to cancel their eviction orders.
The Quartet of Middle East negotiators – the United States, the European Union, Russia and the UN – expressed 'deep concern" over the violence on Saturday.
'Out-of-control' Chinese rocket has landed in the Indian Ocean | World News

An "out of control" Chinese rocket has landed in the Indian Ocean, China says.
The rocket, called Long March 5B, was launched from Wenchang Space Launch Centre on 29 April to carry Tianhe – the first module of China's future space station – into orbit.
It re-entered the atmosphere at 3.24am UK time, with the bulk of its components destroyed at that point, according to Chinese state media.
The point of impact was somewhere southwest of India and Sri Lanka, they added.
While the timing of the landing had been pinpointed quite closely, the possible landing site had been unclear until the last minutes of the rocket's descent.
At one stage it was thought the debris trail could fall as far north as New York, Madrid, or Beijing, and as far south as Chile and New Zealand.
There was some criticism of China's lack of control over the descent, with US Defence Secretary Lloyd Austin saying: "There should be a requirement to operate in a safe and thoughtful mode and make sure that we take those kinds of things into consideration as we plan and conduct operations."
Chinese state media had played down fears that the rocket could cause damage as a situation "not worth panicking about", suggesting it would fall somewhere in international waters.
The rocket launch is part of China's increasingly ambitious space programme, with Beijing planning at least 10 similar launches to carry equipment into orbit.
The space station will be complete by 2022, with China also planning to build a moon base in cooperation with Russia.
COVID-19: France tourist hotspots missing UK visitors as amber rating keeps holidays off the menu | World News
It's been a blowy, blustery day in Brittany. There was a bracing wind and a few brave souls in the sea.
It all felt very British.
But for the British desperate to get abroad, a French holiday is still effectively off-limits.
Its amber rating means people should not be travelling there for leisure trips. For those who do go, it will mean a test before leaving, two more upon return and 10 days in quarantine.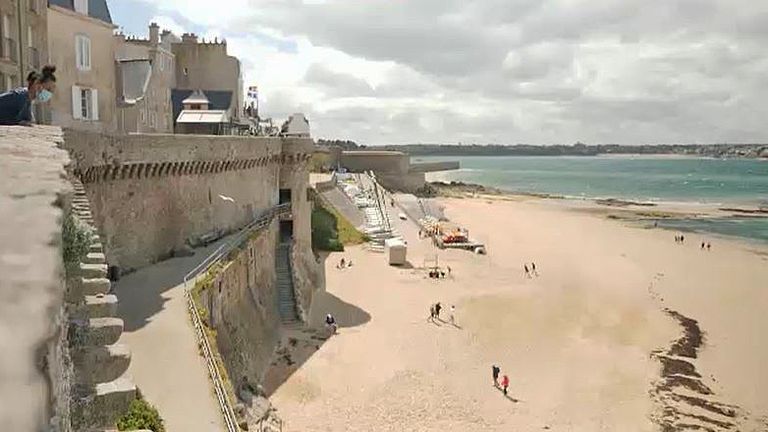 Saint-Malo is a coastal town that relies heavily on tourism.
Atop the old fortress wall is the town's oldest creperie. In the 18th century the building housed soldiers, the mission then was to keep the British at bay.
But now they are welcomed with open arms and local specialities.
The owners say they're really missing tourists from across the Channel.
"We're used to speaking English every day," says restaurant worker Magali Garncarzyk. "But for a year now there have hardly been any British tourists."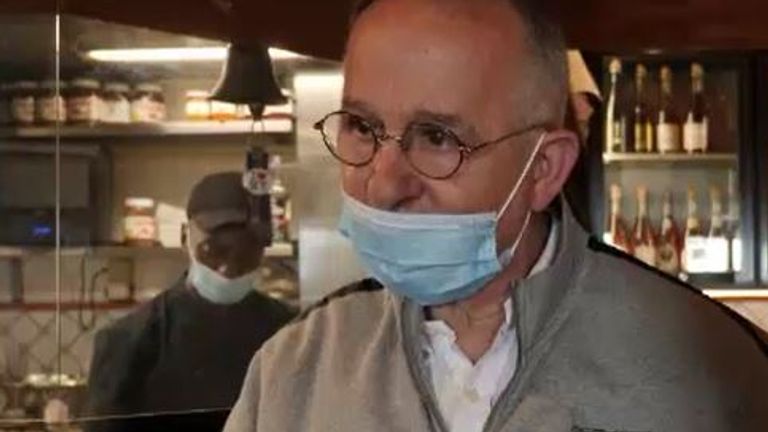 It's had an impact says her boss, Alain Cabot: "In terms of visitors, the British were the first who started coming to Saint-Malo, mainly due to the ferry connections, so that cuts off quite a large number of tourists."
France is the second most popular destination for British tourists after Spain. Pre-COVID, in excess of 10 million people travelled here every year .
It won't be that way this year and the impact is already being felt by numerous small businesses.
Mont-Saint-Michel, a tidal island topped by an 11th century abbey, is one of France's top tourist attractions and would normally welcome 2.5 million tourists a year to its cobbled streets and quicksand bay.
This is the first weekend the French are being allowed to travel further than 10km (6 miles) from their homes.
It's a small relief to tourist businesses, but rows and rows of car parking bays stood empty and just a handful of people strolled onto shuttle buses that would usually have seen long queues.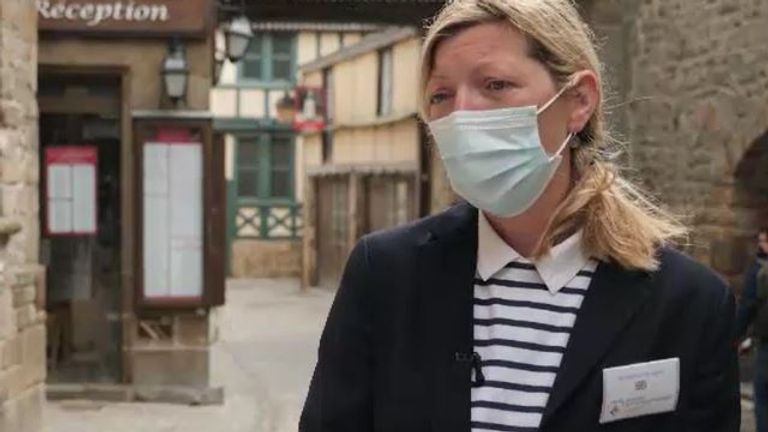 In the town, cafes and shops are still shuttered, and when they reopen they'll need custom.
Julie Dion works in the tourist office and says almost 100% of enquiries at the moment are from the French. But it may not be enough.
"It is very worrying," she says.
"We don't know how many people are going to arrive. It was a guaranteed place where we were very busy every day, so will there be enough tourists for the businesses to continue to run as they were?"
It's having a personal impact for her too.
She's originally from Wales, all her extended family are still there and she hasn't been back for over two years.
Julie says the cost of multiple tests for herself, her husband and her three children make the journey prohibitive.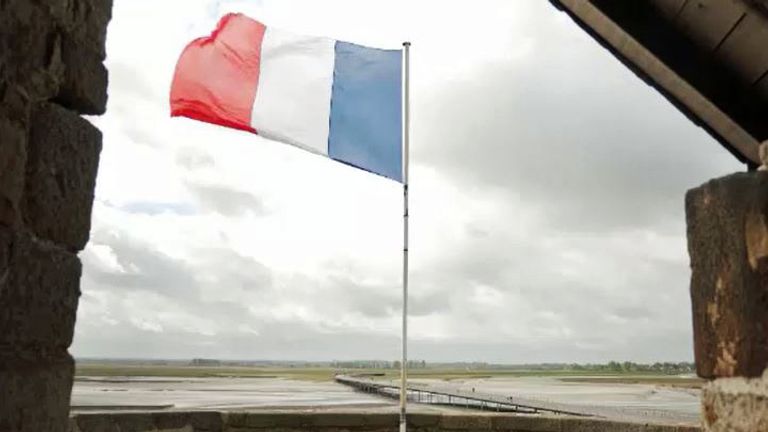 "It's very sad, it's really difficult. It'll be a long, difficult time now away from family," she says.
Like all countries, France's rating will be reviewed every three weeks, but while cases are still high here and vaccinations low, the chances of a French holiday remain distant.