One dead after fire breaks out at Trump Tower apartment
Trump said on Twitter that the fire was extinguished, and thanked firefighters.
The FDNY said in a tweet that it was on the scene of a three-alarm fire.
Trump's son, Eric, thanked the fire department in a tweet and said the fire was extinguished. President Trump said on Twitter that the fire was "very confined," adding "well built building."
Around 200 firefighters and EMS members responded to the scene, Nigro said. A cause of the fire has not been determined, he said.
"This is a very difficult fire, as you can imagine. The apartment is quite large; we're 50 stories up," Nigro said. "The rest of the building had a considerable amount of smoke."
Four firefighters suffered injuries that are not life-threatening, he said. Two of the firefighters were burned and two others suffered other types of injuries, according to Nigro.
Authorities cordoned off the east side of the sidewalk on Fifth Ave, keeping tourists and locals clear of the area. Around four blocks were blocked off around the building with a large police and fire department presence. Many on the street stopped to take photos.
Trump Tower, from which Trump made his formal announcement that he would seek the presidency in 2015, was the scene of a small fire in January.
That fire was called electrical in nature and started in a cooling unit that contains heaters, an FDNY official said at the time. Two firefighters were injured when debris fell on top of them and an engineer was injured but refused treatment in that incident.
Trump maintains a three-story penthouse residence at the building, which has earned Trump Tower the nickname of "White House North."
Tom Winter reported from New York City. Phil Helsel reported from Los Angeles.
Brad Pitt and Jennifer Aniston reunite on screen in read through of Fast Times at Ridgemont High | Ents & Arts News
Former Hollywood couple Brad Pitt and Jennifer Aniston have been reunited on screen in a racy read through of 1982 teen movie Fast Times at Ridgemont High.
Performing together via Zoom, Pitt, 56, and Aniston, 51, took on the roles of amorous high school students Brad Hamilton and Linda Barrett.
The reading – which was packed to the gills with A-list stars – was set up to support charities Core and Reform Alliance in their efforts to alleviate the impact of the coronavirus pandemic.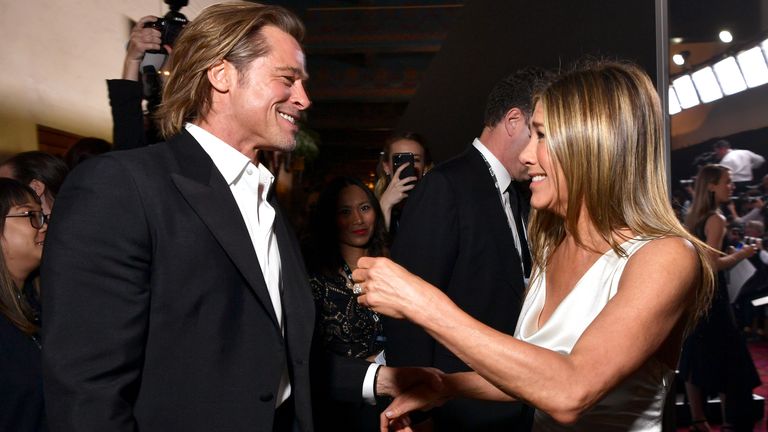 Their X-rated scene kicked off with Aniston's line: "Hi Brad. You know how cute I always thought you were. I think you're so sexy. Would you come to me?"
In the film it's part of a day-dream scenario, where Brad is imagining Linda making a move on him.
The narrator, played by Morgan Freeman, then came in to describe the scene: "He walks to Linda. She reaches out and grabs him for a kiss, pulling him close. Then she pushes him away so he can watch as she carefully unstraps the top of bathing suit.
"The incredible Linda Barrett's breasts fall loose, lord have mercy. She takes Brad's hands and places them on her as she begins unbuttoning his shirt. They're just about to fall into passionate lovemaking when…"
Throughout the scene, Pitt – who is wearing a green T-shirt and wearing his long blonde hair loose around his face – is holding back laughter.
Looking down at his script, at the point his character is interrupted during an intimate moment in the bathroom, he allowed himself a chuckle.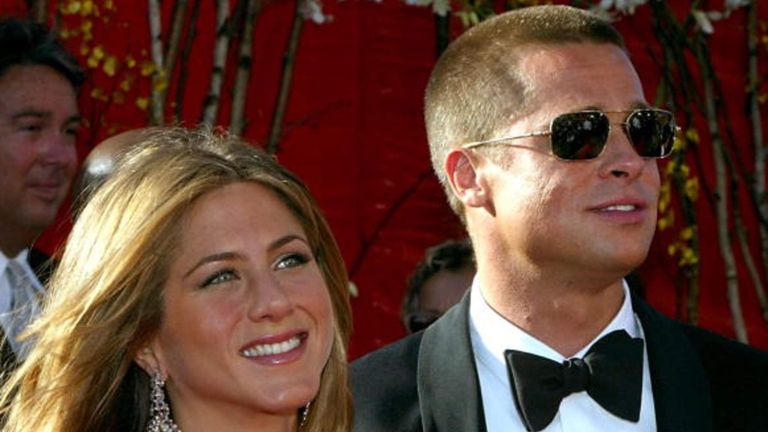 Fellow cast members including Julia Roberts, Matthew McConaughey, John Legend and Sean Penn also giggle throughout.
Always the professional, Aniston, wearing aviator-style glasses and a strappy summer top, remains straight faced throughout, committing to the part whole-heartedly.
Actors Judge Reinhold and Phoebe Cates originally played the roles in the Californian coming-of-age drama.
Henry Golding, Shia LaBeouf, Jimmy Kimmel and Ray Liotta also took part in the reading, along with host Dane Cook.
Despite a very public break up, Pitt and Aniston have rekindled their friendship over recent years and were pictured together in January 2020 at the Screen Actors Guild Awards.
:: Subscribe to the Backstage podcast on Apple Podcasts, Google Podcasts, Spotify, Spreaker
Both took home an award on the night (Pitt for Once Upon A Time In Hollywood and Aniston for The Morning Show) but all eyes were on the couple's backstage meet-up where they embraced and chatted.
Pitt was married to Aniston from 2000 to 2005, before an acrimonious split after which he got together with Angelina Jolie.
Jolie and Pitt, who have six children together, finally married in 2014, but broke up two years later. Their divorce was finalised in 2019.
Aniston married Justin Theroux (cousin of British documentary maker Louis) in 2015, but they separated two years later.
TikTok downloads to be blocked in US within days | Science & Tech News

People in the US will be banned from downloading TikTok from this Sunday.
The US Commerce Department said that starting 20 September, Americans will not be able to get the popular video-sharing app.
The ban will also cover the messaging app WeChat.
President Donald Trump could still withdraw the ban before Sunday evening if a deal is done between TikTok's Chinese owners ByteDance and US technology giant Oracle.
The two firms are in talks to create a new company, TikTok Global, that aims to address the White House's concerns about the security of its users' data.
A statement from the department said: "The Chinese Communist Party (CCP) has demonstrated the means and motives to use these apps to threaten the national security, foreign policy, and the economy of the US.
"Today's announced prohibitions, when combined, protect users in the US by eliminating access to these applications and significantly reducing their functionality."
It went on: "While the threats posed by WeChat and TikTok are not identical, they are similar. Each collects vast swaths of data from users, including network activity, location data, and browsing and search histories.
"Each is an active participant in China's civil-military fusion and is subject to mandatory cooperation with the intelligence services of the CCP.
"This combination results in the use of WeChat and TikTok creating unacceptable risks to our national security."
Bytedance and Oracle have submitted a proposal for a deal in which TikTok would become a separate US company with with an American board.
There would also be a security committee – the head of which would need government security clearance.
Historic books stolen in Mission: Impossible-style raid found buried underground in Romania | UK News
Two hundred "culturally significant" books – including works by Sir Isaac Newton and astronomer Galileo – that were stolen in a Mission: Impossible-style raid in west London have been found buried underground in Romania.
The books, worth more than £2.5m, were taken in a "highly sophisticated" burglary at a warehouse in Feltham in January 2017, the Metropolitan Police said.
Thieves broke in by cutting holes in the roof of the warehouse and then abseiled down, avoiding motion sensor alarms.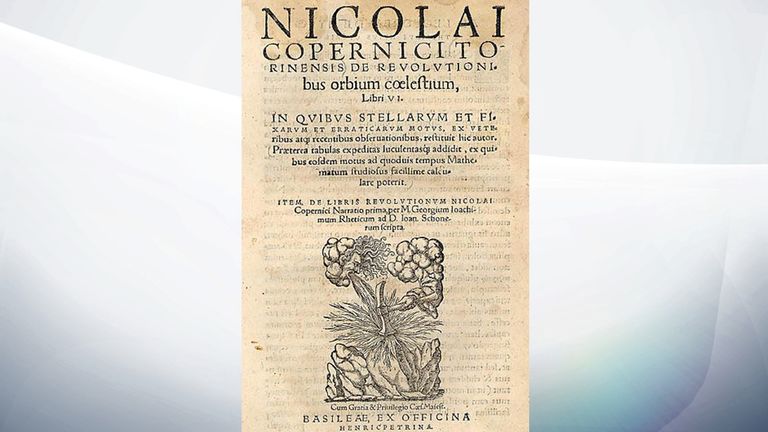 The books – which were due to be flown to a specialist auction in Las Vegas – were stolen in 16 large bags, with the raiders fleeing the warehouse through the roof.
Speaking to Sky News shortly after the raid, book dealer Alessandro Meda Riquier said the stolen works included his 1566 second edition of Nicolaus Copernicus' De Revolutionibus Orbium Coelestium, which was reportedly worth around £215,000 and was described as the "jewel" in the haul.
He said he had also lost important books by Galileo and very rare editions of Dante's Divine Comedy.
An international police operation was launched to recover the "irreplaceable" items and on Wednesday they were discovered buried underground at a rural property in Neamt, Romania.
Detective Inspector Andy Durham said the recovery was "a perfect end" to a police operation involving officers in London, Romania and Italy.
"These books are extremely valuable, but more importantly they are irreplaceable and are of great importance to international cultural heritage," he added.
The Met Police said it had identified suspects who were part of a Romanian organised crime group which was responsible for high-value warehouse burglaries across the UK.
The group is linked to several prominent Romanian crime families called the Clamparu, which has a history of complex high-value thefts but has mainly avoided prosecution by offending outside Romania.
Police found evidence of another 11 offences committed in the UK, in which a further £2m worth of property was stolen – with the offenders generally using the same method of entering through the roof.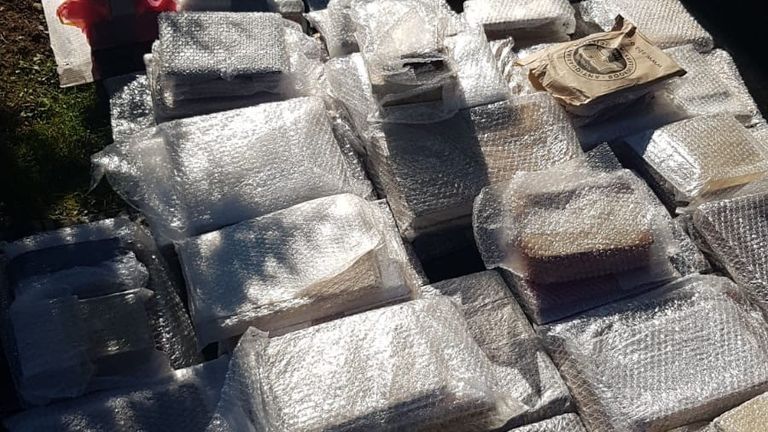 As part of the investigation, there were coordinated arrests and searches of 45 properties across the UK, Romania and Italy in June 2019.
Thirteen people were charged with conspiring to commit burglaries and acquire criminal property between December 2016 and April 2019.
Twelve people have pleaded guilty and are due to sentenced next week, the Met Police said.
A thirteenth defendant is due to face trial in March.