In Puerto Rico, school closings hit families, communities hard
The school system has lost 38,762 students since May of 2017. In a statement, Puerto Rico's Department of Education said the closings will ensure the government can provide students with the resources they need after the drop in enrollments.
Many families have been fleeing the island for years as Puerto Rico's economy has worsened. The exodus grew after Hurricane Maria hit the island last September and as families gave up on waiting for the return of electricity, water and other infrastructure.
According to Puerto Rico's Education Department, half of the island's schools are at 60 percent capacity.
Some schools already had been shuttered after losing water and electricity that did not return quickly enough after the storm. Some were only open half the day, using the daylight to conduct classes and relying on water that was trucked in or intermittently flowing.
At the same time, Puerto Rico has been locked in a struggle over education as Gov. Ricardo Rosselló proposed reforms and brought in Education Secretary Julia Keleher, who has pushed to bring charter schools and reform the system since her arrival to the island.
That proposal is part of Rossello's proposed education overhaul that has put him at odds with the teachers' union, which was highly critical of the school closures on Friday.
'A massacre,' says teachers group
"This is a massacre against Puerto Rico's education," said Aida Díaz, president of Asociación de Maestros de Puerto Rico (Puerto Rico Teachers Association), which is affiliated with the American Federation of Teachers.
Teachers already have been protesting the island's education reforms and the school closings added to the discord.
"I know we have been losing population but many of them are coming back and we didn't even get a chance to pre-enroll for August," Díaz said.
There has long been need for school reform in Puerto Rico. Most middle-income and upper income residents enroll their children in private or parochial schools; the island's public schools have largely served lower income children.
But the economic woes have forced some parents to stop paying private school tuition, said Ana María Blanco García, executive director of the Instituto Nueva Escuela, a non-profit that has put Montessori education in 44 public schools in communities throughout the island.
García said closing the schools hits a very vulnerable population. The Puerto Rico public school system still is very rural and many of the schools are small, serving poorer communities that are some distance from urban centers.
Following the hurricane, many schools became community centers and aid distribution sites and shelters. In some communities, parents and neighbors cleaned schools of debris and did repairs, even helping provide food for meals so children could return to classes.
One of the schools on the list for closure is the Inocencio Cintrón Zayas school in the community of Barrancas, in the town of Barranquitas. The school, located by a river, was flooded during the hurricane.
"They want to take the kids to another school … to bus them though a very hard way … and the next school is not in good shape," García said. "Why do they want to close down a school that is working and is academically one of the best public schools?"
Critics of the government's plan say that it was done without input from community members and educators.
"Even if the spirit is to decentralize, the methodology has been no participation from teachers, parents or alcaldes, (mayors)," said García.
On Friday, Deputy Education Secretary Eligio Hernández told NBC News the closings will help streamline resources for what he considers an underserved population; 71 percent of the student body lives in poverty.
"We have to reconfigure the system to our current realities," said Hernández. The plan includes shifting personnel, including teachers as well as office and janitorial staff to schools with a larger number of students.
Hernández said he understands the resistance to the changes, but he thinks communities will eventually understand the benefits.
For parents, more uncertainty
The school that Del Valle's boys attend currently serves over 100 students. Usually, school children begin pre-enrolling in March, but that didn't happen this year. Del Valle said she had planned to enroll her son Jariel for high school last March. He finishes middle school in June. But the school was not enrolling students and instead put him on a waiting list.
Now she's wondering if other schools will have space for her kids. Under Puerto Rico law, parents can choose which school their children attend.
"Now I have to go from place to place to see what schools have space for enrollment and hope they take my kids for the new year," she said. "Right now the school where my little one was relocated to, he says people say it is in a bad sector and that worries me."
"The rumors about the closing had been going on, but let's see what happens now. I hope to God that they don't actually close the school down. I still have faith."
Yemen famine 'has never looked more likely' with hundreds of thousands at risk of starvation, UK government says | World News
A famine in Yemen "has never looked more likely" – with hundreds of thousands now at risk of starvation, the UK government has said.
The country has been devastated by a war that has raged since 2014 between Abdrabbuh Mansur Hadi's administration and the Houthi armed movement, both of which claim to form the official government.
Mr Hadi's government is supported by a coalition of powerful countries headed by Saudi Arabia but also backed by Britain, the US and the United Arab Emirates.
And with the existing crisis now being worsened by coronavirus, the United Nations says more than 20 million people require urgent humanitarian assistance due to the ongoing conflict – almost half of them children.
Foreign Secretary Dominic Raab said the UK would provide another £5.8m in UK aid to help avert a famine in Yemen.
His department said UK support would help at least 500,000 vulnerable people each month to buy food and household essentials, including soap and medicine.
And speaking in New York at a meeting of permanent UN Security Council members, Mr Raab said: "The humanitarian situation in Yemen is now the worst it has ever been, and compounded with the threat of coronavirus, the country has never looked more likely to slide into famine.
"Unless donors urgently act now and follow through on their pledges, hundreds of thousands of people are at risk of dying simply from starvation."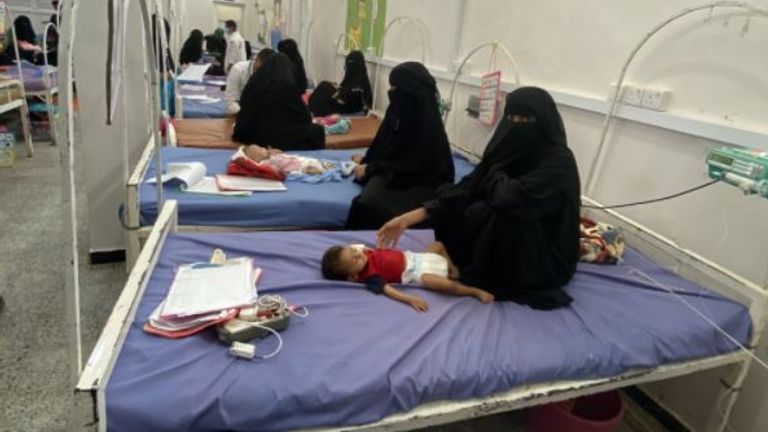 Mr Raab also called for "unwavering support" for plans to secure a ceasefire that ends the suffering.
The UK's first special envoy for famine prevention and humanitarian affairs, Nick Dyer, said he would be urgently raising the increasing risk of famine with allies over coming weeks in an effort to prompt action.
"There is no plan B for Yemen," he said.
"The wartorn country is facing an unprecedented humanitarian catastrophe, with hundreds of thousands at risk, unless world leaders take urgent action now."
Coronavirus: Slovenia and Guadeloupe added to England's quarantine list – but Thailand and Singapore removed | Politics News

Travellers arriving in England from Slovenia and Guadeloupe after 4am on Saturday will have to isolate for two weeks.
The two countries are being added to the quarantine list, Transport Secretary Grant Shapps announced.
But Thailand and Singapore are being removed from the list.
Mr Shapps tweeted: "A reminder that travellers to the UK (from ANY location) MUST complete a passenger locator form by law.
"This is vital in protecting public health and ensuring those who need to are complying with self-isolation rules."
In Slovenia, the COVID-19 case rate per 100,000 people has risen from 14.4 to 29.1 in the week ending 16 September.
And the government said that in Guadeloupe there has been a 558% spike in the same metric over the past three weeks.
The Department for Transport vowed to "take decisive action if necessary to contain the virus, including removing countries from the travel corridors list rapidly if the public health risk of people returning from a particular country without self-isolating becomes too high".
Ministers say countries where the coronavirus infection rate is higher than 20 per 100,000 people are at risk of being added to the list – but last week the UK tipped over that threshold itself.
Since then, tough restrictions have been imposed on millions of people.
The latest will come into force on Friday in Northumberland, North Tyneside, South Tyneside, Newcastle-upon-Tyne, Gateshead, Sunderland and County Durham.
First volume of Barack Obama's memoir to be released two weeks after US election | US News
The first volume of former US president Barack Obama's memoir will be released on 17 November.
The date is two weeks after the American people choose between Joe Biden and Donald Trump in the US presidential election.
Mr Obama's 768-page book – which will be called A Promised Land – will cover America's first black president's historic rise to the White House and his first term in office after he was elected in 2008.
The publication date for the second volume has not yet been decided.
There's no feeling like finishing a book, and I'm proud of this one. In A Promised Land, I try to provide an honest accounting of my presidency, the forces we grapple with as a nation, and how we can heal our divisions and make democracy work for everybody. pic.twitter.com/T1QSZVDvOm

— Barack Obama (@BarackObama) September 17, 2020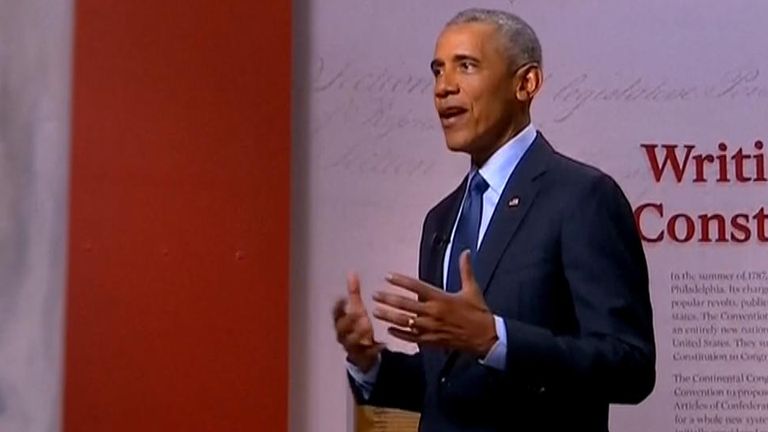 Mr Obama said: "I've spent the last few years reflecting on my presidency and in A Promised Land I've tried to provide an honest accounting of my presidential campaign and my time in office – the key events and people who shaped it; my take on what I got right and the mistakes I made, and the political, economic and cultural forces that my team and I had to confront then – and that as a nation we are grappling with still.
"In the book, I've also tried to give readers a sense of the personal journey that Michelle and I went through during those years, with all the incredible highs and lows.
"And finally, at a time when America is going through such enormous upheaval, the book offers some of my broader thoughts on how we can heal the divisions in our country going forward and make our democracy work for everybody – a task that won't depend on any single president but on all of us as engaged citizens."
Mr Obama's latest book, like his previous ones, will be released by Crown.