Hungary's anti-migrant PM Viktor Orban wins election
Hungary's anti-migrant Prime Minister Viktor Orban has won a third consecutive term, according to election office data.
Mr Orban's ruling Fidesz party is projected to win 133 seats, which would give it a two-thirds majority in the 199-seat Hungarian parliament.
Declaring victory, the 54-year-old said the result meant an "opportunity to defend Hungary", adding that the high voter turnout had "cast aside all doubts".
He added: "Hungary has won a great victory."
The right-wing nationalist Jobbik Party was set to win 19.9% of the votes (26 seats) and its chairman Gabor Vona resigned after the result.
The alliance of the left-wing Socialist and Dialogue parties had 11.8% of the vote, which would give them 20 deputies in parliament.
Two other parties – former Prime Minister Ferenc Gyurcsany's Democratic Coalition and the green Politics Can Be Different party – were expected to surpass the 5% required for representation in parliament.
Some 85% of the votes have been counted and turnout was 68.8%.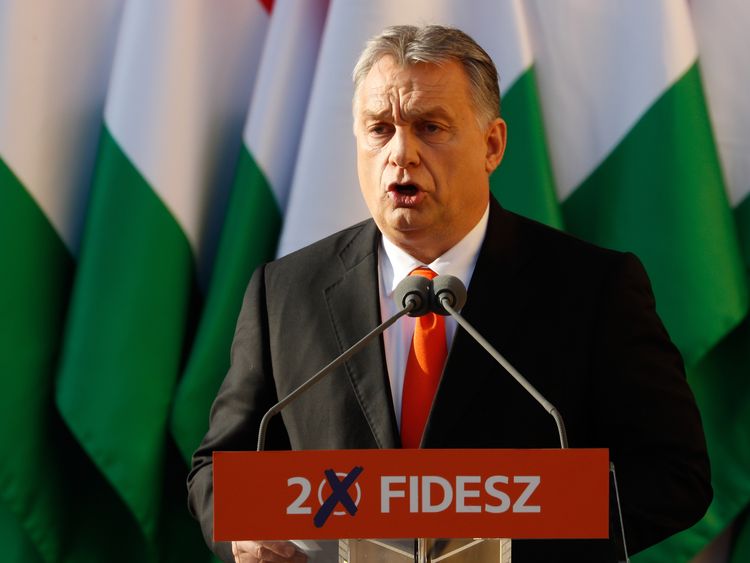 Mr Orban had been accused of fuelling xenophobia but had also been praised for keeping the country's budget deficit under control, reducing unemployment and debt while growing the economy.
While campaigning, he had avoided public debates with opponents or interviews with independent media, instead speaking to supporters at carefully-managed events.
Sky News Europe Correspondent Michelle Clifford said the preliminary results showed Fidesz had improved on its 2014 performance.
She said: "Viktor Orban was always predicted to win a third consecutive term – they call him the strongman of Hungary, they believe he protects the borders."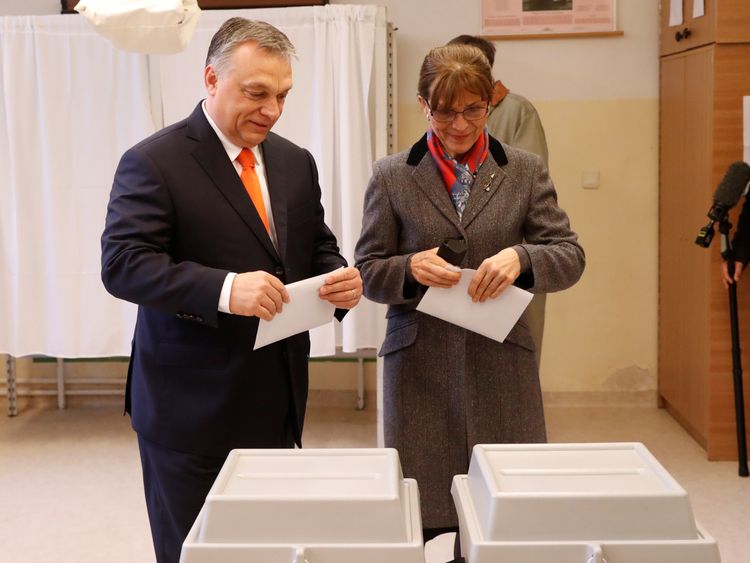 Clifford added that the opposition parties were "very fractured", despite some efforts to bring them together to defeat Mr Orban.
The opposition had focused on corruption and Hungary's deteriorating public services, as well as the country's high rate of emigration.
Mr Orban had responded by claiming that they were collaborating with the United Nations, the European Union and philanthropist George Soros to turn Hungary into an "immigrant country".
More follows…
Germany election: Angela Merkel's party has been castigated in the polls – and CDU activists are not happy | World News
It has not been a great election for Angela Merkel's own party, the CDU.
Its candidate Armin Lashert was castigated in the polls, caught on camera laughing as the country's president made a speech after the country's devastating floods.
But they had hoped for better, especially after a rally in the polls in the final leg of this contest. They were gathering from early evening in bar R 23 buying drinks hoping to have something to celebrate.
CDU leader Laschet 'not happy' with Germany exit polls

As exit polls and official projections predicted a tie between them and rivals, the SPD, there was a palpable sense of deflation.
Sandra Khalatbari, candidate for the Berlin parliament told Sky News they weren't the figures she'd hoped for.
"It is disappointing," she said.
"In the last one-and-a-half weeks we were raising our votes and we were very hopeful that it's going to be successful but now it is kind of disappointing."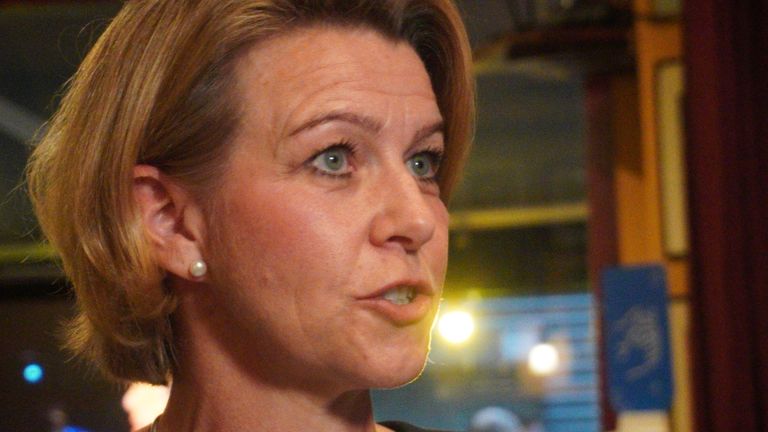 The right of centre CDU, Merkel's party, should have done better. Its chancellor has completed 16 years in power and is one of the most popular politicians in German history. Yet her party has not been rewarded by voters.
There was some consolation in the party's recovery from its meltdown early on, but campaigner Martin Feldmann told Sky News, only outright victory is what counts.
"The numbers in the past few weeks were disturbing – now it's about 25%.
"This is okay but only because of the numbers in the past few weeks. What we want is to be number one. At the moment we are not and I'm not happy about this."
As CDU activists took consolation in large servings of German lager, the period of reflection was already beginning. For some, the problem was the candidate or how voters perceived him on the doorstep.
Regional party organiser Christophe Lehmann told Sky News the problem was the candidate.
He said: "We had to drive against the wind."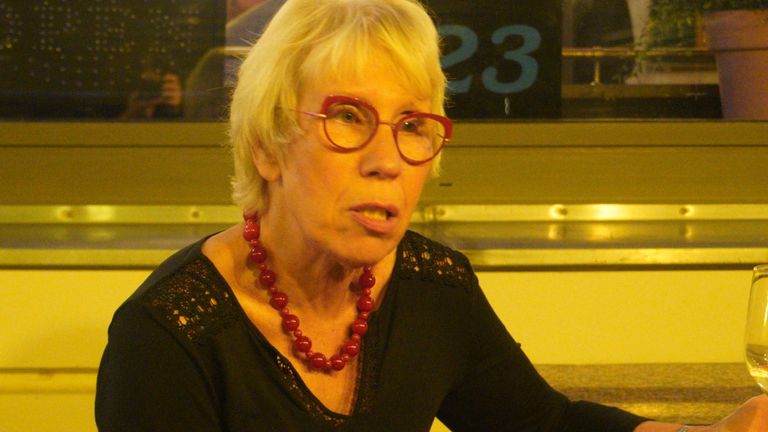 "Because many people didn't understand why we picked Laschet. Voters were not convinced."
Former member of Berlin parliament Cordula Kollotschek told Sky News, Laschet is not political box office but that wasn't the only problem.
"He has not the charisma, he's not really a star, he is not really good looking in the media – that's really important in a time like now but also I don't think we have the answer especially for young people for things like climate change."
A look back at Angela Merkel's 16-year career

On the bar television, coverage continued in almost funereal tones. German political coverage is serious and sombre. Most had drifted away from the screen though, to drink outside on a balmy late summer evening, or head off home.
It's a longer game now.
Whoever clinches the biggest share of Bundestag seats, haggling and horse-trading starts to form a coalition and with everything so close – that may take a while.
La Palma: Residents in limbo as pressure in the Cumbre Vieja volcano drops – but eruption threat remains | World News
Thousands of people have been forced to leave their homes to escape rivers of lava cascading from La Palma's erupting volcano.
But 160 of them will now be allowed to return, after local authorities said their houses were no longer in the path of the molten streams moving down the side of the Cumbre Vieja volcano range.
The rest of the evacuees will have to wait, including Eliza Gonzales.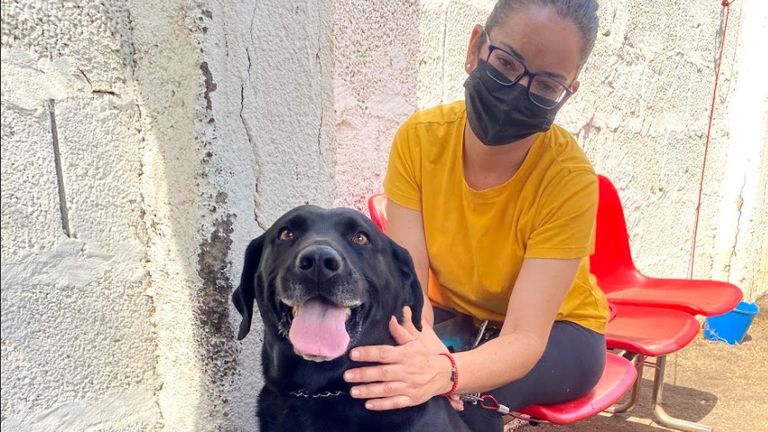 I met her at an improvised animal sanctuary on the island. She had come to see her dog Luna. They've been separated for days.
Ms Gonzales was told she had to leave Luna behind when she fled her home.
Thankfully the rescue centre called to tell her they had saved Luna. But the reunion is bittersweet. Ms Gonzales is staying in temporary accommodation and no dogs are allowed.
What's next for La Palma?

"It's very bad," she says.
Luna will be fostered while Ms Gonzales waits to go back home.
"I'm happy there are good people that offered their houses for the dogs to stay in and be calm."
There are several dogs at the sanctuary, waiting for their owners to come for them. They all bark whenever someone new arrives.
But the centre can only care for abandoned animals. Those who were badly injured during the eruption have to be taken for specialist care.
Volcano eruptions 'could last for months'

They rescued a goat whose udders were severely burnt and took it to the vet, hoping it can recover from its wounds.
Scientists say the pressure inside the volcano has decreased, but that doesn't mean the eruptions are about to stop.
The experts can't predict when the explosions of lava will end, they think it could last till December.
With each day that passes, people are becoming more desperate.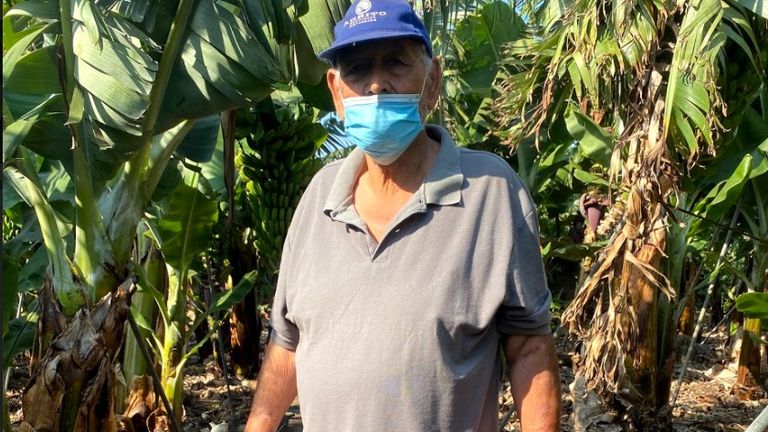 Ernesto de Paz Perez is a banana farmer. The plant is known as "plátano" here, they are slightly smaller than bananas from Latin America.
Mr de Paz Perez, 75, started working on a plátano farm when he was 14.
La Palma depends on the fruit for around half of its economic output.
But the volcanic dust is damaging the fruit's skin and farmers fear they won't be able to sell their produce to supermarkets.
The eruption has also cut off the water supply to Mr de Paz Perez's plants.
"If it [the eruption] keeps going for a long time it will cause a lot of damage. If the plátano fields are not watered we will lose them. There will be many losses," he said.
Elsewhere on the island they're trying to get back to normal. The airport is open after closing because of an ash cloud, but flights haven't immediately resumed.
The whole of La Palma just wants to repair and return to how their lives were before the volcano erupted, but when that will be, no one knows.
Lewis Hamilton hails 'magical moment' as he wins 100th Formula One race | UK News

Lewis Hamilton has spoken of the "magical moment" of winning his 100th Formula One race at Sunday's Russian Grand Prix.
Hamilton, 36, used his driving and overtaking skills, and his strategic thinking in the rain, to fight back from seventh place on the first lap to a landmark victory.
He is the first driver to reach 100 victories.
It was his fifth win of the season and his first since the British Grand Prix in July.
"It's taken a long time to get to 100 and at times, I wasn't sure it would come," the British driver said.
"It is a magical moment. I could only have dreamed of still being here, to have this opportunity to win these races, and to drive with such phenomenal talents this late on in my career."
"I am so proud of everything we have done with Mercedes, on and off the track, and this is a special moment for everyone that has been part of it.
"My dad called me last night and he has always been that one to reassure me and to continue to support me. I feel incredibly grateful for the amazing support that I have had."
The victory takes Hamilton two points clear of Max Verstappen in the title race with seven rounds to go.
It also denied Lando Norris of his first victory following a thrilling finale.
Norris, 21, appeared on course to keep Hamilton at bay, and become the youngest British Formula One winner.