California claims bias after Florida's exempted from Trump's offshore drilling plan
California isn't alone — almost all coastal states will be affected if Trump follows through on his decision. But since the initial announcement, the offshore drilling question has joined a host of political disputes pitting the nation's wealthiest, most populous state against a president it spurned in the 2016 election.
Conflicts around marijuana legalization, immigration and environmental regulations are all coming to a head this year, putting California in the somewhat novel position of defending states' rights against the federal government.
"We've had to take on the Trump administration more than any other state," said Becerra.
Supporters of Florida's exemption say the Gulf of Mexico has a sensitive history with offshore drilling following the 2010 Deepwater Horizon spill. But Becerra and others say Florida should apply for an exemption, rather than simply receive one before the new regulations are even put in place.
Like many of Trump's announcements, it's unclear if or when the offshore drilling will come to pass. Zinke still hasn't published a comprehensive policy proposal and even the fastest timeline wouldn't see drilling off California for another decade.
Supporters of the move argue that Trump's plan is about more than just money. (The estimated 10 billion barrels of underwater oil reserves are certainly significant, however.) The decision will also be a "game changer" for energy security and independence, said Tim Charters, the senior director of governmental and political affairs at the National Ocean Industries Association.
"We are giving ourselves a freedom and opportunity to ensure that we have a supply regardless of what happens around the rest of the world," said Charters, who noted that California depends on foreign oil for more than half its consumption. "This is not a short term energy plan, this is a long-term energy plan to ensure that America has security for generations to come."
Such reasoning is far from reassuring for environmentalists and the millions employed by California's coastal economy, which Becerra says generates about $1.7 trillion annually or about 10 percent of the state's GDP.
Standing on the deck of the same tourist boat alongside Alexander and her family, naturalist Laurie VanStee, who works for the tour boat company, rattled off a list of the Channel Islands' sensitive wildlife: some 80 species of whales, dolphins, porpoises and fish. The blue whale, with a population that inhabits the waters from Santa Barbara north to Monterey, is highly endangered with only 10,000 individuals left.
For Californians like VanStee, Trump's announcement recalls a 2015 pipeline rupture in Santa Barbara that dumped some 143,000 gallons of crude oil into the ocean. And many remember the 1969 spill that still ranks among the worst in American history.
But it doesn't take a spill or rupture to hurt wildlife, she said, even in the federal waters miles from the coast.
"The drilling will obviously disrupt the ocean floor because … these are fixed to the ocean floor," said VanStee while gesturing to the older oil rigs in the channel that predate bans on drilling in state waters. "It's not just the stuff swimming. It's also the bottom of the ocean. Quite a healthy ecosystem here as well."
Island Packers Cruises, the company operating the boat tour, depends on that ecosystem.
As the boat rounded the edge of Santa Cruz Island — the largest of the eight Channel Islands — Jill McCoy stood on the deck taking in the view.
"Frankly I'd rather spend 10 cents a gallon more for gasoline than have this be destroyed," said the Chicago-based tourist.
McCoy says she opposes the president's plan even though she holds stock in oil companies that would benefit from the decision. And while "Florida is gorgeous" just like California, McCoy said the president was obviously playing favorites with a kind of not-in-my-backyard double standard: Compared to California, Trump holds far more interests in Florida — his Mar-a-Lago property being one example.
"I think if the president had his golf course in Pebble Beach," McCoy said, "we wouldn't be talking about any of this."
'Out-of-control' Chinese rocket has landed in the Indian Ocean | World News

An "out of control" Chinese rocket has landed in the Indian Ocean, China says.
The rocket, called Long March 5B, was launched from Wenchang Space Launch Centre on 29 April to carry Tianhe – the first module of China's future space station – into orbit.
It re-entered the atmosphere at 3.24am UK time, with the bulk of its components destroyed at that point, according to Chinese state media.
The point of impact was somewhere southwest of India and Sri Lanka, they added.
While the timing of the landing had been pinpointed quite closely, the possible landing site had been unclear until the last minutes of the rocket's descent.
At one stage it was thought the debris trail could fall as far north as New York, Madrid, or Beijing, and as far south as Chile and New Zealand.
There was some criticism of China's lack of control over the descent, with US Defence Secretary Lloyd Austin saying: "There should be a requirement to operate in a safe and thoughtful mode and make sure that we take those kinds of things into consideration as we plan and conduct operations."
Chinese state media had played down fears that the rocket could cause damage as a situation "not worth panicking about", suggesting it would fall somewhere in international waters.
The rocket launch is part of China's increasingly ambitious space programme, with Beijing planning at least 10 similar launches to carry equipment into orbit.
The space station will be complete by 2022, with China also planning to build a moon base in cooperation with Russia.
COVID-19: France tourist hotspots missing UK visitors as amber rating keeps holidays off the menu | World News
It's been a blowy, blustery day in Brittany. There was a bracing wind and a few brave souls in the sea.
It all felt very British.
But for the British desperate to get abroad, a French holiday is still effectively off-limits.
Its amber rating means people should not be travelling there for leisure trips. For those who do go, it will mean a test before leaving, two more upon return and 10 days in quarantine.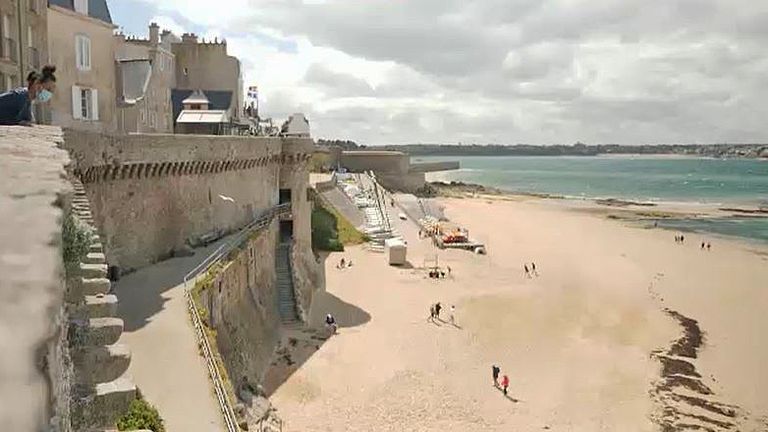 Saint-Malo is a coastal town that relies heavily on tourism.
Atop the old fortress wall is the town's oldest creperie. In the 18th century the building housed soldiers, the mission then was to keep the British at bay.
But now they are welcomed with open arms and local specialities.
The owners say they're really missing tourists from across the Channel.
"We're used to speaking English every day," says restaurant worker Magali Garncarzyk. "But for a year now there have hardly been any British tourists."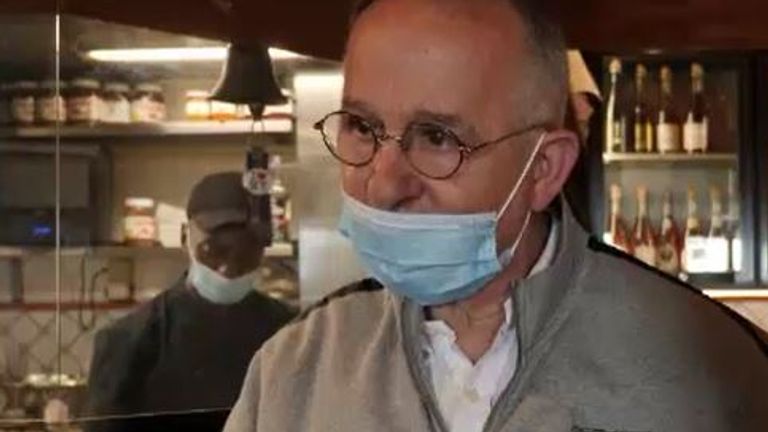 It's had an impact says her boss, Alain Cabot: "In terms of visitors, the British were the first who started coming to Saint-Malo, mainly due to the ferry connections, so that cuts off quite a large number of tourists."
France is the second most popular destination for British tourists after Spain. Pre-COVID, in excess of 10 million people travelled here every year .
It won't be that way this year and the impact is already being felt by numerous small businesses.
Mont-Saint-Michel, a tidal island topped by an 11th century abbey, is one of France's top tourist attractions and would normally welcome 2.5 million tourists a year to its cobbled streets and quicksand bay.
This is the first weekend the French are being allowed to travel further than 10km (6 miles) from their homes.
It's a small relief to tourist businesses, but rows and rows of car parking bays stood empty and just a handful of people strolled onto shuttle buses that would usually have seen long queues.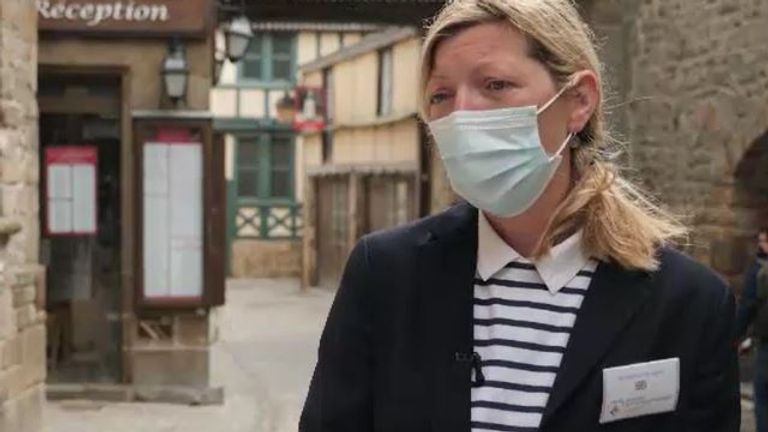 In the town, cafes and shops are still shuttered, and when they reopen they'll need custom.
Julie Dion works in the tourist office and says almost 100% of enquiries at the moment are from the French. But it may not be enough.
"It is very worrying," she says.
"We don't know how many people are going to arrive. It was a guaranteed place where we were very busy every day, so will there be enough tourists for the businesses to continue to run as they were?"
It's having a personal impact for her too.
She's originally from Wales, all her extended family are still there and she hasn't been back for over two years.
Julie says the cost of multiple tests for herself, her husband and her three children make the journey prohibitive.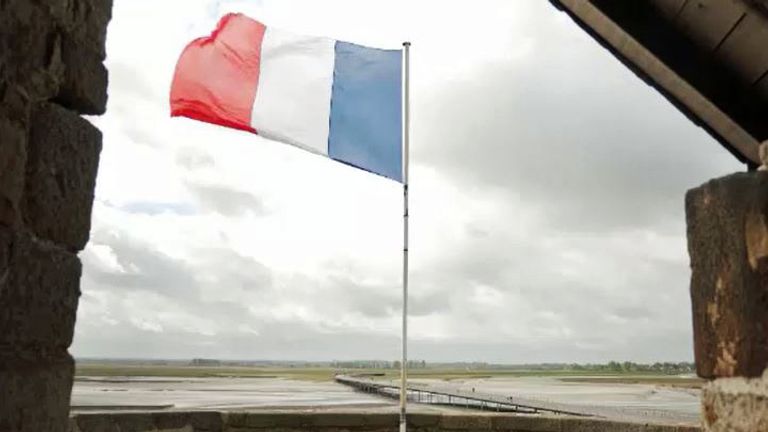 "It's very sad, it's really difficult. It'll be a long, difficult time now away from family," she says.
Like all countries, France's rating will be reviewed every three weeks, but while cases are still high here and vaccinations low, the chances of a French holiday remain distant.
Afghanistan: Children among at least 40 killed by bomb near Afghanistan school | World News

At least 40 people – including many students – have been killed after a bomb exploded near a school in west Kabul, according to an Afghan government official.
At least 50 are also reported to have been injured by the blast.