At least 70 dead in 'chemical attack' by Syrian regime in Eastern Ghouta, says rescue group
Dozens of people have been killed in what an aid group is describing as "one of the worst chemical attacks in Syrian history".
The Union of Medical Care and Relief Organisations (UOSSM), which has links to opposition forces in the region, told Sky News that at least 70 people had been killed in the strike in Douma, Eastern Gouta, with more than 500 civilians injured.
There have been no independent verification of the claims.
Volunteer rescue service The White Helmets, which also has links to the opposition, said that many of the victims were women and children.
The group has published photos showing a number of dead children appearing to be frothing at the mouth.
Reuters and Getty Images have also released pictures showing the aftermath of what they describe as a "poisonous gas attack" by the Syrian regime, including a number of dead children.
Other children are shown receiving medical treatment.
The UK-based Syrian Observatory for Human Rights has reported 11 cases of symptoms of suffocation in the besieged city, including five children, but has not said what agents may have been used or whether there had been any deaths.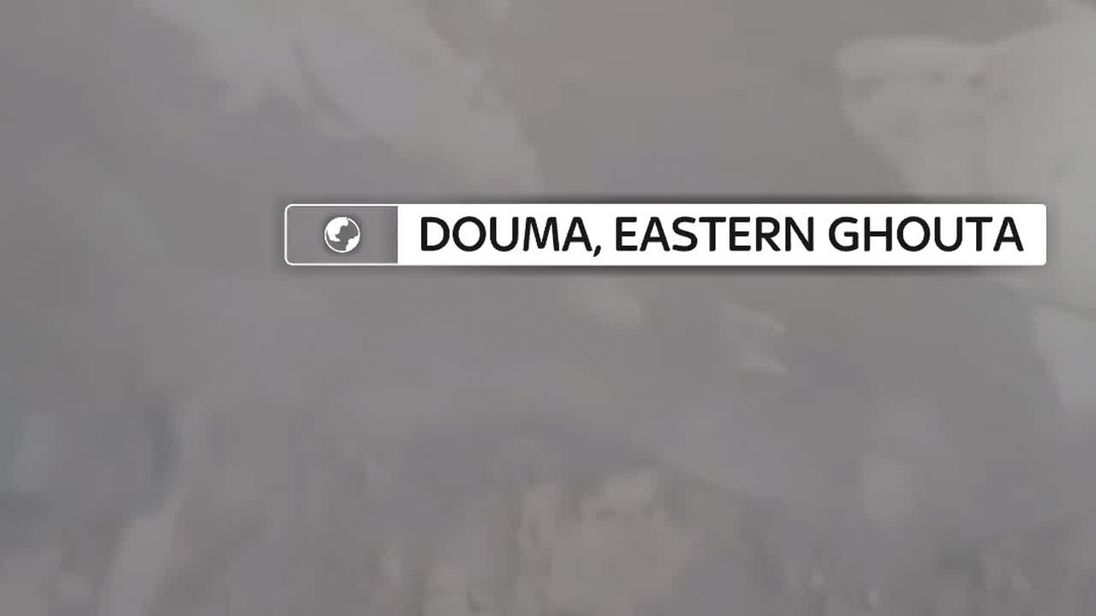 Syrian state media denied government forces had launched any chemical attack and said rebels in Douma were in a state of collapse and making "chemical attack fabrications".
The US State Department, which is monitoring the situation, said that the Syrian government's history of using chemical weapons against its own people "was not in dispute".
"Russia ultimately bears responsibility for the brutal targeting of countless Syrians with chemical weapons," a State Department official said.
The Syrian government has recaptured nearly all of eastern Ghouta from rebels in an offensive that began in February, leaving just Douma in the hands of insurgent group Jaish al Islam.
Last year, a joint inquiry by the UN and the Organisation for the Prohibition of Chemical Weapons found the Syrian government was responsible for an attack using sarin in the opposition-held town of Khan Sheikhoun, killing dozens of people in April 2017.
The inquiry had previously found that Syrian government forces were responsible for three chlorine gas attacks in 2014 and 2015, and that Islamic State militants used mustard gas.
Fred Perry stops selling polo shirt after it becomes associated with far-right group | World News
Fred Perry has pulled one of its famous polo shirts after it became associated with a neo-fascist organisation. 
The British clothes maker said it was "incredibly frustrating" that the Proud Boys had adopted its black and yellow shirt – and announced it would no longer be selling the item in North America and Canada.
"To be absolutely clear, if you see any Proud Boys materials or products featuring our Laurel Wreath or any Black/Yellow/Yellow related items, they have absolutely nothing to do with us, and we are working with our lawyers to pursue any unlawful use of our brand," it said in a statement on its website.
Fred Perry does not support and is in no way affiliated with the Proud Boys. Read our statement here.

— Fred Perry (@fredperry) September 25, 2020
The brand was founded by Wimbledon champion Fred Perry in 1952 and has been adopted by various British subcultures since.
It has long been associated with the Skinheads, who originally denounced fascism – although the group divided in the 1970s as a small number of its members swung to the far right.
The clothes brand has spoken out against far-right views on numerous occasions after its wreath-emblazoned polo shirts were used by controversial groups.
"The Fred Perry shirt is a piece of British subcultural uniform, adopted by various groups of people who recognise their own values in what it stands for," the brand said.
"We are proud of its lineage and what the Laurel Wreath has represented for over 65 years: inclusivity, diversity and independence…
"Despite its lineage, we have seen that the Black/Yellow/Yellow twin-tipped shirt is taking on a new and very different meaning in North America as a result of its association with the Proud Boys. That association is something we must do our best to end."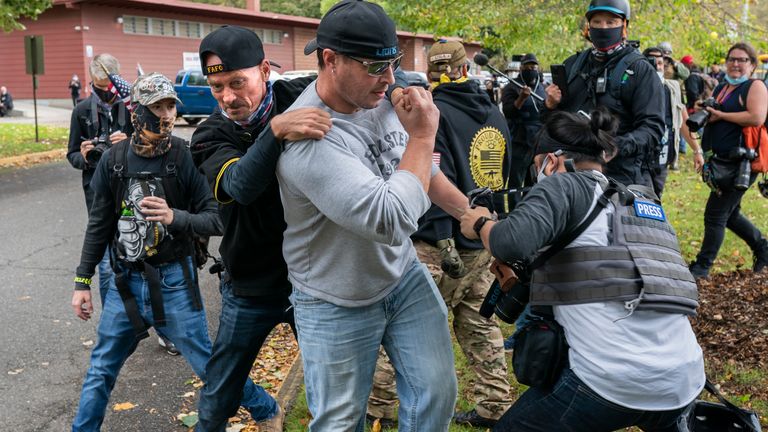 The brand revealed it had discontinued the shirt in North America and Canada since September last year, and would not be selling it there again "until we're satisfied that its association with the Proud Boys has ended".
The Proud Boys is a far-right group that admits only men and promotes political violence.
When asked in 2017 about the association, Fred Perry chairman John Flynn said the group was "counter to our beliefs and the people we work with".
"Fred was the son of a working-class socialist MP who became a world tennis champion at a time when tennis was an elitist sport. He started a business with a Jewish businessman from Eastern Europe," he said.
"It's a shame we even have to answer questions like this. No, we don't support the ideals or the group that you speak of."
Ex-Trump campaign manager in hospital after threatening to hurt himself | US News
Donald Trump's former campaign manager Brad Parscale has been taken to hospital after threatening to hurt himself, police in Florida have said. 
His wife had called police to say he had multiple firearms and was threatening to harm himself at their home in Fort Lauderdale on Sunday.
However, police said he was alone in the house at the time and officers had managed to negotiate with him to leave the property.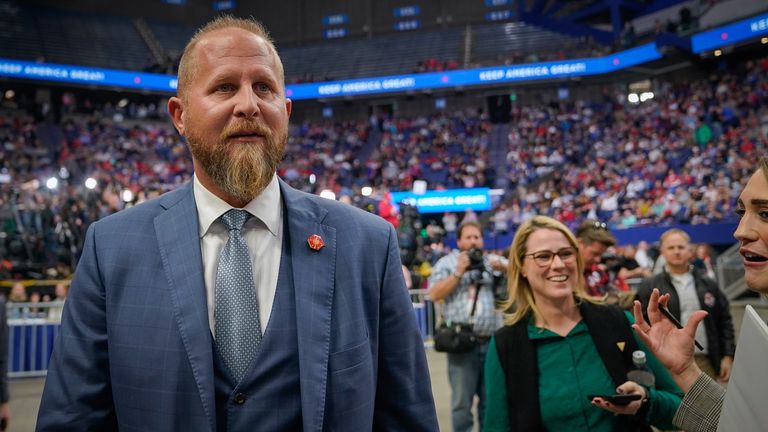 Mr Parscale was taken to hospital under the state's Baker Act, which allows anyone believed to be a threat to themselves or others to be detained for 72 hours for psychiatric evaluation.
Trump campaign communications director Tim Murtaugh said: "Brad Parscale is a member of our family and we love him.
"We are ready to support him and his family in any way possible."
Mr Parscale was demoted from the role of campaign manager in July, although had remained part of the campaign and helped run its digital operation.
He attracted media attention earlier this year due to his extravagant lifestyle on the Florida coast that kept him far from the Virginia campaign headquarters.
Shortly before he was demoted, Mr Parscale had claimed hundreds of thousands of people were signed up to a Trump comeback rally in Tulsa – only for about 6,000 to show up.
Mr Trump was said to be "furious" at the "underwhelming" crowd, according to NBC News, and Mr Parscale was replaced by Bill Stepien as campaign manager.
Anyone feeling emotionally distressed or suicidal can call Samaritans for help on 116 123 or email jo@samaritans.org in the UK. In the US, call the Samaritans branch in your area or 1 (800) 273-TALK.
Joe Montana: Ex-NFL star and wife grab grandchild from arms of intruder | US News
Former NFL quarterback Joe Montana and his wife confronted a home intruder who attempted to kidnap their nine-month-old grandchild over the weekend, law enforcement officials say.
Montana told officers his grandchild was sleeping in a playpen on Saturday when an unknown woman entered their home in Malibu and grabbed the child.
According to the Los Angeles County Sheriff's Department, the former San Francisco 49ers star and his wife, Jennifer, confronted the woman, tried to "de-escalate the situation" and asked her to give back their grandchild.
After a tussle, officials said Jennifer Montana removed the child from the intruder who was later identified as Sodsai Dalzell.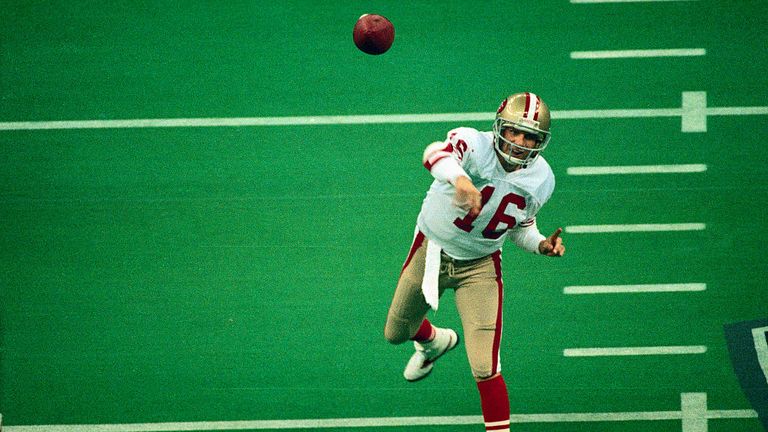 "Thank you to everyone who has reached out," Montana tweeted.
"Scary situation, but thankful that everybody is doing well. We appreciate respect for our privacy at this time."
The sheriff's office said Dalzell fled the home but was later arrested. She faces kidnapping and burglary charges.
Montana, 64, retired after the 1994 season, playing 13 years of his 15-year career with the San Francisco 49ers, who won four Super Bowls with him as starting quarterback.