Hungarian Prime Minister pushes anti-migrant agenda in national election
Hungarians vote on Sunday in an election which could deliver a third consecutive victory for a Prime Minister who has campaigned hard on an anti-immigrant agenda. Europe Correspondent Michelle Clifford reports…
"The opposition will turn us into a land of foreigners," Victor Orban tells the crowd at his last rally in Szekesfehervar, 60 kilometres from the capital Budapest.
The choice of location was likely no coincidence – a town synonymous with the foundations of Christianity in this country is a potent place to talk about the clash of civilisations and the dangers of Muslim migrants entering Hungary.
And his message clearly resonated in the crowd. When we met Timea Varnai after the event she looked clearly delighted with what she had heard.
"I strongly agree with his migration politics," she said, smiling broadly. "I think that he represents our country very well in the European Union and all over Europe. I think he is the best man to represent us."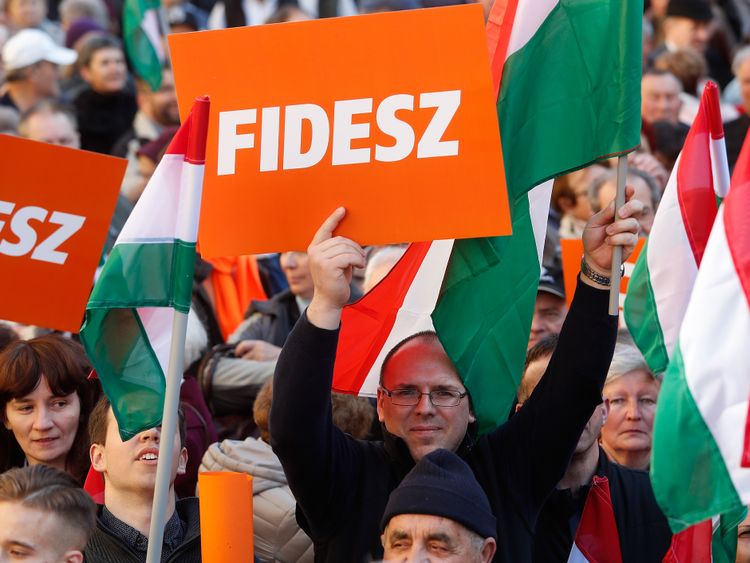 When I ask if she is bothered by the allegations of corruption in his government, abuse of power and curbs on press freedom she says there "are voices like that".
"But I have to repeat that I think he is doing the right thing. I hear them say he restricts things but he defended the country and that is the most important thing for us. We don't want this culture to be changed."
She is one of the many in Hungary who regard Orban as a strong man, defending the rights of Hungarians. There are plenty of others who regard him as a bully, crushing the rights of those who oppose him.
His Fidesz party is on course to win another term in the first election since Orban introduced tough measures to counter the influx of hundreds of thousands of of mainly Muslim migrants into Hungary in 2015.
Some call him a xenophobe but his spokesman Zoltan Kovacs is unapologetic about a political response which involved building a fence on Hungary's southern border.
:: Hungary migrant vote declared invalid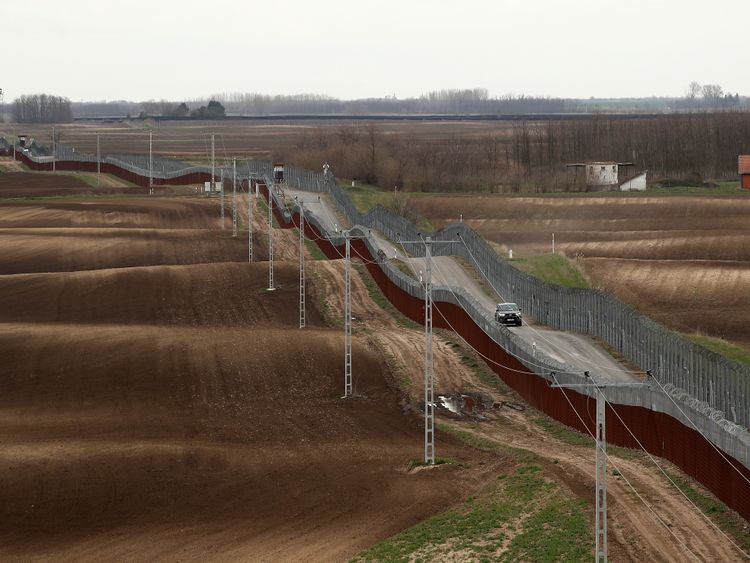 "I would say we talk about and deal in reality," he tells me.
"We made some tough decisions in the past. It was not easy to build a fence and introduce other methods. But they are effective.
"They are basically the only effective way to stop what is happening in Europe, and what is happening in Europe is illegal immigration happening in waves."
He adds, as a dig at the EU which has clashed with Hungary over the imposition of quotas for taking in asylum seekers: "In fact if all European countries had been using the same measures and effectiveness we have been using then the situation would have been very different."
But the actions and language of Fidesz appals many in Hungary.
On a city street in Budapest on the final weekend of campaigning we meet first time voter Marton Erdei, who has joined a drive to oust Orban.
:: EU takes Hungary, Poland and Czech Republic to court over refugees
He's handing out leaflets urging people to get out and vote and tells me he has come to loathe the man who has led the country since he was a child.
"All he talks about is immigration," he tells me, "Our aim is to reduce the power of Fidesz. They are still going to win the election but this time they will have less power in parliament."
The problem is that the opposition is fractured in Hungary with an array of parties from right to left but with no single one able to deliver a fatal blow to Orban.
A YouTube channel and movement called Country For All has tried to get the opposition parties to work together but that effort has been hampered by factional disagreements.
Added to that, opposition parties complain it is much harder to get their message out in a society where significant sections of the media prop up the government.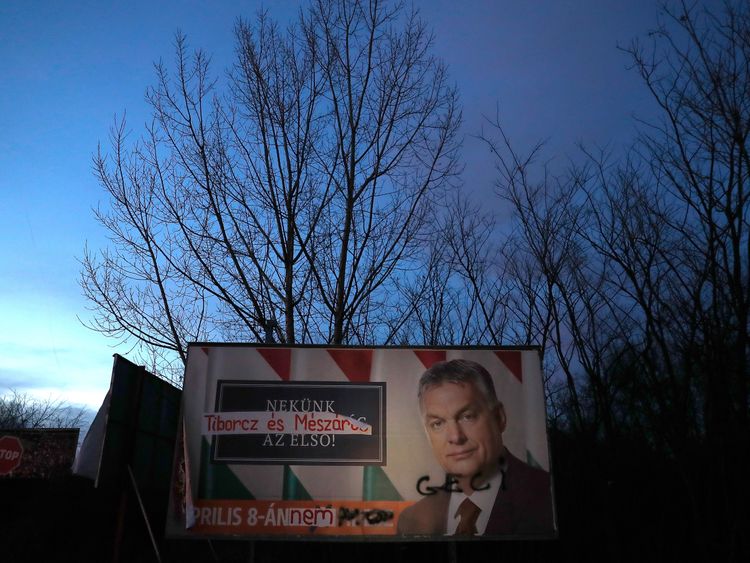 "The state media and the state funded media – we call it the government organised media – some of them are officially in private hands but in fact they are in the hands of the pro-Orban oligarchs," political analyst Peter Kreko tells me.
"They are just pushing the message of the government and doing an ugly smear campaign against opposition forces."
That, Mr Kreko says, means there is no level playing field in the election. It may be "free" but it's not fair.
Orban has promised to take "moral, political and legal" revenge against those who oppose Fidesz.
With his victory predicted there is worry about what that means.
Curbs on hostile press? On non-government organisations that help refugees? On outspoken critics?
It is not just people in Hungary wondering, but many in the European Union the country is part of.
German election: 'Boring' Olaf Scholz may be just the ticket amid uncertainty about life after 'Mummy' Merkel | World News
Germany is about to lose its political mother and an air of uncertainty clouds the current election to replace her.
They call Angela Merkel "Mutti", or Mummy, because of her calm reassuring style of rule in crisis after crisis.
For young Germans, she is the only leader they have ever known.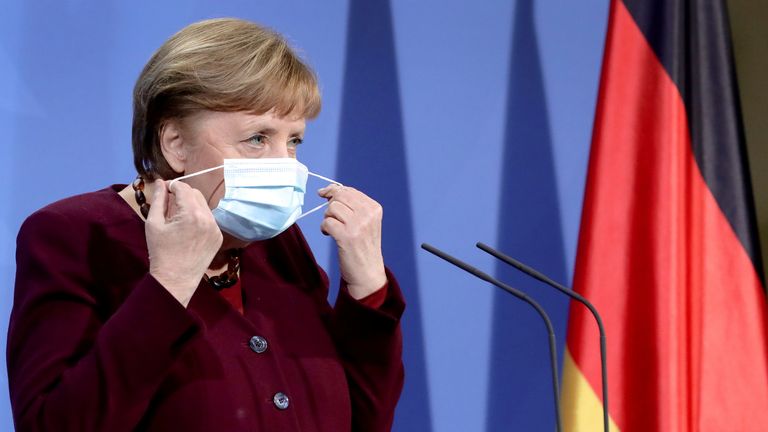 We joined a posse of young leafleteers from Ms Merkel's rivals' party, the Social Democratic Party.
Emma Otto, freshly back from au pairing in Dulwich, told us losing Mutti will be weird.
"She's been the only chancellor I've known," she said. "I can't remember a time before her so I think it's going to be a really big change."
They are missing her already.
We spoke to volunteers heading to help victims of July's devastating floods.
A huge voluntary effort has sprung up in the absence of official help.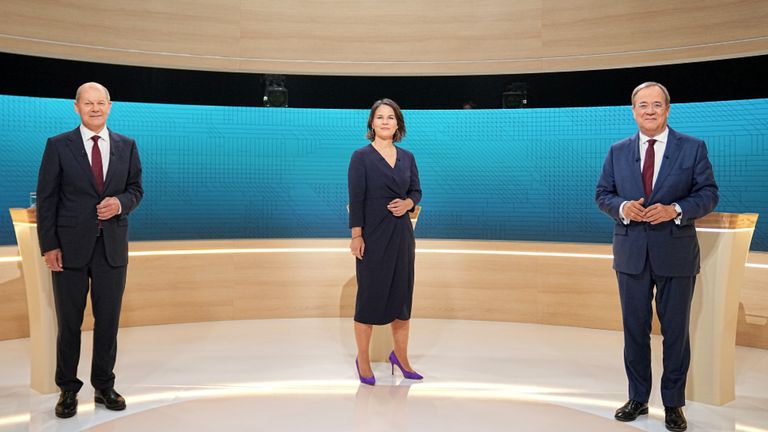 In its camp, many sounded disillusioned with politics in general.
"It's a difficult election," one volunteer told us. "I think none of the candidates is fully convincing.
"Someone was joking if Angela Merkel was still up for election she'd probably win because people would say we've seen the alternatives, we'd better stay with what we have."
Another young voter out handing out leaflets was welcoming change.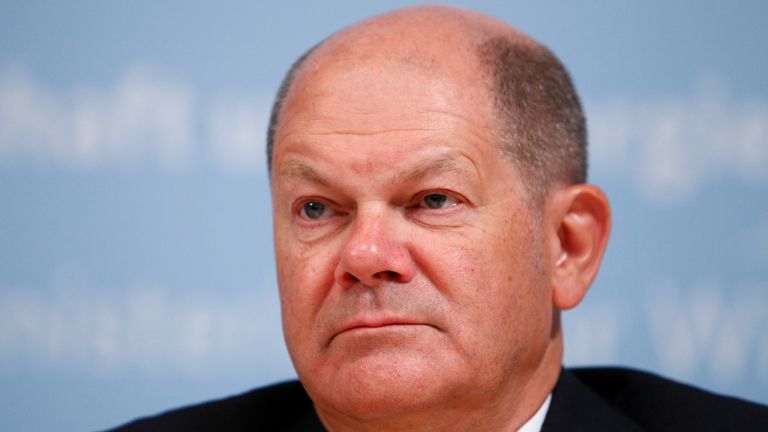 "Sixteen years of chancellorship is too much I'd say," Alicem Polat told Sky News.
"We have our candidate, Olaf Scholz, so we definitely say there is someone to replace her."
"People say he's boring," I interject.
"He is, I admit, but maybe that's the German way of politics."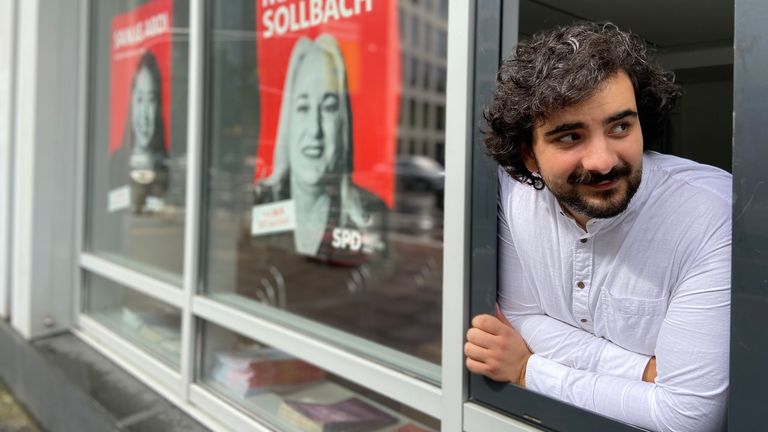 And there's the rub. The likely next chancellor Olaf Scholz, Germany's current finance minister, has no political pizzazz or charisma.
But that may be a good thing to voters.
Unsettled by the loss of Ms Merkel and the pandemic, Germans will take quiet, boring competence over excitement.
He is also the last person standing for now at least in the polls.
Ms Merkel's heir apparent should have been Armin Laschet.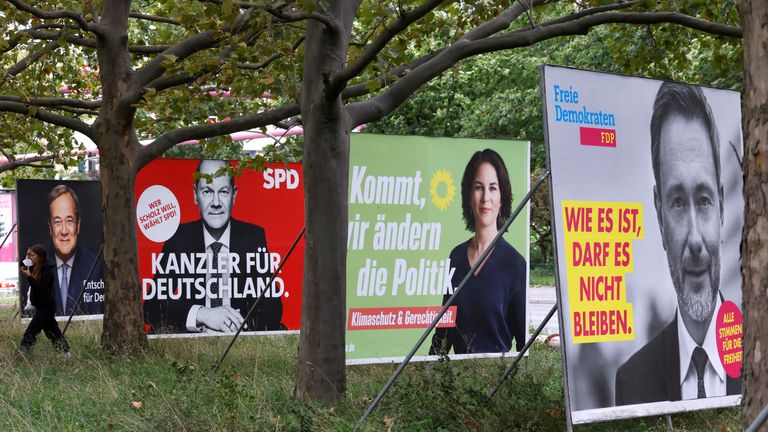 But the new Christian Democratic Union leader has slipped on a banana skin thrown up by recent disastrous floods.
In the background, while dignitaries made speeches honouring the floods' victims, Mr Laschet was caught on camera sniggering.
His standing took a beating in the polls.
So much for the CDU.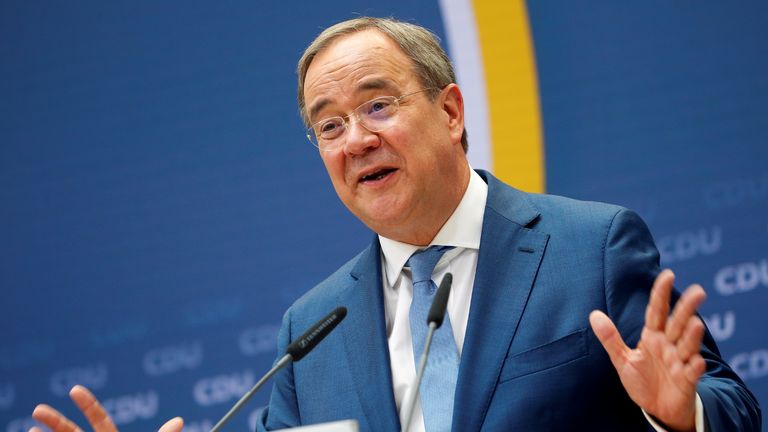 The floods should have been a godsend for the Greens, clear evidence of the dangers of climate change.
And yet Annalena Baerbock, their leader, has been unable to sustain an early lead in the polls.
Accused of plagiarism and lack of experience, she has floundered ever since.
So for now Mr Scholz remains the favourite to win the lion's share of the vote, giving him the chance to build a coalition.
Max Meyer, political scientist at Bonn University, told Sky News his alleged lack of personality may be just what Germany needs.
July: Angela Merkel meets the Queen during her visit to the UK

"That makes him probably a better leader," he said.
"Because it's more pragmatic and it's not the theatrics or the big flashiness of charisma, but it's more policy issues and it's more policy-driven."
He may be what Germany wants after Ms Merkel, but the shoes he has to fill are enormous if he wins.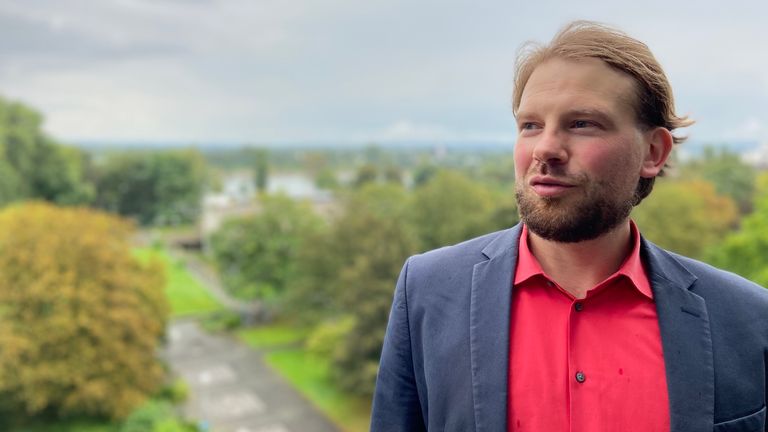 Ms Merkel rode out the euro crisis, the migrants crisis, the financial crisis and handled autocrats and allies with a firm fairness that soothed tensions and protected German interests.
"I think Germany is going to be very soon nostalgic," said Mr Meyer, "and probably most will look back with very positive feelings because she was capable of managing crisis and of portraying the country still as stable."
Germans are going to miss their Mutti.
Piers Morgan joining new channel talkTV where he will present 'global show' | Ents & Arts News
Piers Morgan has revealed his next presenting job will be for new television channel talkTV – which is being set up by Rupert Murdoch's News Corp.
The company, which will launch its new service next year, said Morgan's nightly show will be broadcast in the UK, the US and Australia.
He left Good Morning Britain earlier in the year, after criticising Harry and Meghan's comments in an interview they gave with Oprah Winfrey, saying he did not believe some of the things they said, particularly around mental health.
BREAKING: I've gone home. Great to be rejoining Rupert Murdoch's News Corporation after 28 years. The place I started my media career, with the boss who gave me my first big break. We're going to have a lot of fun…. pic.twitter.com/g6xBWvgXzd

— Piers Morgan (@piersmorgan) September 16, 2021
The show was recently cleared by Ofcom, after tens of thousands of complaints were made about it.
Talking about his new role, Morgan said: "I'm thrilled to be returning to News Corp, which is where I began my media career more than 30 years ago.
"Rupert Murdoch has been a constant and fearless champion of free speech and we are going to be building something new and very exciting together.
"I want my global show to be a fearless forum for lively debate and agenda-setting interviews, and a place that celebrates the right of everyone to have an opinion, and for those opinions to be vigorously examined and challenged.
"I'm also delighted to become a columnist for The Sun and the New York Post, two brilliantly successful and popular newspaper brands.
"I'm going home and we're going to have some fun."
'A good day for free speech' – Piers Morgan

Executive chairman of News Corp, Rupert Murdoch, added: "Piers is the broadcaster every channel wants but is too afraid to hire. Piers is a brilliant presenter, a talented journalist and says what people are thinking and feeling."
In the past, Morgan has been hired by ITV, CNN and NBC in various presenting roles.
News Corp said its new channel will "offer a mix of programming from our stable of household brands, proper hourly news bulletins, documentaries, entertainment and more".
The company already owns established news brands such as The Times and The Sun newspapers, as well as a number of radio stations such as Virgin and talkSport.
News Corp had previously scrapped plans for a linear news channel, and instead decided to focus on streaming its radio brands online, while rival GB News pushed ahead with its launch.
Responding to News Corp's announcement, GB News tweeted: "Congratulations to Piers Morgan.
"We love competition. Bring it on!"
In the US, Morgan's show will be carried on Fox Nation, while Sky News Australia will broadcast it down under.
China says AUKUS submarine deal 'highly irresponsible' and 'intensifies the arms race' | World News
A new security deal between the United States, Britain, and Australia in the Indo-Pacific "severely damages regional peace" and "intensifies the arms race", China has said.
On Wednesday, the three western powers announced they will establish a security partnership that will help Australia acquire US nuclear-powered submarines.
In Beijing, Chinese Foreign Ministry spokesman Zhao Lijian condemned the move and said: "The US, the UK and Australia's cooperation in nuclear submarines severely damages regional peace and stability, intensifies the arms race, and jeopardises the international efforts in promoting the non-proliferation of nuclear weapons.
'AUKUS alliance will bring us closer than ever'

"The US and UK's action of exporting highly sensitive nuclear submarine technology once again proves that they are using nuclear exports as a tool for geopolitical games and adapts double standards.
"This is a highly irresponsible act."
It comes as France accused US President Joe Biden of stabbing it in the back and acting like predecessor Donald Trump after Paris was snubbed from a $40bn (£29bn) defence deal it had signed with Australia.
The deal, dubbed AUKUS, will see Australia scrap its 2016 agreement with French shipbuilder Naval Group to build a new fleet to replace its ageing Collins submarines.
"This brutal, unilateral and unpredictable decision reminds me a lot of what Mr Trump used to do," foreign minister Jean-Yves Le Drian said on franceinfo radio.
"I am angry and bitter. This isn't done between allies."
"It's a stab in the back. We created a relationship of trust with Australia and that trust has been broken," he added.
He had previously said in a statement the "choice to exclude a European ally and partner such as France" was something the country "can only note and regret".
London, Canberra and Washington have said they will seek to collaborate in cyber, quantum technologies and artificial intelligence, as well as other underwater capabilities.
Defence Secretary Ben Wallace told Sky News on Thursday: "We have no intention of doing anything to antagonise the French – the French are some of our closest military allies in Europe, we are sizable and comparable forces and we do things together."
He added: "The French were contracted to deliver diesel submarines and the Australians took a decision they wanted to switch out of that and into nuclear.
"Each country has to make those choices in their own national security interests."
Did Biden forget Australian PM's name?

Nuclear-powered submarines are superior to their diesel counterparts as they can operate more quietly and stay underwater for longer.
How the collaboration will work, what it will cost, how many boats will be built, where and which companies will be involved has not yet been revealed.
However, just two weeks ago the Australian defence and foreign ministers had reconfirmed the deal to their French counterparts.
But the agreement had been beset with issues and delays, due to Canberra's requirement the majority of manufacturing and components be sourced locally.
Mr Biden said France remained a "key partner in the Indo-Pacific zone", while Australian Prime Minister Scott Morrison said his country looked forward to continuing to work "closely and positively" with the French, adding: "France is a key friend and partner to Australia and the Indo-Pacific."
In a joint statement, the pair along with Britain's Prime Minister Boris Johnson said: "The endeavour we launch today will help sustain peace and stability in the Indo-Pacific region.
"For more than 70 years, Australia, the United Kingdom, and the US have worked together, along with other important allies and partners, to protect our shared values and promote security and prosperity. Today, with the formation of AUKUS, we recommit ourselves to this vision."
Although the word "China" was not mentioned specifically, the predominant security and defence challenge in the region is the rise of an increasingly assertive, authoritarian Beijing.