How Sergei and Yulia Skripal survived the novichok attack
Poisoned spy Sergei Skripal is no longer in a critical condition and his daughter says her strength is "growing daily". Just a few weeks ago they were seemingly on the brink of death – so how did they survive?
Alastair Hay, Professor of Environmental Toxicology at Leeds University, tells Sky News how they may have fought off the novichok nerve agent and managed a "miracle" recovery.
:: But first, how dangerous is novichok really?
"The nerve agents are deadly," says Prof Hay.
"That's why they were chosen as chemical weapons. If you are exposed to a number of lethal doses then invariably it is fatal."
They block acetylcholinesterase, an enzyme active in the nervous system.
The result is involuntary contraction of all muscles, leading to cardiac arrest and asphyxiation.
One of the scientists who helped make novichok has also told Sky News the substance was designed to do "irreparable" damage to the body.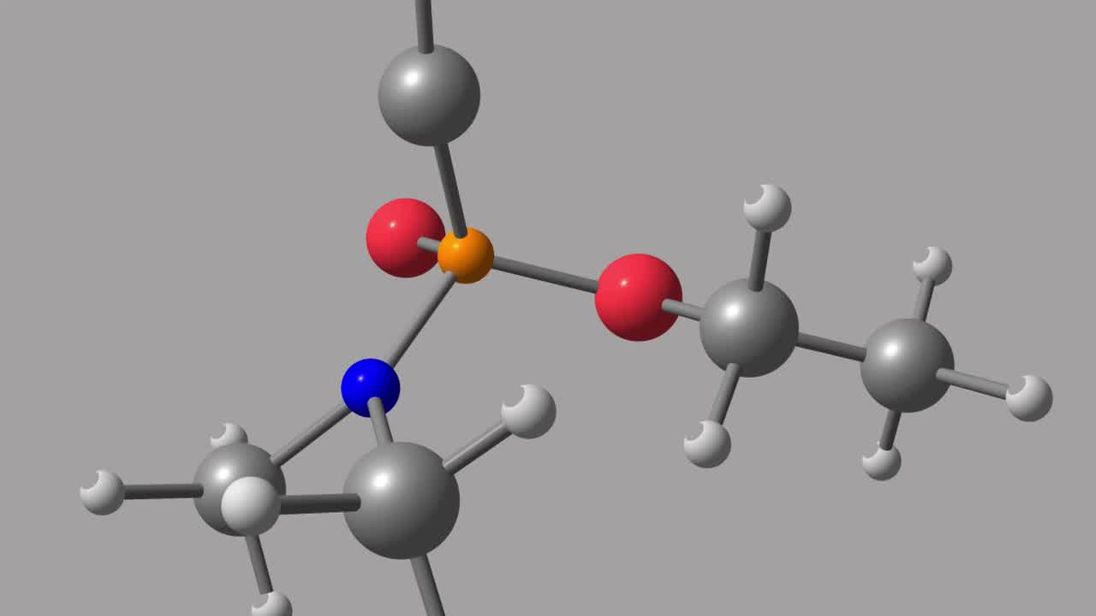 :: Paramedics' quick treatment was crucial
"The Skripals have survived because they've had great medical care," says Prof Hay.
"I'm sure if the paramedics hadn't been on the scene as quickly as they were – and were able to ensure that the Skripals kept breathing – they wouldn't have survived."
The former spy and his daughter were reportedly frothing at the mouth when they were found on a bench in Salisbury last month.
Those who made the first 999 call may have saved their lives.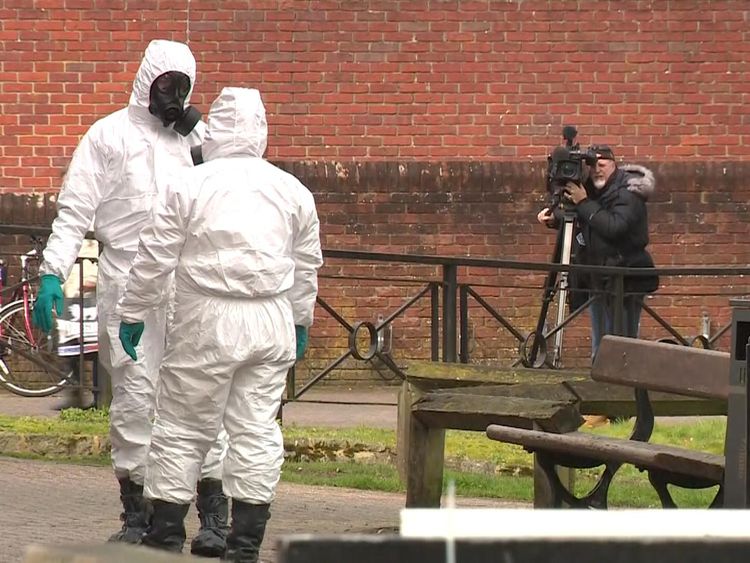 :: Did they get an antidote?
There isn't a magic-pill "cure" for novichok poisoning – which makes treating it something of an inexact science.
Prof Hay says "doctors treating the Skripals would have been a bit in the dark about some aspects of their treatment" because "a very specific (antidote) to target the nerve agent and pull it off an enzyme that is blocked is just not known".
However, the toxicology expert says the father and daughter were likely to have been given one of several general antidotes.
In this case, they appear to have helped.
:: Sergei Skripal no longer in a critical condition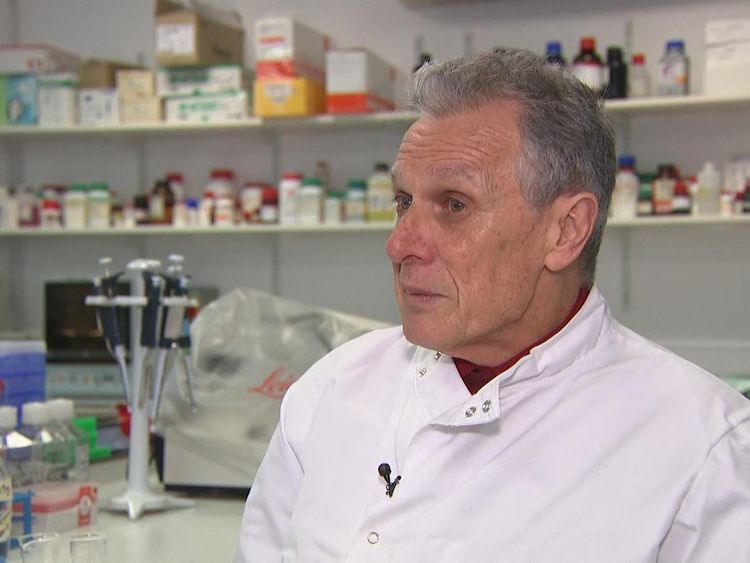 :: The body 'flushes out' the nerve agent
The precise way novichok is metabolised by the body is not fully known, says Prof Hay.
However, if someone can be kept alive long enough after the initial poisoning, then the body stands a chance of ridding itself of the toxin.
"The nerve agents are eventually metabolised and excreted from the body," explains the professor.
"So it's highly unlikely there is any nerve agent present… after even a couple of weeks.
"We don't know too much about how these compounds are metabolised, but we do know they would eventually be excreted."
It is possible that Ms Skripal, 33, and her father, 66, were sedated to reduce stress on the brain while the body flushed out the nerve agent.
"Once they had some idea the nerve agent had probably been removed from the body, they could bring somebody out of sedation," explains Prof Hay.
:: Body starts making the blocked enzyme
The enzyme suppressed by nerve agents such as novichok "is eventually made again in the body".
That's what could have kickstarted the rapid improvement seen in the Skripals' health over the last few weeks.
"If you can keep someone alive eventually they will recover because the body makes up what was blocked by the nerve agent," says Prof Hay.
"And that happens increasingly, and that's why someone progresses and improves… The recovery of the enzyme in the nervous system would ensure that the recovery would continue and improve considerably.
"I'm delighted that appears to be the case with Yulia Skripal."
:: 'Saved by the NHS'
"In a way it is a miracle really," says Prof Hay.
"But also a testimony to our NHS: great doctors well-trained, looking after people appropriately and well.
"So it's the skill of our doctors that's ensured their survival. Without it, I'm pretty certain they would not have survived."
Lithuanian defence ministry urges people to 'throw away' Chinese phones after discovering censorship tools | Science & Tech News
The Lithuanian Ministry of Defence has urged people to stop buying Chinese phones and throw away the ones they already possess after discovering censorship software.
It followed a report from the country's National Cyber Security Centre (NCSC) which found that Xiaomi devices were censoring terms deemed to be offensive to Beijing.
According to an analysis by the Lithuanian NCSC, the Chinese company's flagship devices sold in Europe have a built-in ability to detect and censor particular terms.
The phrases included "demonstration", "free Tibet", "long live Taiwan independence", and "church" according to the Lithuanian authorities.
Although the censorship capability had been turned off for devices in the European Union, the ministry of defence warned that it could be turned on remotely.
"Our recommendation is to not buy new Chinese phones, and to get rid of those already purchased as fast as reasonably possible," said Defence Deputy Minister Margiris Abukevicius, according to Reuters.
Chinese Ambassador banned from parliament: 'Standing up for free speech is critical'

A spokesperson for Xiaomi declined to comment when contacted by Sky News.
The call to throw away Chinese phones comes amid growing tensions between Lithuania and China over the former's support for Taiwan – which China claims as part of its own territory.
China demanded Lithuania recall its ambassador in Beijing last month and recalled its own envoy from Vilnius in a protest over Taiwan announcing its mission in the country would use the name of Taiwan, instead of the city of Taipei, which is typically used in other European nations and in the US.
Professor Alan Woodward, a cyber security expert at the University of Surrey, told Sky News: "We all know there are different builds of phones for different countries. If you want to sell a device in a country then you have to obey the laws there.
"But to have censorship software left in that can be remotely activated… that's a whole different level of one country effectively exporting its domestic regulations via technology," he said.
Professor Woodward said he could understand the thought process behind the Lithuanian warning: that if one Chinese vendor has included a censorship capability to please Beijing then that made it harder to trust others haven't done so too.
"Lithuania is a small market so I can imagine this might blow over, but the censorship software seemed to specifically be addressing items that were part of the tension between the two countries," added Professor Woodward.
"That starts to look like a deliberate attempt to interfere," he said.
"I'm sure other countries are also looking at these devices, so it behoves the Chinese government to make sure that they aren't trying to export their censorship regulations elsewhere or else they could destroy trust in all Chinese vendors, and that won't end well for anyone."
Boris Johnson says France needs to 'get a grip' amid anger over AUKUS pact | Politics News
Boris Johnson has said France should get over its anger at a partnership between the UK, US and Australia that saw the latter pull out of a major contract with Paris for submarines.
"What I want to say about that is I just think it's time for some of our dearest friends around the world to prenez un grip [get a grip] about all this and donnez-moi un break [give me a break]," the prime minister said when asked about the continuing row over the AUKUS initiative.
"This is fundamentally a great step forward for global security. It's three very like-minded allies standing shoulder to shoulder and creating a new partnership for the sharing of technology.
'AUKUS alliance will bring us closer than ever'

"It's not exclusive, it's not trying to shoulder anybody out. It is not adversarial towards China, for instance.
"It is there to intensify links and friendship between three countries in a way that I think will be beneficial for things that we believe in."
The AUKUS deal saw the UK, Australia and the US form a trilateral security pact to develop and deploy nuclear-powered submarines, adding to the Western military presence in the Pacific region.
Nuclear-powered submarines are superior to their diesel counterparts, as they can operate more quietly and stay underwater for longer.
France recalled its ambassadors to the United States and Australia in a backlash over the new security partnership, with foreign minister Jean-Yves Le Drian describing it as a "stab in the back".
La Palma eruption: Residents warned of earthquakes, toxic gases, volcanic ash and acid rain | World News
Authorities have warned people on the island of La Palma of fresh dangers after a new volcanic vent blew open and rivers of unstoppable lava flowed towards more densely populated areas and the sea.
Residents were cautioned on Tuesday about earthquakes, toxic gases, volcanic ash and acid rain after several small earthquakes shook the Spanish island, which sits in the Canary Islands archipelago off northwest Africa.
How bad has the damage been?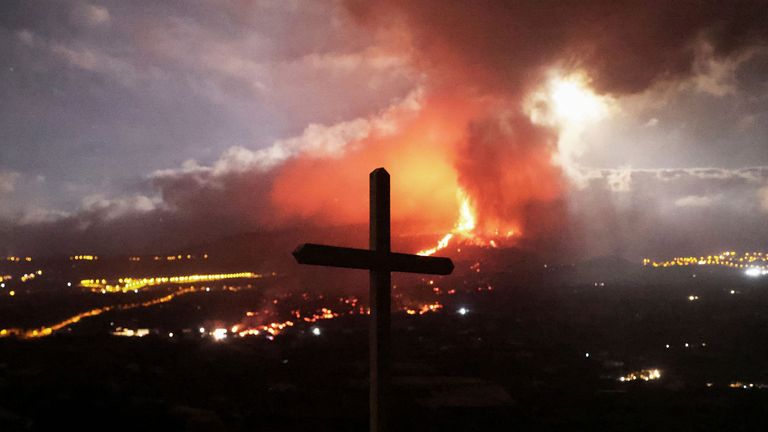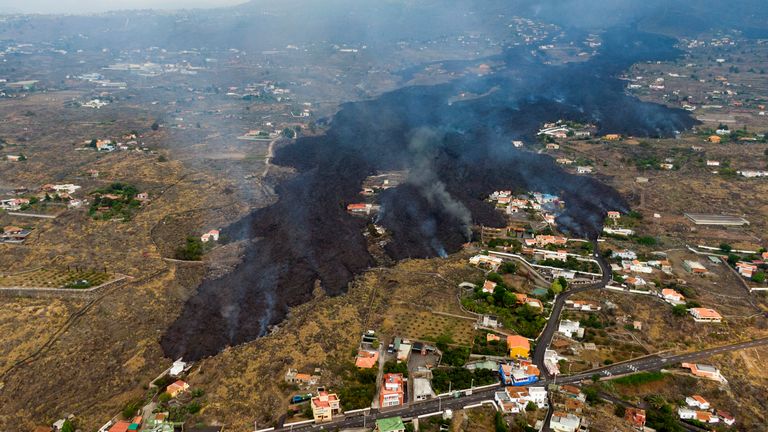 The volcanic eruption on Sunday afternoon forced the evacuation of 6,000 people and unstoppable rivers of molten lava have destroyed around 190 houses and caused significant damage to farmland and infrastructure.
The island of 85,000 people is a popular tourist destination for Europeans.
Thousands of small earthquakes have happened in the days following the eruption.
How long will the eruption last?
The aftermath of the volcanic eruption could last for up to 84 days, the Canary Islands Volcanology Institute has said.
It based its calculation on the length of previous eruptions in the archipelago.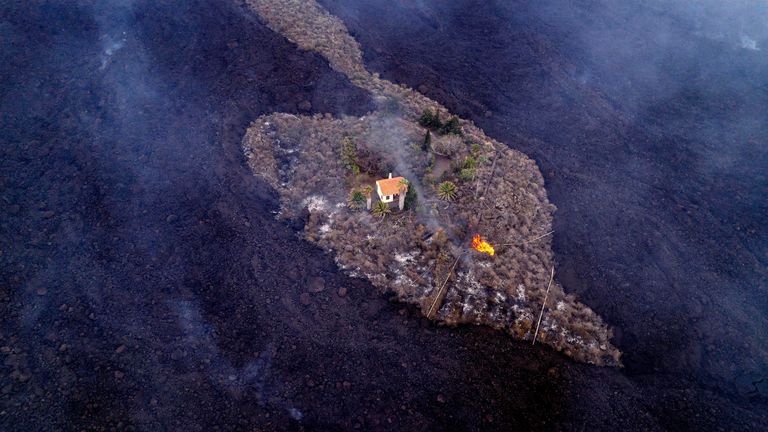 On Tuesday a new volcano vent opened up 3,000ft north of the Cumbre Vieja ridge, where the first eruption happened on Sunday.
Why is lava meeting the ocean so dangerous?
Drone footage shows lava swallowing swimming pools and homes

The flow of lava has slowed to around 120m (400ft) an hour and was not expected to reach the Atlantic Ocean until Wednesday, according to the head of the Canary Island Volcanic Emergency Plan, Miguel Angel Morcuende.
Angel Voctor Torres, the head of the Canary Islands government, said there would be a "critical moment" when the lava reaches the sea.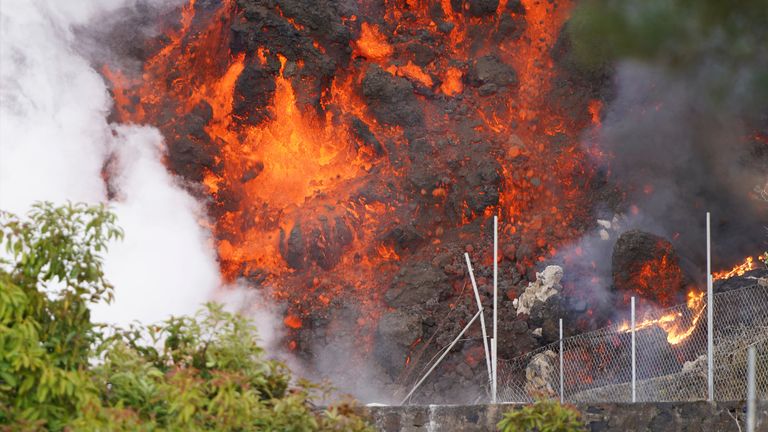 The rivers of molten rock, which are up to six metres (nearly 20ft) high, have a temperature exceeding 1,000C and could cause explosions and produce clouds of gas when they meet the sea.
Mr Torres reminded locals of the island's last eruption in 1971, when one person died after inhaling the gas emitted as lava met the water.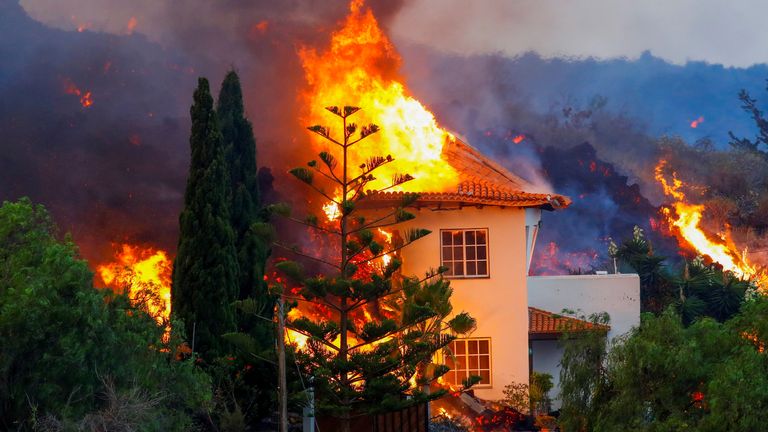 Late on Tuesday, emergency services attempted to divert some of the lava by using front-loaders to clear a path for it to follow in the hopes of steering it away from properties. Officials said they did not know if it would work.
What dangers lie ahead?
Firefighters filmed lava oozing down streets

A change in wind direction on Tuesday blew volcanic ashes, which irritate the eyes and lungs, over a vast area on the western side of the island.
The volcano has also been spewing out 8,000 to 10,500 tons of sulfur dioxide, which also affects the lungs, every day, according to the Volcanology Institute.
How is the government helping?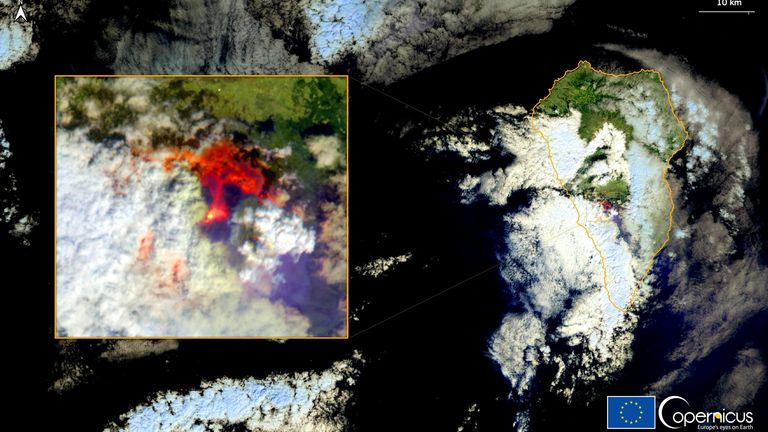 Mr Torres described the region as a "catastrophe zone" and said he would request funding to rebuild roads, water pipes and create temporary accommodation for families who have lost homes and their farmland.
Spain's King Felipe VI and Queen Letizia will visit the island on Thursday.