Federal authorities seize classified advertising site Backpage
Backpage has previously been accused of facilitating sex trafficking and prostitution. Backpage in the past has denied knowingly facilitating sex trafficking, and has insisted it helps authorities track down victims of illegal activity.
A representative from Backpage could not be reached for comment on Friday.
The notice on Backpage.com said the Department of Justice would provide additional details about the enforcement action later Friday evening, but a department spokesperson then said in an email that a court had ruled that the case would remain sealed.
A Senate investigations subcommittee published a report early last year that said Backpage had "knowingly concealed evidence of criminality by systemically editing its adult ads" for as many as 10 years.
According to the report, executives told the site's moderators to edit ads "to conceal the true nature of the underlying transaction" by filtering out words such as "lolita," "teenage," "rape," "young," "amber alert," "little girl," "teen," "fresh," "innocent," and "school girl." The report also said that the company coached "its customers on how to post 'clean ads' for illegal transactions."
"Backpage knows that it facilitates prostitution and child sex trafficking," the report said.
CoStar, a U.S. company that runs Apartments.com, accidentally uncovered in July of last year that Backpage had used a Philippines-based company named Avion to grow business in overseas sex trade.
Backpage had defended itself by claiming that it is not responsible for ads posted on its pages and said it attempted to abate illegal activity by hiring moderators to flag inappropriate content.
A Phoenix FBI official told CNBC that there was "law enforcement activity" at the Sedona, Arizona, home of Backpage founder Michael Lacey. Reports characterized it as a search.
A spokesman at the FBI's Phoenix field office would not confirm that and directed all questions to the Department of Justice, which declined to comment.
Sen. John McCain, R-Arizona, said in a statement Friday that the apparent seizure of the website "marks an important step forward in the fight against human trafficking." McCain in the statement called the website a "malicious sex marketplace."
"This builds on the historic effort in Congress to reform the law that for too long has protected websites like Backpage from being held liable for enabling the sale of young women and children," McCain said. "Today's action sends a strong message to Backpage and any other company facilitating online sex trafficking that they will be held accountable for these horrific crimes."
At the end of 2016, Texas and California attorneys general raided the company's Dallas headquarters and arrested chief executive Carl Ferrer and other former company executives on pimping-related charges. But the judge in the case ruled that the site was protected by the First Amendment, and the site should not be liable for the speech of third parties, Reuters reported.
COVID-19: Overweight and obese more likely to test positive for the virus | World News

People with a higher body mass index – BMI – are more likely to test positive for the virus that causes COVID-19, a study suggests.
Research by Chaim Sheba Medical Centre in Israel found that people who are overweight – with a BMI between 25 and 29.9 – are 22% more likely to contract the virus.
The figure for people who are obese – with a BMI between 30 and 34.9 – rises to 27%.
For those who are morbidly obese, with a BMI at or above 40, the risk increases by 86%.
Some 26,030 people were tested between 16 March and 31 December last year and 1,178 positive COVID-19 tests were recorded.
Even after age, sex, and other medical conditions were considered, the relationship between BMI and the probability of a person testing positive remained significant, the researchers found.
The study authors concluded: "As BMI rises above normal, the likelihood of a positive SARS-CoV-2 test result increases, even when adjusted for a number of patient variables.
"Furthermore, some of the comorbidities associated with obesity appear to either be associated with an increased risk of infection or to be protective."
People with diabetes were 30% more likely to test positive, while the likelihood was six times greater for those with high blood pressure.
But the risk was reduced for those with a history of stroke (by 39%), ischemic heart disease (by 55%) and chronic kidney disease (by 45%).
The researchers were unable to explain this.
Also, research by the IRCCS Policlinico San Donato research hospital in Italy, has found that abdominal obesity is more important than general obesity in predicting the severity of chest X-ray results in coronavirus patients.
Abdominal obesity is fat around the waist as opposed to general obesity, which is determined by BMI.
Chest X-ray severity scores were calculated by dividing each lung into three zones, with each one scoring a maximum of three points – zero for normal lung performance and three for poor function.
Some 59% of patients with abdominal obesity had a high score, whereas this was true for just 35% of those without abdominal obesity.
Hamas says it has fired rockets at Jerusalem in retaliation for Israeli 'aggression' | World News

A number of rockets have been fired at Jerusalem and the surrounding area, says Israel's military.
It came minutes after an ultimatum from Hamas for Israel to withdraw forces from two flashpoints in the city.
The group claimed responsibility for the attack, calling it retaliation for Israeli "crimes and aggression".
Israel carried out a missile strike in northern Gaza in response, causing injuries, according to Palestinian media.
Seven rockets had set off sirens in Jerusalem and the surrounding area and rocket fire from Gaza was continuing, said Israel's military.
A civilian car was hit and one person injured by one of the rockets, it added.
Sky's Mark Stone, in Jerusalem, said he understood a number of rockets were fired at an area 10-15km west of the city.
He said Israel's Iron Dome defence system is believed to have destroyed most, but that a few landed.
Stone said the attack was almost certain to mean a "heavy night of bombardment" on Hamas base the Gaza Strip this evening.
It comes as clashes in Jerusalem between Palestinians and Israeli forces reportedly injured more than 300 people.
Police fired stun grenades and tear gas inside the Old City's Al Aqsa Mosque during the violence this morning.
Israeli authorities said "extremists" had thrown stones and other objects at officers, and onto a road near the Western Wall where thousands of people had gathered to pray.
COVID-19: Ireland getting back to normal as restrictions on gatherings, shopping and travel ease | World News
Life in Ireland is returning to normal with the easing of some lockdown restrictions including rules affecting meeting people, travel and shopping.
From Monday, click-and-collect services and in-store shopping by appointment will be allowed as part of a phased reopening of non-essential retail.
The sector is scheduled to reopen fully in a week.
Latest pandemic updates from the UK and around the world
Close contact services, such as hairdressers, can resume, while COVID restrictions on travel between counties have lifted and some of the limitations on indoor and outdoor social gatherings have eased.
From today, up to 50 people can attend religious services in Ireland, including weddings and funerals, although a maximum of six will be allowed at indoor wedding receptions and 15 at outdoor celebrations.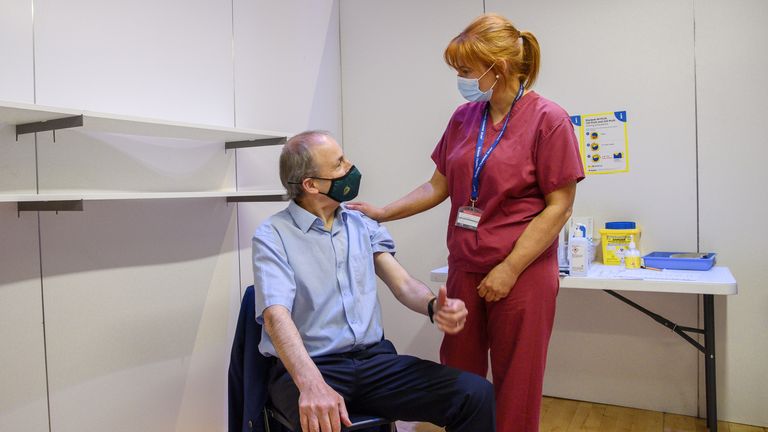 Three households, or up to six people from individual households, can now meet outdoors, including in private gardens.
People from vaccinated households can also meet with an unvaccinated household indoors without masks or social distancing.
But it applies only if they are not at risk of severe illness and there are no more than three households present.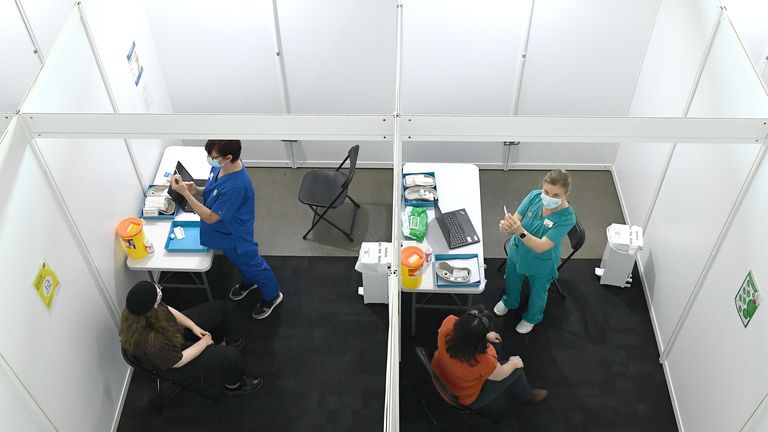 This measure will enable grandparents to meet and hug other family members indoors.
Many museums, galleries and libraries are now able to reopen and groups, or pods, of up to 15 adults can get together for team sports training.
The maximum permitted capacity on public transport has also increased to 50%.
Next Monday retail will reopen fully, with a variety of other restrictions due to lift in June.
On Sunday, Ireland's leader, Taoiseach Micheal Martin, said he hoped Ireland could look forward to a good summer.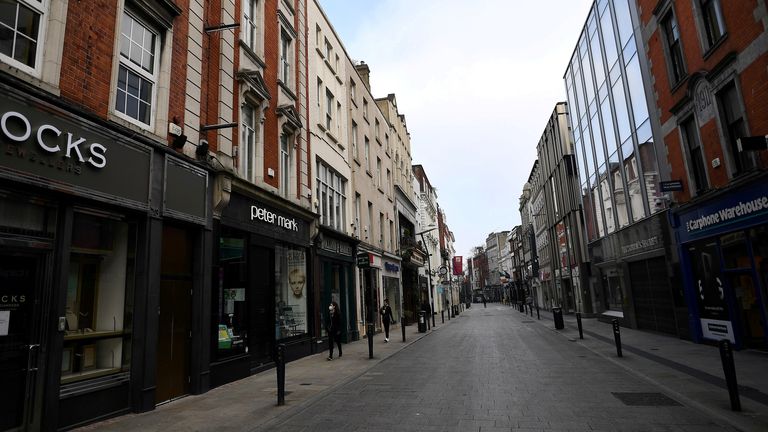 Speaking after he received an AstraZeneca vaccine in Cork, Mr Martin said: "I think we're making great progress as a country.
"I think people have done extremely well in responding to the various guidelines over the last number of months and the results are that we are emerging from this pandemic.
"We're set to have a good summer if we can keep this progress going and the vaccination is certainly helping in bring down severe illness and bringing down death and hospitalisation, so keep with it and we're making progress."
Subscribe to the All Out Politics podcast on Apple Podcasts, Google Podcasts, Spotify, Spreaker
Ireland's vaccination programme continues to gather pace and on Friday the country achieved a record for the number of jabs administered in one day, 52,000.
Another two coronavirus-related deaths and 514 more cases were recorded by the country's department of health, bringing the total number of confirmed cases to almost 253,000.
A total of 4,921 people have died after catching the illness.