15 killed in bus crash involving Canadian junior hockey team, police say
The team was some 18 miles north of the town of Tisdale when the collision happened at around 5 p.m. local time (7 p.m. EST) Friday. Royal Canadian Mounted Police assistant commissioner Curtis Zablocki said a tractor trailer traveling west collided with the bus. It's "too early to comment on the cause of the collision," he said at a news conference.
The truck driver was not injured but briefly detained, he said.
Canadian police said they could not yet confirm the identity of the victims or whether they were players or coaches. But some family members have stepped forward with information. Darcy Haugan, the Broncos' head coach and general manager, is among the deceased, his sister, Deborah Carpenter, told NBC News.
"His death has left a gaping hole in our hearts," she said.
Bill Chow, president of the Saskatchewan Junior Hockey League, told reporters, "I don't have a lot to say other than the worst nightmare has happened."
"Our Broncos family is in shock as we try to come to grips with our incredible loss," team president Kevin Garinger said in a statement."The Humboldt Broncos organization has experienced incredible tragedy," he said.
Canadian Prime Minister Justin Trudeau tweeted his condolences to the families of the victims.
U.S. President Donald Trump said on Twitter Saturday that he spoke with Trudeau "to pay my highest respect and condolences to the families of the terrible Humboldt Team tragedy," and " May God be with them all!"
Vice President Mike Pence said on Twitter, "Our hearts go out to our Canadian neighbors."
The NHL's Chicago Blackhawks and Winnipeg Jets planned a moment of silence before they faced off in Winnipeg Saturday. The teams said players would wear the word "Broncos" on the back of their jerseys in solidarity with the junior hockey team, that half of a raffle would be donated to the Humbolt Broncos, and that each team and the NHL would also contribute $25,000.
"Words cannot describe the sadness in our community tonight," Humboldt Mayor Rob Muench said in a tweet.
Meanwhile Darren Opp, President of the Nipawin Hawks hockey team, said players and staff from the Hawks were waiting to help. "They are sitting in the church just waiting to hear any good news," he said Friday.
"It's a horrible accident, my God," he said. "It's very, very bad."
Russia election: Vladimir Putin's party expected to secure emphatic win as polls close | World News

Vladimir Putin's United Russia party is expected to secure an emphatic win as polls close in the country's parliamentary election.
Preliminary results from the Central Election Committee, based on just 9% of votes counted, showed that United Russia won 38.57% of the vote.
Initial results also showed the Communist Party finishing in second place with 25.17% of the vote, followed by the nationalist LDPR party with 9.6%.
Allies of jailed Kremlin critic Alexei Navalny had urged Russians to follow his tactical voting strategy, which amounts
to supporting the candidate most likely to defeat United Russia in a given electoral district.
The vote was marred by numerous reports of violations, including ballot-stuffing, inadequate security and pressure on election monitors.
'We are fighting for everything': Lebanon crisis hits hospitals as medicine stocks run low | World News
The economic crisis in Lebanon is never-ending and now it's ravaging the hospitals where medicines are running out.
On the oncology outpatients ward we meet four-year-old Rudayana.
She is fighting leukaemia but she still finds the strength to wipe a tear from her father Fawaz's eyes.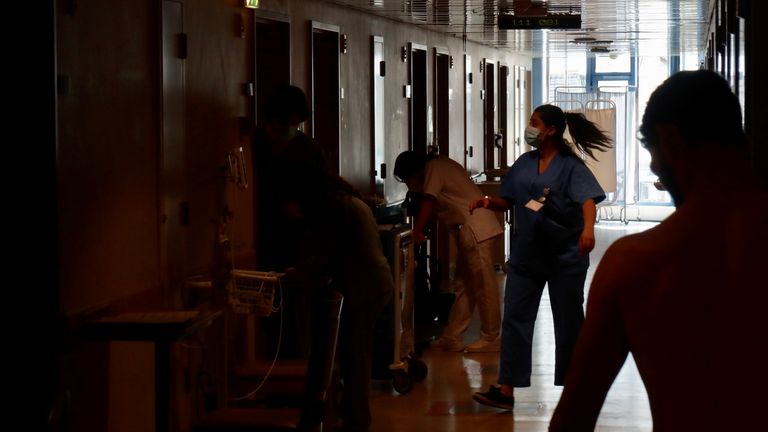 He kneels beside her with his head in his hands.
It is a portrait of desolation.
Making sure she has enough medication has left him at breaking point.
"I feel despair but at the same time, I get up every day for her," he tells me.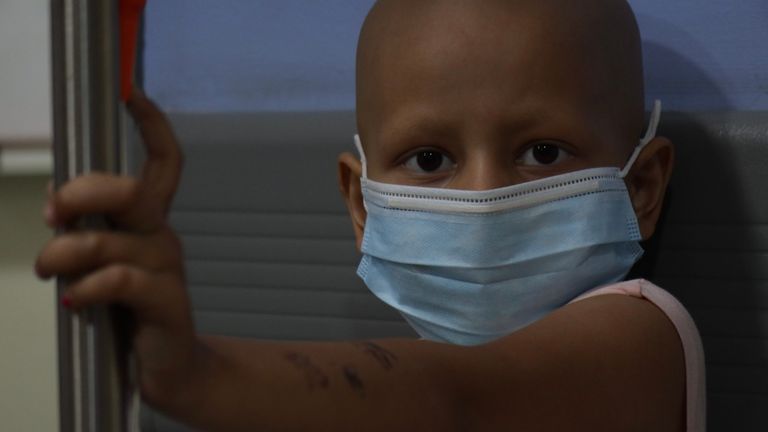 "We have just about 10% of the minimum needs for our daily life. You can't put her in school, get her medicine, or do anything for her.
"You can't even guarantee her nutritious food to help her after chemo. There's no money and no work."
In the next bed at the Rafik Hariri University Hospital, Beirut, another family is facing the same struggle.
Helen Kazazian was diagnosed with ovarian cancer four months ago and worries there won't be the drugs to finish her treatment.
She's had four sessions of chemotherapy so far, but still has two left.
"Sometimes the doctor said 'Inshallah, Helen you will get it'.
"We don't know, we have to go and see, I have to go, or Robert [her husband] by myself to see if they will give us the medicine, or not yet. This time it was ok, thank God"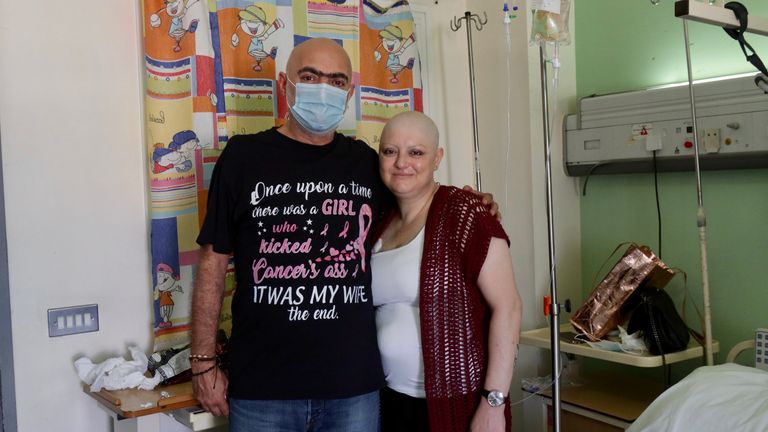 Lebanon used to rank highly for medical care but standards have plummeted, along with a currency which has lost 90% of its value, making essentials unaffordable – the state is badly in debt, inflation is rampant and unemployment is becoming normal.
We visit the hospital's pharmacy and the empty shelves tell their own story.
Even drugs like penicillin are in short supply.
But the crisis affecting the healthcare system is really a symptom of a much wider crisis, or series of crises, compounded by corruption and bad governance.
For doctors on the frontline it is like walking through an abyss every day.
Head of oncology, Dr Issam Chehade, says the problems are getting worse, with drug shortages and patients not receiving care in his department.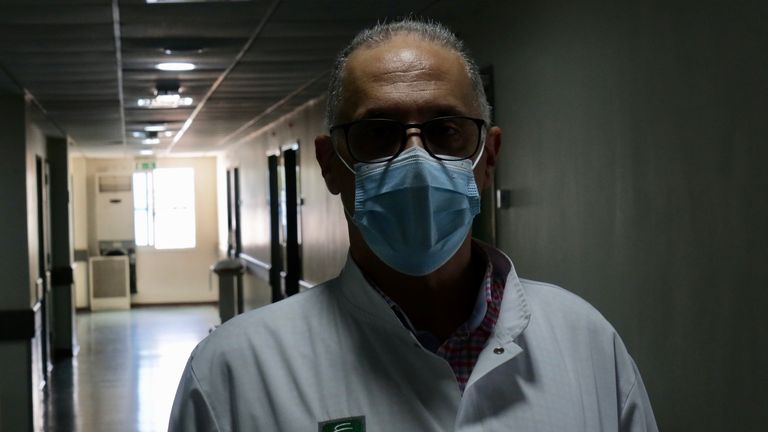 Step outside the hospital and there's no escaping this crisis.
It has the country in a vice-like grip.
On the way across town to a private hospital, to see if the situation is any better, we pass the endless fuel queues.
People wait in their cars in the sweltering Mediterranean sun for a few gallons.
Some are turned away before they manage to fill up.
It's estimated by the United Nations that 78% of Lebanon's population is now living in poverty, leaving some scavenging for whatever they can find.
July: Lebanon plunged into economic crisis

The number of people rooting through bins, or begging on the streets is growing all the time.
But it doesn't matter what walk of life you are from, for everyone survival is difficult.
And when we arrive at St George hospital we find there are no exceptions.
Retired pharmacist Dickran Kaprelian has a type of blood cancer.
The drugs he was on have run out and he's now starting a different treatment.
His wife Mary is also sick with ovarian cancer.
"The medication he takes doesn't exist anymore – I don't know, that's what they say so they just switched to another medication so we'll see what will be the result," she said.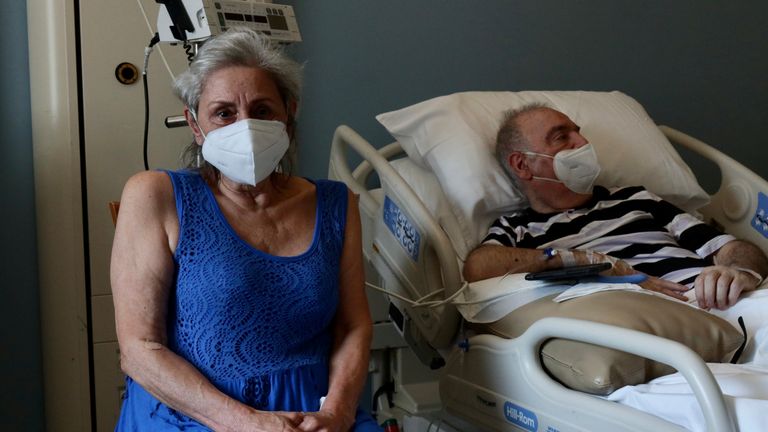 "We are fighting for everything – even a little bit of breath. Even if we want to eat, even if we want to go somewhere we don't have gasoline.
"It's [a] very very bad situation. I don't think any country [has] such a state like we do – that's what I think."
What's happening here has left many questioning their future.
Already many medics have emigrated – acute staff shortages add to the list of problems.
In this economic crisis, the worst for more than 100 years, even the hospitals have now become casualties.
Follow the Daily podcast on Apple Podcasts, Google Podcasts, Spotify, Spreaker
Organisers apologise after broadcaster's close-up replay shot of climber Johanna Farber's bottom | World News
Organisers have apologised to an Austrian climber after a host broadcaster showed a close-up replay shot of her bottom during the World Championships in Moscow.
It is the second time this year that Austrian competitor Johanna Färber has been subject to "inappropriate" TV coverage of her event which she described after the first incident in June as "disrespectful and upsetting".
The International Federation of Sport Climbing that runs the sport has now apologised again following a very similar incident involving the host broadcaster in Russia on Saturday.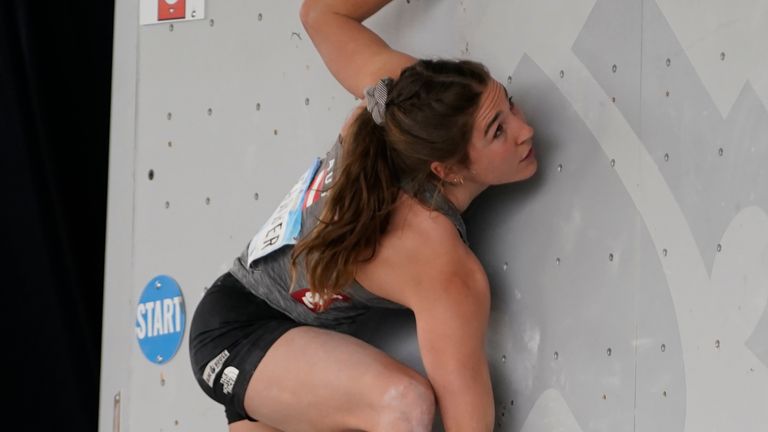 They said: "The IFSC condemns the objectification of the human body and will take further action in order for it to stop, and to protect the athletes."
The IFSC President Marco Scolaris said: "How many times will things have to be done wrong, before we learn how to do them right?"
Sport climbing made its debut at the Tokyo Olympics this year and has been enjoying a surge in popularity but people within the sport are worried not enough is being done to protect female competitors.
Former GB climber and editor-in-chief of UK Climbing.com, Natalie Berry, told Sky News: "For this disrespectful incident to happen once again to the same athlete is very disappointing, at a time when more eyes are on the sport than ever before and more women and girls are being introduced to climbing.
"While the intentions of the camera operators and editors may not be to sexualise an athlete and instead to focus on a visually interesting chalky handprint, in the context of the sexualisation of women in sport throughout history, it's quite simply inappropriate."
She backs calls for robust photography and filming policies to be introduced in climbing as is the case in many other sports.
"As an athlete, self-confidence is a huge factor in competition," Ms Berry added.
"If athletes feel that their bodies are being inappropriately presented on-screen, it could unfairly affect their performance as well as their mental health."
Johanna Färber did not wish to comment after the latest incident but her team said she stood by her statement in June in which she said: "We need to stop sexualising women in sports and start to appreciate their performance."