Trump admits tariffs could cause 'pain' in markets
Get breaking news alerts and special reports. The news and stories that matter, delivered weekday mornings.
President Donald Trump, in an interview that aired Friday morning, admitted that the trade actions he has announced against China could cause some "pain" in the markets.
In a radio interview on "Bernie & Sid in the Morning," on 77 WABC, Trump said there's no current trade war with China because "we have lost the trade war," and he defended his proposed $150 billion tariffs.
"I'm not saying there won't be a little pain," Trump said. "But the market has gone up 40 percent, 42 percent, so we might lose a little bit of it. But we are going to have a much stronger country when we are finished."
He added, "We may take a hit, and you know, ultimately we're going to be much stronger for it, but it's something we have got to do."
On Thursday, Trump said he was weighing an additional $100 billion in tariffs on China, on top of $50 billion he'd previously announced, raising the stakes in a potential trade war his top aides have tried to downplay.
China earlier this week announced $50 billion in tariffs on American goods.
Last month, U.S. allies were blindsided by Trump's pledge to slap stiff tariffs on steel and aluminum imports.
Markets have not reacted favorably to the announcements. The Dow Jones Industrial Average has lost nearly 5 percent since late February, shortly before Trump announced the aluminum and steel tariffs.
COVID-19: Ireland getting back to normal as restrictions on gatherings, shopping and travel ease | World News
Life in Ireland is returning to normal with the easing of some lockdown restrictions including rules affecting meeting people, travel and shopping.
From Monday, click-and-collect services and in-store shopping by appointment will be allowed as part of a phased reopening of non-essential retail.
The sector is scheduled to reopen fully in a week.
Latest pandemic updates from the UK and around the world
Close contact services, such as hairdressers, can resume, while COVID restrictions on travel between counties have lifted and some of the limitations on indoor and outdoor social gatherings have eased.
From today, up to 50 people can attend religious services in Ireland, including weddings and funerals, although a maximum of six will be allowed at indoor wedding receptions and 15 at outdoor celebrations.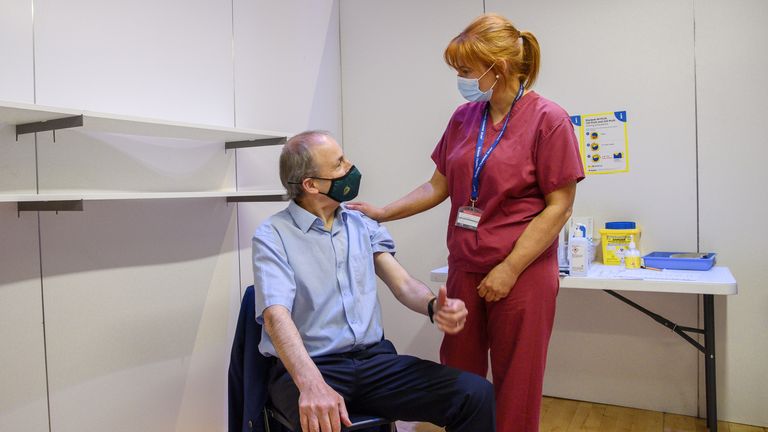 Three households, or up to six people from individual households, can now meet outdoors, including in private gardens.
People from vaccinated households can also meet with an unvaccinated household indoors without masks or social distancing.
But it applies only if they are not at risk of severe illness and there are no more than three households present.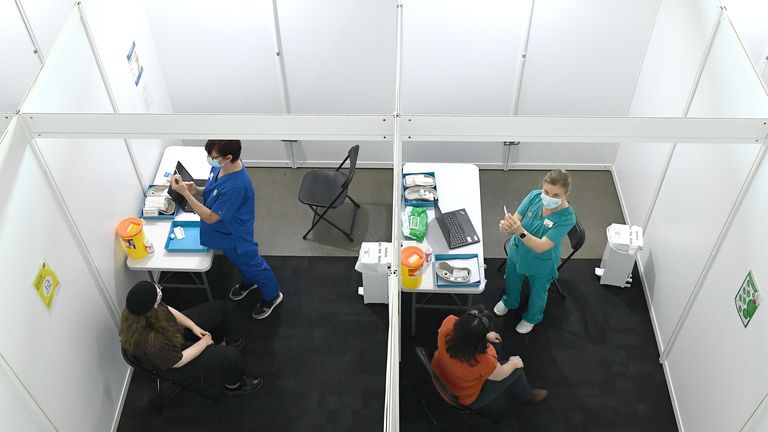 This measure will enable grandparents to meet and hug other family members indoors.
Many museums, galleries and libraries are now able to reopen and groups, or pods, of up to 15 adults can get together for team sports training.
The maximum permitted capacity on public transport has also increased to 50%.
Next Monday retail will reopen fully, with a variety of other restrictions due to lift in June.
On Sunday, Ireland's leader, Taoiseach Micheal Martin, said he hoped Ireland could look forward to a good summer.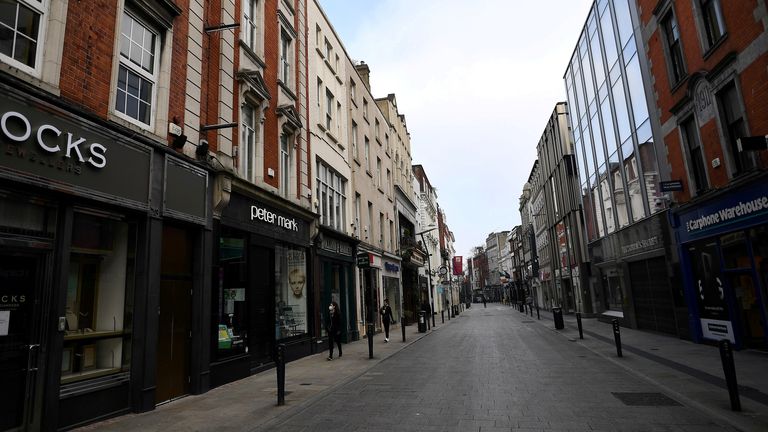 Speaking after he received an AstraZeneca vaccine in Cork, Mr Martin said: "I think we're making great progress as a country.
"I think people have done extremely well in responding to the various guidelines over the last number of months and the results are that we are emerging from this pandemic.
"We're set to have a good summer if we can keep this progress going and the vaccination is certainly helping in bring down severe illness and bringing down death and hospitalisation, so keep with it and we're making progress."
Subscribe to the All Out Politics podcast on Apple Podcasts, Google Podcasts, Spotify, Spreaker
Ireland's vaccination programme continues to gather pace and on Friday the country achieved a record for the number of jabs administered in one day, 52,000.
Another two coronavirus-related deaths and 514 more cases were recorded by the country's department of health, bringing the total number of confirmed cases to almost 253,000.
A total of 4,921 people have died after catching the illness.
COVID-19: Meghan says women 'disproportionally affected' by pandemic in first TV appearance since Oprah interview | Ents & Arts News
The Duchess of Sussex has appeared on TV for the first time since her and Prince Harry's tell-all interview with Oprah Winfrey.
Meghan pre-recorded a video message for the Global Citizen VAX Live concert, where she said women had been disproportionately impacted by COVID-19.
Live COVID updates from the UK and around the world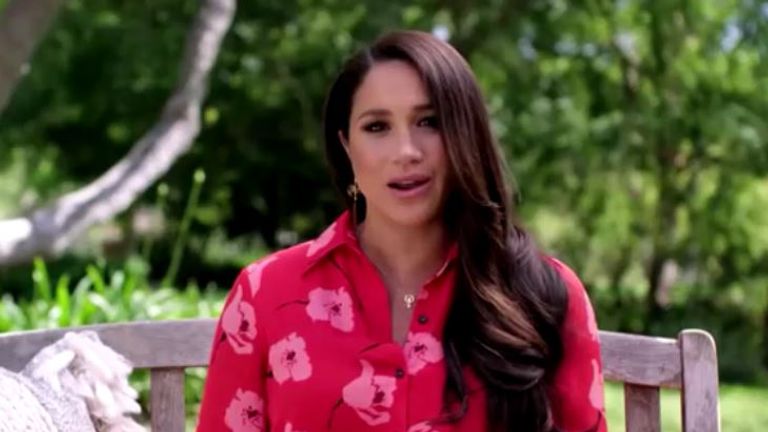 The event, televised on Saturday night in the US, was in aid of the international vaccination effort and also featured performances from Jennifer Lopez, Eddie Vedder, Foo Fighters, J Balvin and H.E.R.
In her message, the Duchess of Sussex said: "The past year has been defined by communities coming together tirelessly and heroically to tackle COVID-19.
"We've gathered tonight because the road ahead is getting brighter, but it's going to take every one of us to find our way forward.
"As campaign chairs of Vax Live, my husband and I believe it's critical that our recovery prioritises the health, safety and success of everyone – and particularly women, who have been disproportionately affected by this pandemic."
The heavily pregnant duchess added: "Women, and especially women of colour, have seen a generation of economic gain wiped out.
"Since the pandemic began, nearly 5.5 million women have lost work in the US, and 47 million more women around the world are expected to slip into extreme poverty."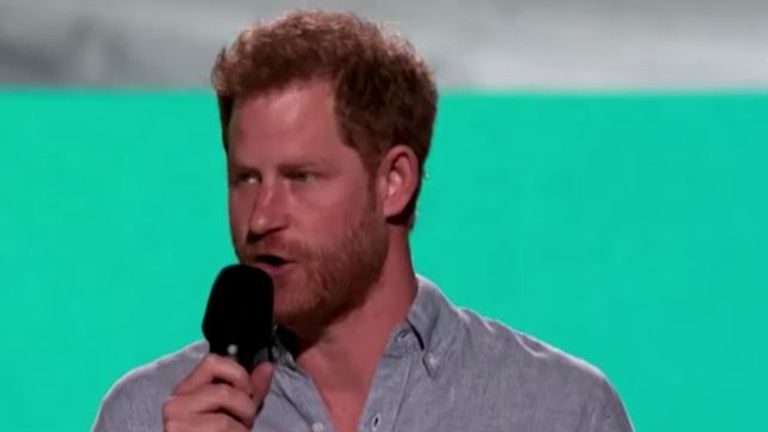 Meghan said: "My husband and I are thrilled to soon be welcoming a daughter.
"It's a feeling of joy we share with millions of other families around the world. When we think of her, we think of all the young women and girls around the globe who must be given the ability and the support to lead us forward."
Earlier this week, Harry and Meghan wrote an open letter to the chief executives of pharmaceutical companies like Pfizer, Moderna and AstraZeneca urging them to redouble their support for the UN-sponsored Covax programme.
The couple have called on all firms to temporarily suspend intellectual property rights applied to COVID vaccines, and for a "global public-private collaboration" so production methods for the jabs can be shared.
The Sussexes' intervention into the global debate about the vaccine rollout came on the second birthday of their son Archie, and separately they have asked those wanting to mark this to donate funds which will support Covax.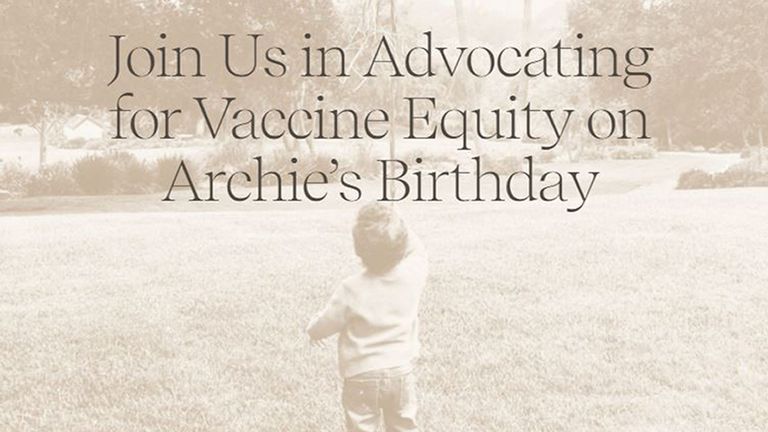 Harry and Meghan's interview with Winfrey left the royal family in crisis after they alleged that the monarchy was a racist and uncaring institution.
The couple claimed a member of the family, not the Queen or the late Duke of Edinburgh, made a comment about the colour of their son's skin, and revealed that the duchess had suicidal thoughts during her time as a working royal, but that her approaches to the monarchy for help were turned down.
Harry returned to the UK for Prince Philip's funeral last month, but Meghan stayed in the US as she is heavily pregnant with the couple's second child.
Chinese safari park 'sincerely sorry' for not telling public escaped leopards on the loose | World News
A safari park in eastern China is facing criticism for concealing the escape of three of its leopards over a week ago.
Two of the animals from the Hangzhou Safari Park have been captured but the third is still missing, according to the Global Times newspaper.
The safari park reported the missing leopards and alerted the public on Saturday, but villagers reported seeing the animals as early as 1 May.
It is unclear how the leopards managed to escape.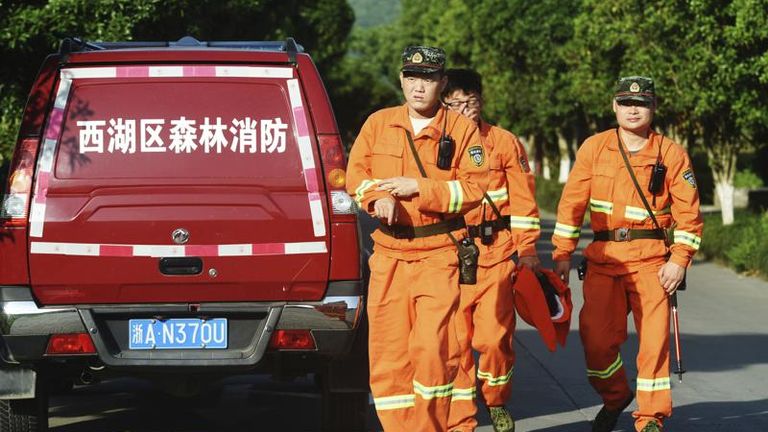 Efforts to capture the last leopard were ongoing as of Sunday night, according to a statement posted today by the Hangzhou local government on its official WeChat account.
Those searching for the animal were using equipment such as drones, as well as hunting dogs.
The leopard was spotted by a drone early Sunday, but fled when people attempted to approach it, according to the Global Times.
The delay in announcing the escape sparked criticism that the park had put people at risk, especially since the leopards were at large over China's five-day Labour Day holidays, when hordes of tourists visited the city of Hangzhou – one of the country's most popular destinations thanks to its tea plantations and scenic West Lake.
Authorities are investigating the cause of the leopards' escape and have questioned the personnel in charge at the safari park.
The safari park said it was "sincerely sorry" for not announcing the incident sooner, according to a statement on its Weibo microblogging account Saturday.
As the young leopards were believed to be less aggressive, the park said it did not make the announcement to prevent causing panic among the public.
The safari park has been temporarily closed while it reviews safety and management issues.