German court bails former Catalan leader Carles Puigdemont
Former Catalan leader Carles Puigdemont can be released on bail, a German court has ruled.
But he must remain in Germany while extradition proceedings continue and report to police once a week. He must also report every change of residence.
A court in the northern town of Schleswig set bail at €75,000 (£65,500).
It was not precisely clear when he will be released, but a message on his Twitter feed read: "We will see each other tomorrow. Thank you all!"
Mr Puigdemont is accused by the Spanish authorities of rebellion and misuse of public funds following an unauthorised referendum last year on Catalonia's independence from Spain.
:: Disputed Catalan President Carles Puigdemont: Spain has 'damaged democracy'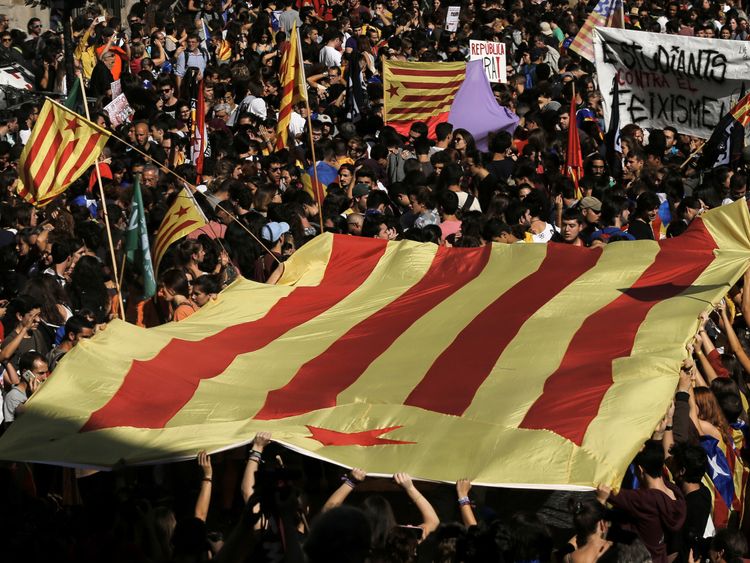 The 55-year-old was detained in Germany on a Spanish arrest warrant as he attempted to drive from Finland to Belgium on 25 March.
He has been living in Belgium since fleeing Spain to escape arrest, and has been held at a prison in Neumuenster.
German prosecutors have argued that the charge of rebellion is similar to Germany's offence of treason.
But the court disagreed, saying that Mr Puigdemont cannot be extradited for rebellion.
Responding to the ruling, a Spanish official said Mariano Rajoy's government respects judicial decisions "always, when it likes them and when it doesn't".
The official added: "Spanish justice will adopt the appropriate measures in the face of these new circumstances."
Mr Puigdemont's Spain-based lawyer, Jaume Alonso-Cuevillas, said on Twitter: "I always said that I had full confidence in the German judiciary."
Coronavirus: 'Fragile generation' being hit as Marseille doctors deal with 'alarming' second wave | World News
Go to any hospital in the southern French city of Marseille and you will see the impact a second wave of COVID-19 is having.
Intensive care units are either full or about to reach saturation. More bed capacity is desperately needed but staffing is an issue.
Hospitals here have issued an urgent appeal for doctors, nurses and laboratory technicians from across France to come to Marseille to help.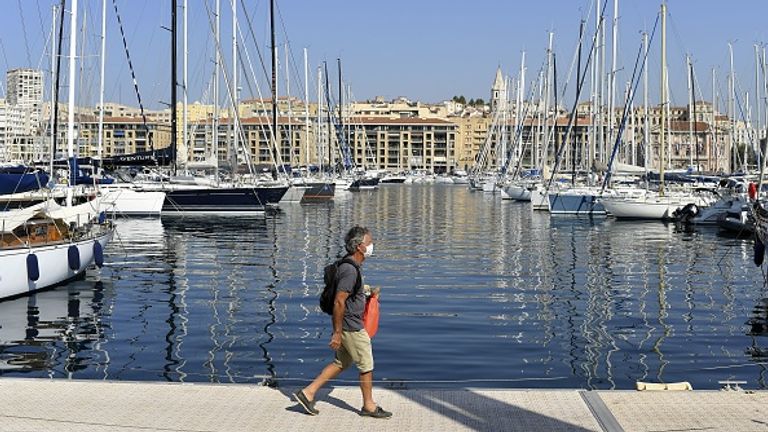 This is the scenario the UK is desperate to avoid.
At the Laveran Military Hospital, doctors fear a return to the situation earlier this year when the health service was overwhelmed by the numbers.
The hospital takes in civilian patients and most ICU beds are now occupied by people with COVID-19. The hospital has turned over an entire ward to less seriously ill COVID patients.
Doctor Pierre-Yves walks along the line of doors to ICU bedrooms, pointing and saying: "That one, that one, that one."
These are the rooms where patients with the virus are kept isolated from others.
Protective garments are required before we can enter one, and inside Dr Pierre-Yves tells me this is a seriously ill 79-year-old woman.
She is a diabetic who contracted COVID over the summer – it is thought at a family party.
She has been placed on her stomach to help her breathing.
ICU care is both professionally and logistically challenging, and Dr Pierre-Yves tells me if those who flout social distancing rules in the city could come to the hospital and see what was happening it would open their eyes.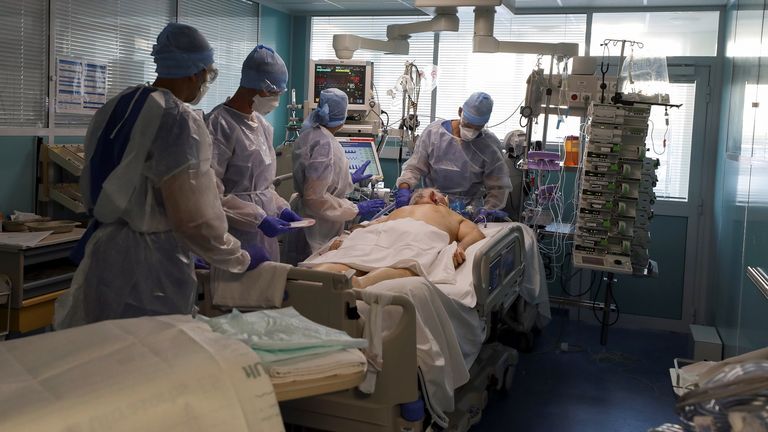 This is a potentially deadly illness, he says, and it is time everyone finally starts to take it seriously.
The number of coronavirus cases has been rising day on day for the last month here in Marseille, leading to tougher restrictions for its citizens.
Private meetings are limited to 10 people, bars and restaurants must close just after midnight and face masks are now a requirement in public spaces.
And yet watch people passing along the port side and you will see many who have decided to forego face masks. Many are young – the age group being blamed here for sowing the seeds of what is the rapid spread of COVID.
:: Subscribe to the Daily podcast on Apple Podcasts, Google Podcasts, Spotify, Spreaker
Sebastien Debeaumont, deputy director of the Regional Health Services, tells me the current situation is "difficult, alarming and serious".
Like officials in other European cities, he points the finger at young people socialising in recent months for the virus now heading in the wrong direction.
He says over that period it was mostly people between the ages of 20 and 40 who were affected, with few symptoms and few consequences, but they have mingled with older family members.
He added: "Now, that age group is less affected than earlier in the summer and now it's the older, more fragile generation that is being hit.
"And it's these people we are seeing in the ICU and in hospital. The challenge is to make the younger generation understand that they have a responsibility to themselves and above all to others."
Those who repeatedly flout the rules on face coverings and social gatherings in Marseille could now face fines of thousands of euros and several months in prison.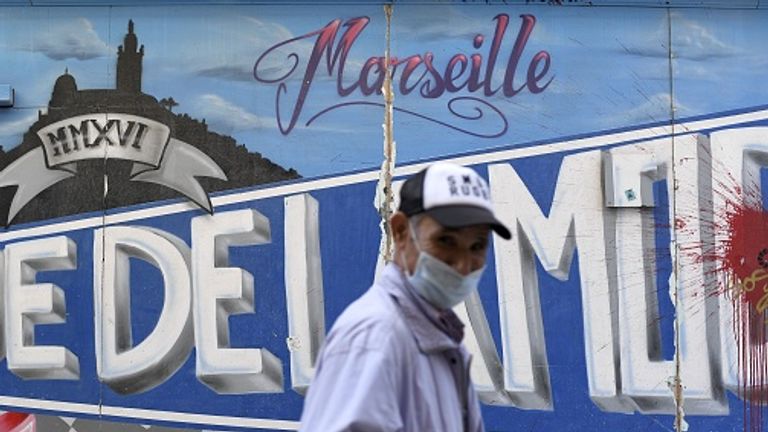 But Mr Debeaumont is simply hoping people take their personal role in fighting COVID seriously and he has a message for the UK government and citizens if a second major wave is to be avoided.
"The lesson to be learnt from the first wave here is that, above all not to wait, and to take measures and find a balance between acceptable measures for all that are efficient," he said.
"Wear a mask, wash hands and allow distance. It's not something our culture is used to, but it needs to be factored into our lives whilst this virus is active."
Botswana: Deaths of more than 300 elephants caused by bacteria in water | World News
Bacteria found in water is believed to have caused the deaths of more than 300 elephants in Botswana.
Scientists fear toxins being produced by tiny organisms in water and soil could be occurring more frequently due to climate change driving up temperatures.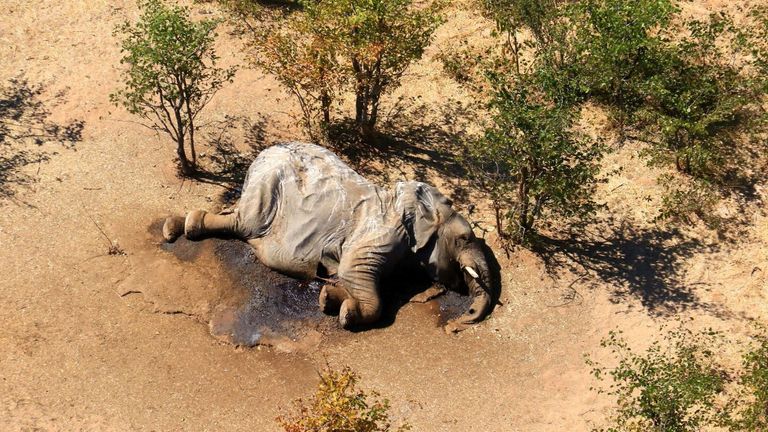 However, they admit there are still "many questions" which need answering because other animals in the same areas as the elephants appear to have been unharmed.
In July, it was revealed 281 elephants had mysteriously died in Okavango Delta, Botswana – but that figure has now risen to 330.
It comes as investigations continue into the deaths of 25 elephants in Zimbabwe who are also thought to have died from bacterial infections.
Veterinary officer Mmadi Reuben, of Botswana's Department of Wildlife and National Parks, said: "Our latest tests have detected cyanobacterial neurotoxins to be the cause of deaths. These are bacteria found in water.
"However, we have many questions still to be answered such as why the elephants only and why that area only? We have a number of hypotheses we are investigating."
Some cyanobacterial blooms are the most powerful natural poisons known, posing serious health risks for people and animals.
Scientists are increasingly concerned about their potential impact as climate change leads to warmer water temperatures, which allows most cyanobacteria to form.
Patricia Glibert, a professor at the University of Maryland Center for Environmental Science, has studied cyanobacteria and said: "It amounts to having the right conditions, in the right time, in the right place and these species will proliferate.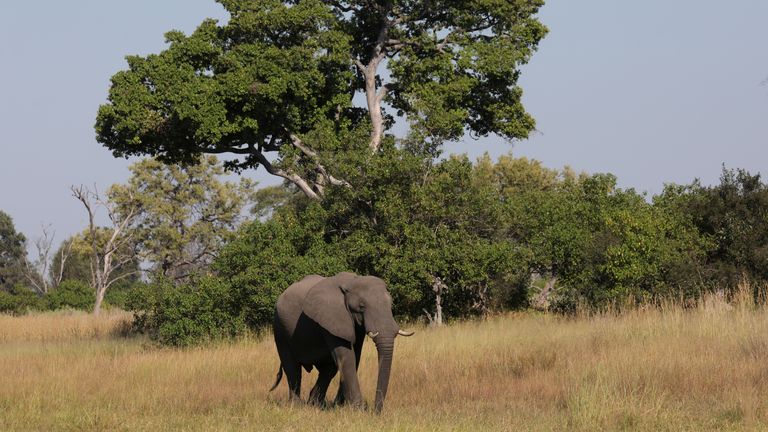 "These conditions are coming together more often, in more places, so we are seeing more of these toxic blooms around the world."
In neighbouring Zimbabwe, the carcasses of about 25 elephants were found near water sources.
The animals still had their tusks, ruling out poaching and deliberate poisoning. It is believed the elephants could have ingested the bacteria while searching for food.
Africa's elephant population is declining due to poaching, but Botswana has seen its numbers grow to around 130,000.
Coronavirus: Taj Mahal reopens – despite India recording 87,000 new COVID cases in a single day | World News
India has reopened the Taj Mahal – despite the country recording 87,000 new coronavirus infections in a single day.
The famed monument to love had been closed for six months as part of lockdown measures – the longest it has ever been shut.
The number of daily visitors will be limited to 5,000, compared with an average of 20,000 before the pandemic.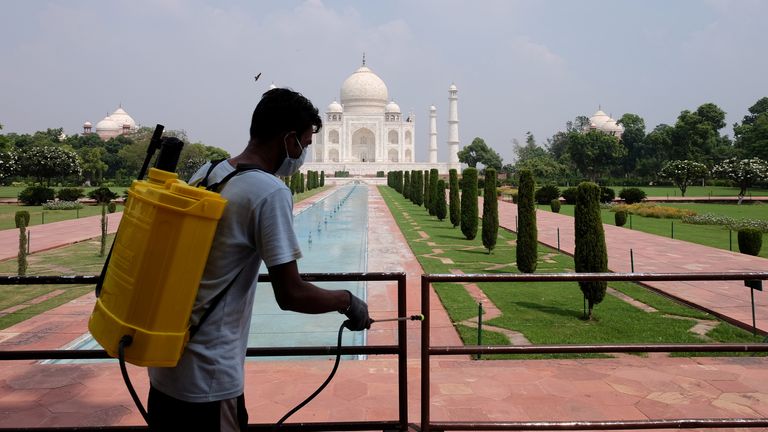 The 17th-century marble mausoleum was built by Mughal emperor Shah Jahan to house the tomb of his favourite wife, Mumtaz Mahal.
COVID-19 protocols are being followed at the iconic landmark, including temperature checks at the entrance and social distancing throughout. Wearing a mask is also compulsory for visitors.
A Chinese tourist and a visitor from Delhi were among the first people to enter.
One early visitor, Aditya Diksha, drove for 12 hours to pay a visit with his friends. "It is the first time in six months we have been out, so it feels good," he said.
It comes as Prime Minister Narendra Modi faces pressure from businesses to relax lockdown restrictions amid the deepest economic contraction in decades.
:: Subscribe to the Daily podcast on Apple Podcasts, Google Podcasts, Spotify, Spreaker
India is close to becoming the country with the highest number of coronavirus cases. The nation of 1.3 billion people currently has a total of 5.49 million infections – second only to the US on 6.79 million.
Relative to its population, COVID-19 fatalities in India are still low compared with countries such as the US, the UK and Brazil – but the economic impact has been significant.
Fewer than 300 tickets were bought for the Taj Mahal's first opening day – a sign that the tourism industry is struggling.
Tourism employed more than 42 million people and contributed at least $240bn (£186m) – or 9.2% – to India's gross domestic product in 2018, World Travel and Tourism Council data shows.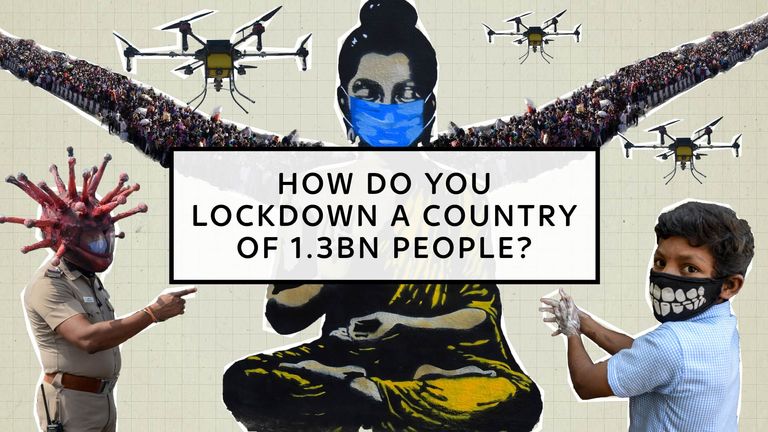 The Association of Tourism Trade Organisations India (ATTOI) said foreign tourists are unlikely to return until at least April, while domestic tourists are being deterred by a confusing system of regional lockdowns and quarantine rules.
"People don't want to go on holiday," said Manu PV, the ATTOI's secretary. "They are very worried. There is the fear factor."