Federal moves to help opioid crisis not enough, experts say
It may sound like a lot is suddenly happening to fight the opioid crisis. But while each announcement is welcome, experts said, it will still be difficult to create action right away.
"We are hearing rhetoric," said Lindsey Vuolo, associate director of health law and policy at the National Center on Addiction and Substance Abuse. "They are all important steps but none of them are sufficient to fully address the problem."
Adams said he wanted to make it possible for just about everyone in some communities to be carrying naloxone, a drug that can reverse an opioid overdose almost immediately.
"With over half of overdoses occurring at home and three quarters of overdoses occurring in a nonmedical setting, we know we can't rely solely on first responders to save lives," Adams told NBC News.
"In some scenarios everyone in a community should have naloxone if there's a high proportion of individuals who are at elevated risk."
Adams said his office had helped negotiate some discounts with companies that make naloxone, including Kaleo, which makes an auto-injector for naloxone and Adapt, which makes Narcan, a nasal spray version of the drug.
"Kaleo has agreed to discount their price 90 percent to federal and state governments and to entities that have funding through federal and state government programs. And they also have a program to provide that medication for free to individuals who fall in the in the gap," Adams said.
In six states — Arizona, California, Colorado, Missouri, Nevada and Ohio — people with commercial health insurance can call a pharmacy and get naloxone delivered at no cost, Kaleo said.
Baltimore City Health Commissioner Dr. Leana Wen said the plan is a good first step.
"Our problem isn't the policies. It's access to the medications," Wen said. "We are being priced out of our ability to save lives."
Wen said Baltimore needs $10 million a year from the federal government to fight the opioid epidemic.
"It cannot be one-time funding. It must be sustained," she said. The discounted price offered by Kaleo is still too expensive," she said.
"We are having to ration naloxone," Wen added. "Between now and July I only have about 160 kits of naloxone left to give out, which means that every day, I have to make a decision about who is going to get this naloxone and who will have to go without."
There is no question that naloxone works, Wen said.
"I'm an emergency physician and in the ER," she said. "I've used naloxone hundreds of times and I've seen how someone who is about to die from an opioid overdose, if they're given naloxone, they'll be walking and talking again in seconds."
And there's no question that the U.S. is suffering through a terrible epidemic of opioid abuse.
The CDC says synthetic opioid overdoses killed 20,000 people in 2016. Opioid overdose deaths are so bad they have helped drive down U.S. life expectancy.
The Kaiser Family Foundation said in a new report that the cost of treating opioid addiction and overdose has gone up eight-fold for private health insurance companies since 2004, from $300 million dollars in 2004 to $2.6 billion in 2016.
The federal government is under pressure to act.
The NIH said it was doubling its research budget for opioid abuse from $600 million to $1.1 billion and would focus on finding safer ways to treat pain and better ways to treat addiction and abuse disorders.
A bill in discussion in the Senate would provide grants for communities to operate opioid recovery centers and would give the FDA power to force companies to package opioids in blister packs to deter abuse.
FDA commissioner Dr. Scott Gottlieb said he would work to help better educate and guide doctors about the best ways to treat pain, including prescribing far lower doses of opioids.
Gottlieb said he was going to speak with internet companies to see if they could help stop illegal sales of opioids. "The easy availability and online purchase of these products from illegal drug peddlers is rampant and fuels the opioid crisis," Gottlieb told the National Prescription Drug Abuse and Heroin Summit, being held in Atlanta.
"We find offers to purchase opioids all over social media and the Internet, including Twitter, Facebook, Instagram, Reddit, Google, Yahoo, and Bing."
These are all positive steps, said Vuolo.
"There are some efforts that are being made, but we are not seeing the wholesale, comprehensive approach that is needed," she said.
"We have effective treatments for opioid addiction, but people aren't getting them. The reality is the vast majority of people are unable to find care, they are unable to pay for it, or they're not receiving care that's effective," she added.
Afghanistan: Taliban replaces women's ministry with 'vice and virtue' ministry – as schools reopen for boys | World News
The Taliban has replaced Afghanistan's women's ministry with an all-male "vice and virtue ministry".
The new ministry is tasked with enforcing the group's extreme interpretation of Islam.
Officials at the ministry told the Associated Press they had not been informed whether a new women's ministry is being planned.
Afghanistan: Women in fear for their freedom

It comes as schools across Afghanistan reopened for boys from Saturday, effectively barring girls from secondary education despite the group's previous commitment.
The new Taliban ministry of education's announcement did not mention when girls may be able to return to classes, even in gender-segregated settings.
It said state and private schools at primary and secondary level, as well as official madrasa religious schools, will open from Saturday.
"All teachers and male students should attend school," the statement said.
It comes after staff from the World Bank's $100m (£72m) Women's Economic Empowerment and Rural Development Programme were escorted off the grounds of the old ministry by the Taliban in Kabul.
Sharif Akhtar, a programme member who was escorted out with his staff, said he could not say how or if the programme could continue.
'We left our family – our country is destroyed'

Most educational institutions remain closed across Afghanistan, more than a month after the Taliban seized Kabul.
Girls up to the sixth grade have managed to attend some schools and women have gone to university classes, but high schools for girls have been closed.
The Taliban has said it will not replicate the fundamentalist policies of the previous Taliban government, which banned girls from education.
Girls will be able to study as long as they do so in segregated classrooms, the group has said.
Although the Taliban's leaders have not ordered schools to close, they have said the security situation means many activities for women and girls are not yet possible.
Footballer's fears for women under the Taliban

Meanwhile, a series of explosions targeted Taliban vehicles in the capital of Nangarhar province.
The three explosions left at least three dead and 20 wounded.
While no one immediately claimed the attack in Jalalabad, the Islamic State affiliate group ISIS-K, which opposes the Taliban, has its headquarters in eastern Afghanistan.
Also on Saturday, a sticky bomb exploded in the capital, wounding two people, police said.
AUKUS: Maintaining West's unity will 'require a lot of effort', German official says, as France rages over nuclear submarine deal | World News
Maintaining unity between Western allies will "require a lot of effort" in light of an unfolding rift between France and members of a new security partnership, Germany's ambassador to the UK has said.
Andreas Michaelis was responding to France recalling its ambassadors to the US and Australia, after the latter's government ditched a multi-billion dollar deal with Paris for new nuclear submarines and decided to instead buy ones made with US technology.
The response to the cancelled agreement – resulting from something that has been dubbed the AUKUS partnership, between Australia, the UK, and US – has been described by Sky's security and defence editor Deborah Haynes as "one of the gravest rifts among allies in living memory".
The new 🇩🇪 government to be elected on 26/9 will be faced with important strategic discussions. The AUKUS debate illustrates this vividly. 🇩🇪 has always aimed for coherence&unity of the West. It became part of our DNA during the Cold War. This unity will require a lot of effort. https://t.co/nmNEwk6hYP

— Andreas Michaelis (@GermanAmbUK) September 18, 2021
It comes as Germany's long-standing chancellor, Angela Merkel, is due to be replaced next weekend by whoever wins federal elections.
Mr Michaelis, referencing Deborah Haynes' Sky News analysis, said on Twitter: "The new German government to be elected on 26/9 will be faced with important strategic discussions.
"The AUKUS debate illustrates this vividly. Germany has always aimed for coherence&unity [sic] of the West. It became part of our DNA during the Cold War. This unity will require a lot of effort."
The decision to pull out its representative in the US, outlined last night by foreign minister Jean-Yves Le Drian on the orders of President Emmanuel Macron, was the first time France has ever recalled its American ambassador.
He said the cancellation by Australia of the big contract to buy French conventional submarines in favour of nuclear-powered subs built with US technology was "unacceptable behaviour".
It means France loses a nearly $100bn Australian dollars (£47bn) deal to build diesel-electric submarines.
'AUKUS alliance will bring us closer than ever'


Australia said on Saturday morning it regretted that France was recalling its ambassador, adding that it valued the relationship with France and would keep engaging with Paris on other issues.
A US State Department spokesperson said France was a "vital ally" and the United States would be engaged in the coming days to resolve the differences.
A French foreign ministry statement did not mention the UK, but a diplomatic source said France believed Britain's joining of the deal was opportunistic.
The AUKUS partnership is part of a new strategic Indo-Pacific alliance between the US, Australia and Britain, US President Joe Biden announced last week.
Did Biden forget Australian PM's name?

French President Emmanuel Macron has so far not commented directly, but on Friday a top French diplomat spoke anonymously of a "crisis" in relations with the US.
He said that for Paris "this is a strategic question concerning the very nature of the relationship between Europe and the United States about the Indo-Pacific strategy".
He added that Australia never mentioned to France its wish to shift to nuclear-powered submarines, including during a meeting between Mr Macron and Prime Minister Scott Morrison.
The French diplomat said that Mr Macron received a letter from Mr Morrison on Wednesday morning announcing the decision to cancel the submarine deal.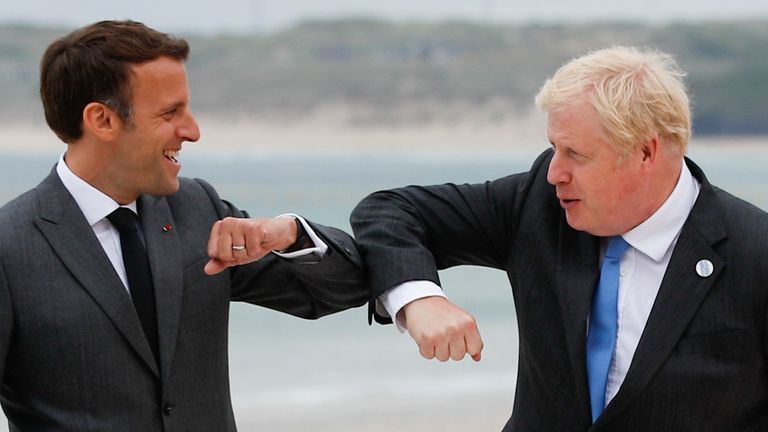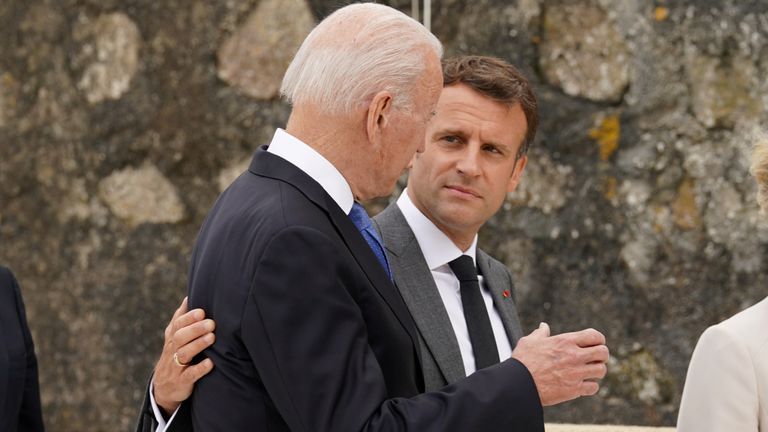 After the deal was announced, Mr Le Drian told franceinfo radio it was a "brutal, unilateral and unpredictable decision" reminiscent of the sort of actions Donald Trump would take.
He said: "I am angry and bitter. This isn't done between allies. It's a stab in the back. We created a relationship of trust with Australia, and that trust has been broken."
The "landmark" UK, US and Australia partnership aims to boost defences and share nuclear submarine secrets at a time of growing concern over China.
China has condemned the agreement, saying the Western powers' cooperation in nuclear submarines "severely damages regional peace and stability" and "jeopardises the international efforts in promoting the non-proliferation of nuclear weapons".
London, Canberra and Washington have said they will seek to collaborate in cyber, quantum technologies and artificial intelligence, as well as other underwater capabilities.
COVID-19: Australia deploys thousands of police officers to counter anti-lockdown protests in Sydney and Melbourne | World News
Thousands of police officers have been deployed to counter anti-lockdown protests in Sydney and Melbourne, as Australia grapples with a surge in coronavirus cases.
Australia recorded 1,882 new COVID-19 cases on Saturday, along with seven deaths in the latest 24-hour period, fuelled by an outbreak of the Delta variant that has been causing problems since mid-June.
The country had been widely praised for its response to the coronavirus pandemic, but Sydney; Melbourne; and the capital city, Canberra, all find themselves under strict lockdown.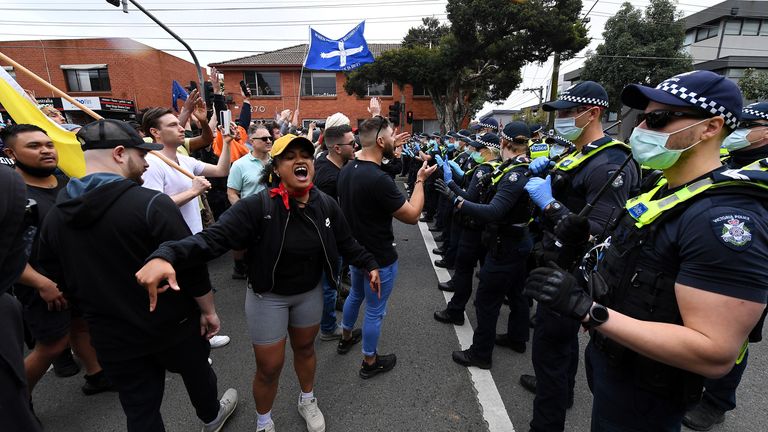 Officers used pepper spray in an attempt to disperse a gathering of around 1,000 demonstrators in Melbourne, Australia's second-largest city.
Protesters scuffled with officers in the suburb of Richmond, where the protest was located, after a last-minute change intended to evade the authorities.
About 700 people managed to gather in parts of Melbourne and 235 have been arrested.
Most of the protesters did not wear face masks, defying regulations.
Around 2,000 police officers were deployed at road checkpoints and barricades in an attempt to stop the rally from going ahead.
The city entered its sixth lockdown on 5 August.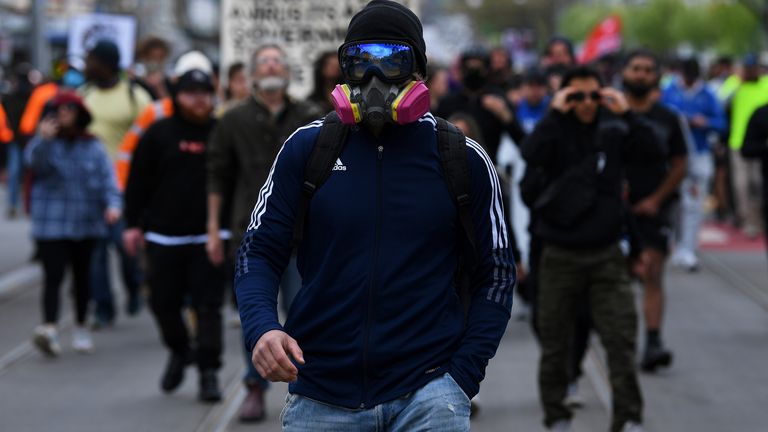 Along with police officers in Sydney, riot squad officers, highway patrol and detectives were deployed to counter the protests.
Thirty-two people have been arrested there.
New South Wales reported 1,331 cases on Saturday, mostly in the state capital Sydney, along with six deaths, while Victoria reported 535 new cases, mostly in the capital state Melbourne, along with one death.
Australia's lockdown restrictions in Victoria, New South Wales, and Canberra will remain until at least 70% of people aged 16 and older are fully vaccinated.
Based on the current rate of inoculations, that could take until late October or early November.
While the vast majority of Australians support vaccinations and the restrictions, there have been protests against the country's management of the pandemic.
The vaccine rollout has been slow compared to other developed nations, not helped by many Australians having been made reluctant to get the AstraZeneca jab due to conflicting government advice.
Australia has seen just under 85,000 coronavirus cases and 1,145 deaths since the pandemic began.
On Friday, police in New South Wales issued a warning against the protests, cautioning that participants could expect punishments ranging from a fine to being arrested.