Facebook announces major changes to political ad policies
Get breaking news alerts and special reports. The news and stories that matter, delivered weekday mornings.
Facebook will now require political advertisers to verify their identities and locations before they are approved to buy ads, the embattled social media company announced on Friday.
Any entity that wants to show "issue ads" — ads about hot-button topics that are not necessarily related to an election or candidacy — will need to be authorized by the company, Facebook said in a news release.
The policy changes come after the company was found to have hosted ads and other content purchased by groups linked to Russia ahead of the 2016 presidential election.
Russia-backed posts, some of which contained inflammatory messages about divisive American political debates, reached 126 million Americans through the platform. The issue is being examined as part of a wider federal probe of Russian election meddling.
"These [policy changes] are designed to increase transparency and accountability, as well as prevent election interference," Facebook said in a news release.
Facebook also announced that political ads will soon be clearly labeled as such, along with information about which entities paid to put them in your feed.
The company started testing the new authorization process this week, and users will start seeing the "Political Ad" label later this spring.
The announcement comes just days before Facebook CEO Mark Zuckerberg is set to face lawmakers on Capitol Hill at hearings on data privacy and misinformation.
In a post Friday on his personal Facebook page, Zuckerberg said he endorsed a bill — the Honest Ads Act — that ramps up disclosure requirements for political ads.
"These steps by themselves won't stop all people trying to game the system. But they will make it a lot harder for anyone to do what the Russians did during the 2016 election and use fake accounts and pages to run ads," Zuckerberg wrote.
Sen. Mark Warner (D-Va.), who co-sponsored the bill, praised Facebook's decision to back it, saying in . a statement that he would "encourage all of the platform companies to follow suit."
Zuckerberg will likely be grilled by lawmakers next week on why the company mishandled the revelation that Cambridge Analytica, the data analysis firm that worked with President Donald Trump's 2016 election campaign, had used data from as many as 87 million Facebook users to target ads.
Russia school shooting: Students among 11 killed in attack in Kazan – reports | World News

At least 11 people including students have been killed and several injured in a shooting at a school in southwest Russia, according to reports.
The RIA news agency said an explosion was heard at the school in the city of Kazan and a gunman has been detained by police.
Interfax news agency cited a source as saying that there were two attackers and the second could still be in the building.
Israel launches airstrikes on 'Hamas military targets' in Gaza Strip as it responds to rocket attacks | World News
The Israeli military has insisted it does all it can to avoid civilian deaths after 22 people, including nine children, were killed overnight in the Gaza Strip.
Israeli fighter jets, attack helicopters and drones hit more than 130 "Hamas military targets", including the home of a Hamas commander, according to the Israeli military.
The airstrikes were a retaliation for a barrage of rockets fired into Israel from Gaza since 6pm on Monday including six rockets which landed near Jerusalem.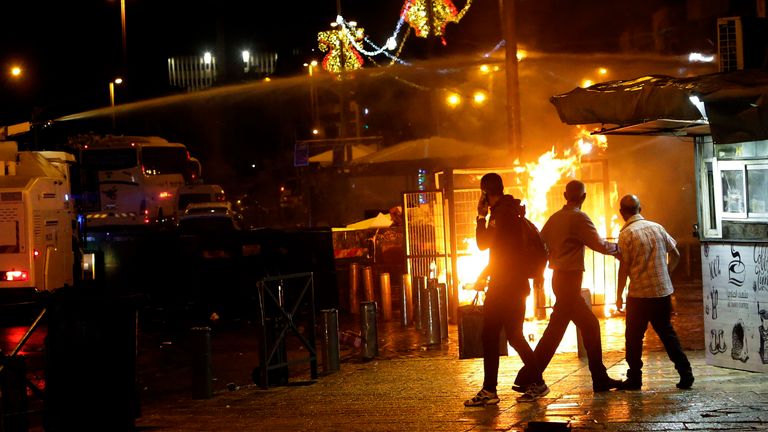 In total, more than 200 rockets were launched by Hamas and other militant Palestinian groups inside Gaza. Video was released by both Hamas and Palestinian Islamic Jihad (PIJ) showing the rockets being fired.
In an early morning briefing, Israeli Defence Forces (IDF) spokesman Lieutenant Colonel Jonathan Conricus said that more than 90% of the rockets fired from Gaza were intercepted by Israel's Iron Dome missile defence system.
He could not confirm whether the civilian casualties in Gaza were the result of Israeli airstrikes and suggested they could be the consequence of misfired Hamas rockets.
"Thirty-three percent of the rockets fell short and exploded inside Gaza, an abnormally high misfire rate, maybe indicating poor quality," Lt Col Conricus said.
"Hamas rockets are falling short and causing damage inside Gaza…. we know they are falling short because of our radar systems."
Israeli airstrikes on targets in Gaza City

"Hamas is nurturing a narrative that the ISF is killing non-combatants. We take every effort to avoid killing non-combatants – but can't confirm or deny yet whether Israeli strikes have hit civilians," he added.
He said that current estimates suggest that Israeli strikes over a 12-hour period had killed 15 Hamas and PIJ fighters including a Hamas battalion commander whose home in a high rise block was hit.
The residential property was among a number of groups of targets identified in advance according to the IDF. The others included rockets manufacturing facilities, storage facilities, training facilities and military bases.
Gaza's health ministry said at least seven members of one family, including three children, were killed in an explosion in northern Gaza but the origins of the explosion are unknown.
This morning, rockets continued to be fired from Gaza into southern Israel with a residential building in the southern Israeli city of Ashkelon hit, injuring one person.
What issues lie behind troubles in Jerusalem?

Hamas said in a statement this morning that it will "not stop its resistance action as long as the Israeli occupation continues its aggression against the Palestinians".
The latest violence comes amid soaring tensions in Jerusalem and days of clashes at an important mosque in the holy city.
Hundreds of Palestinians were hurt in clashes with Israeli security forces in 24 hours in the courtyard outside the Al Aqsa mosque and in the narrow streets of the old city.
Hamas had given the Israeli government an ultimatum to withdraw its forces from the mosque area, release all Palestinians detained over the course of the day and remove Jewish settlers from the Sheikh Jarrah neighbourhood of East Jerusalem.
The militant group said it would retaliate at 6pm on Monday if the demands were not met.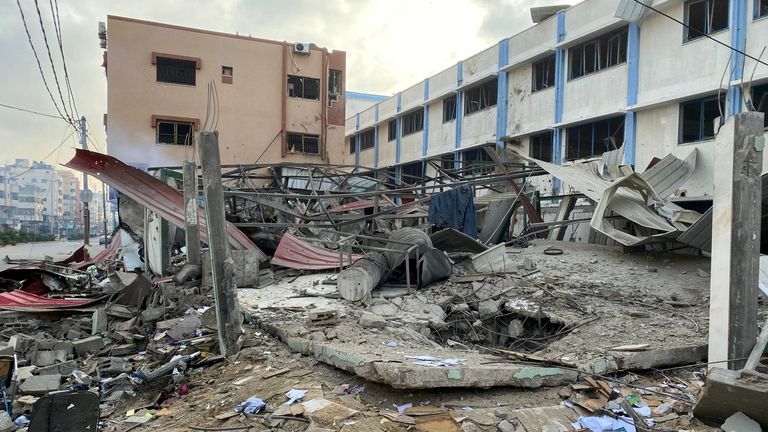 At just after 6pm explosions were heard in Jerusalem as the Hamas rockets landed eight miles to the west of the city.
Israeli Prime Minister Benjamin Netanyahu said the Hamas attacks had "crossed a red line".
"Israel will respond very forcefully. We will not tolerate attacks on our territory, our capital, our citizens and our soldiers. Whoever strikes us will pay a heavy price," he said.
A US State Department spokesman had expressed deep concern over the events at the Al Aqsa mosque earlier in the day and called the Hamas rocket attack an "unacceptable escalation".
Dominic Raab, the UK foreign secretary, tweeted: "The UK condemns the firing of rockets at Jerusalem and locations within Israel.
"The ongoing violence in Jerusalem and Gaza must stop. We need an immediate de-escalation on all sides, and end to targeting of civilian populations."
Man dies after WWII bomb explosion: Call for US to clean up its 'mess' in Pacific | World News
The death of a man in the Solomon Islands has prompted a call for the US and others to clean up some of the dangerous weapons they left behind during the Second World War.
Raziv Hilly, 29, was the third person killed on the islands recently as a result of munitions from the conflict, following the deaths of two Australian bomb disposal experts last year.
Three others were injured – two of them are in critical condition, while the third had minor injuries.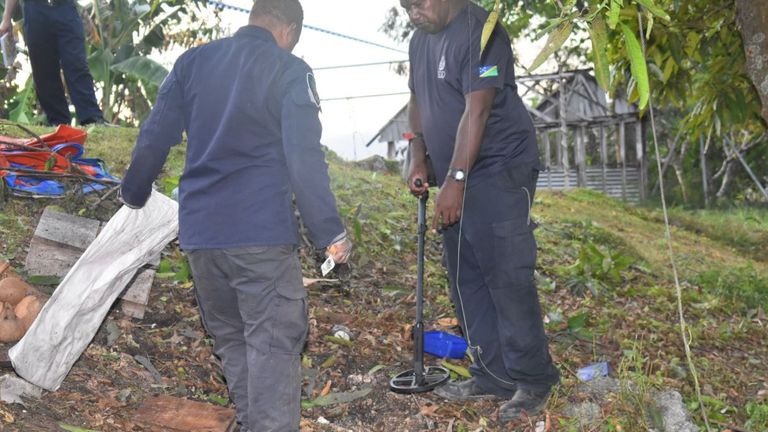 Inspector Clifford Tunuki, from Royal Solomon Islands Police Force, said on Facebook that the explosion happened during a fundraising event in the capital Honiara on Sunday.
A group of young people had chosen a site to start a fire so they could cook food as part of their fundraising efforts.
But they had not realised there was a wartime US 105mm High Explosive Projectile sitting under the ground, Insp Tunuki said.
Mr Hilly's cousin Claude Posala told the Australian Broadcasting Corp that the US has a "moral obligation" to remove the weapons.
"US, this is your mess," he said, adding that the Solomon Islands government does not have the capacity.
All sorts of weapons and explosives were brought to various islands in the Pacific during the conflict between the US, its allies, and the Japanese almost 80 years ago.
After Japan withdrew from Guadalcanal in 1943, much of it was left behind, some of it even tossed into the ocean as troops hurried to get home.
Now many people in the Solomon Islands live on land "scattered" with bombs, according to Australian organisation SafeGround.
The Solomon Islands is among the worst-affected in the Pacific, but the danger is also present in Papua New Guinea, Palau, the Marshall Islands, Micronesia, Tuvalu, Nauru, Kiribati and Vanuatu.
The threat means much of the land is useless for farming or infrastructure, it limits tourism and the fishing industry, and – of course – poses an extreme risk to people's safety.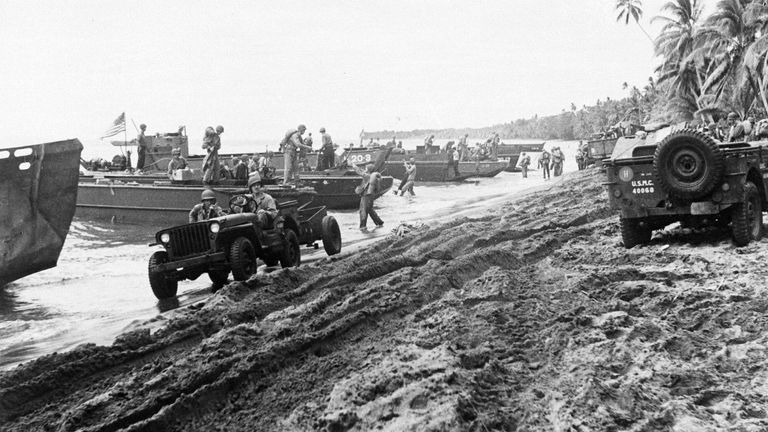 SafeGround's John Rodsted told The Sydney Morning Herald last year: "World War Two ended, everyone went home and everyone forgot about it and the locals just got stuck with these stockpiles."
The US has made efforts, along with Australia, New Zealand, and Norwegian People's Aid, to clear unexploded bombs in the Pacific, but the problem is immense.
Erin McKee, US Ambassador to Papua New Guinea, Solomon Islands, and Vanuatu, said in a statement posted on Facebook: "We were deeply saddened to hear of the tragic incident in Honiara this past weekend and mourn the loss of life.
"The United States government, through our Department of Defense, will continue to support efforts to remove unexploded ordnance from Solomon Islands.
"Among these efforts is our ongoing partnership with Norwegian People's Aid, which has worked in Solomon Islands since 2019 to identify and dispose of unexploded ordnance."