China ready to win at 'any cost' in trade war
China has fired the latest salvo in a possible trade war, saying it will take on the US "until the end at any cost".
The warning from China's Ministry of Commerce came after US President Donald Trump said he was considering $100bn (£71.5bn) in extra tariffs on Chinese goods.
The ministry said: "If the US side disregards opposition from China and the international community and insists on carrying out unilateralism and trade protectionism, the Chinese side will take them on until the end at any cost."
The two countries have been building towards a trade war since President Donald Trump moved to impose tariffs on US imports of steel and aluminium products – exempting the EU and many other nations, at least for now.
Mr Trump's protectionist agenda is aimed at saving US jobs and closing what he sees as a $504bn trade gap with China and deficits with other major economies.
His proposed measures also include tackling alleged intellectual property theft by Beijing but China has responded by threatening to target US agriculture as part of its own measures.
It has raised objections with the World Trade Organisation to the planned imposition of $50bn (£35.7bn) in tariffs over the technology issue.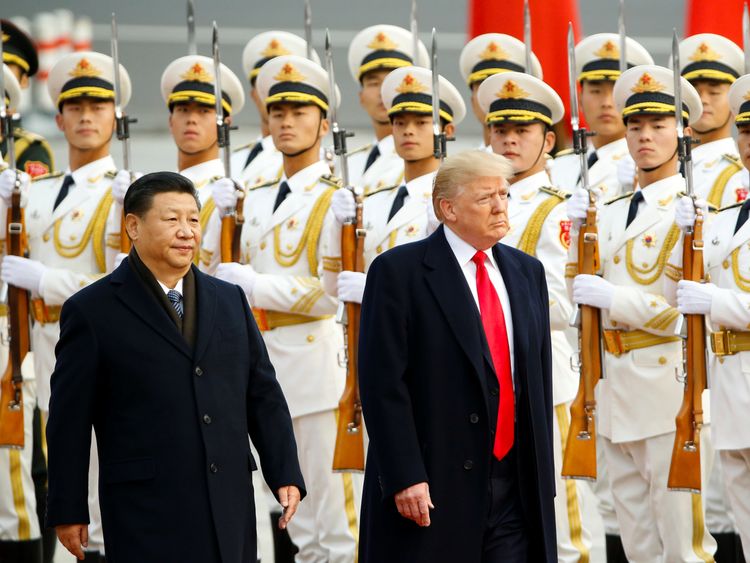 On Thursday night stock markets had recovered some value as hopes grew that the two largest economies in the world would avert a damaging trade war.
But after the markets closed, the White House announced that Mr Trump's was considering the $100bn in extra tariffs.
"China's illicit trade practices – ignored for years by Washington – have destroyed thousands of American factories and millions of American jobs," Trump said in a statement announcing the decision.
Yun Sun, China expert at the Stimson Center think tank, said: "What we are seeing so far, although it's ugly and it's confrontational, it's still posturing.
"We have not yet seen the axe falling."
While Mr Trump has often praised Chinese President Xi Jinping for his cooperation over the North Korea nuclear problem, on other fronts the relationship between the two countries is getting worse.
Among the low points: The US national security strategy in December that named China, along with Russia, as a "revisionist power" threatening American interests; the US increasing its naval operations in the South China Sea; and legislation signed by Mr Trump last month calling for Cabinet-level official visits to Taiwan, a self-governing island that Beijing regards as part of Chinese territory.
More follows…
Pope Francis announces first African-American cardinal | World News
Pope Francis has named 13 new cardinals, including Washington DC Archbishop
Wilton Gregory.
The 73-year-old will become the first African-American prelate to wear the coveted red hat.
In an announcement from his studio window looking out to St Peter's Square, the pope said the 13 will officially be elevated to their new status in a ceremony on 28 November.
The selection of Mr Gregory won praise from LGBTQ advocates in the US, days after the pontiff voiced support for civil unions for gay couples.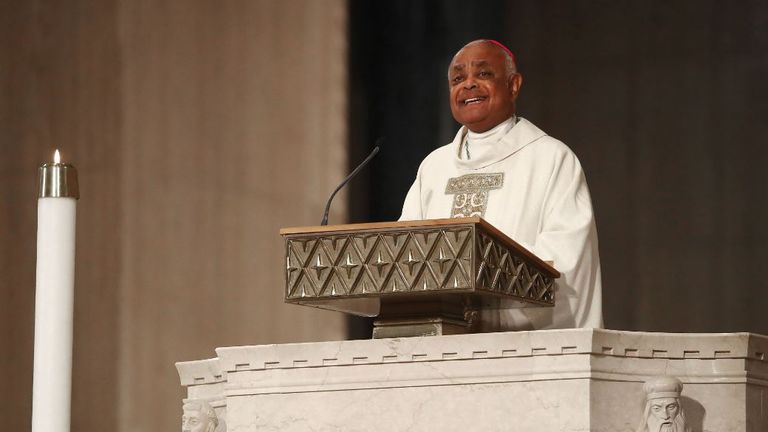 When Mr Gregory headed the Atlanta diocese earlier in his career, he wrote positively in a column about his conversations with Catholic parents of LGBTQ children.
Other new cardinals include the long-time papal preacher at the Vatican, Italian Reverend Raniero Cantalamessa, Kigali Archbishop Antoine Kambanda, Capiz Archbishop Jose Feurte Advincula, and Santiago Archbishop Celestino Aos.
Another Franciscan who has been elevated is Friar Mauro Gambetti, in charge of the Sacred Convent in Assisi.
Reflecting his belief in helping the poor, the pope also named the former director of the Rome Catholic charity Caritas, Reverend Enrico Feroci, as a cardinal.
Others include Maltese prelate Monsignor Mario Grech; Monsignor Marcello Semeraro, an Italian serving as prefect of the Vatican office that runs the saint-making process; and Bishop Cornelius Sim – the apostolic vicar of Brunei.
They will be joined by the Italian archbishop of Siena and nearby towns in Tuscany, Augusto Lojudice, the retired bishop of San Cristobal de las Casas, Monsignor Felipe Arizmendi Esquivel, and an Italian former Vatican diplomat, Archbishop Silvano Tomasi.
Mr Gregory was picked by Pope Francis last year to lead the prestigious diocese in the US capital.
He served three times as the head of the US Conference of Bishops.
Nine of the new cardinals are younger than 80 and will be eligible to elect the next pontiff.
France urges Arab nations to stop boycotts of French products over Macron's defence of prophet cartoons | World News
France has called on Arab nations to end "baseless" calls for a boycott of its goods – after French President Emmanuel Macron's defence of the right to show cartoons of the Prophet Muhammad.
The French foreign ministry also urged authorities in the countries to speak out against such protests in order to help French companies and ensure the safety of its citizens.
French products have been covered or removed from some shops in Kuwait, Qatar and Jordan, while In Saudi Arabia, the Arab world's largest economy, a hashtag calling for the boycott of French supermarket retailer Carrefour has been trending on social media.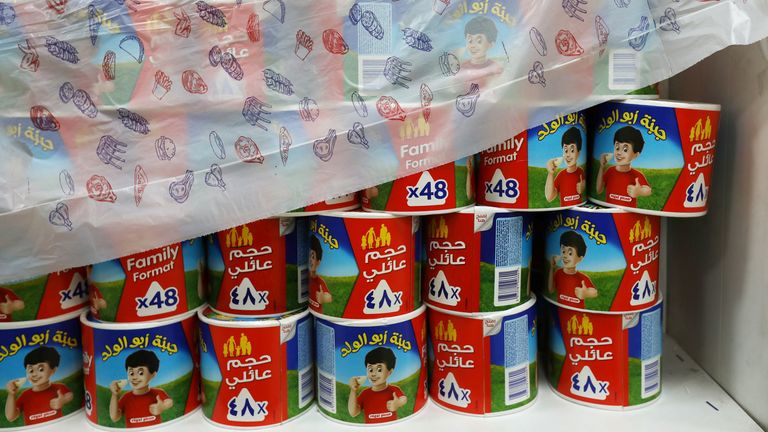 France's foreign ministry said: "These calls for boycotts are baseless and should stop immediately, as well as all attacks against our country, which are being pushed by a radical minority."
The boycotts follow comments made by Mr Macron after the murder of a French teacher earlier this month.
Samuel Paty had shown caricatures of the Prophet Muhammad during a class on freedom of expression at his secondary school in Conflans-Sainte-Honorine, northwest of Paris. His killing is being investigated as an Islamist terror attack.
Mr Macron said France would not renounce its freedoms, and said Mr Paty "was killed because Islamists want our future" and described the history teacher as a "hero".
Muslims see any depiction of the prophet as blasphemous, but Mr Macron has defended the teacher's actions as freedom of expression.
Earlier this month he described Islam as a religion "in crisis" worldwide and pledged a crackdown on extremism.
Mr Macron tweeted on Sunday: "We will not give in, ever."
He did not directly address the boycott calls.
We will not give in, ever.
We respect all differences in a spirit of peace. We do not accept hate speech and defend reasonable debate. We will always be on the side of human dignity and universal values.

— Emmanuel Macron (@EmmanuelMacron) October 25, 2020
There have also been protests in Istanbul, Turkey, and calls for demonstrations in other countries.
The president of Turkey took a second insulting swipe at Mr Macron on Sunday for his stance.
Recep Tayyip Erdogan said the French leader has "lost his way".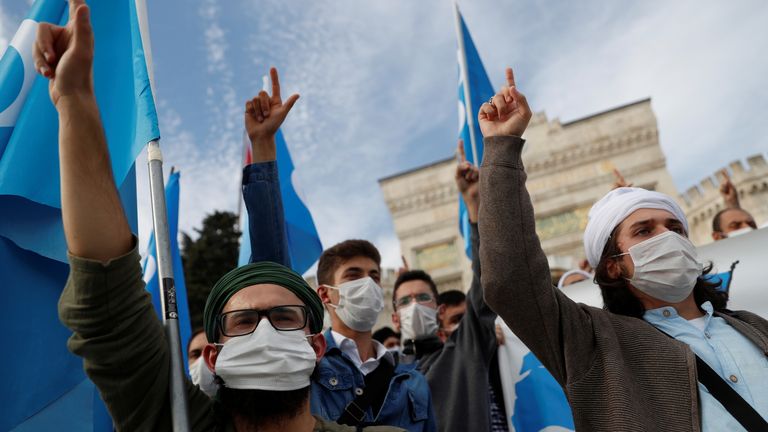 France had already recalled its ambassador to Turkey on Saturday after Mr Erdogan said Mr Macron needed "mental health treatment" over his attitude towards Muslims.
French authorities have also denounced Turkish "propaganda" against France which they have said is aimed at fanning hate at home and abroad.
Pakistan and a bloc of other Muslim nations have also criticised Mr Macron's stance.
The 57-nation Organisation of Islamic Cooperation, headquartered in Saudi Arabia, has condemned the "ongoing practice of running satirical caricatures depicting the Prophet Muhammad" and said it "will continue to decry justification for blasphemy of any religion in the name of freedom of expression".
The beheading of Mr Paty carried echoes of the Islamist attack on the offices of the satirical magazine Charlie Hebdo in 2015.
The publication had shown images of the Prophet Muhammad.
Australia condemns Qatari authorities over 'grossly disturbing' strip-searches | World News
Australia has condemned Qatari authorities over "grossly disturbing" reports that women were subjected to invasive strip-searches before a flight from Doha to Sydney.
The women, including 13 Australians, were searched in an ambulance after a newborn baby was found abandoned in a terminal toilet at Hamad International Airport on 2 October.
Australia's foreign affairs department described the treatment of the group as inappropriate and beyond circumstances in which they could give free and informed consent.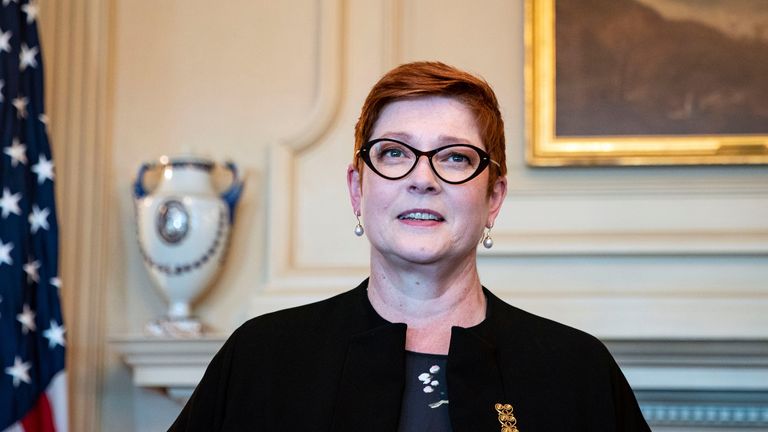 "This is a grossly, grossly disturbing, offensive, concerning set of events," foreign minister Marise Payne said.
"It's not something that I've ever heard of occurring in my life, in any context.
"We have made our views very clear to the Qatari authorities on this matter."
Australia will await a report from the Qatari government before they determine the next steps, Ms Payne said.
Hamad international airport management said the baby was safe and being cared for by medical and social workers.
Medical professionals were concerned for the mother's health after the infant was found and had requested she be located, the airport said in a statement.
"Individuals who had access to a specific area of the airport where the newborn infant was found were asked to assist in the query," the statement added.
The women were taken off the delayed Qatar Airways flight and examined in an ambulance parked on the tarmac, Australia's seven network news reported.
Wolfgang Babeck, who was returning home to Australia on the flight, said women were taken from the plane regardless of their age.
"When the women came back, many of them or probably all of them were upset. One of them was in tears, a younger woman, and people couldn't believe what had happened," Mr Babeck told the Australian Broadcasting Corporation.
"They told me they had to take their underwear off or their clothes from the bottom and then it was inspected whether they had given birth."
State-owned Qatar Airways told Guardian Australia it had not been contacted by any of the passengers on the flight and said it could not comment.
"We appreciate the concerns and distress expressed to you by the Australian passengers who you have spoken to and will be investigating these matters with relevant authorities and officials," a spokeswoman said.