YouTube shooter repeatedly posted grievances about the video platform
Get breaking news alerts and special reports. The news and stories that matter, delivered weekday mornings.
Nasim Aghdam repeatedly aired her frustration with YouTube on online accounts and on a website linked to her, before she allegedly opened fire on the company' headquarters in San Bruno, California, on Tuesday.
Aghdam, 38, was found dead from a self-inflicted gunshot wound after injuring four people during her shooting rampage, according to local police officials. On Wednesday, the police said they believed that Aghdam was motivated by her anger with YouTube.
YouTube policy changes in recent years have made it harder for video creators to earn money on the platform. YouTube has also narrowed what is considered acceptable — and monetizable — content, moves that have sparked heated criticism from some video creators.
"We know that she was upset with YouTube, and we've determined that right now that's the motivation we've identified," San Bruno Police Chief Ed Barberini said, adding that it has not been determined whether her actions were related to terrorism.
In a statement Wednesday night, YouTube said it was increasing security at all of its offices worldwide, and called the attack "deeply shocking and disturbing." It did not address Aghdam's allegations that newer policies had worked to deny her and other users revenue.
The Mountain View Police Department released a statement saying that Aghdam's father informed them that his daughter was in the area after "she made a series of vegan videos for her channel on YouTube and that the company had recently done something to her videos that had caused her to become upset."
According to a review of Aghdam's online account history conducted by NBC News, she posted videos to four YouTube channels, with most of her work focused on veganism and animal rights. Other videos featured bizarre parodies or exercise videos set to strange music. Her four channels collectively earned more than 9.2 million views on YouTube since she joined the site in 2010.
Aghdam's grievances with YouTube stemmed from changes made by the company to how it pays video creators for ads shown before or alongside their videos. Those changes, some of which occurred less than three months ago, included making it harder for video creators with smaller followings and view counts to make any money from their videos. Some in the YouTube community have criticized those changes.
Aghdam's issues with YouTube appeared to have swelled last year. A file in an image folder on Aghdam's personal website showed what purported to be an email she received that appeared to come from an account associated with YouTube's legal support team in response to a complaint she levied on June 16, 2017. The picture is not displayed on Aghdam's website, but was uploaded to an index folder containing all images hosted on the site.
In the email, which was added to her website June 27, 2017, Aghdam complains of "discrimination and hatred problems against me," alleging a "huge drop in views" after she began uploading videos in Farsi and Turkish.
Aghdam appended a message in a red font atop a screenshot of her purported interaction with a YouTube support account.
"My email to youtube legal team. Subject is discrimination, but their response is about account activation!"
YouTube did not respond to requests for comment.
Aghdam's family confirmed her YouTube usage to NBC News on Tuesday. In a brief phone interview, her father, Ismail Aghdam, said the platform had "stopped everything and now she has no income."
Ismail Aghdam later told The San Jose Mercury News that his daughter "was angry" and "hated" YouTube.
Charts on the analytics site SocialBlade show that Aghdam suffered a substantial decline in viewers and subscribers on her main YouTube channel in June 2016. Aghdam opened several other YouTube accounts over the course of 2016 and 2017, all of which received noticeable drops in viewership within months.
It's unclear how much money Aghdam was making for her views, but SocialBlade estimated that she was making $661 to $10,614 a year from her four YouTube accounts.
"On YouTube, a creator can estimate that they'll get somewhere between 25 cents and $4 per 1,000 views. These data points change from time to time and are not an exact science, but generally hold true for most channels," SocialBlade CEO Jason Urgo said.
A website registered in Aghdam's name and a hub for her now deleted YouTube accounts, NasimSabz.com, prominently features several videos about YouTube demonetization under the heading "Youtube filtered my channels to keep them from getting views!"
China's president Xi Jinping says the world must co-operate on climate change | World News
China's president has said the world needs to work together to balance economic development and the destruction of the natural world.
It comes just a week after Xi Jinping promised China – the world's worst polluter and an economic super power – would be carbon neutral by 2060.
In another landmark speech, he told the UN biodiversity summit: "At present there exists an acceleration of the global extinction of species.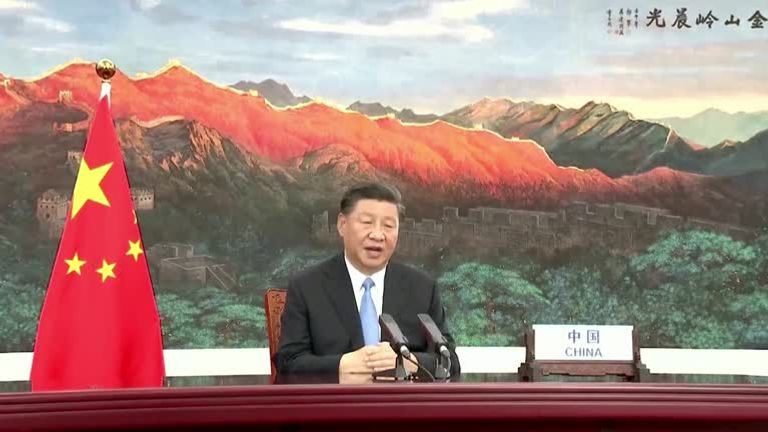 "The loss of biodiversity and degradation of the ecosystem pose a major risk to human survival and development.
"It falls to all of us to act together. We need to respect nature, follow its laws and protect it. We need to find a way for man and nature to live in harmony and balance and coordinate economic development and ecological protection."
It came as a new study by the Royal Botanical Gardens at Kew in London collated the findings of 210 scientists from 42 countries.
They estimated forty per cent of plant species are at risk of extinction, hundreds of medicinal plants are threatened and only a tiny fraction of plants are being used for food and fuel.
Professor Phil Stevenson told Sky News: "The attention that is being drawn to biodiversity loss at high levels around the world I think is a really positive thing.
"This report will provide those decision makers, and also individuals at home, with new information and more information on making better decisions about conserving the diversity of plants and funghi."
:: Subscribe to the Daily podcast on Apple Podcasts, Google Podcasts, Spotify, Spreaker
It seems hard to re-imagine China as a champion of climate change and biodiversity given the environmental devastation caused by its break-neck speed of economic transformation. So has China really turned over a new leaf?
Isabel Hilton, CEO of China Dialogue, said: "On the analogy of the prodigal son, isn't it better that China has got to the point of understanding how damaging its previous policies were, and is now exerting leadership in a number of ways."
It's easy to make promises but the world will be watching to see whether those with the power actually make a difference on biodiversity and climate change.
US presidential debate: 'A wild ride' for Pennsylvania viewers | World News
Much of America stayed at home to watch the big debate.
"The home schooling's keeping them in," explained Mike McCloskey, owner of the Railroad Street Bar & Grill in Linfield, Pennsylvania. "Teaching kids in the morning is even harder after a hard night."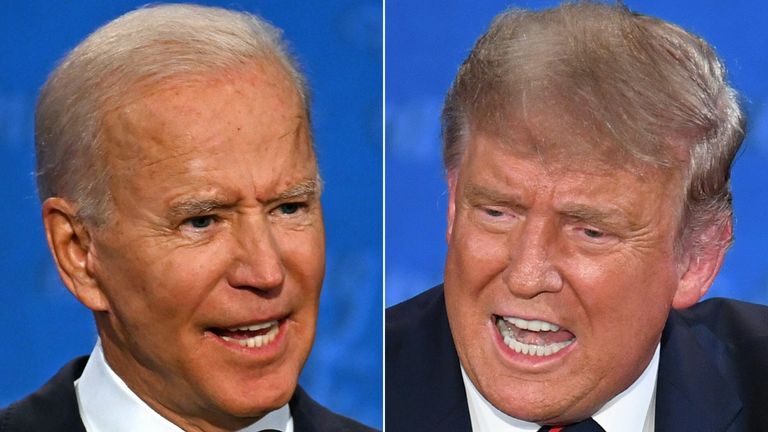 It didn't prevent a sprinkling of the politically-attuned gathering in this self-styled "upbeat hub for brews," by the Norfolk Southern rail line that runs freight through their swing state.
In the United States, they say if you don't win Pennsylvania, you don't win the country.
After an hour and a half of watching the debate, the verdict in Linfield favoured Donald Trump, albeit not unanimously.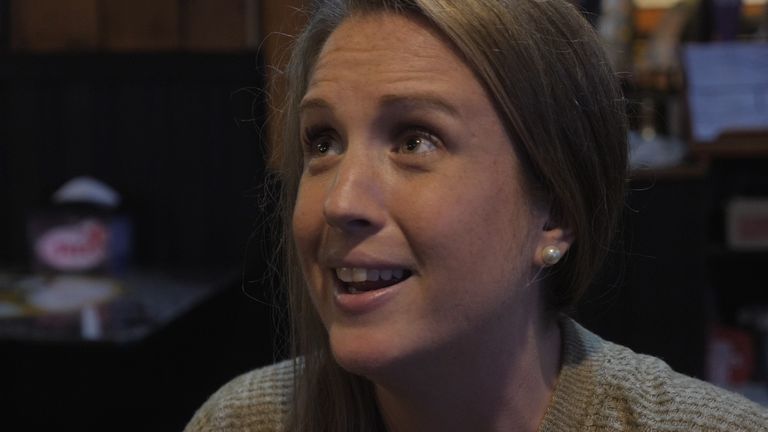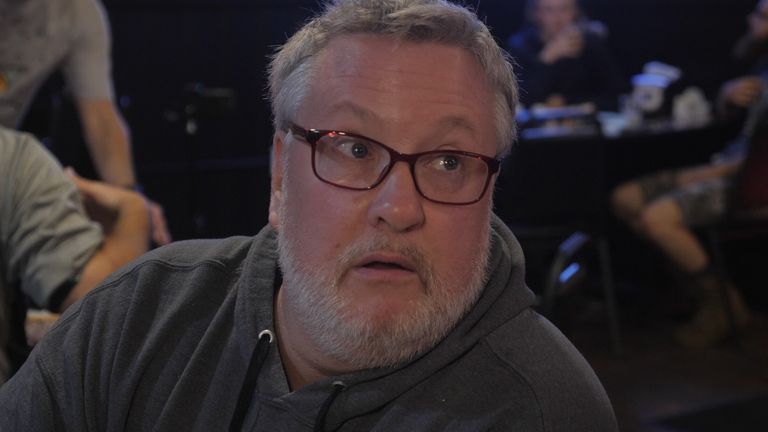 Colleen Dougherty told Sky News: "I think that Donald Trump owned this. I don't think that Joe Biden really had anything to really bring to the table. I was really hoping that he would. And we didn't really have anything."
John Lappin saw Mr Trump as the victor. He said: "One came with a piece of paper in front of them that can only read from that. The other one is a leader of our country. It really isn't much more difficult than that.
:: Subscribe to Divided States on Apple podcasts, Google Podcasts, Spotify, and Spreaker
Others didn't declare a clear winner, but did see a loser – the voting public.
Meredith Warren said: "This is terrible, all around. This is very upsetting to watch, but this is the best representation for our country right now. I think they're both little kids going back and forth to each other. They didn't answer any questions."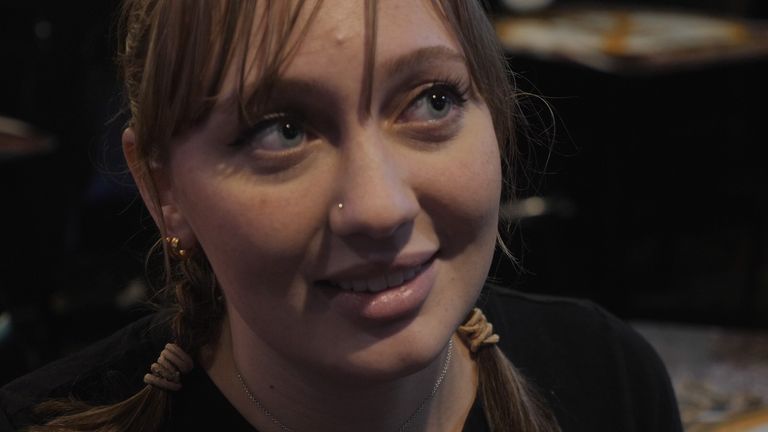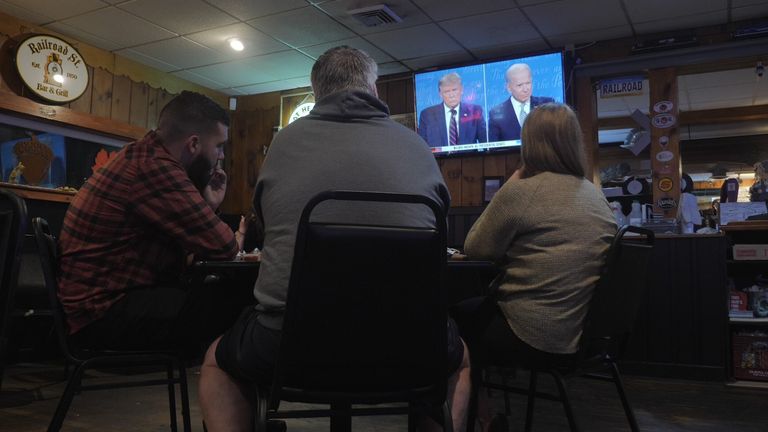 Mr McCloskey added: "It was a wild ride, it went right, it went left. There was a lot going on, there was a lot of interruption.
"Right now, watching that, I would feel really bad for the American people. Because there was no order. It was all over the place. And I understand why people look at us as a laughing stock. I don't believe anybody won that debate."
Democratic Republic of Congo: More than 50 women allege abuse by Ebola aid workers | UK News
More than 50 women have alleged that they have been sexually abused or exploited in the Democratic Republic of Congo by Ebola aid workers who said they were from some of the world's top humanitarian organisations.
The allegations centre around the town of Beni, one of the epicentres of the country's 10th and most deadly Ebola outbreak which started in 2018.
In an interview, 51 women recounted multiple incidents of abuse and claimed the men who exploited them identified themselves as being with the World Health Organisation (WHO), UNICEF, Oxfam, Médecins Sans Frontières, World Vision, medical charity Alima and the UN's migration agency, IOM.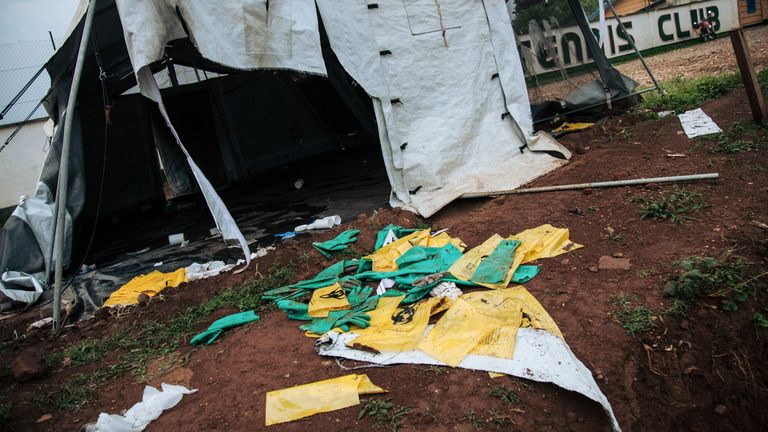 The allegations follow a joint investigation by The New Humanitarian and the Thomson Reuters Foundation.
The majority of women said they were plied with drinks, others ambushed in offices and hospitals, and some locked in rooms by men who promised jobs or threatened to fire them if they did not comply.
"So many women were affected by this," said one 44-year-old woman, who explained that to get a job she had to have sex with a man who said he was a WHO worker.
She and the other women spoke on condition of anonymity for fear of reprisals.
"I can't think of someone who worked in the response who didn't have to offer something," she added.
Some women were cooks, cleaners and community outreach workers hired on short-term contracts, earning $50 to $100 (£40 to £80) a month – more than twice the normal wage.
At least two women said they became pregnant and others said the abuse occurred as recently as March.
The number and similarity of many of the accounts from women in the eastern city of Beni suggest the practice was widespread, with three organisations vowing to investigate the accusations.
UN secretary-general António Guterres called for the allegations to be "investigated fully".
The WHO said it was investigating the allegations, affirming that it had a "zero tolerance policy with regard to sexual exploitation and abuse".
"The actions allegedly perpetrated by individuals identifying themselves as working for WHO are unacceptable and will be robustly investigated," it said in a statement.
"The betrayal of people in the communities we serve is reprehensible and we do not tolerate such behaviour in any of our staff, contractors or partners.
"Anyone identified as being involved will be held to account and face serious consequences, including immediate dismissal."
Following the allegations against WHO, a Foreign Office spokesperson, said: "Sexual exploitation and abuse are completely abhorrent. We regularly assess all of our partners against the highest safeguarding standards and expect thorough investigations whenever allegations are made.
"The World Health Organisation has confirmed it is urgently investigating these allegations. We will scrutinise their findings closely."
Spokespeople for IOM, MSF, UNICEF and DRC's health ministry told both agencies in mid-September they did not know about the accusations before they were presented to them and several said they would need more information to take action.
Oxfam said it does "everything in our power to prevent misconduct and to investigate and act on allegations when they arise, including supporting survivors".
Meanwhile, an Alima spokesperson said that after investigations earlier this year, two employees were dismissed for sexual harassment and that they had launched a new investigation after the recent reporting.