Submarine murder accused Peter Madsen 'dreamed of being kidnapped and abused'
A Danish inventor accused of murdering a journalist on his submarine dreamed of being kidnapped and abused, a court has heard.
Peter Madsen, 47, "expressed no remorse or guilt" over the death and dismembering of Kim Wall last August, a psychologist who examined him said.
During the tenth day of the trial, Copenhagen City Court also heard details of a blog post about heaven and hell which the inventor wrote.
Madsen is accused of murdering the 30-year-old journalist who never returned after going to interview him on his submarine.
Days later her dismembered body was found at sea.
Madsen admits dismembering Ms Wall's body and throwing it overboard, but denies a charge of premeditated murder.
The court heard that during a psychiatric examination after he was arrested, Madsen "expressed no remorse or guilt in connection with the events".
He was "strikingly lightly affected by the events" and was branded as "highly self-promoting and idolising" by the psychologist, the prosecution told the court.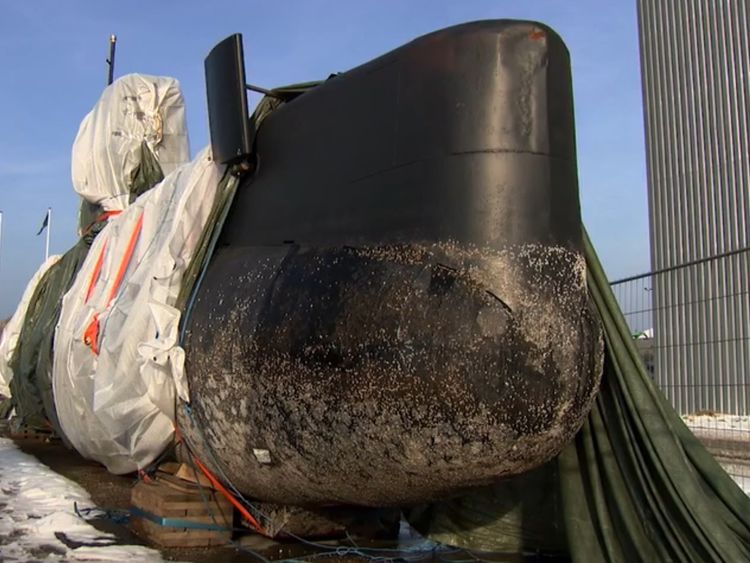 The submarine owner told the psychologist that when he was a child one of his dreams was to be kidnapped and abused.
He also said he would go through with the trial out of "pure curiosity".
During the hearing, the prosecution and defence entered into a feud over a blog post which Madsen had written.
His defence team read out his views on heaven while the prosecution concentrated on his depictions of hell, including threats which told readers to "go after the weak".
On hell, Madsen wrote: "Hell is saturated by evil, penetrates your head as if you had wi-fi in the ear canal.
"The entire philosophy in this underworld comes to you.
"Go after the weak, they're easy targets. If you want it, take it. Don't settle for the scent, take a bite, sink and enjoy."
An earlier female witness said he sent her a link to the blog post and said: "It is an entrance to my head."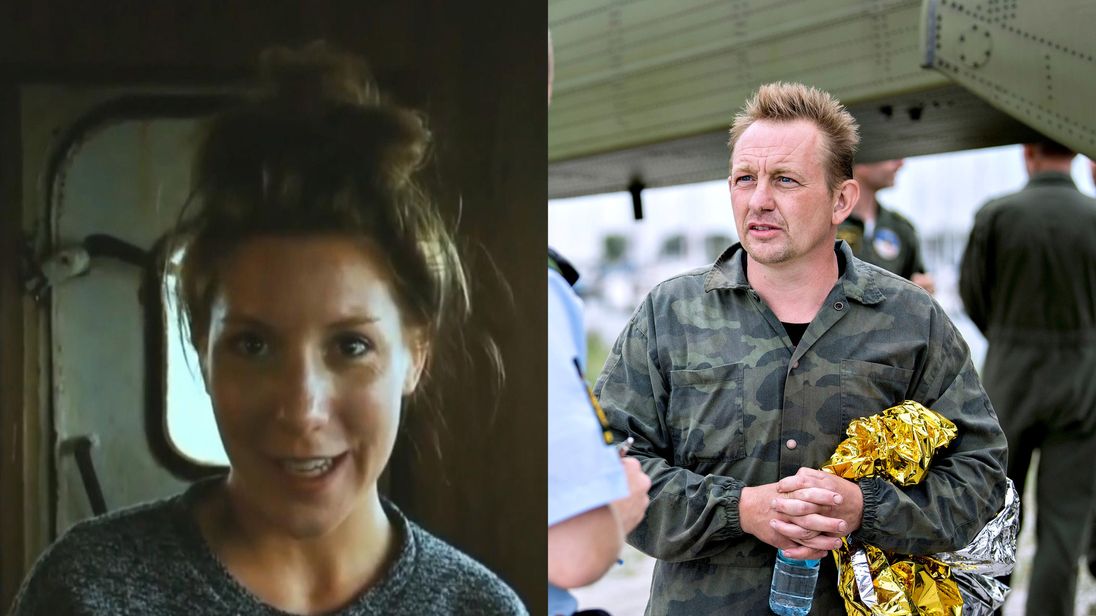 On heaven, he wrote: "You look around. A beautiful angel girl smiles her natural, pure smile at you.
"No makeup here. You think briefly, ahh she's very pretty, actually pretty hot…"
In another post he wrote: "In submarines you could always trust."
The court heard from Madsen's lawyer that he pointed out to police where on the submarine's route he had "dumped the different things" – presumed to be her body parts – but this was not officially recorded.
When police divers found the sunken submarine they discovered Ms Wall's pants below a floor plate in an engine room and a broken, rusty utility knife blade.
The prosecution said this was important as they also found a utility knife in a plastic bag containing Ms Wall's clothes, which was found weighted down at the bottom of the sea.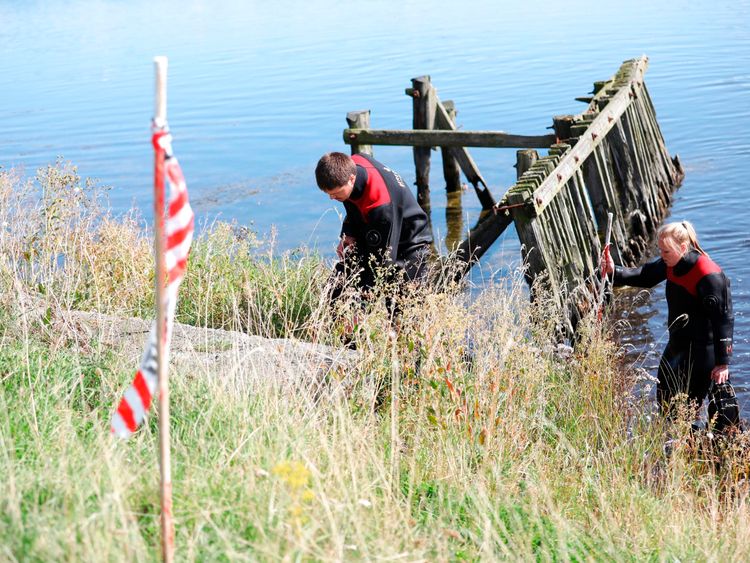 The court heard that Ms Wall's DNA was found on Madsen's face, by his nostrils, and on his hands, under his nails and on his neck when he was arrested.
No DNA was found around her genitals.
A blood splatter was found on his boilersuit, but a medical examiner said no splatter would occur after death, which is when he claims to have dismembered her.
The prosecution has said it will seek a life sentence, which in Denmark averages around 16 years, or safe custody, a legal alternative which would keep Madsen behind bars indefinitely as long as he is deemed dangerous.
The trial continues.
Breonna Taylor: Armed civilians are demonstrating their power in wake of decision over her killing | US News
Louisville is a tinder box of rage and frustration.
Protesters have been taking to the streets for 121 nights since Breonna Taylor was killed.
This week the city has been in a state of emergency, roads closed and businesses barricades. Military personnel line the streets, armoured vehicles patrol the airport and protesters hold vigil at a square, waiting for curfew to fall before they march.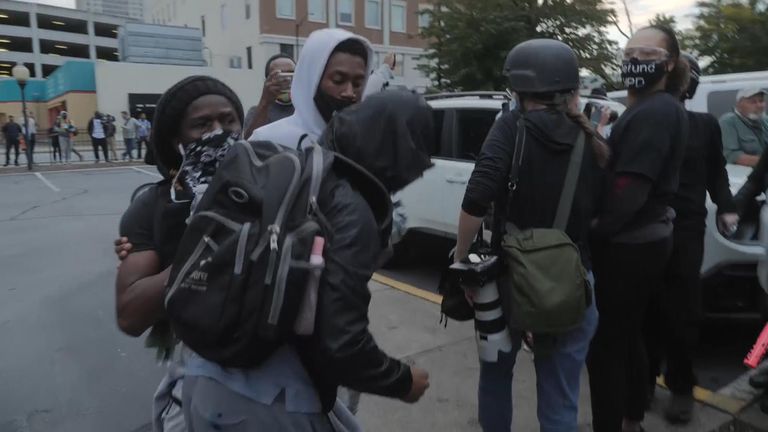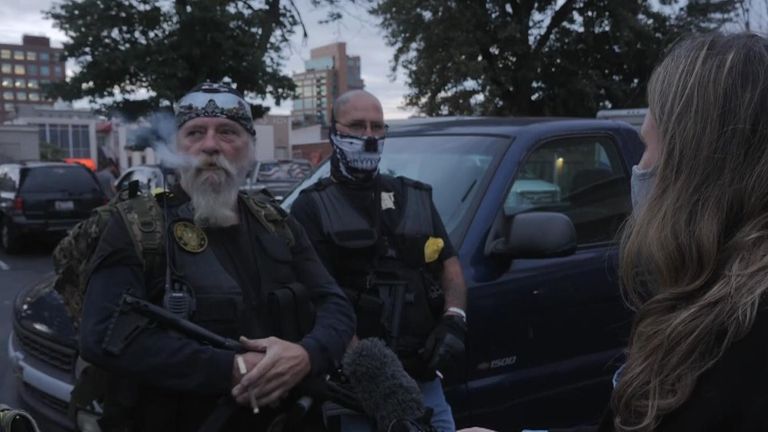 But there's another group who've started to make their presence felt in the past few days – loaded with rifles and army fatigues they look like active military personnel.
But they are in fact a far-right group who call themselves the Oath Keepers, described by the Southern Poverty Law Centre as one of the largest radical anti-government groups in the US.
We find them in the car park of a hotel. There are about 30 of them and the protesters marching by are immediately aggravated by the sight of them.
The anti-government group insists they've been invited here by business owners. The founder, Stewart Rhodes tells me: "We're here to protect businesses and apartments. We're also here protecting residents.
"We don't want to say who they are or where they lived because they're afraid. We're protecting life and property."
The crowd that's started to form around them is clearly incensed.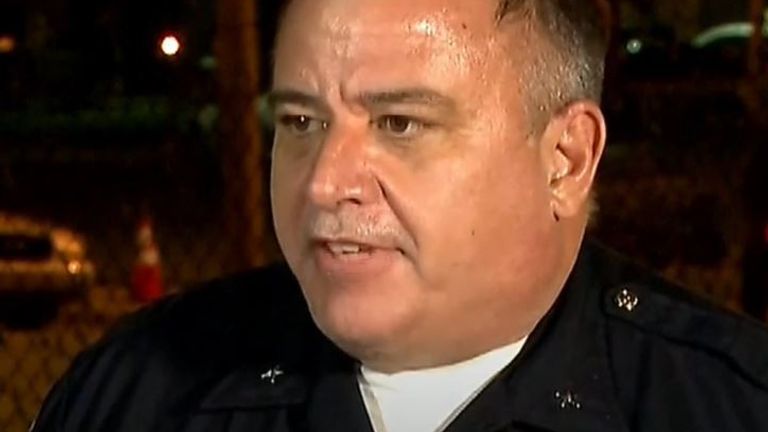 There are tense exchanges playing out everywhere as the two sides face off.
One member, George Douglas Smith Jr, tells me he won't raise his gun unless damage is done. He said: "What they do in their organisation is fine. Unless they try to turn the buildings down.
"I made a solemn oath to the store owners that I won't let that happen even if this crowd beats me downs and kill me."
It is an austerely incongruous sight, but it's become painfully commonplace in the pockets of tension around America that seemingly keep emerging. A nation where heavily armed civilians feel emboldened to demonstrate their power.
It constantly feels like the mood and risk can radically shift at any moment.
The protesters eventually make their way out of the car park, many encouraging each other not to rise to the bait.
For another two hours, they walk around Louisville. They eventually make their way to a church where they're welcomed in and offered refreshments.
The police keep watch on the edge of the grounds. It is a far less disparate and chaotic scene than some of the skirmishes and arrests we witnessed the night before, when two officers were shot.
:: Subscribe to Divided States on Apple podcasts, Google Podcasts, Spotify, and Spreaker
But it's a constant game of cat and mouse that's hard to imagine any resolution to right now.
Twenty five minutes out of town, we meet neighbours of Breonna Taylor who were there the night she died. They're incredulous at the grand jury's decision not to charge any officers with her killing.
Deja Moore lives opposite Breonna's apartment. She tells me there were gun shells all around her door and she could see Breonna's body.
The attorney general said the police announced their presence. But Deja is emphatic that she and others didn't hear it.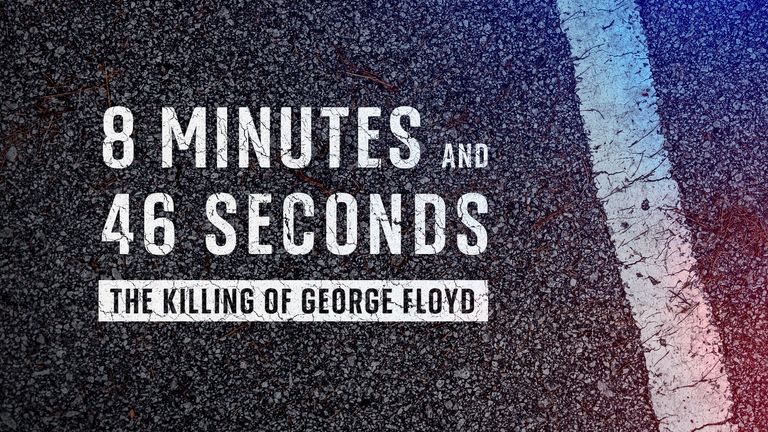 She is exasperated at the lack of progress on racial justice in America, but defiant too.
"Honestly a change needs to come. Whether they like it or not it's going to turn violent. We're upset, angry, disappointed and if they won't change it we will," she said.
Quite what the change looks like in a country where it's proved so illusive, is very unclear.
Evel Knievel's son sues Disney over Toy Story 4 character | Ents & Arts News
Evel Knievel's son is suing Disney over a daredevil character in the animated film Toy Story 4.
Kelly Knievel has held the publicity rights to his father's name since 1998, according to his US District Court filing in Las Vegas.
The federal trademark infringement lawsuit claims that Disney-owned Pixar did not ask permission to use his father's likeness when creating the character Duke Caboom.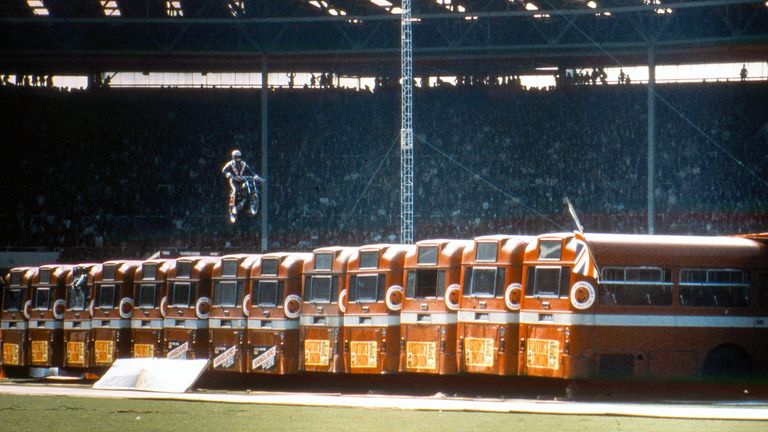 Knievel is seeking damages of more than $300,000 (£235,000) over allegations including false endorsement and unjust enrichment.
The 60-year-old said: "Evel Knievel did not thrill millions around the world, break his bones and spill his blood just so Disney could make a bunch of money."
Duke Caboom, voiced by Keanu Reeves in last year's film, was a 1970s toy who rides a motorbike and is "Canada's greatest stuntman", the lawsuit said.
Knievel was famous for stunts such as a motorbike jump over a row of buses at Wembley Stadium.
He was seriously injured many times during 75 motorbike jumps, but died from lung disease in 2007.
An Evel Knievel toy was released in 1973 with a white helmet and jumpsuit, with a motorbike that could be propelled with a wind-up device.
Disney and Pixar released a similar Duke Caboom toy along with Toy Story 4.
The toy also featured in McDonald's Happy Meals.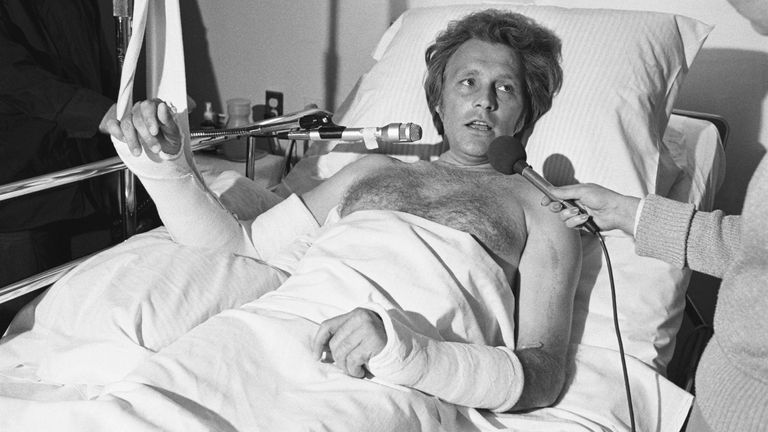 The lawsuit claims consumers and film reviewers "universally caught on to the connection", despite the film company and Reeves avoiding any comparison.
Jeffrey R Epstein, corporate spokesman for The Walt Disney Co, described Knievel's claims as meritless, saying the film company will defend itself vigorously.
North Korea troops shot dead South Korean official and burned his body, Seoul claims | UK News
A South Korean government official was shot and killed by troops in North Korea who set his body on fire over fears he might be carrying coronavirus, officials in Seoul have claimed.
The South's defence ministry said the 47-year-old government official had been killed and his corpse burned after disappearing from an inspection boat in waters off the western border island of Yeonpyeong on Monday.
South Korea's President Moon Jae-in called the killing a "shocking" and "unpardonable" act and demanded the North punish those responsible.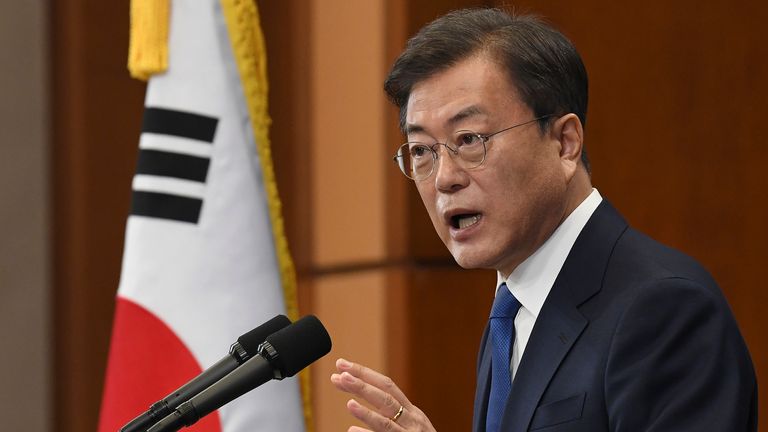 North Korea sent staff in gas masks aboard a boat near the man to find out why he was there on Tuesday afternoon, South Korea's Defence Ministry said.
Later in the day, a North Korean navy boat arrived and opened fire at him, they added.
Sailors from the boat, wearing gas masks and protective suits, then poured petrol on his body and set it on fire, the ministry said, citing intelligence gathered by surveillance equipment and other assets.
It is unclear what caused the official's death and whether he died after being shot.
Citing intelligence sources, the South's military said the unidentified man appeared to have been questioned at sea – north of the border and around 24 miles from where he went missing – before he was executed on an "order from a superior authority".
If confirmed by the North's officials, it would be the first time that North Korea has killed a South Korean citizen in its territory since 2008.
The South Korean government did not know how he came to have crossed the border, but a defence official said the man may have been trying to defect to the North.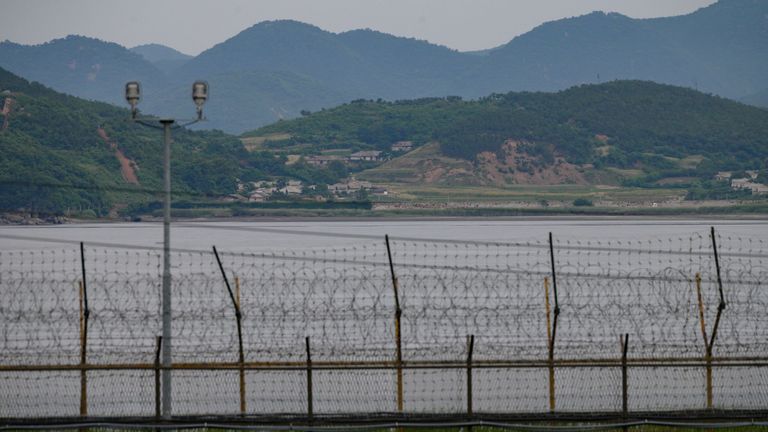 The official said the man was wearing a life jacket on a small floating object and that the military had obtained information that he wanted to go to North Korea.
"Our military strongly condemns such an atrocity, and strongly demands North Korea provide explanations and punish those who are responsible," General Ahn Young-ho, who is in charge of operations at the South's Joint Chiefs of Staff, said.
Officials believe that military in Pyongyang may have decided to kill the man in line with stringent anti-coronavirus rules that involve shooting anyone illegally crossing the border.
North-South relations are expected to sour further as a result of the killing.
In June, North Korea blew up an inter-Korean liaison office on its territory in protest against South Korean civilians sending anti-North leaflets across the border.